Prolechariot is a series about vehicular value. It's about slapping your needs and wants on a wall, grabbing a fistful of darts, cocking your arm back and trying to strike as many of your targets as possible. In other words, it's about making the second-largest purchase decision most Americans face, and making it right. Prolechariots are cars for the rest of us, and Jonathan Schultz is driving them.
Check your wallet, America. Is there $33,865 in there? Hey, congrats! That will net 42 vintage aluminum Mopar engine mounts, 37 Magnaflow Cat Back exhausts, 9 framed and signed copies of the Beach Boys'Surfin' USA, 29 Earthquake Sound HoLeeS 15 subwoofers, or a new car at the nationwide average price. It's more than sufficient to snag a 2016 Dodge Dart SXT Rallye Blacktop edition, a compact sedan that tries to pour Japanese tuner culture through a Mopar filter. The Dart has worked at this trick for four years. It has tried, and now, it has died.
Taking up a valuable production line that can more profitably churn out Jeeps and Rams, the Dart, along with the mid-size Chrysler 200 sedan, were marked for death this year. But the Dart's demise is not just a case of cold corporate opportunism. Whereas Hyundai's Elantra has found a market among Prolecharians not beholden to compact incumbents like the Honda Civic, Toyota Corolla, Ford Focus, and Chevrolet Cruze, the Dart (wait for it) never quite hit its mark.
Here was something more aggressive than the last compact sedan fielded by Dodge, the cleverly marketed Neon ("Hi.") The Dart name also tapped a rich vein in Chrysler lore, filled with slant-six engines and "Swinger" badges. Along with compatriots like the Ford Falcon and Oldsmobile Cutlass, the original Dart proved that smaller sedans could be cool—no easy feat in an age of swagger-drenched Impalas, New Yorkers, and Fairlanes.
The reborn Dart, however, cast about for a niche without ever finding one. To garner the youth vote, it logged time in Global RallyCross. To earn the, uh, meta-humorist dollar, it employed Hot Tub Time Machine's Craig Robinson and New Girl star Jake Johnson for a YouTube-optimized ad campaign. But annual sales never budged beyond 2015's high of 87,400 units. The Elantra, meanwhile, did 241,000 that same year. Just because a car doesn't sell well doesn't mean it should be dismissed, though. (See: all Mazdas.)
So here comes the Dart SXT Rallye Blacktop, rolling on 18-inch Gloss Black 10-spokes and swapping cogs through a six-speed Powertech automatic. Its hood has a scoop. Its rear bumper has a diffuser. Its interior color references an element on the periodic table not named titanium ("Light Tungsten"). Our test model stickers for $24,905, but given its Dead Dodge Walking status, dealers are leaving as much as $4,000 on the hood. That price malleability is a critical piece of this Prolechariot puzzle.
Here is everything you need to know about the 2016 Dodge Dart SXT Rallye Blacktop.
1. It's Unfinished, in the Good Way
Taking cues from Scion—another member of the Walking Dead Class of 2016—Dodge created a canvas for customization. Sure, the brand has already done much of the upfront work, fitting the Dart SXT Rallye Blacktop with a Mopar-catalog chin splitter, a rear suspension stabilizer bar, and a 184-horsepower MultiAir engine. But this car is ripe for radicalization.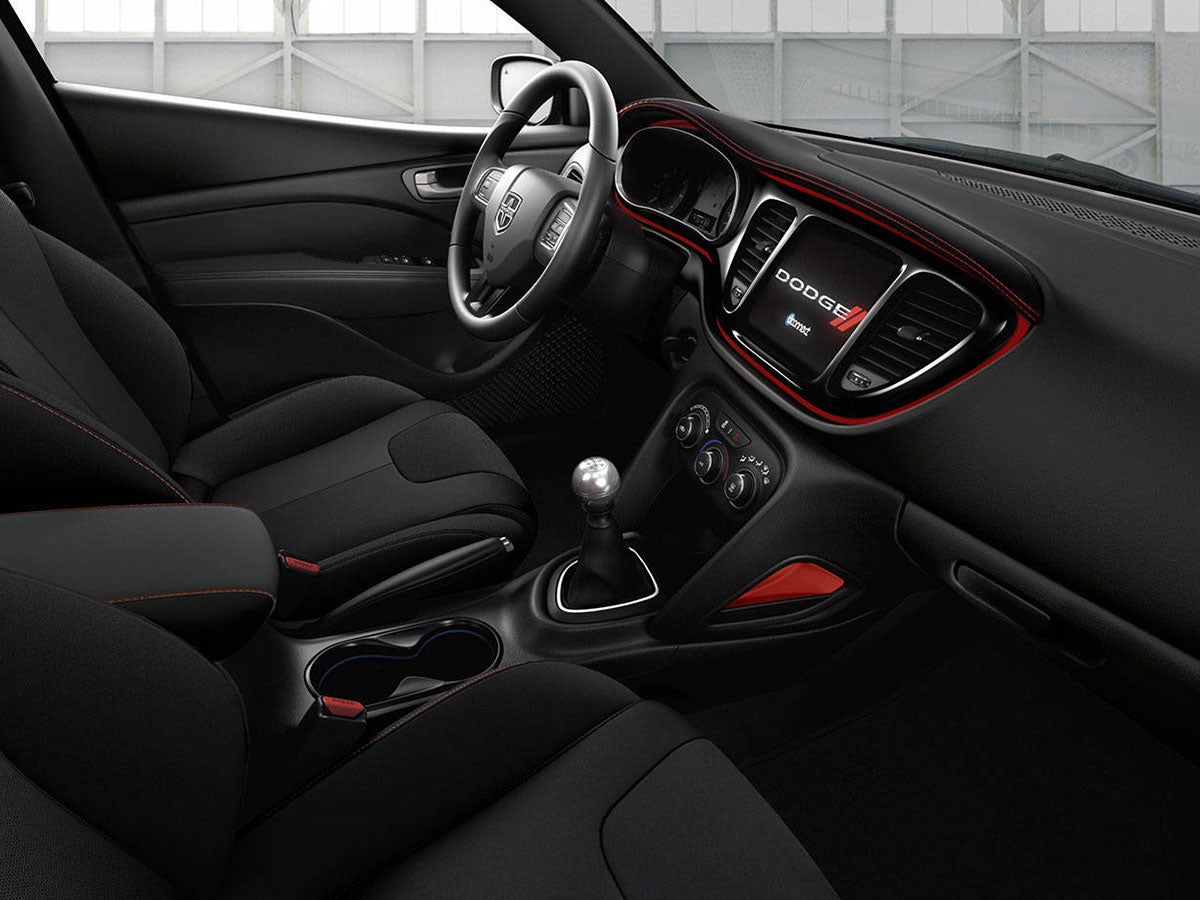 Fanboys who fondly recall the torque-steering Neon SRTs of the early Aughts should salivate at the prospect of a new Dart SXT Rallye Blacktop project car for under 21 grand. Muffler delete, turbocharger kits, upgraded exhausts, ECU reflashes…as long as you're willing to void your five-year/60,000-mile powertrain warranty, the spectrum of bratty mods is broad and deep. If you're into that sort of thing.
2. But It's Also Finished
A catalog and a credit card will only alter so many aspects of the Dart SXT Rallye Blacktop. Prolechariot has yet to turn a homelier steering wheel. It's a pentagon-shaped boil on the land, a weeping abscess of aesthetic indifference. Granted, we haven't driven many Dodges, which may explain the revulsion; a cursory Googling finds the wheel throughout the product portfolio. Gack.
And while enterprising buyers may fit new bezels and faceplates and all manner of third-party lipstick on the Dart's dash and instrument panel, there's no getting around the interior's perfunctory looks. Here, a boxed-in area for HVAC controls. There, a boxed-in area for the multimedia touchscreen and air vents. Up here, a vaguely parabolic box to house the gauges.
The interior's lack of imagination isn't relieved by material choices, either. Hard plastic abounds. The supposedly uprated fabric upholstery feels worthy of bottom feeders like the Nissan Versa and Chevy Spark. It all bears the whiff of the rushed, post-bankruptcy Chrysler that unveiled the Dart at the 2012 Detroit auto show amid politicians' cries to build relevant vehicles that America would buy. America actually buys trucks and SUVs, of course, a rich irony that the Dart will soon carry to the grave.
3. Questo Non È Una Alfa
Much was made in 2012 about the Dart's parentage—how it adopted the Alfa Romeo Giulietta's chassis, suspension, and electric power steering, inheritances from its then-new corporate parent Fiat.
Prolechariot once drove a Giulietta all over the Boot, stopping to sample mozzarella di bufala, limoncello, and pizze ai funghi in tastefully moldering medieval villages. The trip has assumed the gauzy feel of a Fellini dream sequence, with buxom tobacconists and seafaring rhinos fading in and out of the fog. But the image of an icy white Giulietta remains as clear and bracing as a shot of grappa: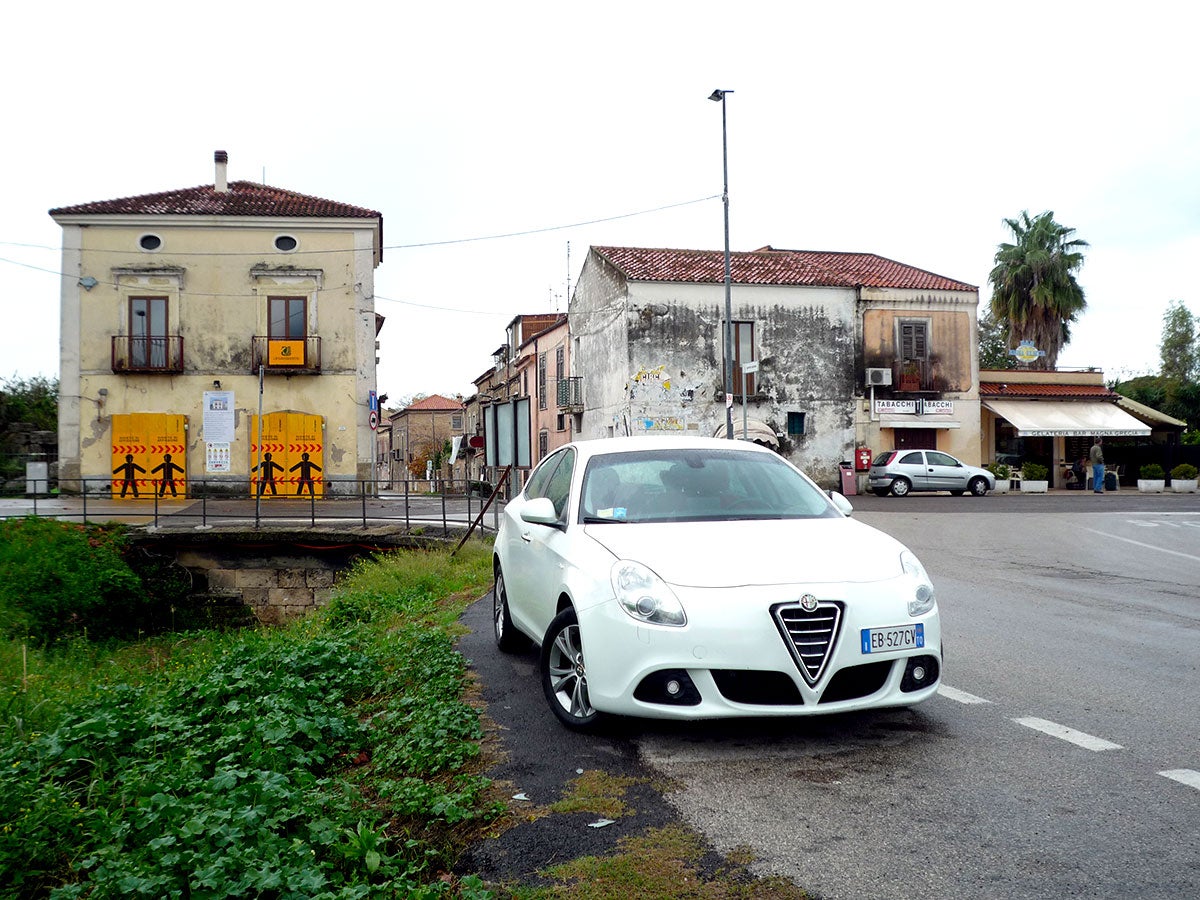 Jonathan Schultz/TheDrive.com
In other words, I drove the Giulietta; I know the Giulietta; the Giulietta is a friend of mine—and the Dodge Dart SXT Rallye Blacktop is no Giulietta. Its suspension may flex gamely over the dips and rolls encountered at highway speeds; its 2.4-liter MultiAir engine has passing power to spare; its steering is light and reasonably lively. Nothing here, though, suggests a car that would devour the Amalfi Coast whole. Sharpness, poise, and cheek were the Giulietta's dynamic hallmarks, and all have been dialed back to suit workaday American drivers of the non-Prolecharian order. In sum, the Dart's a little dull.
Notwithstanding a few applications, like Prolechariot fave the Jeep Renengade Trailhawk, the nine-speed automatic developed by Fiat-Chrysler to achieve fuel economy gains across its vehicle range is jumpy and jittery, prone to hunting and rarely finding the proper ratio for the task and speed at hand. It's like most CVTs that way. From a stop, the Dart's six-speed automatic takes up gears smoothly and will even hold to redline, but in between, the appropriate ratios play hide-and-seek. One day at a sustained 40 mph you're in fourth; the next, you're in sixth.
4. For All Its Faults, the Dart Is a Deal
Try finding a more generously equipped new compact sedan for $21,000, the not-so-hypothetical price-point at which the Dart SXT Rallye Blacktop will likely transact until the scythe swings later this year. Chrysler's stupid-intuitive multimedia system plays out effortlessly on a massive 8.4-inch touchscreen, but redundant controls on the steering wheel, with volume and tuning buttons on the inboard side, make right-hand migrations to the touchscreen virtually unnecessary. Wicked fog lamps and a gloss-black crosshair grille tidy up the Dart's otherwise Stratus-smelling nose. Low and loud frequencies from the six-speaker audio system registered rich. There are no spatial awareness features, but given the Dart's orientation toward blithe, hormone-charged youth, it doesn't feel like a deficiency.
5. That's Not to Suggest You Should Buy a Dart SXT Rallye Blacktop
Remember our Neon SRT? Think of it as a cautionary tale. If you see one today, it's invariably driven by someone you'd suspect of petty larceny, or at least of having three Insane Clown Posse tattoos. Its bumper is probably stained a sooty black from an ill-conceived Borla exhaust swap. The front fender panel is likely a cloudy, fiberglass blue. A NOS kit might be mounted somewhere. A Dart SXT Rallye Blacktop may suffer the same fate, or at least be bundled—however unfairly—with this stereotype. If you're not that guy, or don't want to suggest that you're that guy, you may want to consider that low-mileage Jetta GLI on the VW lot.
There's a truism in the car biz: Old men drive young men's cars. Chide him though we might, Gramps is a good arbiter of a car's potential to remain desirable for years to come. When was the last time you saw Mr. AARP pushing a Dart SXT Rallye Blacktop (or any Dart variant)? There's probably a reason why only young bucks drive Neon SRTs—and why only young bucks will push Dart SXTs in coming years.
Youth or the folly thereof? The Dart's in your hand, pal.
--
2016 Dodge Dart SXT Rallye Blacktop
PRICE (as tested): $24,905
POWERTRAIN: 2.4-liter MultiAir four-cylinder engine, 184 hp, 174 lb-ft torque; six-speed Powershift automatic transmission; front-wheel drive
MPG: 23 city / 35 highway
POTENTIAL FOR MODS: High, bro.