The electric vehicle world officially has a new range king because the Lucid Air, in its most efficient Dream Edition Range guise, is now EPA-rated for 520 miles of driving between charges. That actually beats the manufacturer's own claim by three miles, also making it the longest-range EV the government agency has ever tested. As Lucid says, this gives it a 100 mile-plus advantage over the Air's "closest competitor." 
Currently, the Tesla Model S Long Range is rated for 405 miles. Last year, Tesla claimed that the Plaid would be the EV to hit 520 miles; instead, the EPA slapped a rating of 396 miles on the performance sedan. The Lucid Air's other competitor, the Porsche Taycan, isn't even playing in the same ballpark range-wise, with the Taycan 4S offering just 227 miles between trips to the plug (though these figures are intensely debated). The Mercedes-Benz EQS has yet to be rated by the EPA but has a manufacturer-claimed range of 478 miles.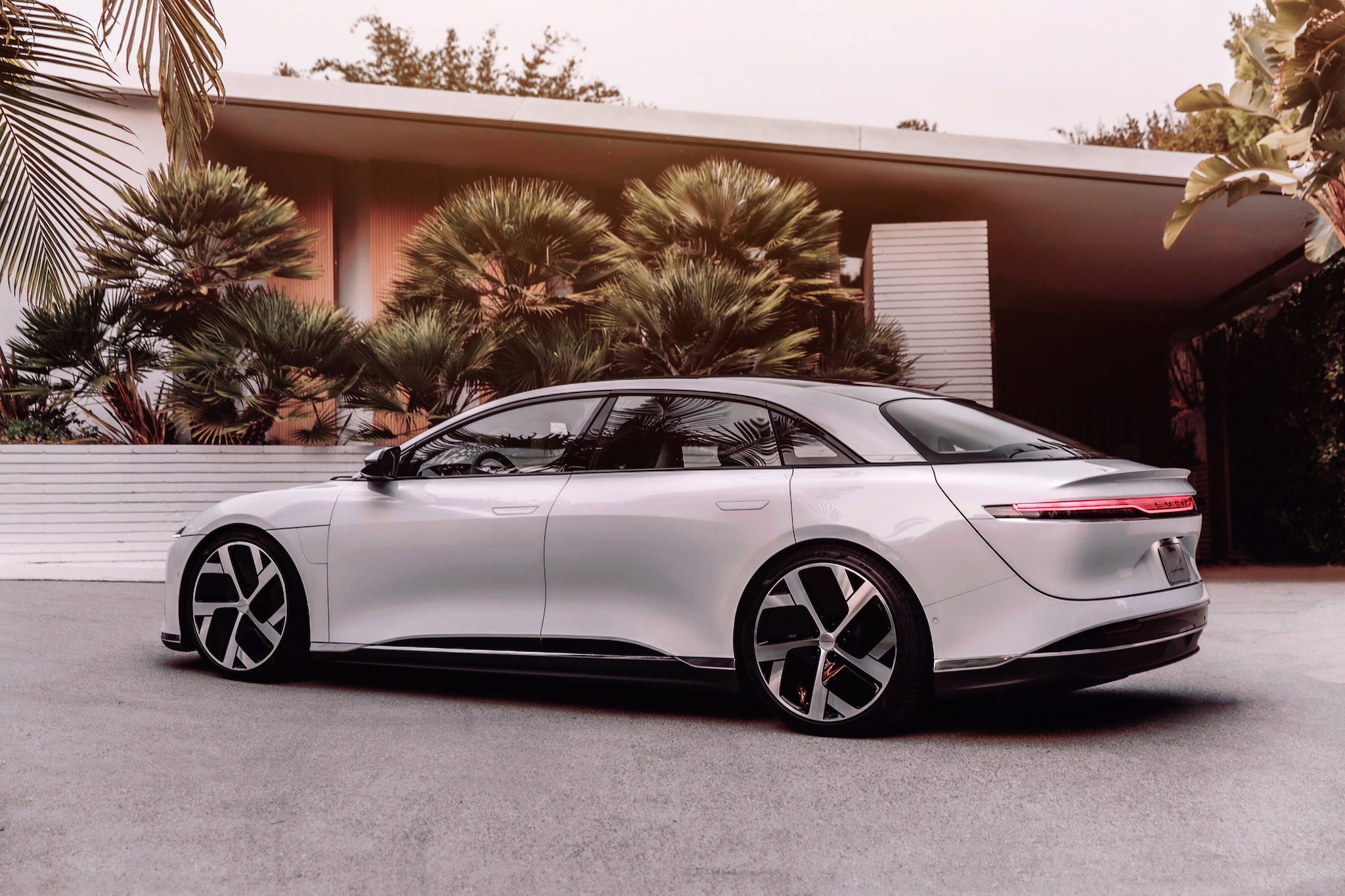 Lucid
While the Air owes much of its range dominance to its 113-kilowatt-hour battery pack located underneath the passenger compartment, Lucid CEO and CTO Peter Rawlinson says, "This landmark has been achieved by Lucid's world-leading in-house EV technology, not by simply installing an oversize battery pack. Our race-proven 900-volt battery and BMS technology, our miniaturized drive units, coupled with our Wunderbox technology endow Lucid air with ultra-high efficiency, enabling it to travel more miles from less battery energy."
While the golden 520-mile figure was achieved by the most efficient Air variant—the 933-horsepower (!) version with the 19-inch wheels—other models aren't far behind. The 1,111-hp, 21-inch-rimmed Performance, for instance, is still good for 451 miles. Here's the full breakdown: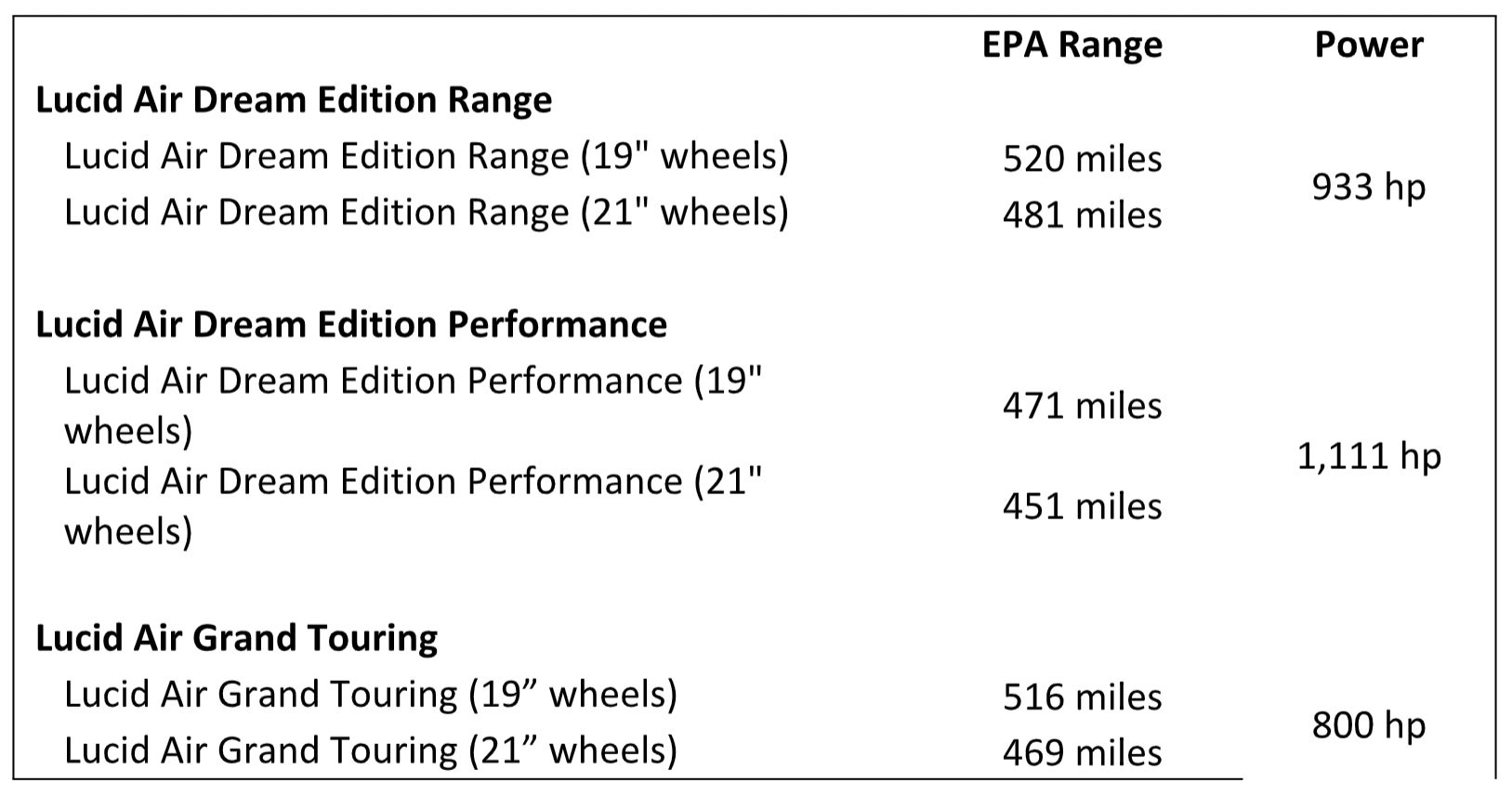 Lucid
Lucid was founded in 2007, with Rawlinson coming on in 2013 after serving as vice president of engineering at Tesla. An Air prototype was shown off in 2016, but it wasn't until 2020 that we finally got to see the production version, then boasting an anticipated EPA range of 517 miles. The cars will be built at Lucid's new factory in Casa Grande, Arizona.
All of the Air's batteries, motors, and drivetrain were developed in-house. In addition to putting out incredibly efficient claims, they're also compact in size, thus resulting in nearly unparalleled interior cabin space. We recently took a ride in an Air, and we can confirm it's super roomy in there. 
The first deliveries of the Air should have started during "the second half of 2021," a company rep told us in July. After the Air, the company plans to launch Project Gravity, which will be an electric SUV.
Got a tip or question for the author about the Lucid Air? You can reach them here: [email protected]