At a Passover Seder, one is obligated to mention a set-list of objects and events—crumbly unleavened wafers, the exodus from Egypt, preference on matzo ball density. Similarly, when discussing the new Fiat 124 Spider, one is compelled to talk about its provenance: it is an Italian car, created for a nominally half-American mobility corporation, manufactured by a Japanese car company at a plant in Hiroshima. A Mazda Miata hides under its sheet metal, every stamping of which Fiat claims is unshared.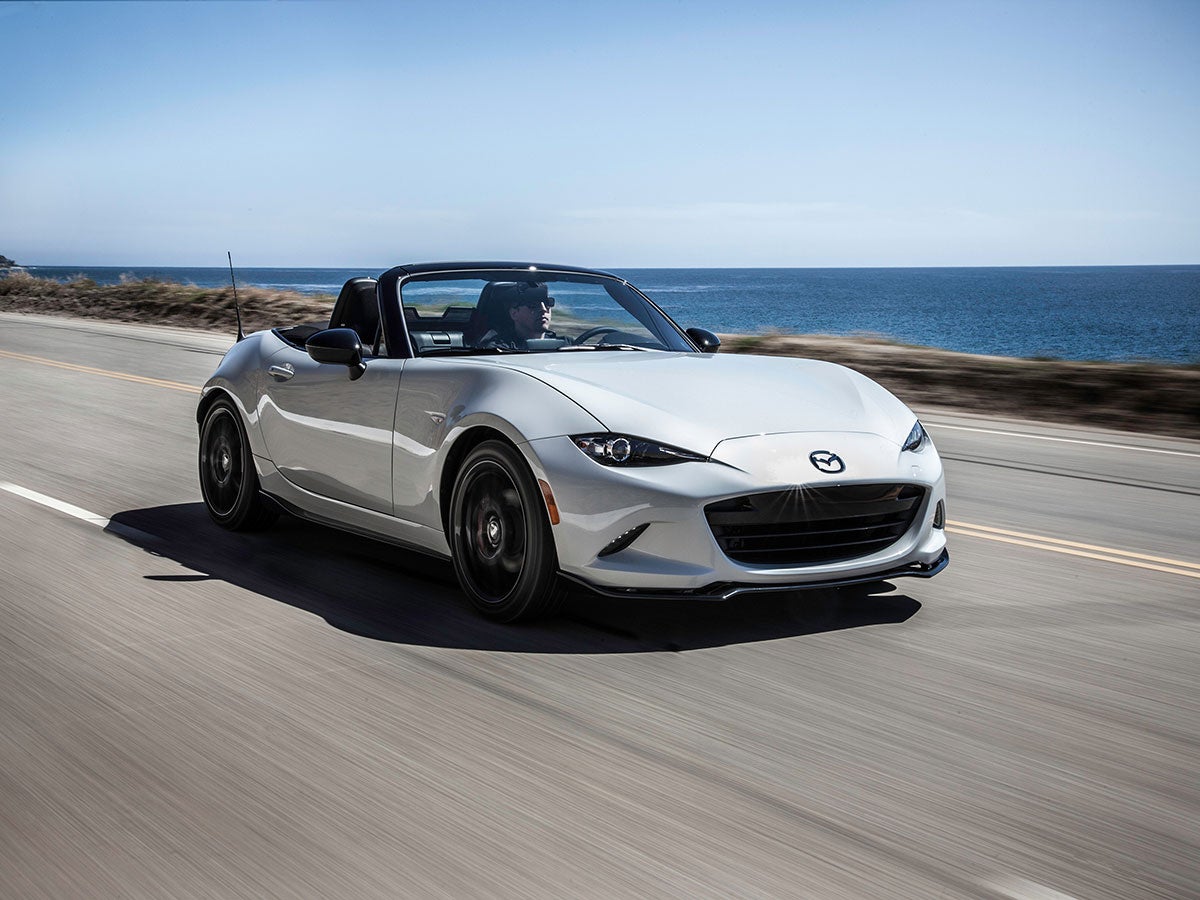 Mazda
The cars do share many elements: a front-engine/rear-drive layout, the choice of a six-speed manual or automatic transmission, chassis and suspension layout, a convertible top whose amazing ease of operation belies the complexity of its engineering, a compact two-seat cabin. But much is different. The Fiat has a 1.4-liter turbocharged MultiAir engine that makes slightly more horsepower and significantly more torque than the Mazda's naturally-aspirated two-liter. The Fiat is longer by five inches, three of them in the nose, with its twin bump hood, taffied hexagon grille, and recessed, scalloped headlamps; the tail, with its fin-angled trapezoid lamps, gets two more inches. All those details mentioned are heritage features. The 124 is heavier by about 100 pounds. The seats are a different shape and are covered in different materials, as are the instrument binnacle and dash. The Fiat is also blessed with additional sound deadening. Its suspension tuning is a bit more pliant, but still highly engaged. And where the Miata is shark-nosed and creased, the Fiat is softer and more reserved, with numerous styling cues that echo the 170,000 124 Spiders sold in America in the Seventies and Eighties—Fiat's greatest American hit.
According to Fiat executives, 8,000 of those Spiders are still registered, not exactly a boastful attrition rate. I happen to own one of them: a nicely restored and tastefully upgraded version from 1979. For the mid-four-figure price I paid for it, I could easily have purchased a vintage Miata, but I didn't. Not because I don't love the Miata—I do. Enough to have flown to Alaska, and had an old one shipped to me to join the tenth anniversary celebration of that state's miniscule Miata club. Enough to call the modern one "as close to perfect as a contemporary car can be." I didn't buy one because it doesn't suit me. As wonderful as it is, it's pedestrian, almost anodyne in its exemplary answer to the sporty roadster question, and either too cute (older models) or too trying-not-to-be-cute (current iteration) in its styling. It's a sheep in sheep's clothing. Me, I like a little strange.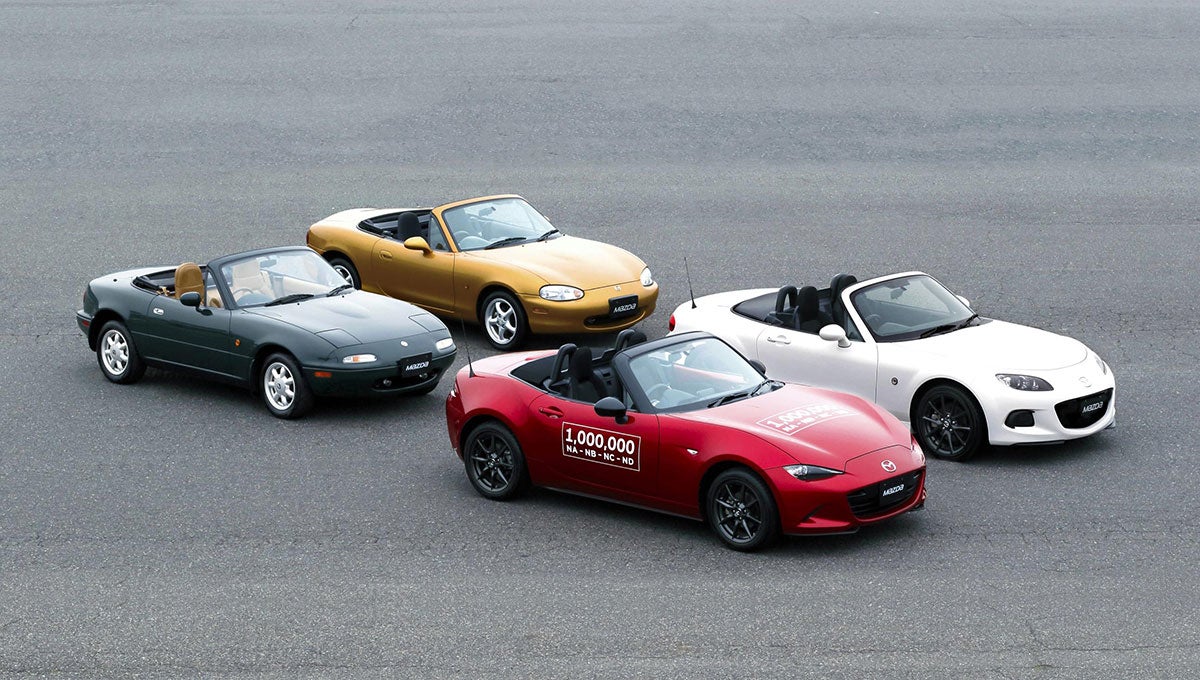 Mazda
I mention this not to undermine my authority, but to enunciate it. The similarities between the current Miata and its new and more expensive Italian sibling has already caused all manner of consternation and comparison among the automotive press—a collective decrying of the ways in which it undermines the Miata's strengths and sullies its perfection. But, as with their fervid pronouncements on the Chevrolet Bolt/Tesla Model 3 comparison, they are creating a false dichotomy. These vehicles are not cannibalizing each others' sales. Despite their skeletal similarities and the Fiat's presumed "perversion" of the Miata's particular paragon, they are two different cars, intended to accomplish different tasks. Call it badge engineering if you want to be derisive and dismissive, but no one who bought a Cadillac Cimaron was cross-shopping the Chevy Cavalier.
Where the Mazda leans pure and uncompromising, the Fiat is softer and more luxurious. Where the Mazda is more aggressive in its styling and tuning, the Fiat is more refined and relaxed. Where the Miata, like all Mazdas, is built for people who cherish driving dynamics above all else, the Fiat is a bit more of a boulevardier, happy to floss on the highway or one of Florida's many straight roads. It is sporting and spirited, but more reserved by comparison. It is, in a word, Italian, and that's what Fiat is selling, confounded and confounding as that may be. Miatas hold the greatest appeal for people who are either young, or quite done with their calendar-based youth. The new 124 is for people in the middle—too old for flat tops, too young for flat caps. It's no surprise that Fiat believes the car will bring the average age of their consumer up. Miata shoppers are probably also looking at BRZs and Genesis Coupes; 124 buyers are probably looking at TTs and Boxsters (and maybe Beetles and Minis). Here is what car enthusiasts often don't understand: not everyone wants what the enthusiasts want.
While these points of market differentiation are complex and germane, they don't necessarily make the Fiat 124 a success. It is pleasant to drive: peppy, well-damped, and nimble without being harsh. I even think it's prettier than a Miata—not as purposeful, or cohesive, but more to my personal taste. But while up in power and thrust, the car's smaller turbocharged motor is intrinsically less, not more, relaxed. It's a bit boggy until it spools up, and it neither feels nor sounds faster. The idea of this car is not one that should require (or reward) thrashing. The additional length gives the car more refined styling, but offers nothing in the way of interior space or amenities; I had to set my silver handbag on the floor of the passenger footwell. (Even a vestigial package shelf would be appreciated for a lady's necessities.) And it's worth noting that my vintage 124 has a full backseat. And while I spent most of my drive in the stripper version, a $24,995 "Classica" model—cloth seats, body-colored painted dash—even the more upscale, $30,000+ "Lusso" edition I later tested had cheap-feeling leather, including a weird yarmulke of hide atop the chintzy plastic gauge cluster. (There's a sporty Abarth version, as well, but it's mostly a trim package.) Satin finish isn't a material, it's a level of gloss. Shouldn't this more premium Italian car, in addition to doing things different from its purposeful sibling, do some of them far better?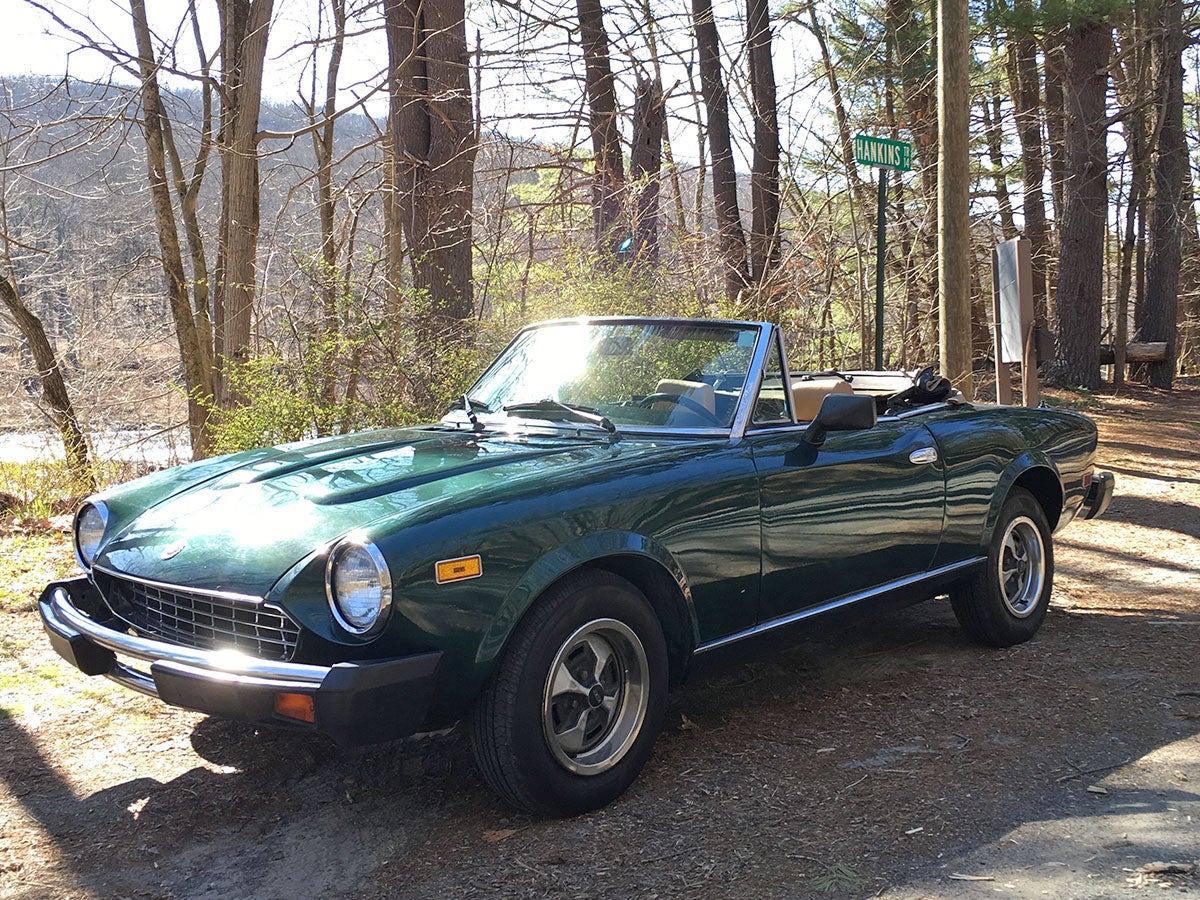 Brett Berk/TheDrive.com
This encapsulates Fiat's dilemma in the marketplace: as a brand, it has no triumphs in any category. What's worse, I wonder if a micro-niche sporty roadster that doesn't nail it will do anything to help the brand—one of the few smaller marques in America that saw a sales decline in last year's record market. Might Fiat benefit more from putting its limited resources into a contemporary, sporty-ish compact coupe/sedan to go after the Honda Fit or Honda Civic, or an all-wheel-drive and fun-to-drive small luxury crossover that goes head-to-head with the Buick Encore? Or something fun and odd and innovative, with potency for the masses, like the X 1/9 and 850 and 128 and 124 of Fiat's past? (And, now that the Mazda5 is gone, is it time to bring back the Multipla?)
I'm geared to like Fiat. The brand's innate exuberance and oddball charm makes me happy, as I'm sure it does others. I want it to survive. To do that, it seems like it has to enunciate not only its difference, but its benefit.