Imagine the owner of a normal BMW M3, E46 or E90. Surely, they enjoy the metallic throb of their individual throttle-bodied motorsport-bred engines and think the power is plenty adequate, thank you. But for some, it's never enough. That's where Herbert Hartge got an idea: a BMW 3 Series with an M5's V10.
Hartge started tuning BMWs in 1971, with a company that had his namesake. The specialty was simple: Putting larger engines into smaller BMWs and adding some custom coachwork for a little luxe flair. This philosophy led to the axe-murdering Hartge H50 V8 (which we have written about before), an E46 with a 5.0-liter S62 M5 V8. Not much has been published about the company's early years tuning, but Germany granted Hartge manufacturer status in 1985, so it could officially issue its own VIN for cars it modified, which led to wild ideas like the H50.  
The V8 E46 idea wasn't too foreign back then, thanks to BMW making the M3 GTR with a clean-sheet 4.0-liter P60b40 V8, but that car was only really made for GT-class homologation. Only five of those GTRs were ever made and nobody knows where four of them are. The Hartge was the relatively accessible way to have an M3 GTR, with heavy emphasis on relative.
The idea of a V10 in a 3 Series, however, was never so much as a twinkle in the eye of BMW, so this H50 V10 is a fabrication of the fantastic. The engine swap was a large part of what made the company cool, but it also built cars to order and was able to do deep custom work with upholstery and body. No two Hartge-built cars are ever the same. You could start with a normal 3 Series chassis or an M3 chassis E90, just like the E46 H50.
According to Turner Motorsport, another famed BMW tuner, the H50 V10 conversion cost around $220,000 with the donor car included. Turner owned an H50 which has been sold twice since, and it's reported to be the only H50 V10 ever built for the United States. For that money, Hartge spent considerable time and effort making the E60 M5 engine electronics talk to the body modules of the E90 3 Series as well as a custom-length driveshaft for the shorter body.
Volker Schu, former lead engineer at Hartge, told Evo in 2006 that the conversion was more difficult than expected, especially with electronics. "It was a surprise to us that two cars produced at the same time should be so different. It's almost as though we have taken the engine from a different manufacturer." They hoped that the systems would be simpler, but that ultimately held them back in period.
Hartage also spent considerable effort on the already powerful 500 hp V10 engine. It modified the cylinder heads, throttle bodies, and camshafts, which added a healthy 50 horsepower with an ECU tune. To finish the treatment off, 20-inch Hartge signature wheels were fitted, and the front clip was modified to fit the larger V10 and add visual aggression to the car.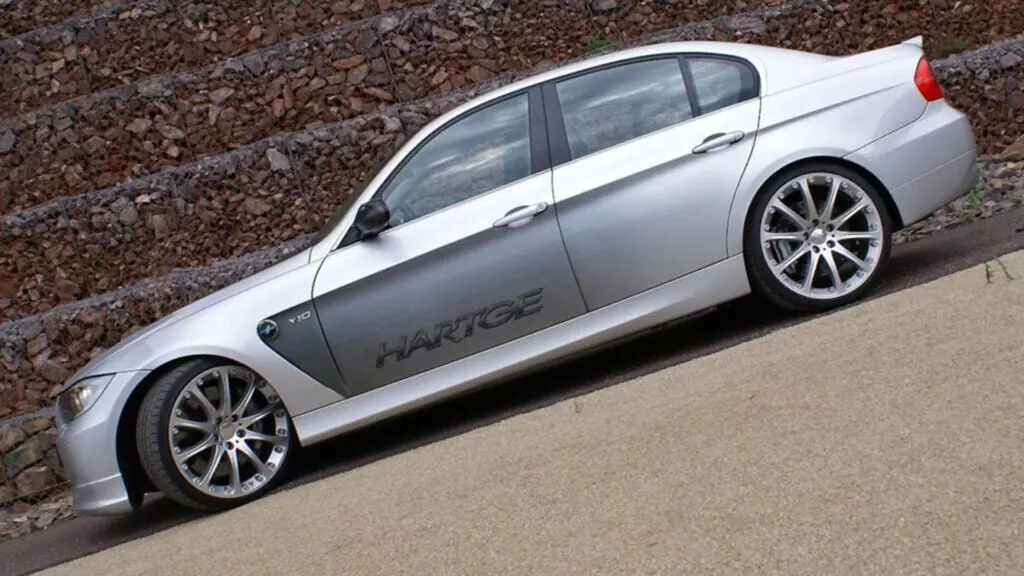 The result is something that is decidedly of the Y2K art historic period, with all of the magic and flaws of the time. While it was a fast car, it was still waterlogged by the horrendous SMG gearbox, thanks to the need for the electronics to work. Even later M3 conversions did not seem to use the better dual-clutch automatic, nor did Hartge experiment with the manual gearbox of US-spec E60 M5s. 
The large wheels and intense Mansory-looking body kit also don't do it for me. The E46 H50 V8 is the one I would own and this H50 V10 is the flawed one that I'd want to fix. Imagine the utter greatness of this car with a manual gearbox, M3 body, and 18-inch TE37s. E90 M3s are nearly perfection. That V10 might just get it there.
It's a real shame, then, that Hartge went bankrupt in July of 2019. I'd imagine that tuning cars newer than the early 2010s became prohibitively expensive or impossible without the right team of people, which looks more like a team of software developers these days. Hartge's death was not permanent, and it's apparently back as a Mercedes-Benz tuner as of 2020. The info is scattered and random, which I'd chalk up to being an artifact of an old-school tuning company that didn't adopt the second decade of the 21st century as well as others and became unfashionable.
I lament that the days of this kind of tuning are over. With the extreme powertrain technology and integration of the newest, greatest hardware from automakers, engine swaps like this become damn near impossible. While the modern aftermarket has opened possibilities like dual-clutch gearbox swaps thanks to well-designed modular electronics, running the direct-injected emissions-optimized engineering marvels of today takes more than a standalone ECU.
Meanwhile, I'll keep an eye out on Craigslist for some old tuner specials. A real Hartge isn't cheap, but it could be one of the coolest BMWs anywhere.
More great stories on Car Autance