I'm from the 1980s. I can't remember a lot about what people thought the future was going to look like then, but if you're even slightly aware of pop culture, you'll know there was a distinct aesthetic of neon and boxy cars that we're all irresistibly drawn back to. Why? Because it looks cool as hell. Hyundai clearly understands this, judging by its take on this restomod of the Hyundai Grandeur.
Hyundai has really grasped the assignment better than basically anyone when it comes to car aesthetics, lately. From Blade-Runner-esque detailing on the Ioniq 5 to this retro-futuristic restomod—it gets it.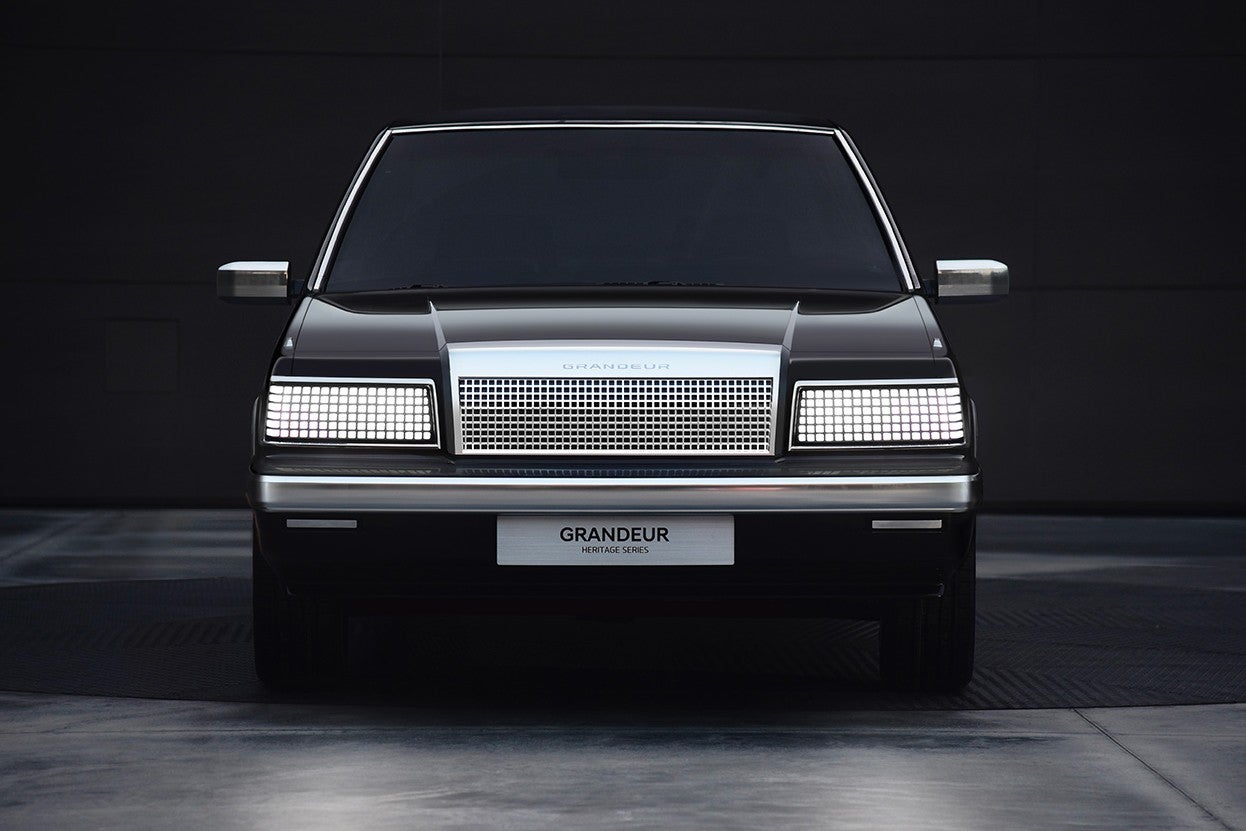 Hyundai
This specific Grandeur restomod is an EV conversion, which is very cool, but the detail put into keeping the 1986 shape of the original Grandeur, to celebrate its 35th anniversary, is even cooler. Hyundai has replaced the Grandeur's original '80s headlights with pixel-style LEDs and gone even further at the rear, with jutting LED rectangles, similar to the divine Prophecy concept. Of course, it's got chrome wheels, and the car generally looks sleek, simple, and mean as hell.
In the interior, it's been decked out in a combination of warm fabrics (the red velour is the original Grandeur's aesthetic) and menacing leather that's got more than a small number of bondage vibes. The LED lighting is so pixel-diffused it absolutely ups the retro-futuristic vibes. And I'm not even mad about the infotainment making it look like a real car, not just some sort of concept. Imagine Hyundai selling these. I'd buy ten. 
The keyboard-esque portrait display isn't just for knocking out a sweet synth solo as you blaze down the street at night, either. It actually has a function, acting as the console for the car and controlling things like lighting and sound levels in the cabin. 
The Grandeur is a legendary car in Hyundai's home in Korea, especially in its most '80s form. It's such an icon it once got featured in a BTS video, which is the kind of thing few of us less famous folk can claim to have done. The concept restomod is on display in Seoul right now and it looks even better when you see the lights move. 
Got a story tip? Mail it in to [email protected]