We, auto journalists, love to lament the death of the "sedan" body shape, now that crossovers seem to be the de jure choice among vehicle shoppers these days. It sucks, as I generally dislike crossovers. Yet, are all crossovers actually crossing over anything? Hyundai insists the Venue is a "crossover" but I call baloney.
Car: 2020 Hyundai Venue SE
Location: Columbus, Ohio
Photog: me (Kevin Williams)
Camera: iPhone XR
Before the COVID pandemic was nothing but a twinkle in our collective minds, I found myself bored as hell at a Hyundai dealership in a Southwestern suburb of Columbus, Ohio. I was bored, a little bit sad, and wanting to drive a manual transmission-equipped car that I didn't own. I didn't want a crossover, but the Venue's so low to the ground, it can't possibly be a crossover.

I parked my old Chevy next to the Venue, just to get a real handle on what size it actually was. Like to like, the Venue is roughly an inch and a half bigger, taller, and longer than my old Chevrolet Sonic hatchback. Hell, even the wheels are dinky — 185/65/R15's are damn near identical to practically every subcompact hatchback sold in the past decade and a half. Really, the Venue is a boxy Accent with rubberized door sills and wheel arches.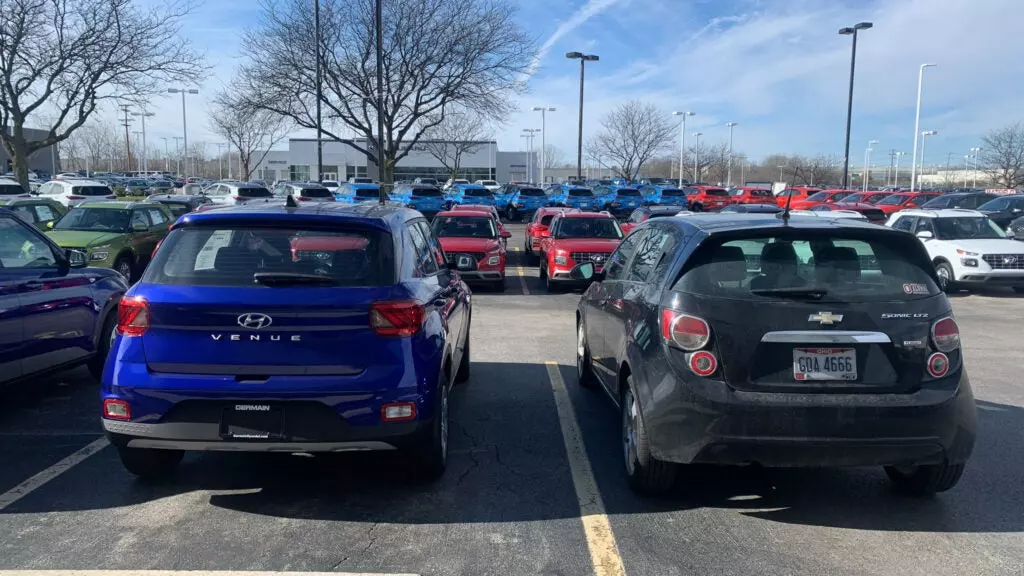 I drove a red manual (RIP) transmission'd version about a day later. This was pre-COVID chip shortage and new car pricing nonsense, this model was listed for a very affordable $17,000ish price. The Venue didn't feel very much like a crossover, it's low to the ground. It felt about the same as a friend's Accent Hatchback — a good thing, to be honest. All Venues came with lane keep assist, Apple CarPlay, and all sorts of goodies for not too much coin.
I thought about it a lot. At the time I was still a rideshare driver, and the Venue would've been a great rideshare car. Ultimately, I could barely afford a new car. The next month, COVID lockdowns happened, effectively gutting my ridesharing income. Glad I passed.