Prolechariot is a series about vehicular value. It's about slapping your needs and wants on a wall, grabbing a fistfull of darts, cocking your arm back and trying to strike most, if not all, of your targets. It's about making the second-largest purchase decision most Americans face, and making it right. Prolechariots are cars for the rest of us, for the 99 percent, and Jonathan Schultz is driving them.
Check your wallet, America. Is there $33,666 in there? Hey, congrats! That'll net 1,122 Little Tikes Cozy Coupe Shopping Carts, 28 replica championship belts autographed by Manny Pacquiao, 27 round-trip tickets from John F. Kennedy to Incheon (early May, restricted fare), or a new car at the nationwide average price. Raid your fanny pack for a spare 1.4 million Korean won and splash out for a loaded 2017 Kia Sportage SX all-wheel-drive compact crossover, with an eager 237-horsepower turbocharged engine, eye-bulging panoramic roof, and leather, leather everywhere. For $34,895, you can ball like you're in a top-spec Audi Q3, but with $9,000 in reserve. The comparison is not baseless. Kia may have torn down Audi's entry-level crossover and forged facsimiles of every rivet, weld, touch point and interior light. Credit (or blame, depending on your worldview) may fall to the Schreyer Effect.
Though he's justly known for mic-dropping beauties like the recent Genesis New York Concept, Peter Schreyer, Hyundai-Kia's design director and former stylist at Audi, is also a lusty raider of his ex-employer's back catalog. The red-orange glow of the Sportage SX's center stack buttons, the L-shape gear selector, the knurled little volume and station-tuning knobs, the smell of the leather—they all carry a heady waft of Ingolstadt. Once more, with feeling: There's a Kia that feels a lot like an Audi, and it goes by the name Sportage.
The Sportage is not, however, priced like a German luxury SUV, which invites a question: Is the car's overt Audi worship an indication of uncommon quality and richness, or of lip service to a remote ideal? The answer is, it's complicated.
Here are the five things you need to know about the 2017 Kia Sportage SX AWD.
1. It's Faster Than You Think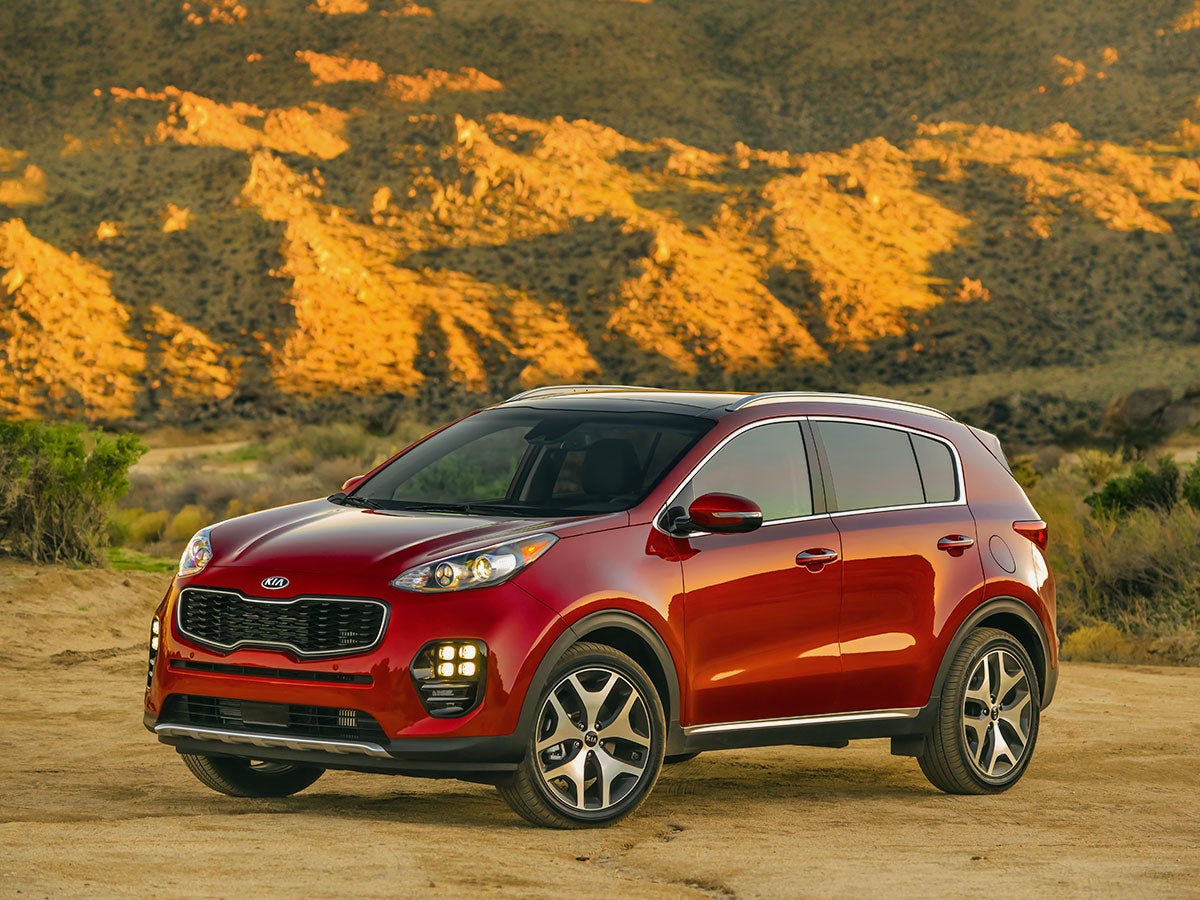 Kia
Outside of luxury brands, you're not buying a crossover producing over 200 horsepower from just four cylinders unless you visit a Kia, Ford, or Subaru dealer. The Escape 2-liter EcoBoost musters 245 hp and the Forester XT, 250, to the Sportage SX AWD's 237, making all three cars relative rockets, with 0-60 times around seven seconds.
The Sportage SX doesn't reveal the extent of its quickness until Sport mode is selected, via a push button by the transmission gate. Throttle remapped and 91 octane flooding combustion chambers, the turbo 2-liter will conspire to throw your unsuspecting skull backward. What's this?! you blurt in an effort to suppress a grin. Remember the toadstool-like, runty Sportages of the late Nineties? Consider the 2017 Sportage SX a turbocharged history eraser button. As you repeatedly beat surrounding motorists to openings on highways and pull clear—well clear—of clustered traffic, the grin widens. In these moments, the Sportage SX feels not just like the most rewarding crossover in its segment, but a sleeper luxury SUV capable of filling a Prolecharian's noble heart with Audi-caliber smugness.
2. Then the Veil Is Lifted—but Not Much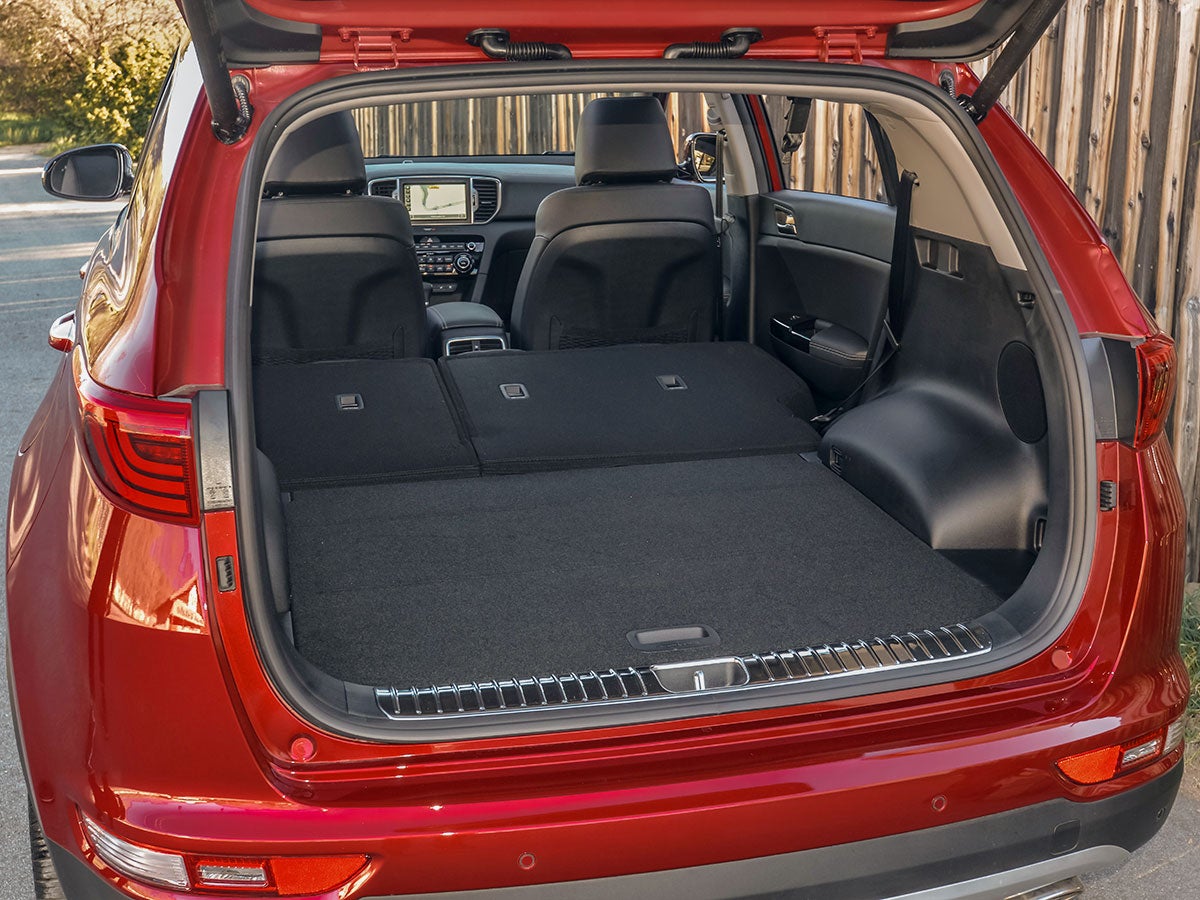 Kia
With the turbo on boil, the Sportage SX is rich-kid smooth, but regardless of drive mode—Sport, Normal or Eco—the throttle is hyperactive-kid twitchy. Modulating the power in a Sportage SX is a real challenge. Don't scoff. The turbo comes online with a jerkiness that an Audi would be absolutely flamed for. Call this a dynamic flaw if you must, but it's not like you're cross-shopping against a loaded Q3, BMW X1 or Mercedes-Benz GLA. BecauseProlechariot.
Superficially, the Sportage's entry-level roots are camouflaged well, though there are some giveaways. The richly textured material high on the dash yields to hard plastic at the level of HVAC controls and glovebox—basically, where you touch the stuff. Again, you shouldn't be too bothered by this; the Mercedes-Benz CLA sedan commits much graver affronts to fingertips.
3. It Has All the 4x4 Toys, but You May Not Want to Use Them
Hit a pothole in the Sportage SX AWD and the car winces as much as you do. If Kia offered an option-delete for the admittedly flash 19-inch alloys and 245/45R17 Hankooks—which it doesn't—the SX would feel more poised over uneven roadways.
For kicks, we turned onto a steep fire road in the Hudson Valley, then performed an about-face to sample Kia's hill-descent control, which automatically modulates braking to maintain a low-speed crawl down a slope. The takeaway: Land Rover can rest easy. The system exhibited the same jerkiness of the throttle, with stuttering, tentative brake application. It did, however, get us down the slope securely, with minimal puckering.
Painted a deeply flecked, bracing Pacific Blue, our Sportage SX seemed too pretty for rock scramblin', so the standard locking center differential went unengaged. A shame in hindsight because, did you notice this thing's approach angle?
4. It's Got a Nose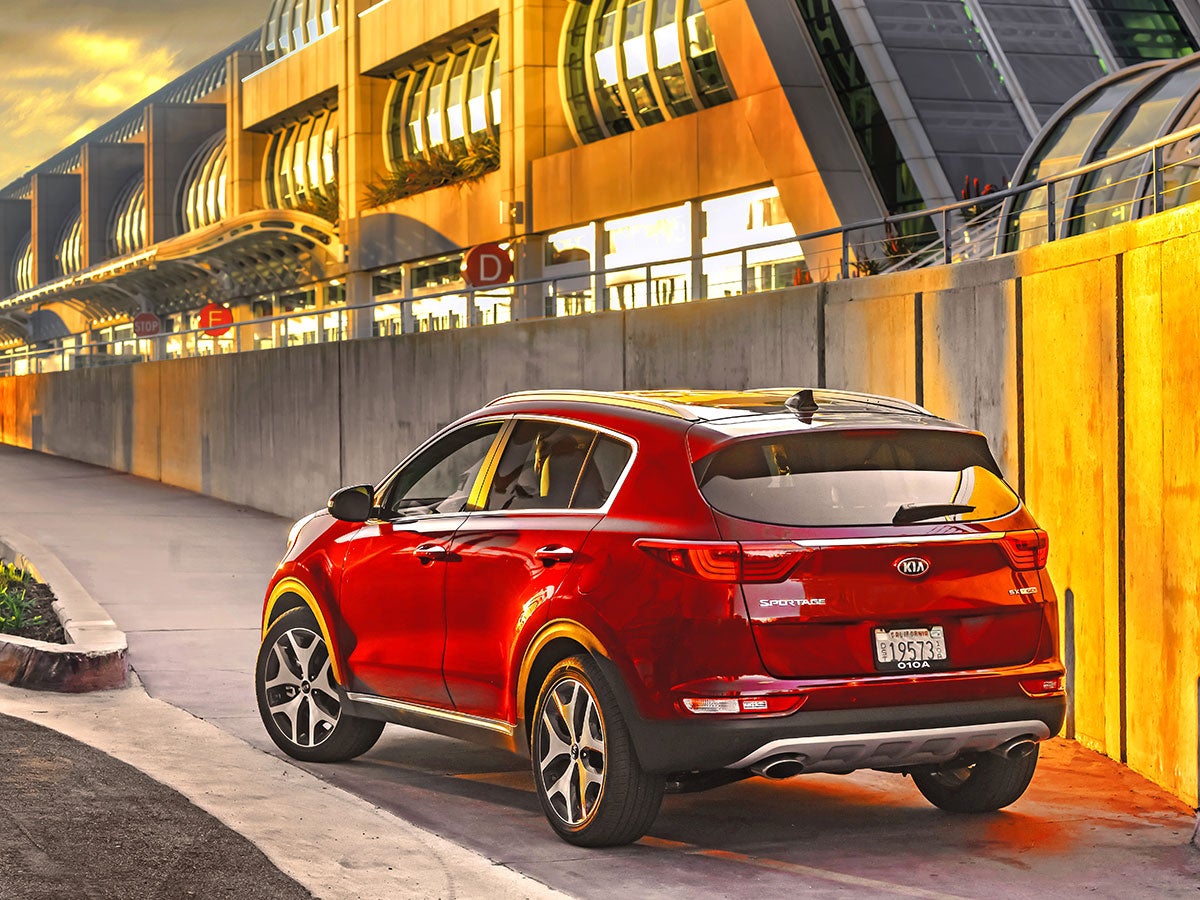 Kia
With apologies to the Mazda CX-3, the Kia Sportage SX has the most exuberantly styled proboscis of any crossover this side of a Citroën Cactus. It's the face of a Dakar Rally raider—or less generously, of a World War II-era DUKW amphibious vehicle—with an overbite ideal for approaching rocks. The full-LED head- and foglamps are as dramatic as any from Audi, a company that all but owns lighting design.
We think it works. Schreyer is saying, Look, Kia is still a relative outlier, and its design language can therefore absorb some unorthodox ideas. The brand is claiming Subaru's retired freak flag. We wildly applaud.
5. Until We Don't
What do a Ford F-150, a Nissan Pathfinder, and an Audi A8 4.0L have in common? They all boast higher combined fuel-economy ratings than the 2017 Kia Sportage SX AWD, which manages an abysmal 21 mpg. Our lovable 4,000-pound ocelot is as thirsty as a Hyundai-Kia engineer in a KTV bar. Subaru's Forester XT achieves a 25 mpg combined rating, thanks to its continuously variable transmission and comparatively bantam 3,650-lb curb weight. That's a damning stat line.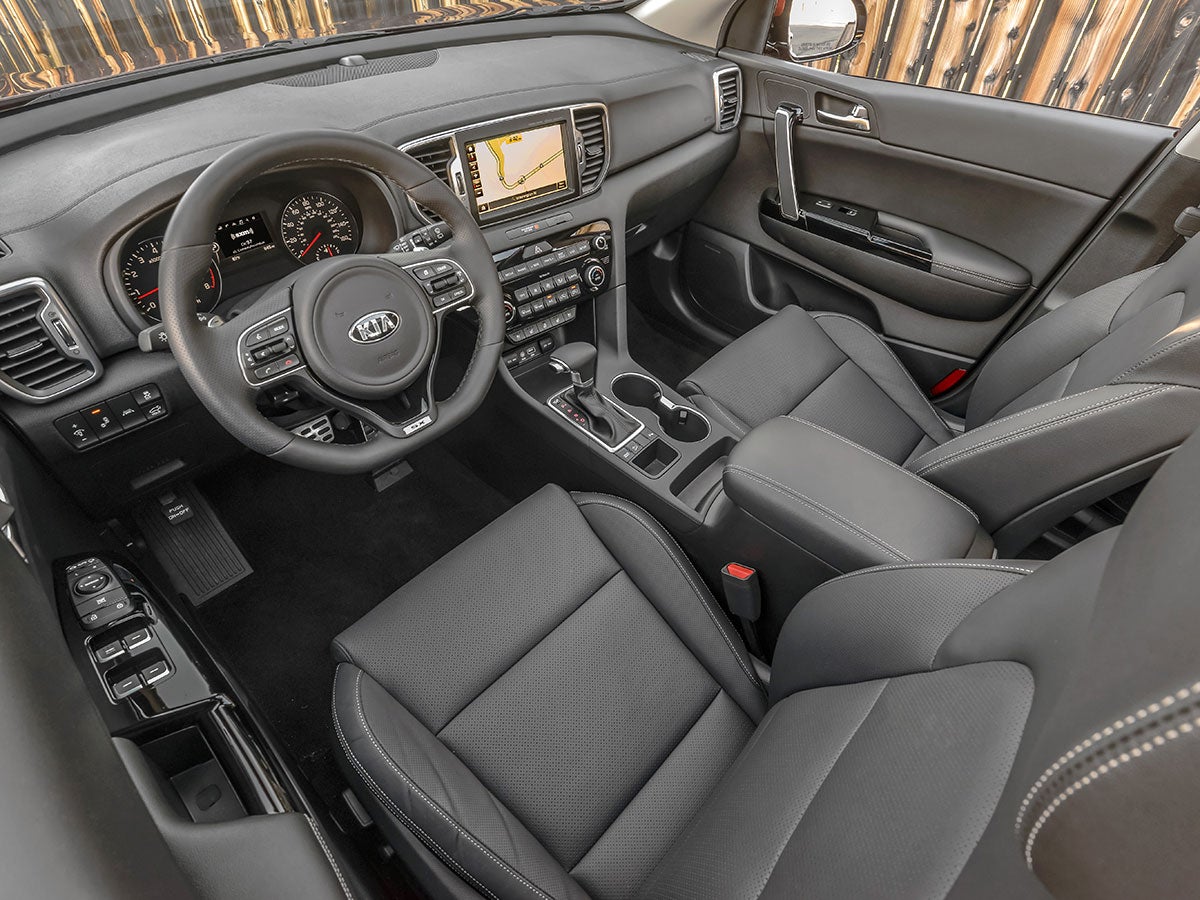 Kia
There's no arguing what the Sportage SX AWD gets right, though. If there are more effective heated and ventilated front seats in a car priced below $75,000, we've yet to sample them. Harmon Kardon audio delivers uncommonly rich mid-range. Even the six-speed automatic transmission's column-mounted paddles react quicker than most you'd encounter in a compact crossover.
Maybe the Sportage SX's greatest advantage from a Prolechariot perspective, though, is its blithe remove from the luxury-car game of thrones. You know what an Audi Q3 isn't? A Q5. How about BMW X1? Not an X3, certainly. Who would ever even think to accuse a Sportage purchaser of sub-Sorento slumming? Embrace the car's outlier status and the rewards will come every time you step inside. Just pray that gasoline stays cheap.
--
2017 Kia Sportage SX AWD
PRICE (as tested): $34,895
POWERTRAIN: turbocharged 2-liter four-cylinder engine, 237 hp, 260 lb-ft torque; six-speed automatic transmission; all-wheel drive
MPG: 20 city / 23 highway
SMUGNESS-GENERATING CAPACITY: High