After only a short waiting period, Formula One fans like myself finally got our hands on the much-anticipated Mercedes W12 F1 car in iRacing. It's the first of its kind: A deep collaboration between one of the bona fide great F1 teams and a racing simulator. It's a special moment for sim racing to have a car like this at our disposal. I couldn't help myself and I gave it a shot with some friends. It might have just moved the entire sim category forward.
I've been vocal about my criticism of iRacing in the past. It was never particularly much fun to play, the force feedback was very "sim racer"-ey in that it never betrayed itself with so-called canned effects like vibration or road texture. The game is much too expensive to play, subscribe to (no ownership here), and it takes a long time to license into faster-racing cars. It seems the tire modeling debacle of 2020 has forced iRacing to take a long, hard look at itself.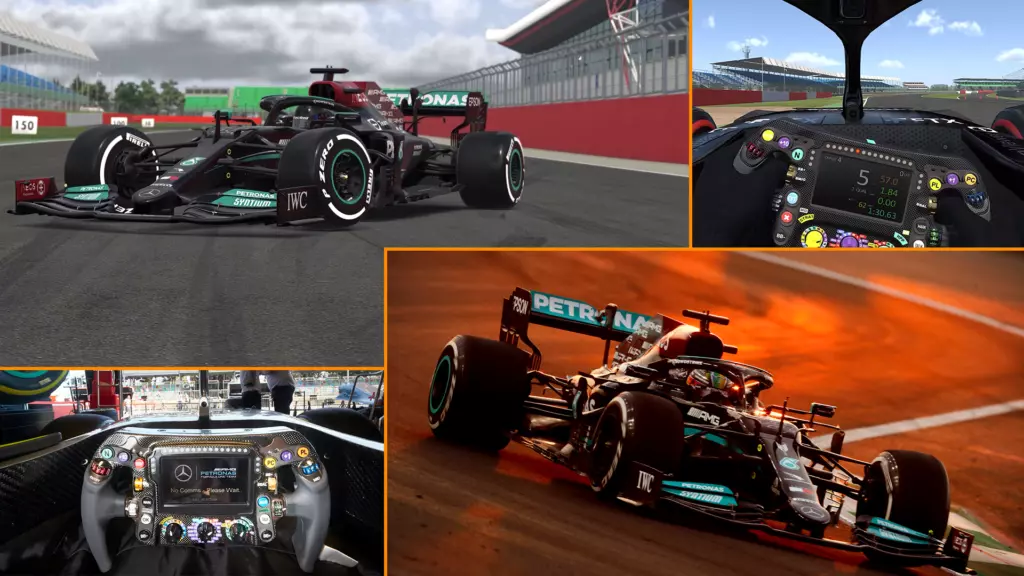 When the Mercedes-AMG F1 team came knocking it must have been fortuitous luck. Mercedes offered iRacing feedback on physics that made it into the game before this new Mercedes deal was inked. Since my review, the game has changed dramatically, for the better. With the arrival of the W12, it feels like an entirely new direction for the game.
I drove the virtual Mercedes on iRacing's rendition of Spa-Francorchamps and Autódromo José Carlos Pace (known as Interlagos) with a small group of friends over about two hours. This was so we could get a feel for the raceability of the fearsome F1 car in pack racing, at high-speed circuits, and low-speed circuits.
From the moment the mouse is clicked and your screen fills with Mercedes W12 cockpit, the detail and passion is evident. The steering wheel is a direct recreation of the real thing in Lewis Hamilton specification with color-coded control knobs. A list of pre-done setups are included for every track and I loaded up a qualifying high-power maximum-grip setup and tried a race setup later. A few menu swipes and all of the in-car adjustments present themselves.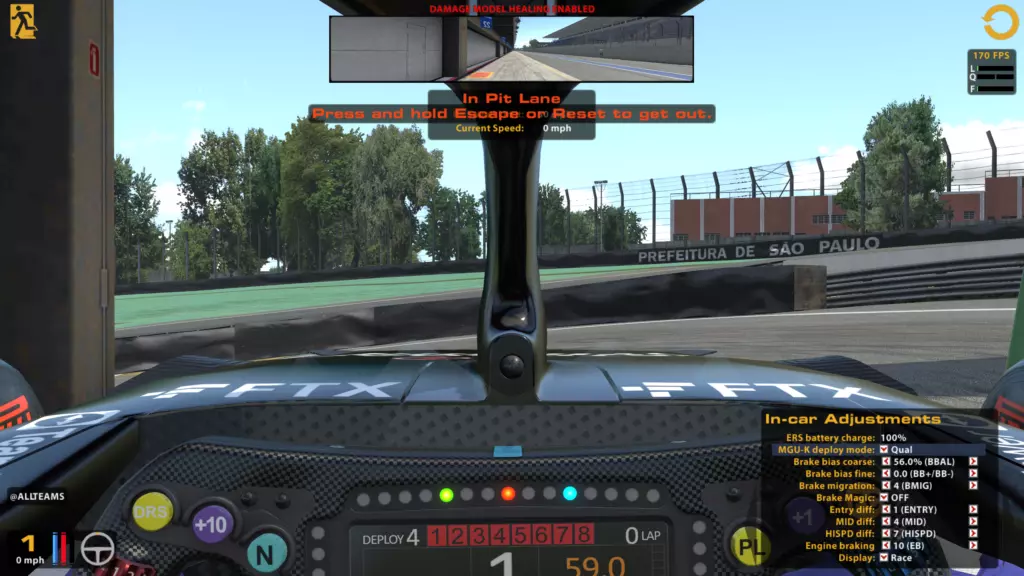 Us, the players, have many toggles to flip through. The normal hybrid system modes and brake balance are present but the interesting stuff is further down the list. Three differential settings reflect the real car, engine braking as well. The most interesting is the inclusion of the infamous Brake Magic that sets brake bias to maximum forward as a method of heating brakes and thereby heating tires. Finally, brake migration is a new addition to sim racing in general and a unique feature of the modern turbo hybrid F1 car.
To put it shortly, it actively changes brake bias based on brake pressure using the rear brake-by-wire system. As F1 cars brake at high speed, they lose aerodynamic load and downforce and the balance of the car changes. Brake migration migrates braking force to closely follow the shift of aerodynamic pressure. It's nuts, and a lot of fun to play with.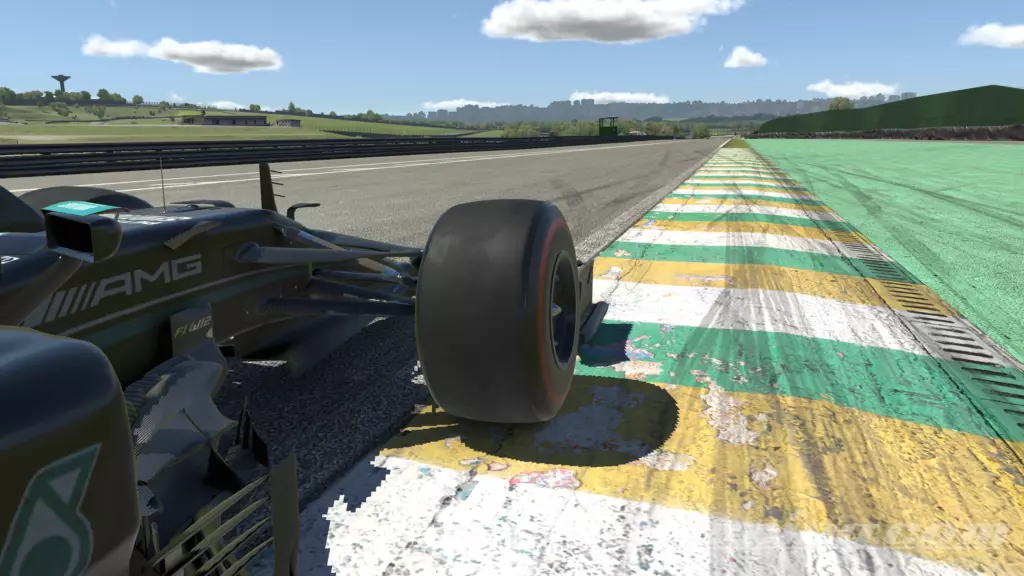 Immersive and actual, real fun are the words for this W12. The gear synchronization sub-screen flashes each gear green as full-throttle shifts snap away until all eight gears are ready to seamlessly shift. Describing how the car drives, sounds, and feels through my Fanatec CSW V2.5 is something I can barely understand.
It's balanced; unbelievably so. On a fresh set of tires, it refuses to do anything but its best impression of a slot car. In fourth gear and above, all 1,000 horsepower can be applied with something bordering on carelessness, thanks to downforce. At lower speeds, like exiting Spa's Bruxelles or the middle sector of Interlagos, judicious application of the throttle is required. An incredibly slow-motion brushing sweep of the throttle is what the car desires.
Smooth aggression is the virtual W12s demand and it will accept nothing less. Braking later than what feels possible, but don't turn in yet. Wait a heartbeat and, for all intents and purposes, fling the car into a high-speed corner and feel the aerodynamics gently nudge the car towards apexes that felt impossible to reach. Turn in late, and turn in with gun-toting authority. At high speed, it is impossible to unstick the car. I tried to flick into a spin at the end of a race for fun and drove straight into a wall. It's a different level of speed.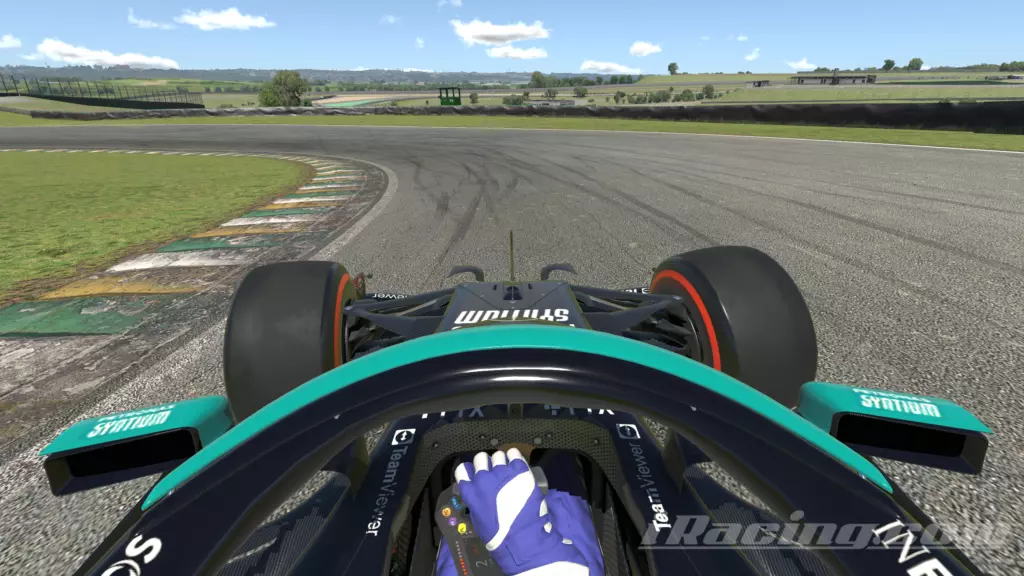 And it isn't hard to access 70 or 80-percent of that performance. The W12 is easy to drive, one of the most fun race cars in any simulator, period. It's so balanced that a gentle slide out of a second-gear corner is child's play and flat out 150 mile per hour slaloming takes simple inputs and plenty of trust. I could lap this car for two hours straight without a single major incident, such is the trust it inspires in a driver.
Not just that but I never wanted to stop playing. I hate doing practice sessions in simulators. I'd rather hop into a race and figure it out. But this W12 has me thinking about doing more practice, more driving for fun, exploring the possibilities of this mighty thing more. Perhaps its the mystery of driving what could be the closest representation of an F1 car and figuring out what makes the real pros 10 seconds faster than me. For me, I think it's the fascination of driving a virtual rendition of one of the greatest racing cars ever made and finding out that it is a joy to wheel.
iRacing helps its case for "Best Sim Car of All Time" with a stupendous sound design. Every little whirr, whine, and grind is rendered with clarity. The 1.6-liter V6 engine has lush sonic character with different tones and characters for every throttle position and rev range. Even the part-throttle chainsawing is included with addictive detail. Shifts sound ferocious and keep you wanting to grab the next gear. It is so immersive that if I ran this car in VR, I might be lost to the metaverse. It moves and sounds just like it does on F1 TV, which is the last thing I expected. Planted, pointed, fast. It's clearly born of the seven-time champions.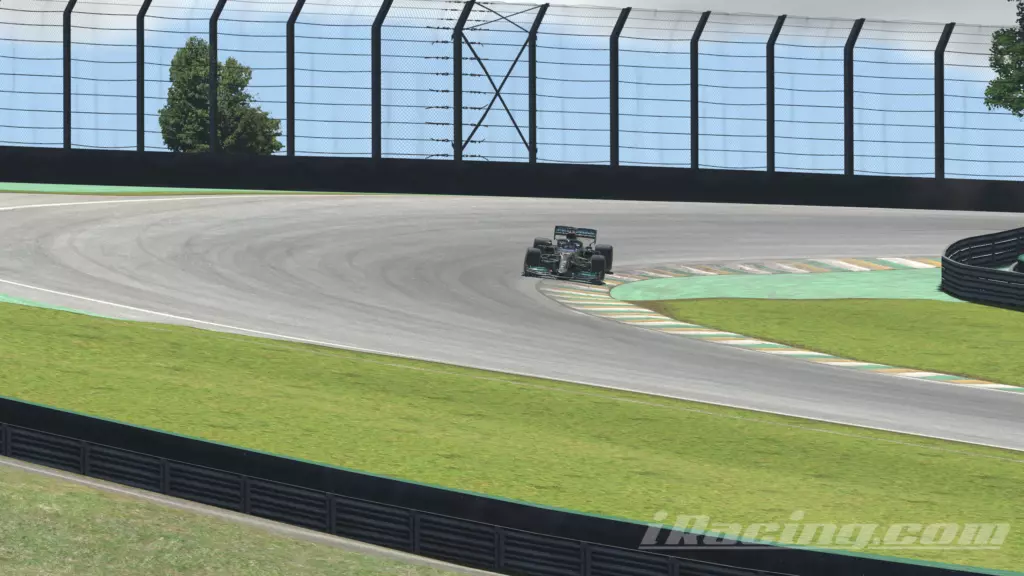 Of course, we are missing important ingredients. We don't experience the neck-breaking G-forces of high-speed cornering, braking, or acceleration. The intense physical, athletic experience of an F1 car is something most will never feel. Sans that, the full experience isn't quite there. But as far as what normal folks can access, this is worth trying iRacing for. It's not cheap but I don't think any other virtual F1 experience comes close. I've tried Assetto Corsa's Ferrari F1 cars, the RSS Formula Hybrid mod car, and countless other attempts.
This crushes them all.