It's been a decade since BMW's 7-Series outpunched the Mercedes S-Class for the luxury sedan sales title, heavyweight class. That BMW was the notorious Chris Bangle-designed 7-Series, the one whose coffin-shaped "Bangle butt" set off journalists' rhetorical torches like a Bavarian Frankenstein.
But even as critics insisted the sky was falling, 7-Series sales skyrocketed. Actual buyers, it turned out, knew a good car when they drove it.
Today's S-Class is again asserting its dominance. Forty percent of class buyers are going with Mercedes; some 20,000 Americans will one-up neighbors with a new S-Class this year. No six-figure automobile, in any segment, comes close. Between its princely luxury and Look Ma, No Hands! driving technology, the S-Class has exhausted the thesauruses of journalists as they extol it.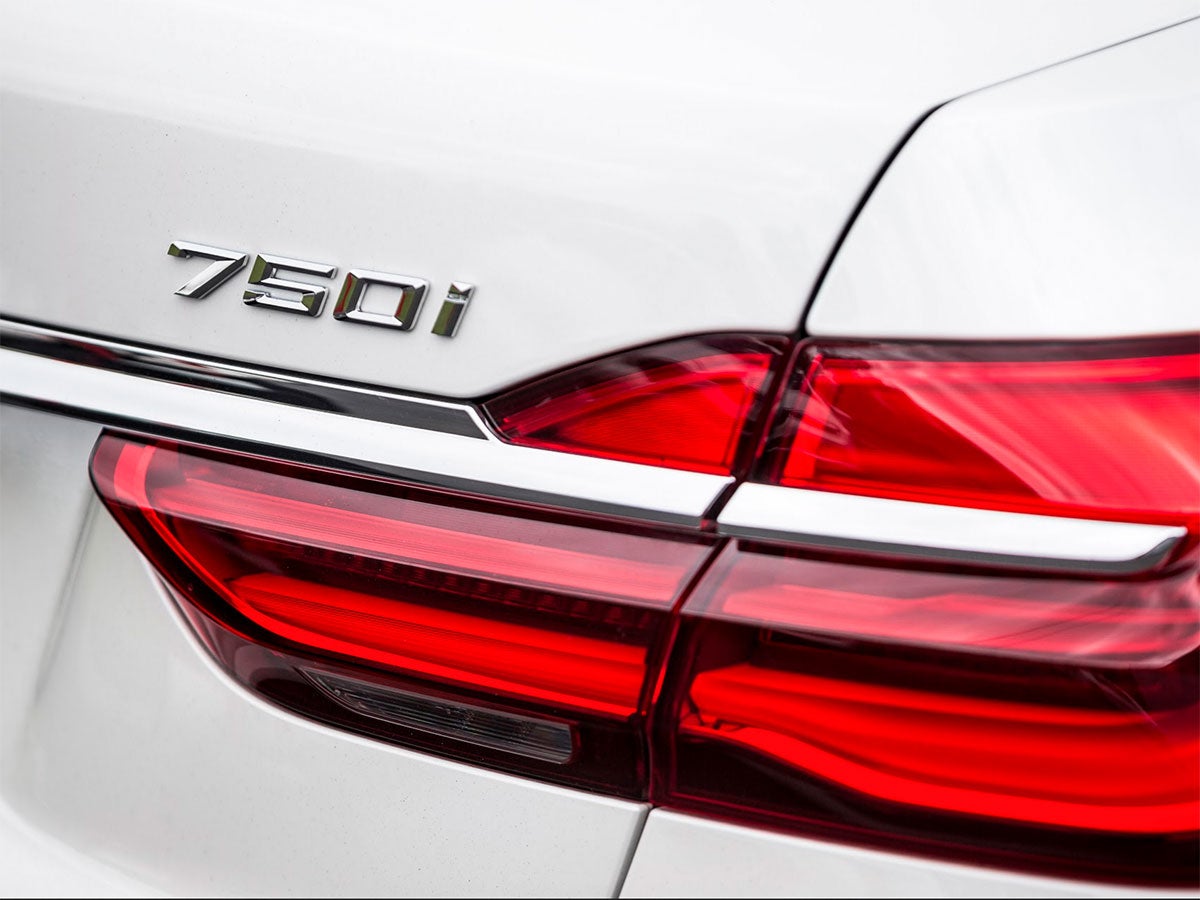 Now, for a change of pace: The new 7-Series tops the mighty Benz. And the BMW's advantages will be apparent to anyone who calls dibs on the driver's seat, or moves to the back. In this high-stakes poker match, the BMW sees the Mercedes' luxury and raises it with more user-friendly technology and a faster, sportier driving experience. You know, that whole "real BMW" thing that the company supposedly had forgotten how to do. Like the Merc, the BMW can virtually drive itself, piloting semi-autonomously at speeds up to 130 mph. But this 7-Series will have owners shutting down HAL 2000 and reclaiming the pilot's chair as they blur the upper-crust universe.
That performance edge got honed at Monticello Motor Club, where I had my first go-round in the 750i xDrive. Still a big tuna at roughly 4,600 pounds, but hardly a fish out of water, the all-wheel-drive BMW attacked the road course with the speed and moxie of a smaller sport sedan. Choose the rear-drive 740i version at $82,295, with its 320-horsepower turbo inline six, and you're looking at a limo-length flagship that weighs 4,225 pounds—just 135 more than a smaller 5-Series with the same engine. Underlining its bid for tech leadership, BMW will bring a 740e xDrive plug-in hybrid to market next year. The first four-cylinder luxury flagship in U.S. history will make 321 combined horsepower from a 2-liter turbo four, electric motor and lithium-ion battery.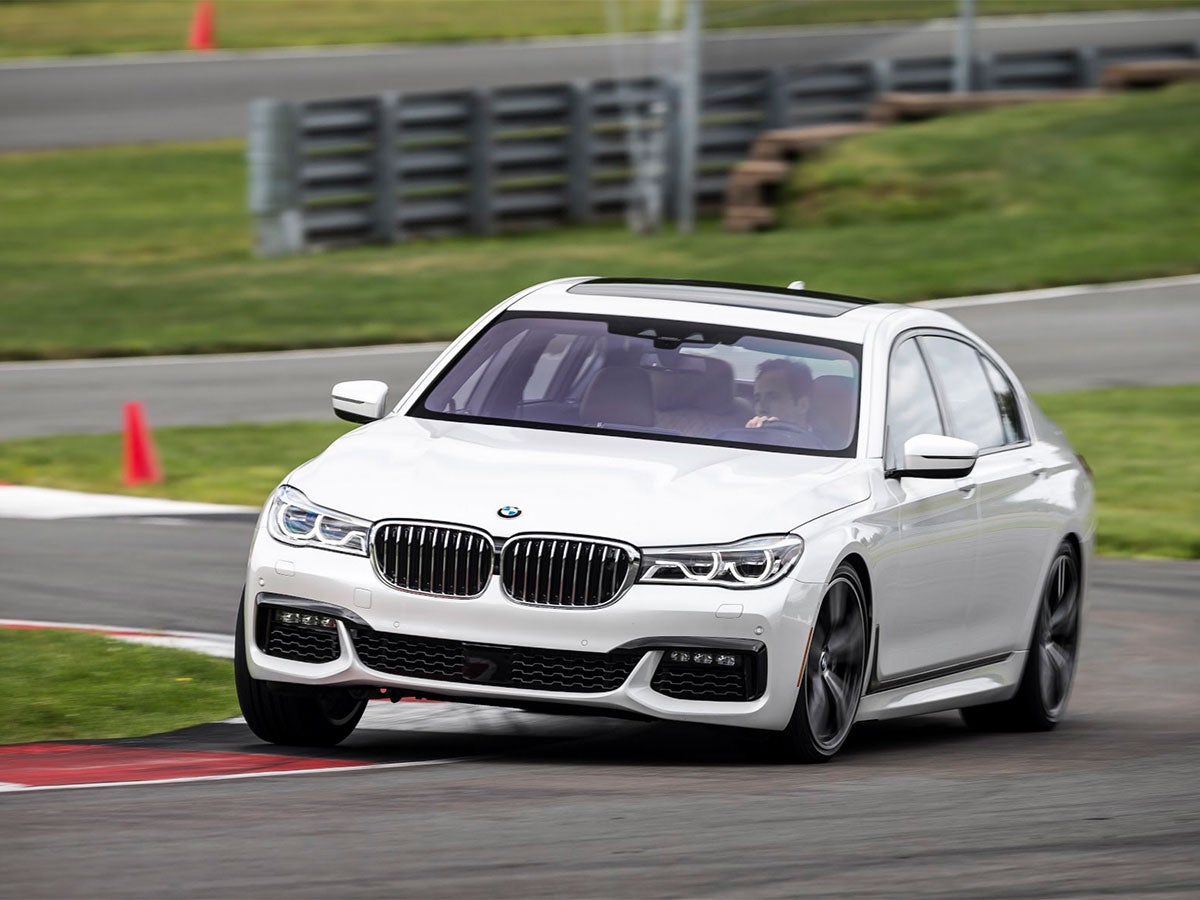 Every 7-Series, meanwhile, stiffens its performance backbone via BMW's "Carbon Core" construction. The trickle-down from the i8 hybrid supercar helps this flagship sedan shed more than 250 pounds in base trim. A naked body-in-white at Monticello highlights BMW's pioneering status in the mainstreaming of carbon fiber, including complex, proprietary CF tubes that arch to form the roofline.
     Dressed in its new, largely aluminum and plastic body panels, the 7-Series can initially seem too reserved; as though BMW designers were conscious of the grief they took over previous editions. But the new stately-yet-streamlined bearing really grew on me, and the car aced the Man on the Street test: I could barely step from the 7-Series without fielding compliments on its looks or questions from fanboys. It helped that my all-wheel-drive 750i xDrive, which starts from $98,395, flashed pearly-white paint with black mascara striping its windows and lower doors, as part of an M Sport package.
That 750i adopts BMW's reworked 4.4-liter engine with twin-scroll turbos discreetly tucked into the engine's vee. Gains include extra thrust, stingier fuel consumption and ultra-low-emissions status. By 1,800 rpm, the V8 is doling out its peak 480 pound-feet of torque. Goosed by a superlative eight-speed auto, the BMW dispatches 60 mph in a company-claimed 4.3 seconds, about a half-second quicker than the Benz. It feels even faster.
A stellar ride-and-handling balance also shows BMW refocusing on its historical strength: The 7-Series can play the smooth yacht-rocker over bumps, yet dial up the aggression and tempo to tire-howling heights. The lusty Jaguar XJ has been the class' performance benchmark, but the BMW feels ready and able to grab that cat by the tail. An unholy stew of BMW ingredients makes it possible, from standard air springs to optional four-wheel-steering, adjustable dampers and adaptive anti-roll bars. A newly available system even recruits road-monitoring cameras and satellite data to boost smoothness or performance: That data combines with real-time driving parameters to adjust suspension, steering, engine rpm and shifts to anticipate and subdue the road ahead.
Whatever's going on under that body, it works. Driving the BMW in the horse country of Dutchess County brought home the screw-you pleasures of a fine Autobahn barge: No one blinks when a Corvette looks to pass, but drivers seemed flabbergasted to see the 7-Series loom in their mirrors and then light them up like a Ronin assassin. Rich-brat behavior will rarely be witnessed in an S-Class. In the BMW, it proves irresistible.
Navigating south to Manhattan's FDR Highway, I descended into a maelstrom that could have inspired a Hieronymous Bosch painting. Send in the semi-autonomous genies: Instead of the hectic, wearying two-step polka between throttle and brake, I basically checked out for 30 minutes in stop-and-go traffic without once touching the pedals. And when I couldn't be bothered to park, either parallel or perpendicular, the BMW did the job itself.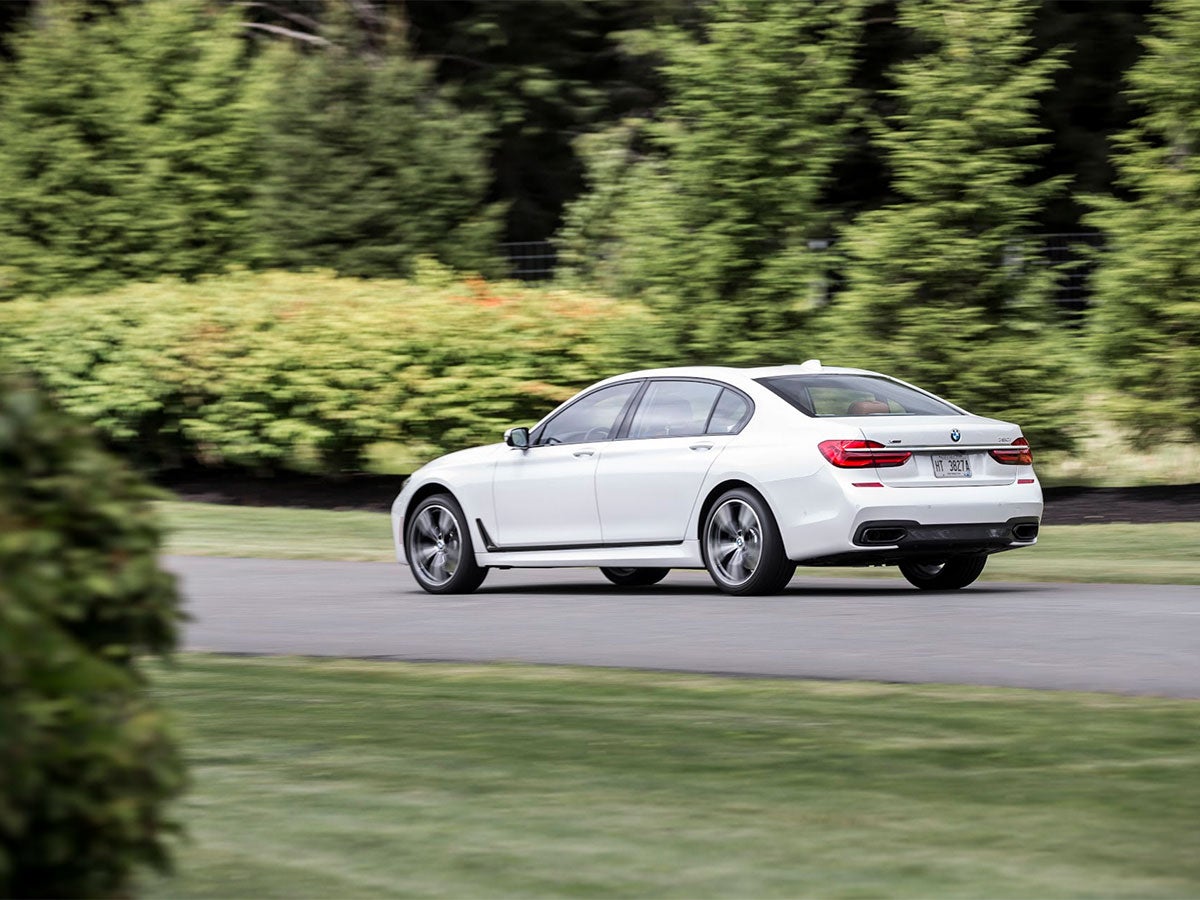 Pleasures continue in the cabin, where the 7-Series rises above the frozen-in-time complacency that has seen BMW struggle to keep pace with Audi and Merc. It's as burnished and redolent as a Tiffany fragrance counter, with in-vogue quilted leather thrones, an enormous 12.3-inch fixed center display and a striking pair of reconfigurable driver's gauges. Among visual distractions, tweeters for the Bowers & Wilkins audiophile system sparkle with illuminated vortices behind metal grates. A roof-spanning dual sunroof gets 15,000 etchings on its glass, lit with color-adjustable LEDs. BMW says it's $900 worth of ambient relaxation.
With its nearly Art Nouveau flourishes, the S-Class wins the interior beauty contest, but the 7 steals other categories. Where Merc's infotainment system is still clunky after all these years, despite its glitzy new animations, BMW's once-despised iDrive has become quite adroit in this fifth iteration. The rear seat stretches to 44.4 inches of legroom, 1.4 more than the Benz. And the BMW delivers one of the year's most overlooked yet innovative features: A portable Samsung tablet, beautifully integrated into a folding rear console, that smoothly controls everything but the S&P 500. Pressing a button releases the Internet-enabled tablet so you can pluck it from its metal frame. With smartphone-based Apple CarPlay and Android Auto becoming de facto standards, BMW has anticipated that portable tablets with upgradeable software are the next logical evolution for car interfaces. Expect other luxury automakers to follow suit. And, while we hate to sound indiscreet, the slick tablet not only whips the fitful rear-seat controls in 7-Series' main rivals, but also those(comparatively) primitive systems in a Bentley or BMW's own Rolls-Royce brand. Add the optional airliner-style executive seat—a right-side massaging recliner with a powered footrest and fold-out table—and the BMW's chauffeur-ready rear quarters get a  sense of occasion usually limited to Maybach.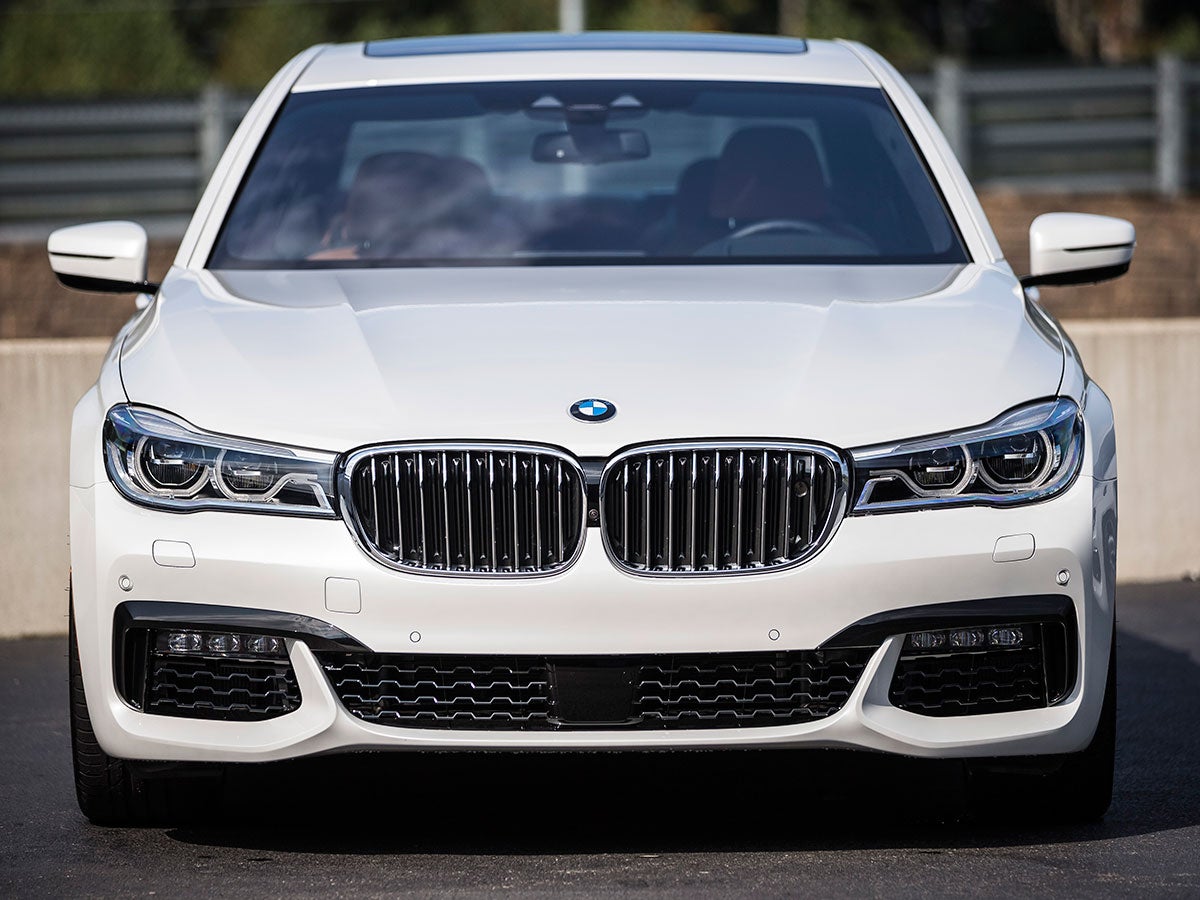 Two other fingertip firsts distinguish the 7-Series. Gesture Control's infrared camera lets you manage functions with hands sweeping the air, like something out of Minority Report. Twirl a finger in space to raise or lower audio volume. Point at the screen to accept an incoming phone call, or wave a haughty hand to dismiss it. Point two fingers at the screen to navigate home. At traffic lights, fellow drivers gave me odd looks as I twirled an invisible knob. ("Yo, check out the stoned rich dude...") Sure, the feature is this close to superfluous gimmickry. But gesture control holds the germ of another good BMW idea.
For a final one-upper, whip out the Display Key. This remote fob with a 2.2-inch, Gorilla-glass LCD touchscreen It displays stuff like locking status or fuel level, and you can use it to preheat or cool the cabin. For now, the chunky fob seems best for hogging space in mens' already overburdened pockets. But lucky Europeans can blow neighbors' minds: The fob can remote-control the BMW into or out of a garage space. Yes, the 7-series is the world's first production car that can drive itself with no human inside. Great for squeezing into tight garages, past greasy lawnmowers and kids' bicycles, with no need to open doors. (Note: U.S. regulators, spoilsports, haven't signed off on this feature yet).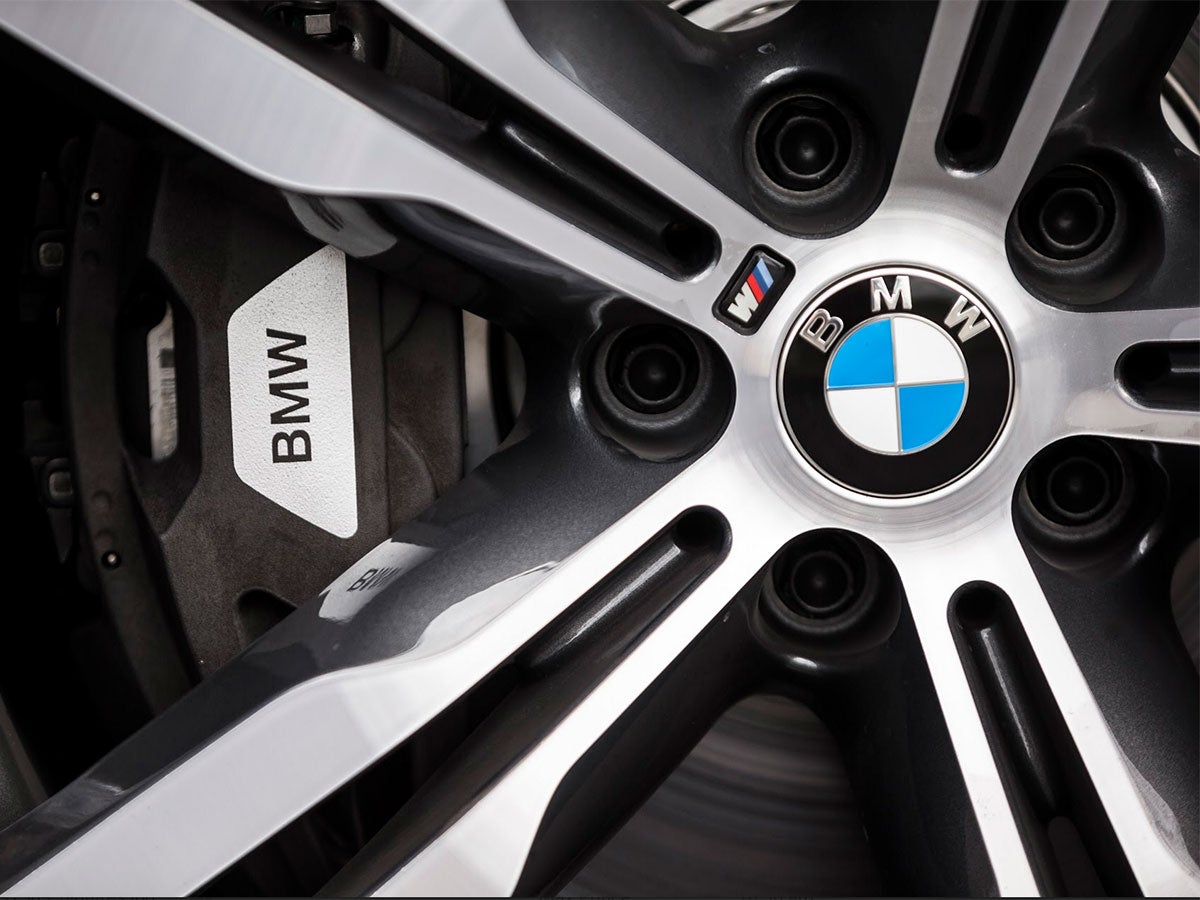 Such lavish performance, technology and luxury doesn't come cheap. This particular 750i xDrive reached $128,445—on par with an ambitiously equipped S-Class. Big spenders won't flinch. For those who demand hands-on performance with their hands-off technology, the 7-Series is back in a big way. And if you happen to see a 7-Series owner gesturing as he passes the Mercedes, he's not adjusting the radio.