Once upon a time, it was definitely in Ford's playbook to go ahead with a Bronco pickup, in the same way Jeep makes the Gladiator based on the Wrangler. Ford never said anything official, but it seemed obvious: what's better than a Bronco? A Bronco with space out back for hauling junk. One way or another, though, we found out the project has apparently been canceled, with the Dearborn automaker likely worried about the proximity a Ranger-based Bronco pickup would have to the Ranger pickup itself.
It was disappointing to say the least, especially because the original Bronco had a pickup variant. Now, though, we're going to get the bed-equipped Bronco we've always wanted to see. Well, at least one bed-equipped Bronco. The truck in question is being built as part of Ford's SEMA push this year by BDS Suspensions, and it has a slew of other upgrades as well on top of the addition of a bed. Designed for theoretical use as a first-responding fire truck, it has big wheel and tires, all new shocks and springs, and more.
It all starts with a two-door Black Diamond Bronco, although there's not much original Bronco suspension hardware left after BDS, a subsidiary of Fox Shocks, has completed its work. The truck gets new front upper control arms, Fox 2.5 PES coilovers, and to keep the solid axle in place, adjustable rear control arms as well as a new track rod. 37-inch tires are standard all around as well, and the sway bars disconnect for extra travel.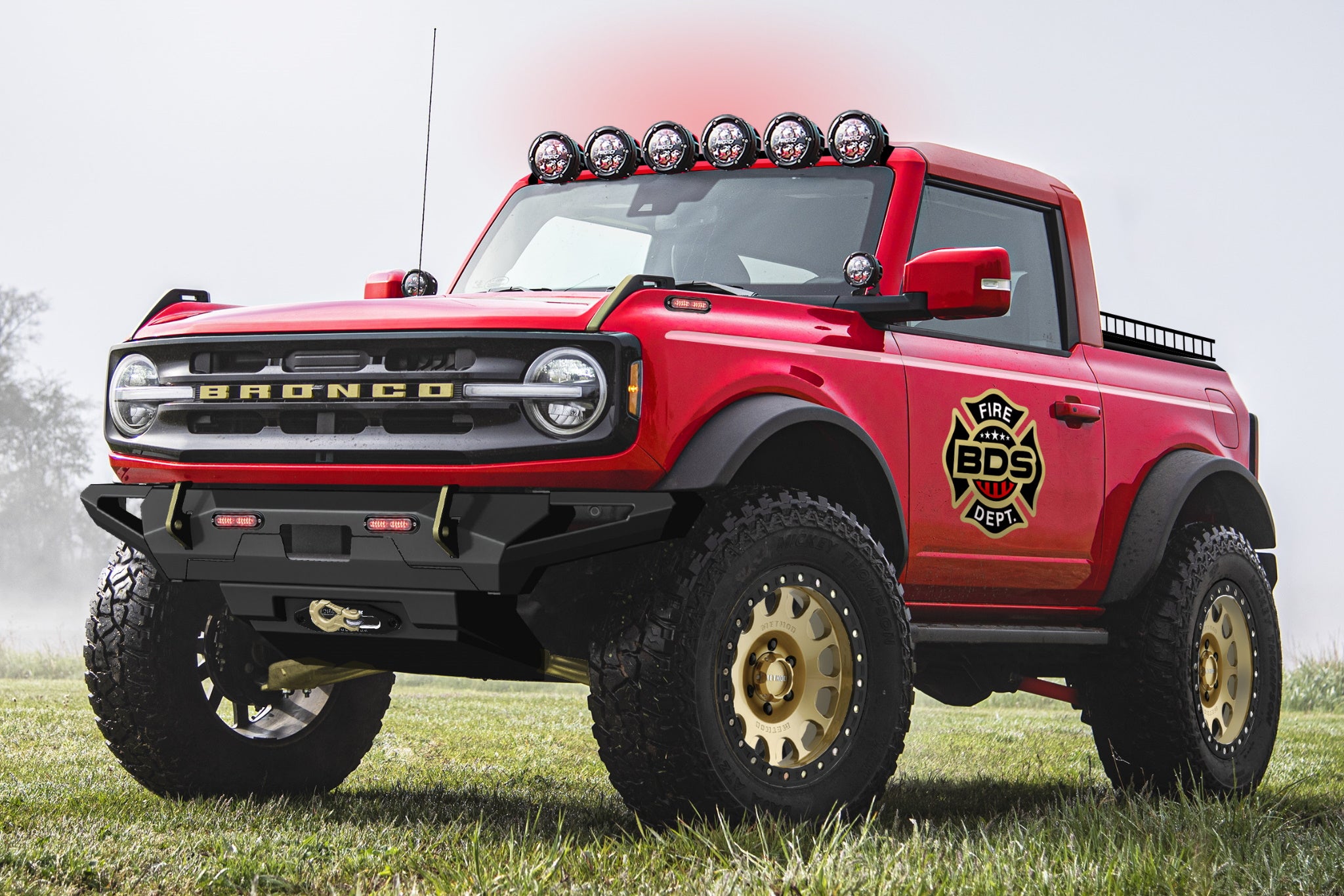 Ford
New bumpers and underbody armor make sure nothing messes with the truck's working components, and a slew of new tow points have been added in addition to front and rear winches. An underhood air compressor completes is the final cherry on top.
All of these parts have been added to ensure that getting stuck is rare, and staying stuck is even rarer, but let's all take a step back. This might be our best look at a Bronco pickup. In the one picture Ford has provided—although more will likely be released by BDS themselves—it looks pretty swell.
This truck will, of course, be present at SEMA, so if you happen to be in attendance you'll be able to get a good look at the truck in person. Maybe bring an envelope stuffed with hundred dollars bills. You could make a valiant attempt to get your hands on the only officially Ford-sanctioned Bronco pickup ever made—that we know of. Regardless, something tells us that just like people were building Wranglers with beds before the Gladiator emerged, the ever-enterprising aftermarket will make Bronco pickups a reality before long.
Got a tip or question for the author? You can reach them here: [email protected]