The Ferrari 250 GTO is one of the most valuable cars ever built, selling for well into the tens of millions of dollars today. Sixty years ago, though, they were worth a fraction of that, with one magazine ad promising a real 250 GTO for $14,000. Perhaps even more surprisingly, the car apparently sold for less—and still lived one hell of a life after that.
The 250 GTO's value stems from the story of its creation, and now Ferrari skirted homologation requirements by misrepresenting how many it had built. It's a tale to tell another time; right now we're only concerned with chassis 4219GT, one of the last of just 36 cars built. According to Ferrari registry Barchetta.cc, it was bought by tobacco heiress Mamie Reynolds, who hired Pedro Rodriguez (a future 24 Hours of Le Mans and Formula 1 Grand Prix winner) to campaign the car in two races at Daytona.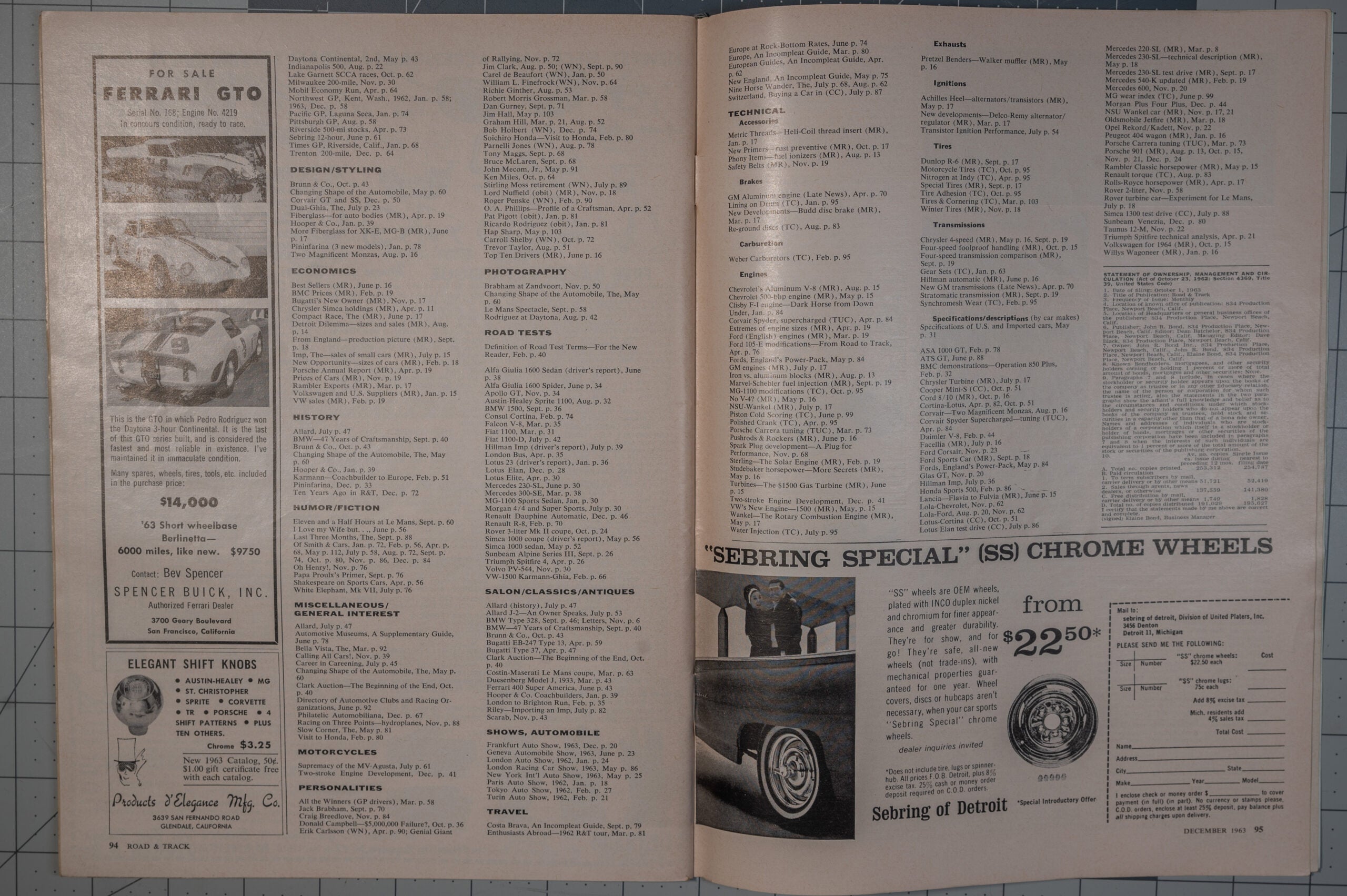 1963 Ferrari 250 GTO ad for $14,000 in Road & Track's December 1963 issue. Chris Tonn
1963 Ferrari 250 GTO ad for $14,000 in Road & Track's December 1963 issue. Chris Tonn
Later that year, Reynolds sold the car to a Buick dealer in San Francisco, which bought an ad for the car in the December 1963 issue of Road & Track. It was listed for $14,000, but Barchetta.cc indicates it only sold for $12,166. That sounds like a steal, but a lot of inflation has happened since then: it's equivalent to about $119,000 today. So, still far from a cheap Ferrari.
By no means was that the end of the line for this 250 GTO, though. The Buick dealer sold the car to one George Dyer, who had his Ferrari painted blue. According to Ultimate Car Page, Dyer didn't just use it for concours: he daily drove the now perilously pricey car and taught his son to drive in it. He held on to the 250 GTO until 1993 when he sold it for $3 million-$3.5 million to a British businessman who has since used it for vintage racing and concours. And despite this storied life, it's alleged to remain one of the most original 250 GTOs around.
Not bad for one of the cheapest examples of (arguably) the most valuable car ever built. Here's hoping it stays the course no matter who buys it next—instead of becoming an Investment™ to some soulless goober.
Got a tip or question for the author? You can reach them here: [email protected]