The Chevy Camaro ZL1 1LE is widely regarded as a "cheat code car." You can drive it to the track, drive it on the track, and have a really good time doing both. But what happens when you expand upon this car's physics-warping qualities and build one of these into more of a hardcore racer? My buddy Nguyen Vo did just that.
The 1LE is an immensely impressive car off a dealer lot, but Mr. Vo was not satisfied with the car's standard setup. He took a more bespoke approach to get the most out of this capable chassis (he has a similarly sweet Porsche 911 GT3, too). Make it your own, play its strengths, keep it cool (temperature-wise and aesthetically) and reliable, and do everything possible to maximize grip. When I say everything possible, holy cow, he and the shops he's worked with on the build have done absolutely everything.
Nguyen recently threw me the keys to this muscular little beast, and we proceeded to cruise around South Orange County for a few hours. I knew that if it was anything like his GT3 I drove a year ago, we'd have to be especially careful to avoid the attention of Johnny Law.
The build is absolutely wild, and would make any gearhead with an affinity for loud cars grin from ear to ear. It's been purpose-built for track day fun, but also makes for a remarkably easy-to-drive car on the street.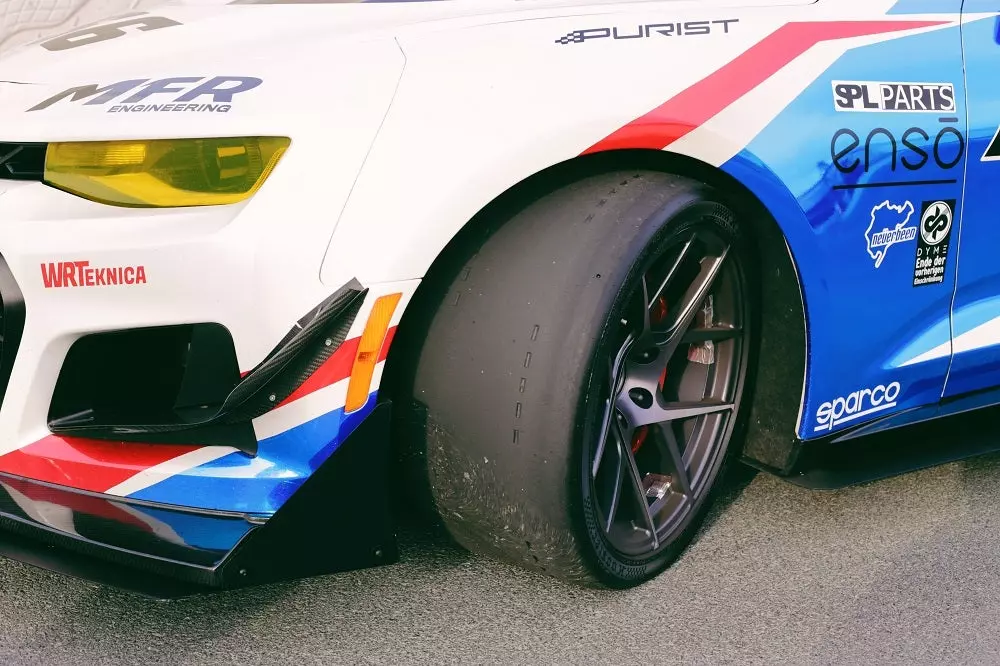 Inspiration Specifically From GT4 Racing
The aim of this build was basically just to make a GT4 car for the road. GT4 is an international racing class designated by the FIA to be generally based on stock vehicles, with just suspension, safety equipment, and mild aerodynamic improvements, and lots of weight removed. That's the short n' sweet description, by all means, check out the actual regulations for IMSA's version of GT4, GS. This is territory occupied by race-trim versions of the ZL1, Ford Mustang Shelby GT350R, BMW M4, Aston Martin Vantage, McLaren 570S, Porsche Cayman, and more. Fun, quick fact: In most series, the McLaren is penalized and must produce less horsepower than a road-going version.
Extensive Mods That Don't Destroy Drivability
Leaning heavily towards race-car-for-the-road usually means drivability suffers. You know, an experience that leaves you with a sore back, ringing in your ears, and a sweat-drenched shirt. He did however find an ideal fine line and ended up with something actually rather comfortable here. This Camaro is basically just a racing engine management system, sequential gearbox, fully-stripped interior, full roll cage, and fire suppression system away from being an actual race car, but it's actually not bad to ride in on the road.
The extensive scaffolding that is the half-cage behind the seats sits far out of the way, and the Sparco QRT-R driver seat is very comfortable. He still kept the full HVAC and infotainment system for easy porting to and from the track. The massive, supercharged LT4 under the hood is bone-stock for all-day-long track reliability. Finally, he kept the six-speed manual gearbox for the sake of engagement and fun.
Where there's some major difference is within the wheel arches; one-way adjustable coilover suspension engineered and setup by WRTeknica, an absolutely massive big brake kit, and massive wheels wrapped in Hoosiers. Just take a look at this tire setup; that's right, 315-wide Hoosier R7s up front, 325s out back. By comparison, the factory tire sizes are 305/30R19 up front, and 325/30R19 in the rear. The wider front tire, combined with the fact that it's a high-treadwear, barely street-legal make the front-end feel so incredibly grippy.
Then there's the aero equipment that was engineered and built by MFR Engineering. There's a lot of it, but no where is it lacking in functionality. They were able to make it generally street-friendly, too; it's a lift system away from a McLaren 620R. All of these aero pieces add up to more downforce at speed on track, as well as a more efficient way to route air underneath the car. This means more stability and grip on track, including while braking hard from very high speeds (to the tune of around 150 mph) into tight corners.
Oh, and let's not forget the exhaust system: It's essentially muffler-less from the cats back and is quite loud, but not overbearing. It screams up to redline like nobody's business and sounds absolutely glorious.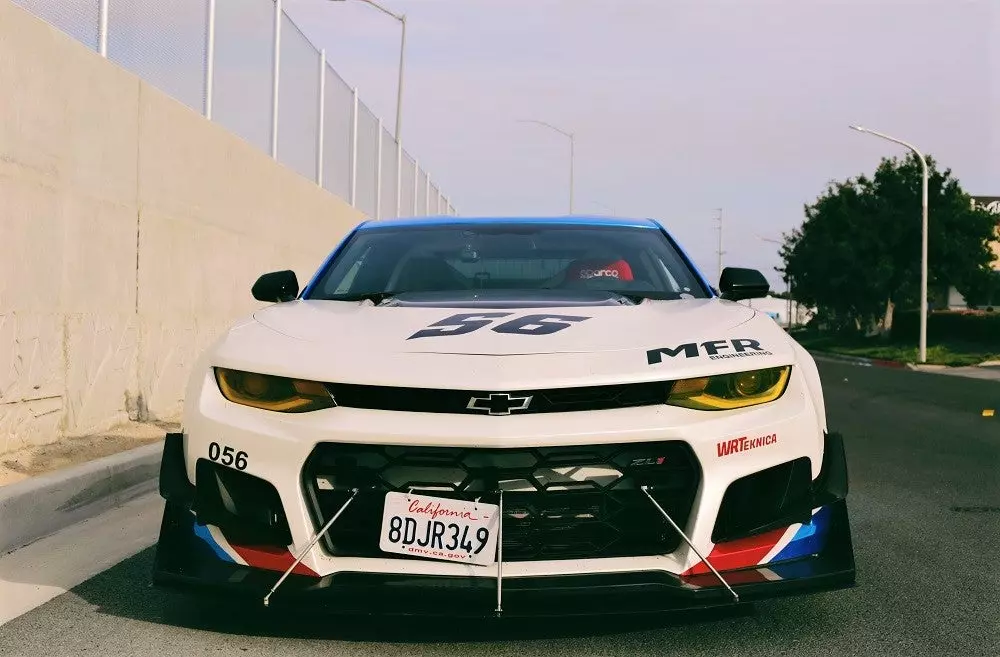 Some Of the Most Fun Theatrics
Thanks to the 1LE's longer gearing it's a lot of fun to rev out first gear, then run second and third up nice n' high as well. The car just launches and makes one of the angriest sounds I've ever heard from an American V8. It's not terrifying though. Thanks to its huge slicks, it just hooks up and launches, even if you stomp on the loud pedal a little early through a turn. On track it's probably different; I could see the need for driving with precision and care when up around eight-tenths. But for street driving, it just… goes.
All in all, this is a very fun build, and good on Vo for doing something incredibly hardcore while preserving just enough functionality to use the car in more than one area, all while still being unique. And of course, it looks incredible.