If you've ever worried that the desert-slaying Ford Raptor is a bit wimpy in its stock form, then this 2016 MegaRexx F250R should cut the mustard. See, it takes the heavy-duty underpinnings of the three-quarter-ton Ford and boosts its off-road credentials with an Icon suspension setup and 46-inch tires, among other mods. It was custom-built a few years back and is now up for auction on Bring a Trailer, waiting on some well-to-do bro who can't wait to terrorize their local dunes or shopping center.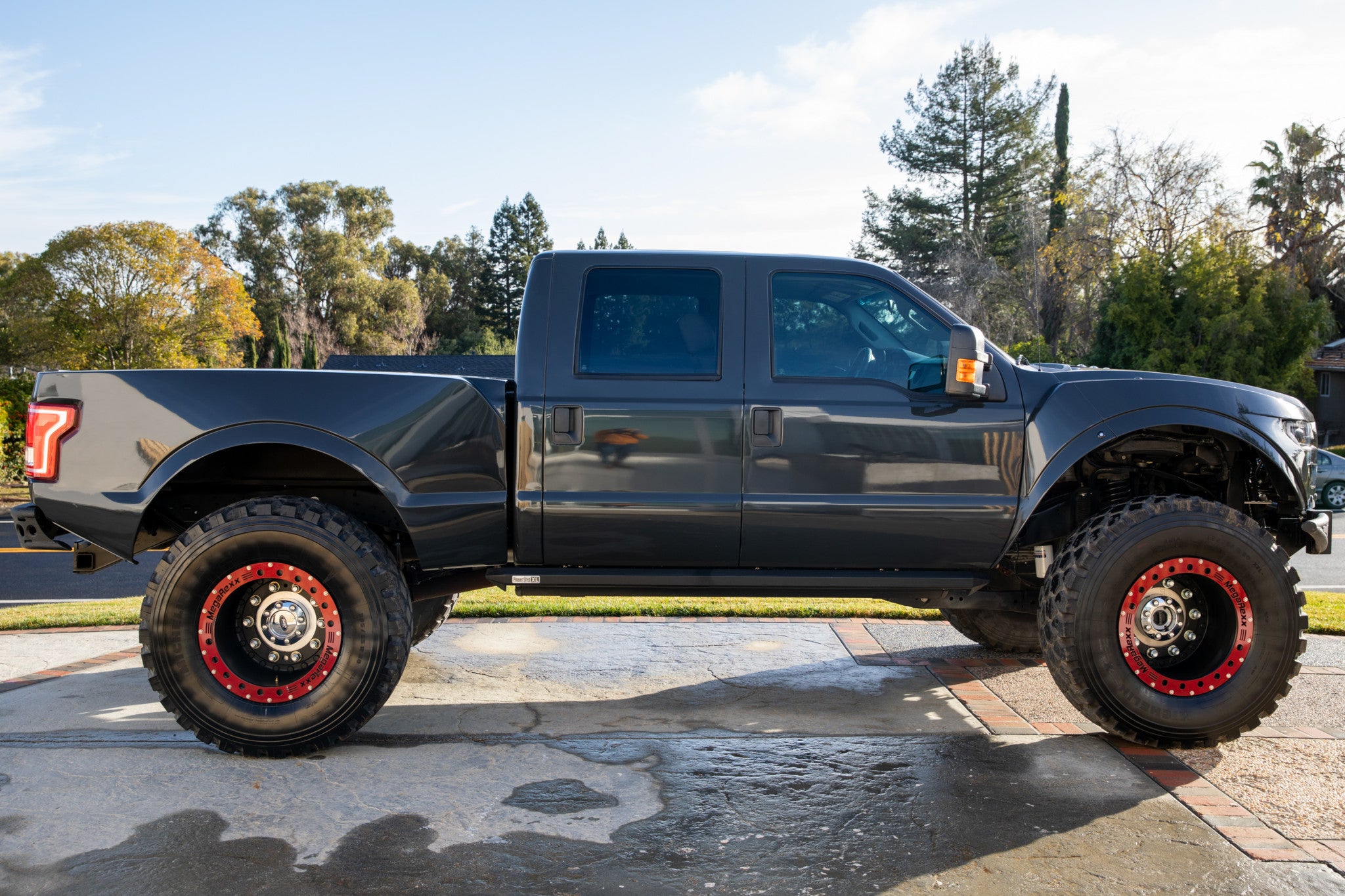 Via Bring a Trailer
Off the bat, it's clear that this pickup is an amalgamation of beefed-up components. MegaRexx Trucks of Tucson, Arizona equipped the Super Duty with a Raptor-style front fascia, although the panels are now made of fiberglass and expose the hood in clamshell fashion. The bedside fender flares are also fiberglass, and they allow plenty of extra room for those monstrous Michelins that wrap around 20-inch, 10-lug beadlock wheels.
The MegaRexx F250R is more than an appearance package, even if it carries with it an unmatched amount of shock value. It packs a 6.7-liter Power Stroke diesel V8 that made 440 horsepower and 860 pound-feet of torque in stock spec, although the listing mentions "aftermarket exhaust components" which hints at a possible tune. Output is sent to a six-speed automatic transmission which then disperses it to either the rear or all four wheels; this is toggled by an on-the-fly transfer case shifter.
Alas, an upsized 50-gallon fuel tank ensures you'll be able to pass at least one Conoco on your way to the desert or backwood trails. The rear-end has been regeared to handle the extra load and a Mag-Hytec differential cover provides a bit of protection when driving off-road.
Don't forget the custom bumpers which house a plethora of LED pods—a must on any top-shelf four-wheeler.
There's no telling what this Porsche grey example might fetch, but when it was new, it likely went for around $90,000. That might sound surprisingly cheap—if you can call it that—but it was built upon the Super Duty's XL trim, a bare-bones model with vinyl seats and relatively few luxuries. The base F250R package costs $28,000 and this looks to have a few added niceties, so we wouldn't be surprised to see a reserve somewhere around $100,000.
Got a tip? Send us a note: [email protected]