Ken Block is perhaps one of the most widely known pro drivers in the entire world—even folks who don't care about racing love to watch his drift-filled Gymkhana films. His on-track performance and on-screen presence have helped to breed a new generation of auto enthusiasts and perpetuate the love for the hobby shared by millions around the world.
Between the Hoonigan branding, Monster logo, and iconic "43" moniker, Block's cars are instantly recognizable by virtually anyone who has watched a car video on YouTube in the past decade. Now, Block has listed three of his most legendary rides up for sale, including his beloved 1986 Ford RS200.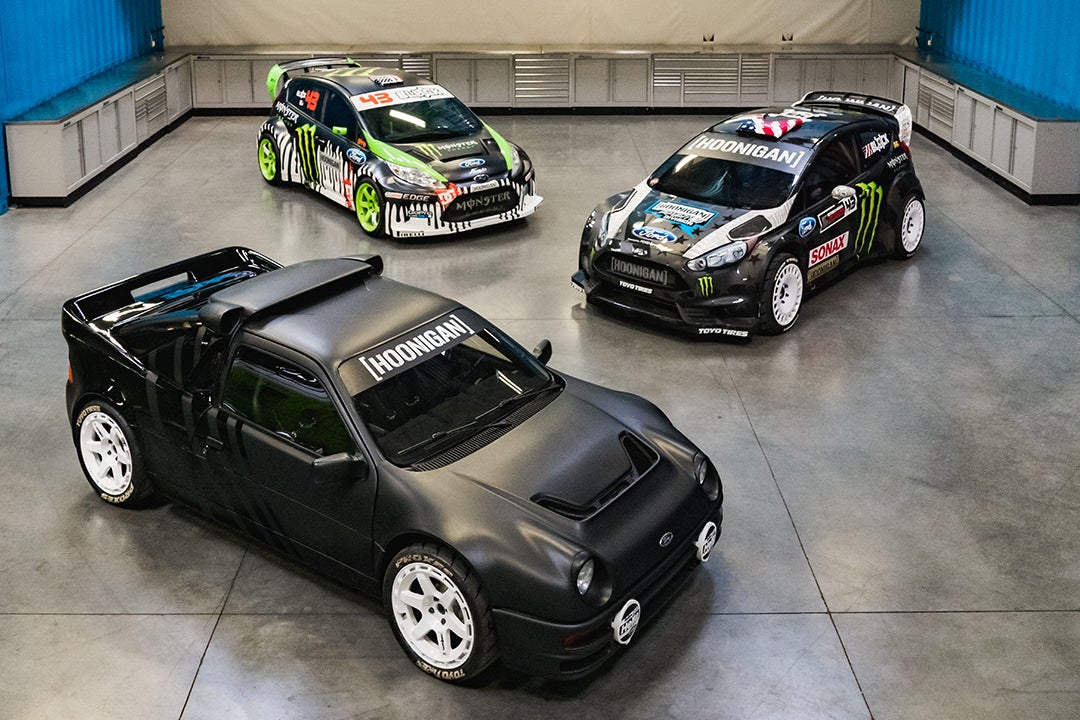 via LBI Limited
2011 Ford Fiesta ST "GYM3"
If you're looking to own the very first Gymkhana-modified Ford, this is your chance.
The Olsbergs-built 2.0-liter Duratec pumps out a more-than-respectable 600 horsepower. When combined with the car's lightweight construction and a six-speed MakTrak sequential gearbox, the platform is capable of a zero to 60 run in just two seconds.
You'll instantly recognize this car from Gymkhana 3 where the car made its bouts climbing the walls of a French autodrome. Block says that the car was purpose-built to do exactly that—very light, very simple, and in his own words, "the ultimate Gymkhana car"
2013 Ford Fiesta ST "RX43"
For Block's entry into the 2013 Global Rallycross Championship, Malcolm Wilson's M-Sport built a 600-horsepower beast capable of sprinting from zero to 60 mph in under two seconds. This 2013 Ford Fiesta ST is that beast which was actually raced and responsible for Block's first-ever GRC win.
As an added bonus, the same car would be used for the Global X Games, Gymkhana Six in California, Gymkhana Eight in Dubai, and Terrakhana in Utah.
Oh, and in case you were wondering, this is the same car that Block drove in a battle with Lewis Hamilton in Barbados.
1986 Ford RS200
The 1986 Ford RS200 holds a special place in every rally enthusiast's heart, including Block's. This rare car is the 80th example of just 200 homologation specials ever built, and a car that Block himself lusted after even before becoming successful in his career—it was, and always has been, his favorite car.
Originally designed to compete in Group B, this beautifully sculpted masterpiece's original 1.8-liter was upgraded to the Evolution-spec 2.1-liter (one of the 24 Evolution motor packages ever built) and tuned to reach more than 700 horsepower on standard pump gas. The engine is attached to a sequential gearbox and the combination sounds absolutely incredible.
I don't know about you, but this is one of those cars that I just couldn't bring myself to sell. I guess if you have to take your shoes off to drive the car, it might get a little bit cumbersome over time, but luckily I'll never have to worry about such a thing.
If you're looking for a well-known and race-ready ride, now feels like the time to consider buying, because it's not every day that something from Ken Block's personal collection goes up for sale. LBI Limited will handle selling off the cars, listing the RS200 at a whopping $550,000 and the Fiestas at a price available upon request. Until sold, the cars will be carefully handled at the firm's facility in Pontiac, Michigan—a pitstop in the life of worldwide travel with No. 43.
Got a tip or question for the author? You can reach them here: [email protected]