Today, while perusing eBay as I usually do, I happened upon a less-than-optimal example of my favorite modern-era Porsche, the Boxster Spyder. I've loved the 987 Spyder since it was introduced, and it only slightly edges out its sibling, the Cayman R, as my favorite mid-engine Porsche ever. The 981 Spyder is a great car with a great engine, but it's bigger and softer and heavier. The 987 Spyder is a real-deal lightweight special with an erector-set tent top, optional everything-delete, and lots of character to go with its beauty. These things still trade hands at around $55,000 for nice examples, so finding this wrecked-yet-repairable version sitting at just under 25 grand (or best offer) makes it seem like a great deal. So here we go, three reasons why you, dear reader, should buy this car. 
1. C'mon, it can't be that bad!
This Boxster Spyder was clearly prepared, at least a bit, for track work. Without a proper roll bar, it would appear that this is an HPDE-warrior's car. Mr. HPDE Warrior seems to have suffered a mishap, and ended up in the tire barrier with a bunch of damage on nearly every panel. However, the car still looks Boxster shaped, and it doesn't look like there is anything broken so bad as to prevent you from driving it away. Pack an overnight bag, a AAA membership card, and a big bag of zipties, fly down to Los Angeles, and drive it home. What have you got to lose?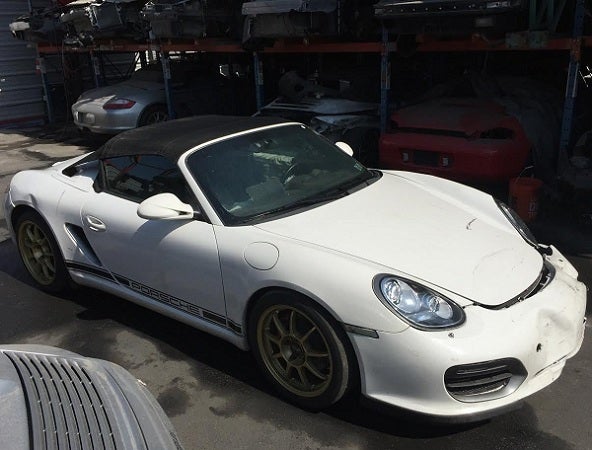 LA Dismantler
2. It's a blank canvas!
This car was optioned with the audio package and the air conditioning retained for resale purposes. Now that it's been stuffed up a little bit, you won't ever have to worry about resale again, and you can do whatever you want to this Spyder without fearing the consequences. Yank the A/C and stereo, that's just dead weight you don't need!
Personally, I'd fix a couple of the dents in the sheetmetal, pop in a set of aftermarket LED headlights and tail lights, grab whatever used Boxster front and rear bumpers I could find, replace the blown airbag steering wheel with an aftermarket wheel, and drive it every single day. The important bits are still intact, and it has the lighter and more engaging manual transmission that you really want anyway. What a great car this would be to drive every day and not have to worry about it.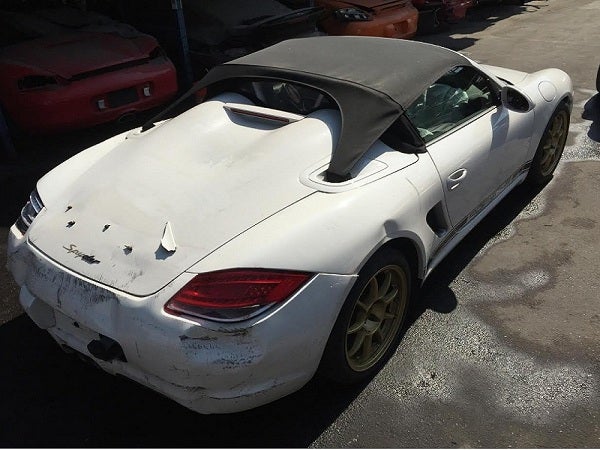 LA Dismantler
3. What's the worst that could happen?
Anyone who says they don't need a lightweight Porsche two-seat convertible just hasn't thought it through hard enough. This car can do everything you need it to do. It'll haul a lot, because it has twice as many trunks as your average car. It'll drive well because the heavy engine and transmission bits are inside the wheelbase. Not only that, but there's something inherently cool about driving a ratty rare Porsche every day. In 50 years when you've accumulated decades of patina, you'll thank me. 
Now if only I could convince my wife that this is a good idea...
For more information and photos, check the listing on eBay.
[Source: losangelesdismantler on eBay]