Despite an aggressive ad campaign featuring Aerosmith's Steven Tyler and former Formula 1 driver Emerson Fittipaldi, sales of Kia's Singer sports sedan have merely simmered along. It's no matter to Kia, though, which for the 2021 model year will update its under-appreciated Stinger with a new engine option and a thoroughly overhauled technology suite.
At the helm of these upgrades is a new, Americas-exclusive 2.5-liter turbo engine, whose 300 horsepower and 311 pound-feet of torque position it between the existing 2.0- and 3.3-liter options. Peak torque comes on as low as 1,650 rpm, scooting the Stinger along through traffic in a way that'll make Toyota Camry TRDs jealous. Buyers of the 3.3-liter, twin-turbo V6-powered 2021 Stinger GTS will also enjoy the addition of active exhaust valving, which keeps volume at a level appropriate to driving conditions and scavenges a scratch more power, bumping it to 368 horse and 376 torque.
The base 2.0-liter option, the eight-speed automatic and optional all-wheel drive go unchanged for 2021, as Kia has instead focused on taking the Stinger's tech suite forward by leaps and bounds. Its Advanced Driver Assistance Systems (ADAS) now include highway drive-easing blind spot monitors, lane center aid and a following distance assist, while parking lot activities are streamlined by rear cross-traffic alert and rear passenger assist—no more leaving kids in hot cars.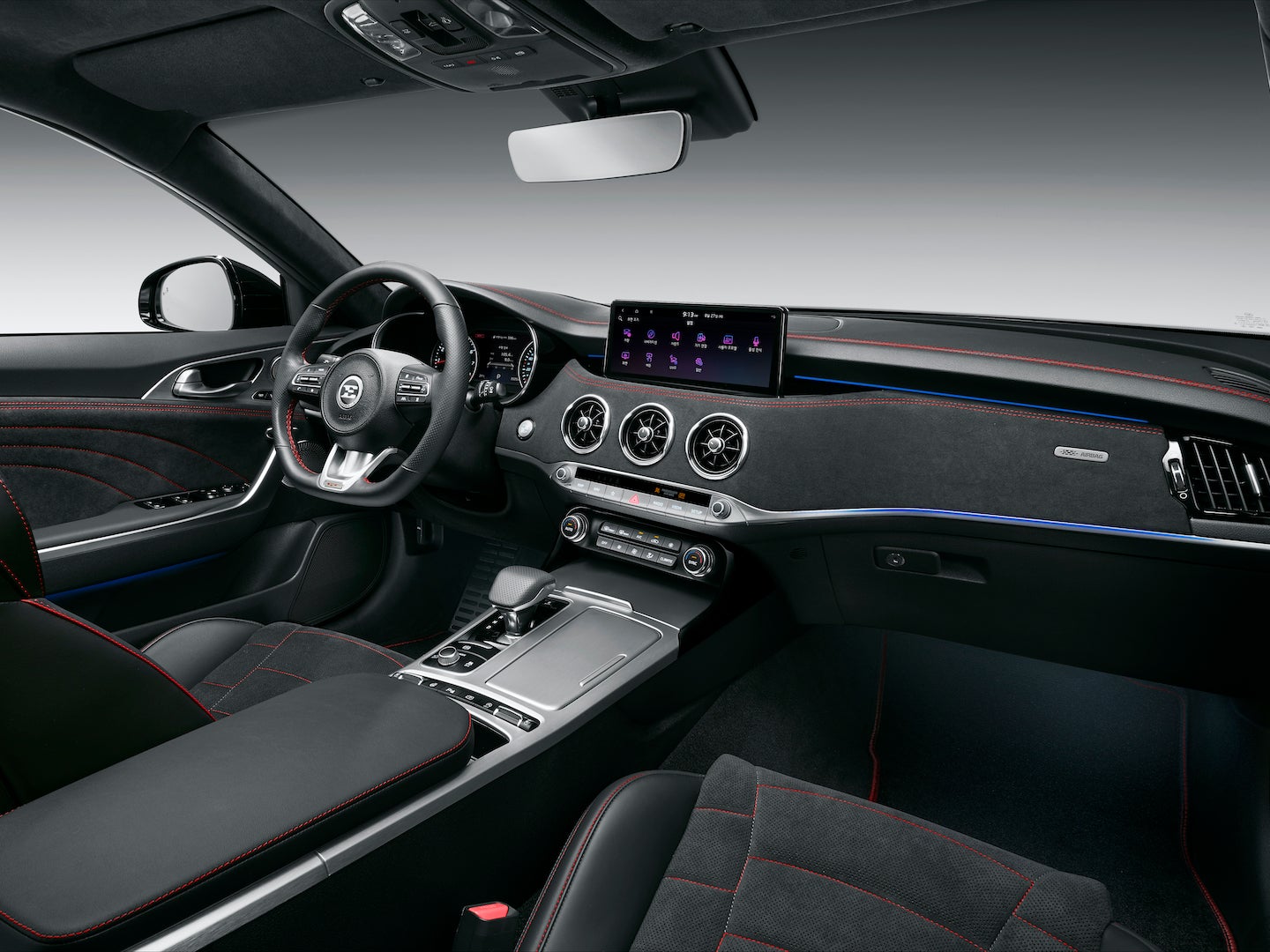 2021 Kia Stinger, Kia
The new Stinger also features remote start and climate control activation. The kids can then fight over who gets to play their music, the clash being further complicated by the fact that its optional 10.25-inch screen can now link to two phones at once. Apple and Android compatibility are standard, as are voice-controlled interior functions. Only the parent, though, gets the benefit of the improved gauge cluster screen; it grows from 3.5 inches to 4.2 and can be optionally upgraded to a seven-inch unit with flashier graphics.
The 2021 Kia Stinger range will launch in the United States by the end of the year. The Drive contacted Kia for pricing on the 2.5-liter model and we will update when we receive comment.
Got a tip? Send us a note: [email protected]