The van life might have chosen you, but you still have to choose your van and build it. For somebody who has no experience with woodworking, home building, or automotive maintenance, that big of a project can be a bit daunting, but it doesn't need to be. With some planning, a bit of our help, and a lot of vision, you'll have your new four-wheeled tiny house on the road in short order.
Below, we've outlined the core basics of what you'll need to think about and get started when beginning your van life project home. From these tips, create a mockup of your ride and get to building.
Common and Popular Vehicle Options
We begin with your first decision: picking a ride. Any and all of these vehicles can be outfitted into excellent livan' situations, some even from the factory. Like any vehicle purchase, you'll want to test drive a few options and decide what type of van fits your goals and lifestyle parameters. You'll need to think about size, space, fuel economy, capabilities, and towing, among several other things. Here are a few of the most popular options:
Mercedes-Benz Sprinter
Mercedes-Benz has made a name for itself as a luxury automaker, but it does have a rugged side with tons of experience and heritage in the off-road space, largely thanks to the Unimog and G-Class SUV. The Sprinter is an extension of M-B's focused utilitarian branch, and it offers a massive variety of options in regards to size, space, power, and capabilities.
If you buy brand-new, the Sprinter is available in regular or extended wheelbases, regular or high roof heights, with four- or six-cylinder engines, and a choice between regular gas or diesel. It also has payload options ranging between 3,920-6,823 pounds, and the six-cylinder diesel can be ordered with a 4×4 package for increased versatility. M-B also has a smaller van called the Metris, but the Sprinter's size gives it an automatic advantage.
Smaller option: Mercedes-Benz Metris.
Ford Transit
If you want a new cargo van but don't want the M-B badge and price, then your next best option is Ford's lineup of Transit and Transit Connect vans. These vans surprisingly have the driving characteristics of a car, but feature a similar breadth of options as the Sprinter.
The Transit (the Connect is the smaller of the two) is available with regular, medium, or high roof heights and can be ordered in regular, long, or extended lengths. It is available with a naturally aspirated V6 or a turbocharged V6, and it can be ordered with front-wheel drive or all-wheel drive. The Transit also has a number of standard and available driver assistance features that could make your long drives easier, safer, and more enjoyable.
Smaller option: Ford Transit Connect.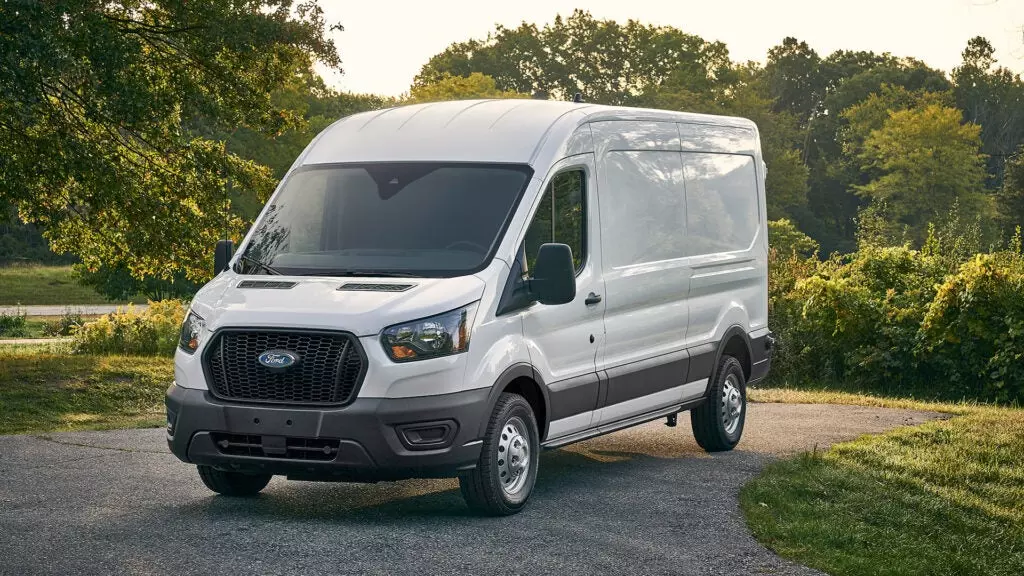 Ram ProMaster
The Ram ProMaster cargo van isn't a popular new-van choice, as Stellantis only sold 10,880 units in Q1 of 2021 (Ford sold nearly triple the number of Transits), but it's still capable of accomplishing the desired purpose.
The ProMaster can be ordered with 118-, 136-, or 159-inch wheelbases, and it offers a choice between regular and high roof heights. You only get one engine choice, however: a naturally aspirated V6 that makes a claimed 280 horsepower and 260 lb-ft of torque.
Smaller option: Ram ProMaster City.
Nissan NV
Nissan's lineup of NV cargo vans is the third-best option when buying a new or lightly used van. It doesn't handle like the Sprinter and Transit, and all-wheel drive is not an option — though, some dealers have taken it upon themselves to offer that option — but it's big, burly, and powerful, all characteristics that are good for carrying a person's entire life inside.
Buyers have a choice between a regular roof or a high roof, and power comes from a V8 rated at 375 horsepower or a V6 claimed to make 261 horsepower.
Since the NV lineup's introduction, Nissan has shown several times how an NV could be customized for worksite jobs, on-the-go office work, off-roading, or for living in. Choose your adventure.
Smaller option: Nissan NV200.
Chevrolet Express
We don't recommend getting an Express brand-new, as the aforementioned cargo vans are much better suited for the purpose of creating a live-in vehicle, but a used example might be worth it due to the discounted prices (though, used car prices are exploding as of mid-2021).
If you do choose a new Express van, you'll have the choice between a V6, a V8, and a turbo-diesel four-cylinder. Both the 2500 and 3500 models are available with regular or extended wheelbases, but there's no tall roof option, and it's not available with all-wheel drive. Chevrolet previously offered a 1500 with AWD, so that's a used option, but the only way to get a new Express with AWD is to source a third-party conversion.
GMC Conversion Van
If you're less concerned about fitting a kitchen and/or bathroom in your van and are primarily interested in something that already has a built-in bed, a conversion van might be the best route.
The author personally grew up road-tripping in his parents' 1989 Chevrolet Explorer, and the plush rear seat that folded down into a bed was my domain. It also had plugs everywhere, full-on privacy window shades, a TV and VCR with personal headphone connections, running lights, and two different solid wood tables that could be posted into the floor. Sure, you could customize your van to your liking, or you could buy a preset conversion van and work out the toilet details later on.
Used School Bus
If a full-sized drivable mobile home customized to your exact wants and needs is the goal, a used school bus will be a solid choice for DIYers. You can't beat the space of a full-length bus, and it's already designed to have a roof tall enough for people to walk around inside. A school bus will be the hardest vehicle to drive, of this bunch, and the fuel mileage will likely be horrible, but it also makes your van life story more unique and interesting. Buses have more room for rooftop customizations, as well.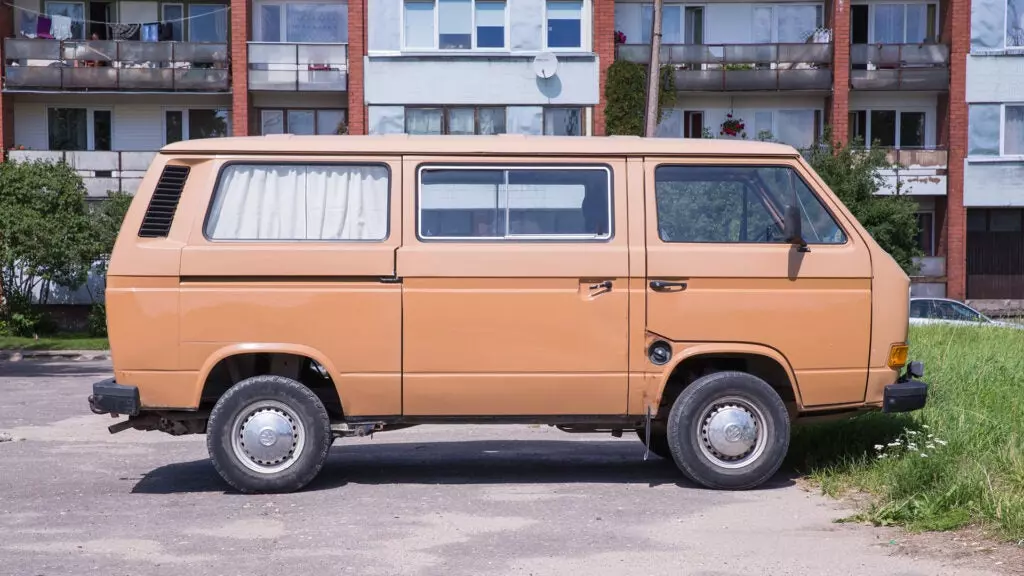 Used VW Bus
A used VW bus is the coolest and most photogenic way to live the van life by a mile. It has character, it has heritage, and there are countless reasons why they've been the preferred choice for living in a van for decades.
Not only do many of them include built-ins already, many models also have the unique feature of a pop-up roof that greatly increases the practicality and comfort of the interior quarters. Living in a Vanagon is a bit of a cliche at this point, but it might be the most fun cliche out there.
Strip It Down
The best way to piece together a camper van to fit your needs is to strip it down and build it back up. Here are a few things to consider when you've got your van down to the skeleton.
Corrosion
If you're buying a used vehicle, the first priority is making sure it's safe and secure. That means addressing any corrosion issues that could be hiding around the wheel wells, floorboards, or other known water spots.
Sound Deadening
Some people prefer ambient noise for snoozing, but others need relative silence to sleep or work inside the van. To add to your van's sanctuary feel, be sure to use sound deadening to create a true barrier between the inside and the outside.
Insulation
Within that same vein, you also want to keep the van's cabin protected from the elements. Insulation can keep it warm in the cold temperatures and cool in the hot temperatures.
Wiring
Depending on how involved you're getting, you'll likely have a fridge, some sort of power storage, lights, as well as other accessories that will all need sources of power. Plan that out and route your wires before you start adding beds, cabinets, and kitchen frames.
Windows
Some vans don't have windows. If you want windows, now's the time to cut them out.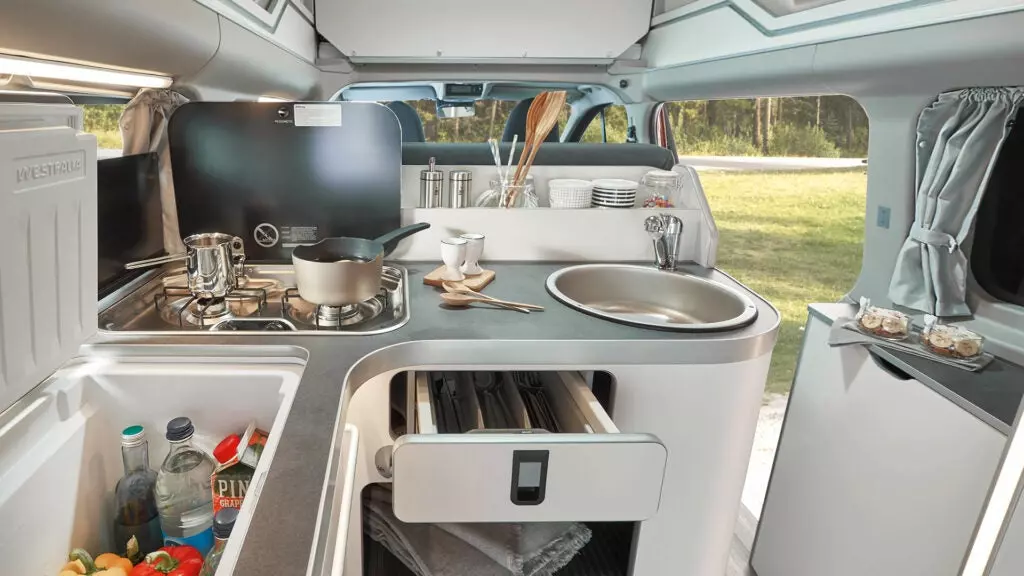 Interior Design Considerations
Your tiny home needs the same essential basics your regular-sized home had. Don't forget these crucial items when sketching your layout.
Bed Space
Figure out which way you'd like to lie, how big your mattress will be, and how it interacts with your storage.
Storage
Your van will need storage space for clothes, food, cleaning supplies, hygiene supplies, vehicle supplies, and tech supplies.
Water Storage
It will also need space to keep water on deck.
Fridge or Cooler
If you live in your van, you're probably going to need to store food at some point. Unless you're a squirrel and can survive on nuts or live in the arctic, that means you'll need a place for cold storage.
Cooking Space
Improvisational cooking will be key to living the van life. Trust us, you'll want at least a small sink and a small block of counter space for making your meals.
Mobile Work Area
If you're living the van life, there's a good chance you'll also be working from that van. You're clearly an adaptable person, but it helps to have a dedicated place to sit down, concentrate, and work.
Pop-Up Top
If you don't need to store a ton of equipment on top of your van, then a pop-up top is a great way to expand interior space. Without needing to make space for a bed inside the cabin of the van, the design can cater to dining, desk space, kitchen, storage, and other necessities.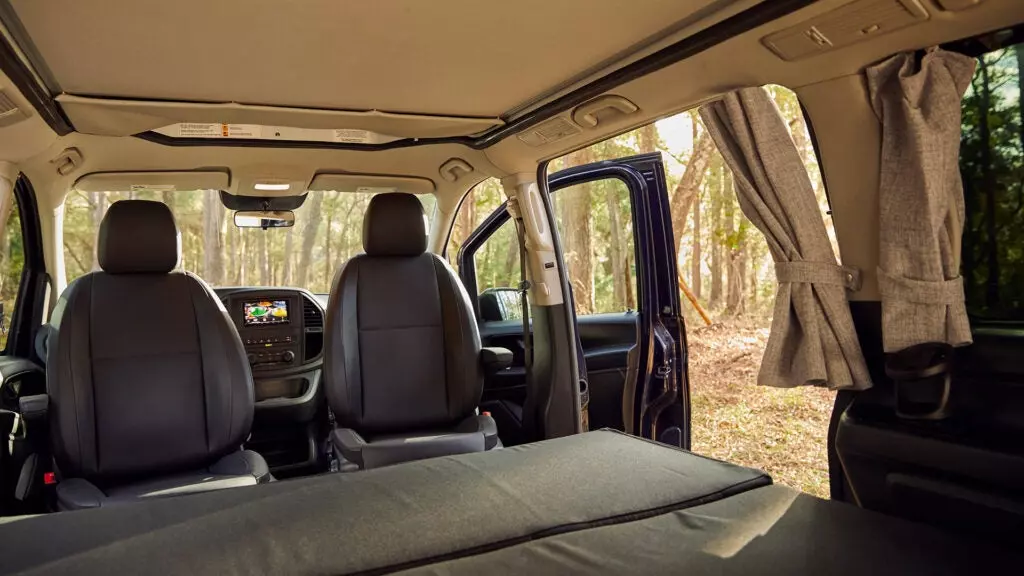 Things To Bring
Everybody has personal preferences as to what items they'd deem essential for van living, but these basics should keep your behind covered in most situations.
Tool Box
Some insurance companies offer plans for living out of a vehicle, but the best insurance for van life is a tool box full of the proper tools. Overprepare, in this case.
First Aid Kit
Just as your vehicle will eventually need a fix, so too will you.
Mobile Toilet
When you're on the road all the time and are venturing to the outer limits of the wilderness, you're not always going to have nearby access to a toilet. If your space can afford it, a mobile toilet can be a lifesaver.
Power Solutions
Whether that's a solar power setup, a small portable gas generator, power inverters, or all of the above, you're going to need a way to power all of the things inside your new tiny home. Figure that out before you build it.
Wifi Equipment
Although your phone does the bare minimum, you'll want a legit internet connection with a mobile hotspot.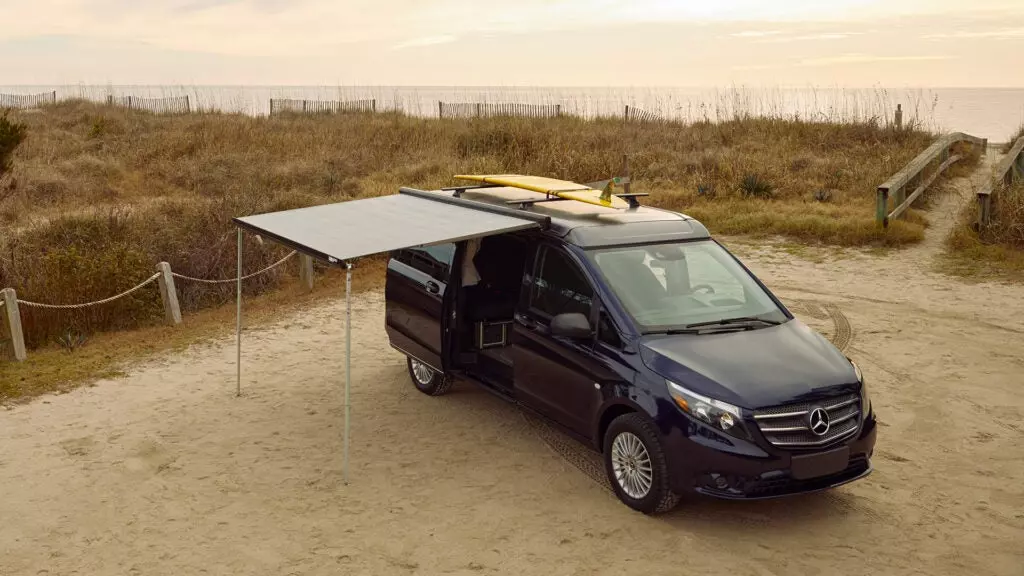 The
Car Autance
Van Life Questionnaire
We've heard all of your burning questions, let's find the answers!
Q. Is it illegal to live in a van in the U.S.?
A. Some towns and cities have restrictions on sleeping in your vehicle. Always be sure to check with the local laws for where you're staying.
Q. How hard is it to live in a van? Is van life a good idea?
A. Don't expect some frilly vacation time that's all Instagram moments and stress relief. There will be plenty of times when it actually adds stress to your life. It will be a test of your patience, your reliance on convenience and comfort, as well as a test of how dedicated you are to cooking.
People who love the van lifestyle, however, will tell you there are rewarding aspects to match every negative. There's an amazing sense of freedom in living in something with wheels, and you'll be able to create all the memories you plan out. Just know some of the time will be spent in empty parking lots.
Q. Is van life cheaper than renting?
A. This depends entirely on where you live, how you live, how much you'll be driving, and how bare-bones you're willing to live in your van. Set up a spreadsheet and compare your costs between the two lifestyles.
Q. Where do you shower when you live in a van?
A. There are a variety of places you can shower when you live in a van. You could use a 24-hour gym membership, truck stops with showers, rest stops with showers, or campsites. You could also pack a portable shower with a water tank, but that limits how you shower, and once you run out of water, you'll need somewhere to refill it.
The Video
Disclosure: Carbibles.com is also a participant in the Amazon Services LLC Associate Programs, an affiliate advertising program designed to provide a means for sites to earn advertising fees by advertising and linking to Amazon.com. Pages on this site may include affiliate links to Amazon and its affiliate sites on which the owner of this website will make a referral commission.