Pikes Peak is arguably the most well known hill-climb course in North America. It's also home to some of the most coveted records, as automakers, professional racers, and hobbyists all duke it out to have their names penciled into history. But with new automotive trends comes a new race to the top, and this time it's electric.
Volkswagen last attended Pikes Peak in 1987, when it brought a very unique Golf to the table. The auto giant's motorsports team engineered a purpose-built dual-engine wrecking machine that lived to break records and necks as it ascended the hill. The platform made use of Volkswagen's iconic 1.8-liter 16-valve engine with a compounded forced induction setup. Both a turbocharger and supercharger were affixed to the engine to make up for the power loss as it climbed higher in altitude. With both engines combined, the Golf's total output surpassed 650 horsepower. In a machine weighing in at just 2,300 pounds, the golf made for one quick race car.
The engineering that went into the car was mesmerizing for the time. Engineers utilized electronic throttle position sensors, despite the motor being fit with mechanical cable-driven throttle bodies, in order to match throttle between both engines. Sadly, by the end of the race, the car suffered a transmission failure.
Then, Volkswagen went radio silent for 30 years. Fortunately, fans kept the name alive by building period-correct cars to aide in the hype. VW took its time to perfect its passenger cars and spent its hard-earned cash on marketing the brand. It worked, forcing the brand up to compete neck and neck with Toyota to be the top worldwide auto manufacturer. Now, Volkswagen is shifting its consumer focus to electric, and wants people to know that it's the company that can do it right.
The brand did this by deciding to break its abstinence from Pikes Peak and bring a new electrified car to shatter records. Not only is this uncharted territory for Volkswagen, but its motorsports division as well. The staff is tasked with creating an all-electric car that is capable of not only sustaining itself for the entire race, but also making an impact that no other manufacturer can touch. In reality Volkswagen Group has dabbled in the electric car motorsports field. One of its subsidies, Audi, even has become an official Formula E team. Utilizing Pikes Peak as a test bed will be an entirely different breed of racing development.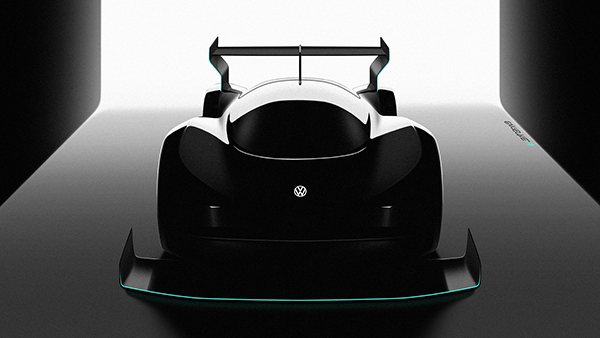 Volkswagen teases its new electric hill climb car., via Volkswagen
So why choose Pikes Peak for the feat?
"The Pikes Peak hill climb is one of the world's most renowned car races. It poses an enormous challenge and is therefore perfectly suited to proving the capabilities of upcoming technologies," says Frank Welsch, a member of Volkswagen's development board. "The extreme stress test posed by Pikes Peak will give us important feedback that will benefit future development, and it will showcase our products and their technologies."
Should Volkswagen begin to set new records in the industry, it will help to secure its place on the top of electricity. After all, setting a record implies that the holder is more than competent in their ability to create and perfect a technology. This could easily begin to spark a competition between manufacturers to best each other, and may eventually lead to better products for consumers.