Over the weekend of September 25-26, Southern California hosted the 2021 installment of the Long Beach Grand Prix. In my opinion, it's the best race of the year due to the huge amount of up-close action that spectators can witness. After it was canceled in 2020 due to COVID, I was relieved to hear that it was back on for 2021 with a stacked schedule full of activities. One part of the fun was the opportunity for ride-alongs on track in various automakers' high-performance hardware, which yours truly gleefully took part in. The mighty steed I had the pleasure of sitting shotgun in: a 2020 Lexus GS F.
Full-disclosure: Lexus invited me out as one of its media guests during the entire duration of the 2021 Grand Prix weekend. It paid for my entry and parking, gave me access to Team Vasser Sullivan's paddock area (Their two RC Fs are Lexus Racing's entries in IMSA's GT Daytona class), as well as access to its pit row suite along the circuit's long front straight.
The Long Beach Grand Prix's race circuit was menacing, as it's always been. Walls were quite nearby, some of the corners were tricky and took a lot of precision to get right, and some immense speeds could be achieved down both its front and back straightaways. Well, the former wasn't exactly straight, but it was straight enough to keep competitors' right feet pinned to the loud pedal for the majority of its distance. It's also Shoreline Drive in Long Beach, which you can totally drive on yourself when the Grand Prix isn't happening.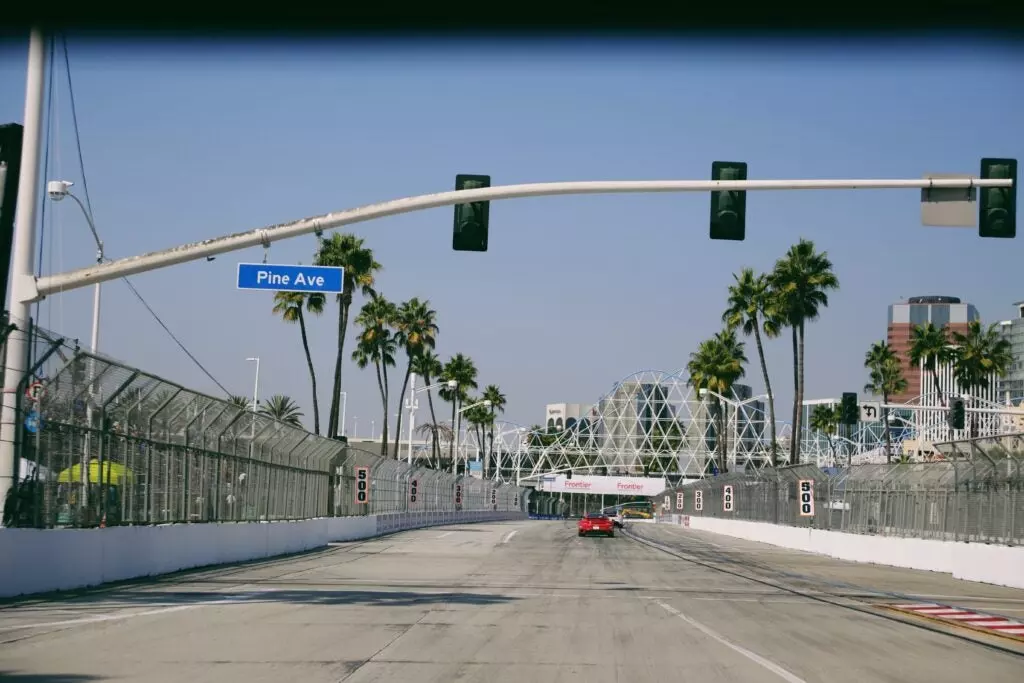 While ripping down Shoreline Drive, figuring out the transition from gas to brake pedal for Turn 1's left-hander is where the trickiness begins. Lexus threw me in the front seat and two Lexus corporate employees in the back and had driver Tim take us for a spin behind a gaggle of Porsches. I didn't catch Tim's last name, and when I asked what his driving experience was, he jokingly said, "they recruited me from Dominos." I later learned that he's a seasoned racing instructor who previously taught at the Bob Bondurant School of High Performance Driving.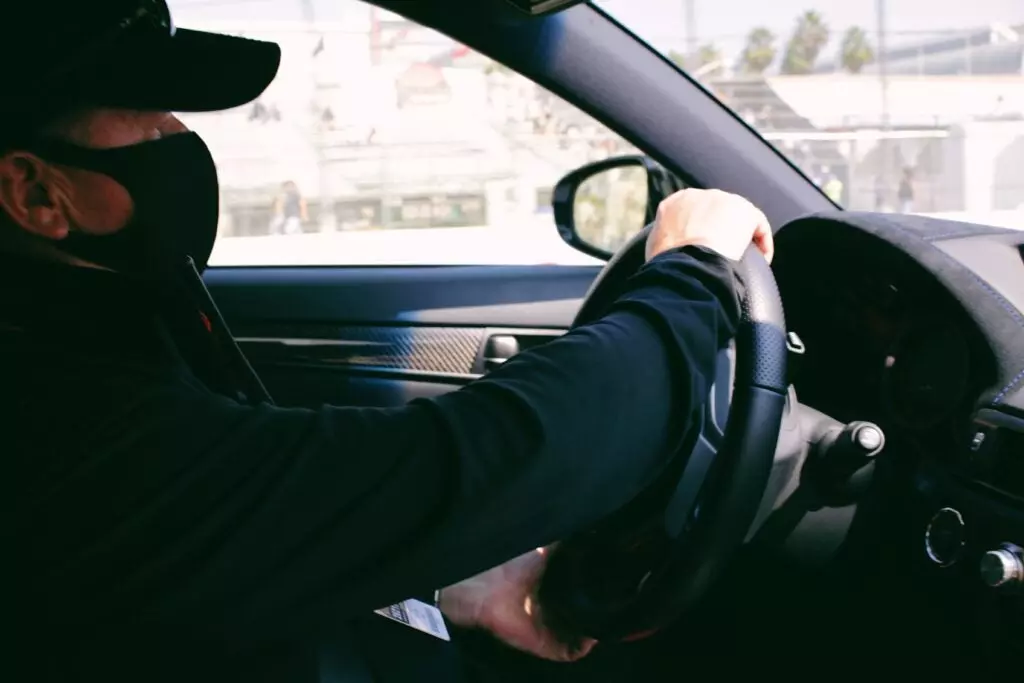 Right before we headed out on track, I decided the most fun way to capture the moment would be to take some still photography from my seat on track. I could've done a video to help capture the mood, but I don't think you'd want to hear a car full of giggling, cheering, and screaming.
The GS F, which Lexus gave the kibosh in 2020, was a great way to experience the track. With 467 horsepower and 389 pound-feet of torque to help this rear-wheel-drive M5-fighter reach 0-60 in just 4.5 seconds, we definitely far exceeded 100 mph on Long Beach's gloriously long and intimidating front straight.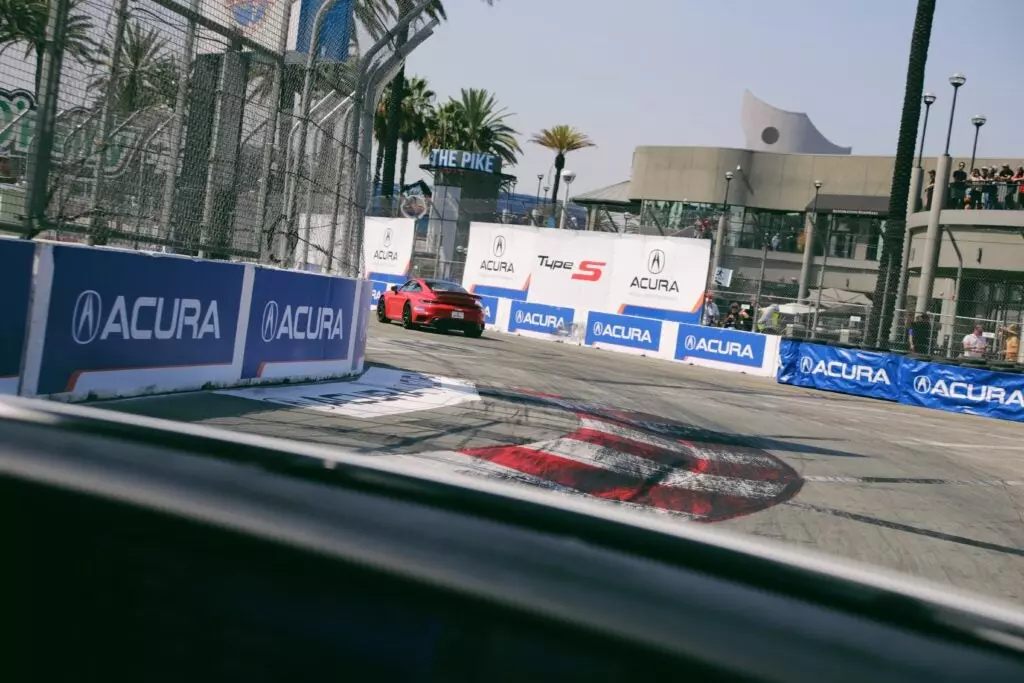 Thankfully, Tim didn't hold back with cornering speeds or driving over the track's very usable curbing. You see, curbs on track serve several purposes. Sometimes they're firm no-go areas meant to punish drivers who cut apexes a tad too closely. Long Beach is the opposite: They're smooth and meant to be driven over, especially for cutting the best line through its often tight quarters. Sitting right-seat as the GS F ate up all the curbing right behind a new 992 Porsche 911 Turbo was a total riot.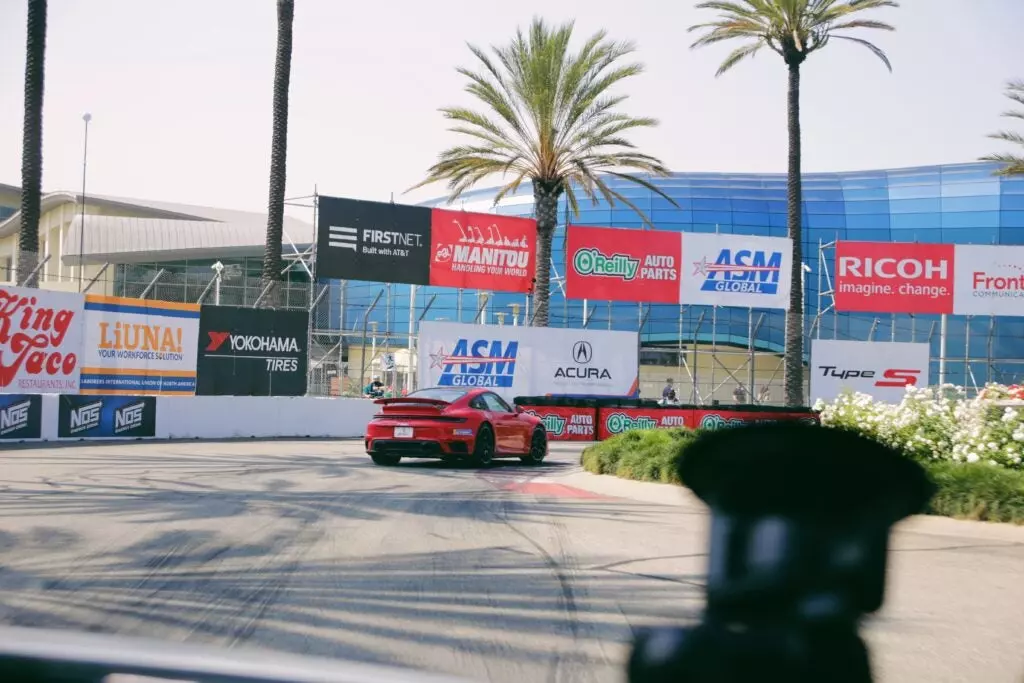 As we reached Turn 5, which is a right-hander that got us back onto Shoreline Drive, I told Tim that he should feel free to slide the GS F's rear end around. He firmly denied my request, noting that the walls were very close by -fair play. It would not bode well for him or his passengers if he smacked a wall. But, man, I bet he would've been able to pull off epic slides through Turns 5 and 6.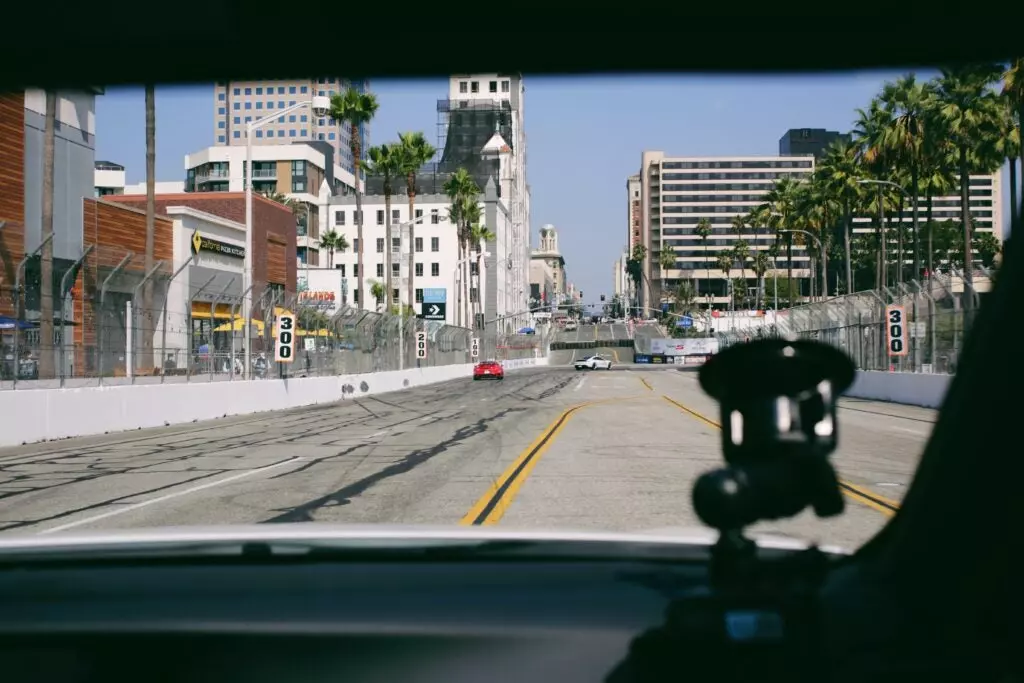 As all racecar drivers do, Tim swung wide exiting Turn 6 to maximize exit speed, smoothly juked left for Turn 7, and then hugged the right-side wall of Turn 8 as we shot past its apex. This is a fairly tricky corner during the Grand Prix as it exits onto the back straight. It's the site of many skillful passes, but also the site of many contacts with other cars, as well as a nearby tire barrier. I told Tim that I once witnessed a portly Bentley GT pass a Ferrari 488 on the inside of this corner during a World Challenge race a few years ago. His reaction was of awe and surprise.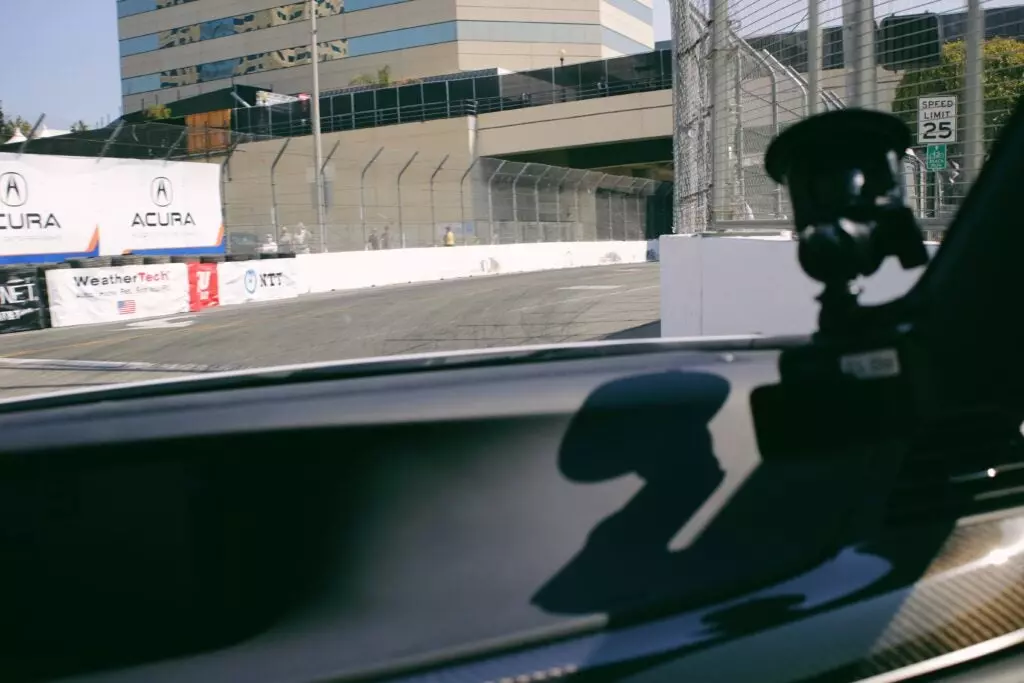 We then rocketed down the back straight and braked hard for Turn 9, then carried a decent amount of speed through Turn 10 before he brought the mighty GS F down to pit row pace, i.e. the-ride-is-now-over pace. The other passengers and I thanked Tim for taking us for a spin, and we got out with all four arms and legs shaking with excitement and adrenaline.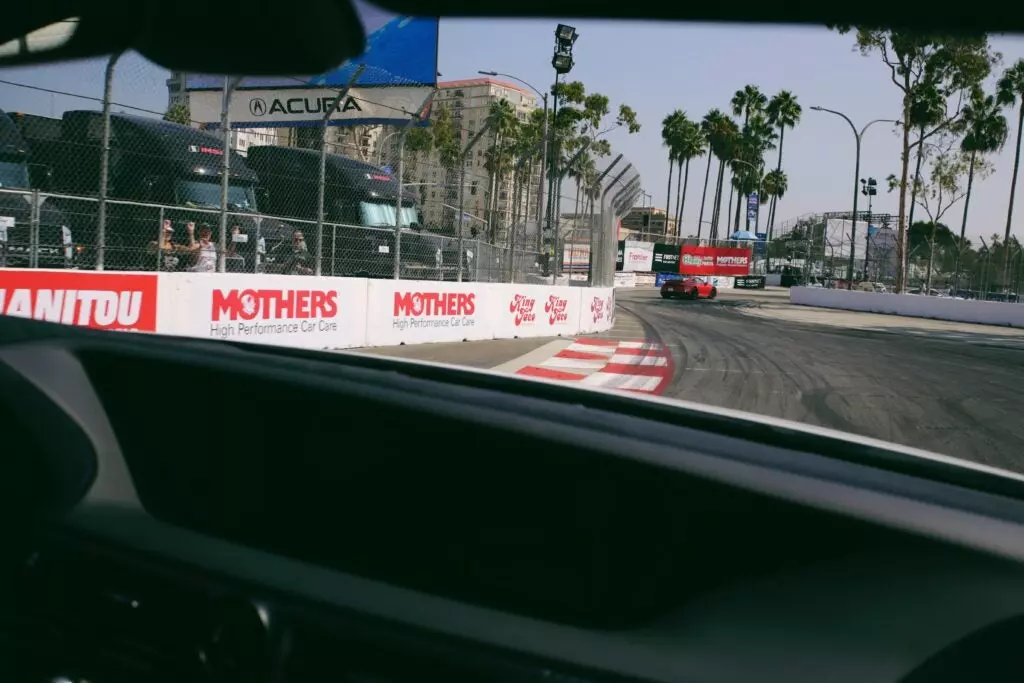 What an epic experience this was. I hope I can sit shotgun in some kind of car at 2022's installment of the Grand Prix, and more than one lap would be absolutely wonderful. Or, heck, if I have the opportunity to drive it myself someday, that would be an incredible experience. I should promise that I won't attempt to drift Turns 5 and/or 6, but I'm not going to lie, it'd be a very hard promise to keep.