I'm down with powder in Utah, Bogie's jacket in "Casablanca", or Billy Idol fist-pumping through "White Wedding." But I've never owned a white car, or even considered one. My last five cars have all been black, as far down the spectrum as you can get. I tend to associate white cars with rental Camrys, or snowbirds in Scottsdale.
So that I would fall hard for a white Lamborghini seems odd; especially considering all the amazing Technicolor dreamcoats that Lambo offers, from Batman matte blacks to shrieking greens, oranges, yellows and reds.
But the first time I laid eyes on a Huracan coupe in white, I was in love. Even in a phalanx of Crayola-hued Lamborghinis, the translucent Huracan stood out like La Peregrina, the famous Spanish pearl that Richard Burton bestowed on Liz Taylor.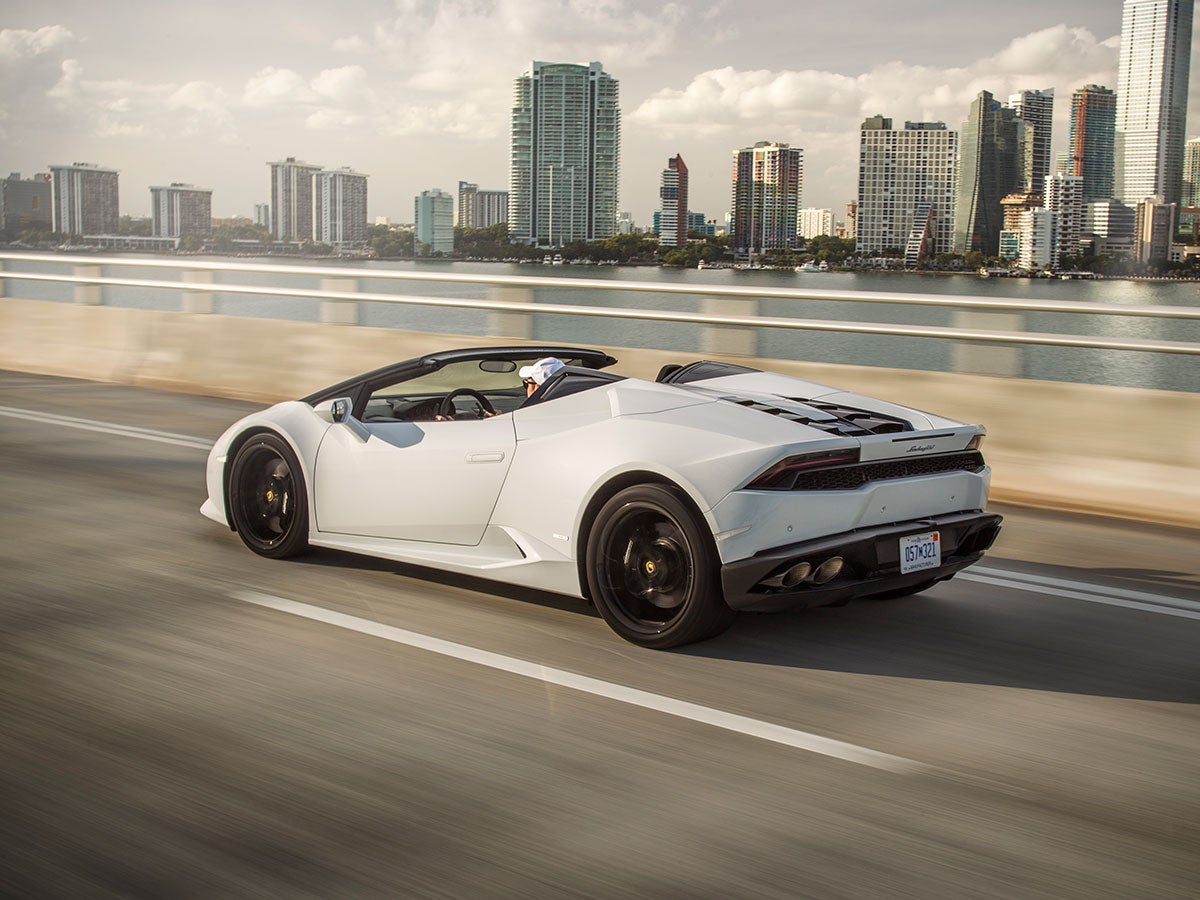 Next came the seventh-generation Corvette Stingray, a model whose signature crimson paint has been affirmed by everyone from Prince to author James L. Schefter in his definitive "All Corvettes are Red." Corvette tradition and pop perfection aside, damn if this Corvette didn't look amazing in white.
What was happening here? How was my brain, and my taste in colors, being overwhelmed by this blizzard of sports cars? In Georgia for a track drive of the new Corvette Grand Sport, I put it to Brett Golliff, the Corvette design manager for color and materials. Was I crazy to want this virginal Vette instead of the usual black-clad rocker?
"No, it looks phenomenal in that color," Golliff says of the shade known as Arctic White.
"Rental and fleet cars definitely gave white a bad name," Golliff adds, but that's changing with a new approach to this most purest of shades. Unlike the flat, Frigidaire-white surfaces of old, today's whites are adding depth and sophistication with undertones and effects.
"It's the cooler side of white, with some blue flake in it," Golliff says of the Corvette's polar shade; as opposed to, say, older Cadillacs with a warmer yellow mixed in.
White does remains the most popular paint shade in every market around the world, according to paint manufacturer PPG. In the Asia Pacific market, buyers choose white 44 percent of the time, followed by South America at 36 percent and Europe at 31 percent. The race is closest in North America, where 23 percent of new cars are white, followed by black at 19 percent. But the shade tends to go in and out of favor among sports car buyers.
Porsche got serious mileage out of white in the '70s and '80s. Draw a mental picture of the famous 911 Carrera RS, and it's a white car with a flowing "Carrera" script along the doors against a band of background color. Same goes for Audi and the pristine Alpine White that adorned its ur-Quattro beginning in 1980, the ideal match and camouflage for snowy roads tamed by the first sports car with permanent AWD. (Rally versions ran a white livery with three-color Audi sport stripes, then added yellow in 1984 after HB Cigarettes became a sponsor).
Now, since the debut of the C7 Stingray, Arctic White has risen to become the best-selling Corvette color, applied to nearly 20 percent of standard coupes and convertibles – topping the stalwart Torch Red (at 17.2 percent) and Shark Gray (14.8 percent) Even on the macho-man Z06, white trails only black in popularity.
The key to the white Corvette's success, Golliff says, is how it draws the eye to the many contrasting, functional black bits (officially, "carbon flash metallic"). These include the hood scoop, cooling ducts and rear valence. For that reason, the best-selling white Corvette is paired with optional black wheels and a red leather interior; how could you resist?
Golliff says that white is making a renewed move into car interiors as well, such as the contrasting white interior – including seat inserts and door panels – in the latest Camaro.
So what explains a white Lamborghini? Vittoria Gabba, from Lamborghini's bespoke Ad Personam Studio, said that the Balloon White that bowled me over got its start on the 1998 Diablo. It's now part of the company's Historic Range, though updated with new technology and more pearl effect, "not only to have a richer color, but to highlight the cutting-edge design of our cars. Every angle and curve is highlighted by the change of tone that creates flowing shades on the body," Gabba says.
It helps that Balloon White is sprayed manually "so the hand of the painter influences the way the color shines on the car," Gabba says. Buyers can also choose matte, solid and metallic whites, the latter a popular shade called Bianco Icarus.
Since the Huracan is already about the flashiest car you can imagine, the white paint also seems to subvert stereotypes that some people have about owners: This is the classy Lambo man, who knows a dessert this rich and decadent doesn't need a screaming cherry on top.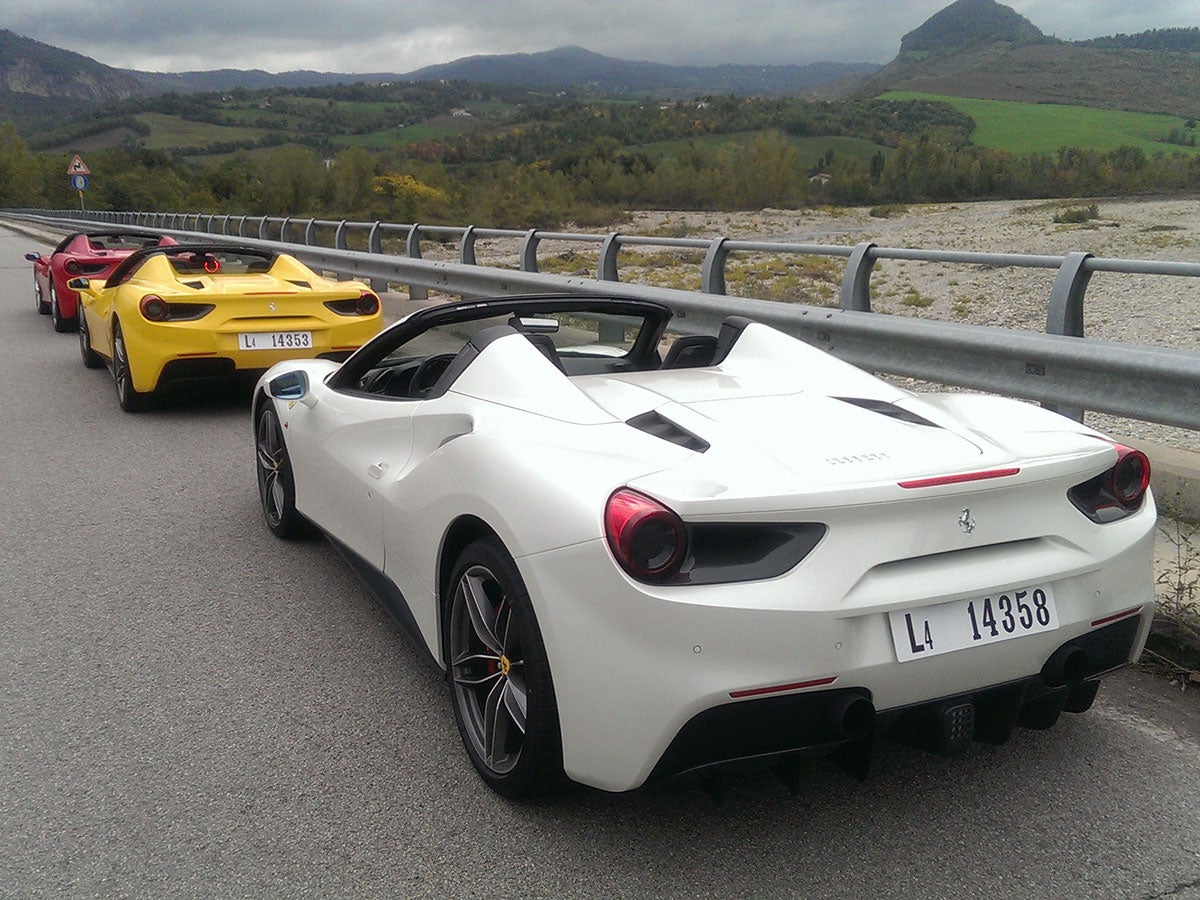 The final cure for my snow blindness came from perhaps the unlikeliest supercar: A Ferrari 488 Spider that I drove to a medieval fortress in Italy, in a road-blurring jumble with two other 488's, one red, one yellow. To my everlasting surprise, the white car I was driving looked best to me, a literal driven snow that flattered the Ferrari's every angle, cavern and curve. Ferrari calls the shade "Bianco Avus," one of 26 standard colors for the 488). And the brand is clearly feeling the winter vibe as well, spotlighting the shade on its newest baby, the GTC4Lusso.
Chevrolet's Golliff, by the way, came to GM after several years designing shoes for New Balance, Nike and others. He's a well-read shoe blogger (now on hiatus) with the usual massive collection of kicks. Keeping one toe dipped into trends beyond the auto industry, Golliff sees white in ascension on shoes and athletic wear as well.
"White tells a story of purity and strength, including in athletic wear," he says. "In the Olympics this year, you'll see it dominate" – not at the pace of a Corvette or Ferrari, perhaps, but with similar effect.