No one at the big magazines cared enough to review the Daewoo Lanos when it came out. MotorTrend, Car and Driver, Automobile, even MotorWeek, seem to have tested Lanos loaners. Believe me, I've searched the internet for weeks. None of these big outlets wrote a single article on the Daewoo Lanos during its not-so-short 1999 to 2002 model run. Did Daewoo simply not send out Lanos press vehicles?
I got a Daewoo myself because I wanted to play a game proposed to me by some friends. Jake Thiewes and his gaggle of organizers at Out Motorsports came up with a challenge: Let's race some shitboxes in the dirt. Dirt turned into flat-out track time due to some logistical and zoning issues, but the concept stayed the same. Spend no more than $1,500 on a car from a dead brand (or from an active brand, but the model is no longer sold), get it road-ready enough to pass a technical inspection, and hoon it in a safe space for two days.
The Daewoo is the trump card of dead brands. Sure, Saab, Pontiac, and Oldsmobile are very much dead brands, but they're beloved dead brands. We loved our Auroras, 900s, and GTOs, but no one wanted a damn Daewoo. Is there a Daewoo Lanos enthusiast's group? No, although somebody once made a custom supercharged version.
"Oh my God, I think you got the last one on Earth," an attendee in his Saab 9-3 said at the beater event. A running Daewoo, in the flesh, prepped and ready to roll on the track.
Daewoo's been the butt of a lot of automotive jokes throughout the years, especially after the ubiquitous Pineapple Express reference. As an owner, it was annoying when everybody made the same cliche retort when I told them what I'd bought. Instead, maybe we should laugh about how the car may have been promoted like a multi-level marketing scheme.
Daewoos were dopey-looking '90s-era cars, with focus-grouped names (what the hell is a Leganza?) to engender luxury and elegance and distract from the reheated GM mechanicals that formed the basis of their lineup. The consensus was that Daewoo made low-quality econoboxes.
By and large, those notions are right. Sorry, I'm not going the contrarian route here, the Lanos wasn't a very good car, with an asterisk. My Lanos only had around 65,000 miles, and yet the car felt as if it had four times that. The transmission had a nasty shift flare from first to second. The body panels weren't rusty, but Ohio salt and rust had taken their toll on suspension components and brake lines, prematurely. But was it really that awful?
Underneath, the Lanos was a sort of remnant of Daewoo's former tie-up with GM. Tired of building restyled Opels and Vauxhalls, Daewoo ventured out on its own using updated versions of GM of Europe components. The Nexia, a restyled Opel Belmont, also known as the 1986-1991 Opel Astra E, formed the basis of the Lanos.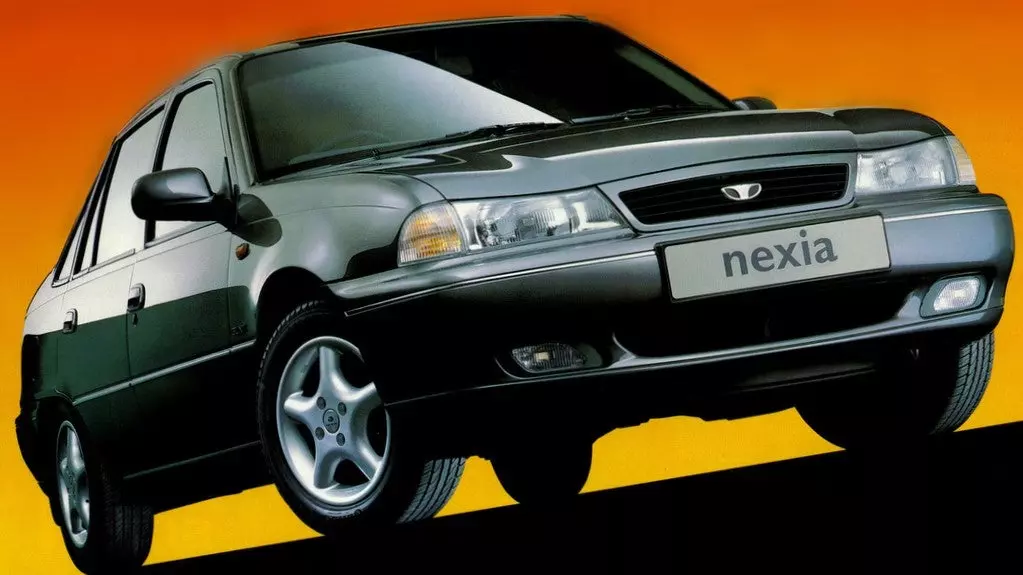 This was a good move for Daewoo. Yes, the basic structure was old, but it was bigger and inherently more refined compared to the budget entries for the other Korean competitors. The Astra was a C-segment or small family car-type of vehicle, whereas the Hyundai Accent and Kia Rio were decidedly subcompact B-segment supermini-type vehicles.

It feels it, too. I've driven early Accents and Rios, and they embody every negative stereotype of small cars of the '90s. Slow, poor highway road-holding and slightly skittish handling were the primary characteristics. By comparison, the Lanos is a tank. Whilst prepping the Lanos for the rallycross, it served as an around-town grocery getter for the next few weeks, where I got the chance to put it through the paces. The steering ratio is kind of slow, but it's reasonably communicative for a budget car on 60-profile used tires. The Lanos' 105 horsepower isn't much, but the engine is responsive and torquey. It's paired with a GM-designed smooth-shifting automatic that's eager to lock up and run to top gear. At least, when the transmission is working correctly, which was spotty in my example. In a lot of ways, the Lanos is a better car than the next Daewoo attempt at budget transportation, the Chevy Aveo. Obviously, an old Daewoo sitting in a field for who knows how long, purchased from a guy in southwest Ohio isn't going to be a primo example of a manufacturer presser. C'mon, I'm being a bit liberal here.
My 1999 Lanos was a top SX trim level, evidenced by a VIN check. I got goodies such as power steering, ABS, power windows, power locks, air conditioning, and an automatic transmission, all for an original sticker price of less than $12,000. By comparison, the 2000 Toyota Echo I flipped originally stickered for nearly $16,000 and still had crank windows, manual locks, and no ABS. If you preferred to crank your own windows, manhandle the steering wheel, and change your own gears, a Lanos could have been had for $8,749 back in 1999. Quite the bargain!
The Lanos' interior is well laid out, albeit decidedly mid-'90s in its ergonomics. The controls are easy to read, work, and reach, even if the buttons and stalks don't feel very nice to use. The upholstery fabric is fun, a decidedly '90s pattern reminiscent of that time your mom gave you $20 and dropped you at Discovery Zone for a playdate with your mom's friend's weird son that you didn't like all that much because he eats his boogers. The rear seat space isn't bad for my 5 foot 9 frame, and the trunk is big for what type of car it is, too.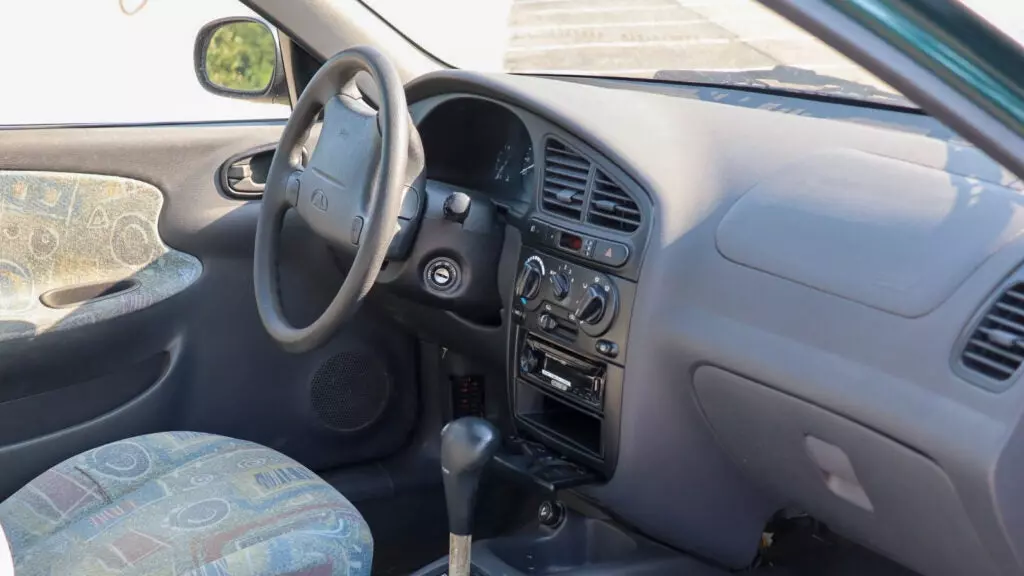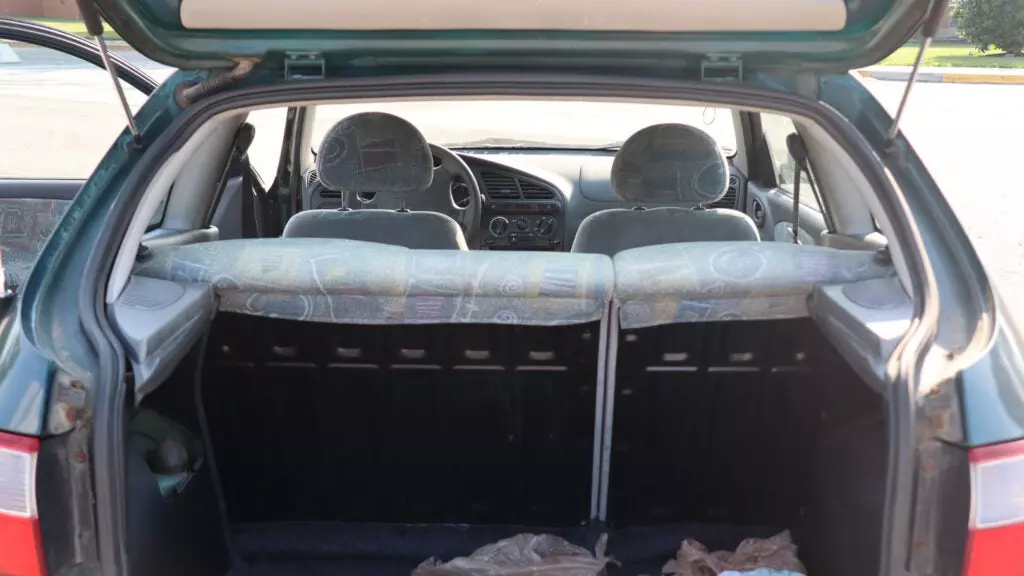 In short, I could understand why someone might've willingly walked into a Daewoo dealership and purchased a Lanos when these were available to purchase new. It's cute, it drove alright, could be well-equipped, and priced right. It's not the best car, but it's not as awful as everybody says either.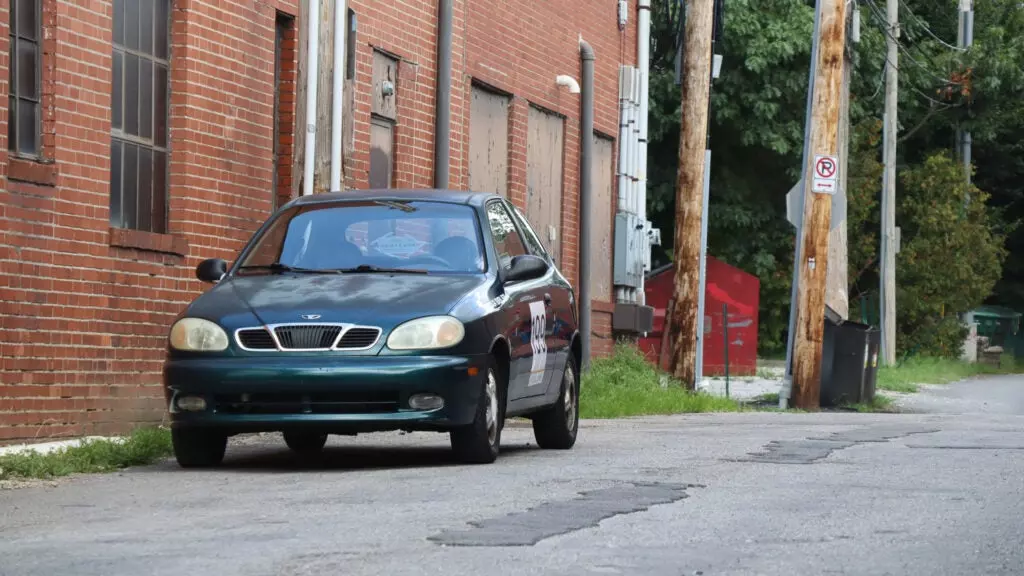 The Daewoo wasn't the fastest car on the track, but I still had fun. It did what it needed to do, stayed (mostly, sort of) together, and was nowhere near as bad as I (or the other drivers) expected it to be. I don't know if I would buy one again, or if I would have bought one new in 1999, but I still respected the little Daewoo. It was thoroughly an okay car.