Rich Benoit is the face of refurbished Teslas. The YouTuber, who goes by Rich Rebuilds, created a name for himself by reclaiming salvaged Teslas and making them drive as if they were brand new. But recently, Rich has been getting into projects that involve more than fixing up flooded cars and tracking down hard-to-find parts. He's building much more unique and custom creations, like a V8-swapped Model S.
Now, it certainly won't be easy to swap an internal combustion engine into a car that came with an EV drivetrain from the factory. Rich has already begun the project by sourcing a Camaro LS3 complete with a six-speed manual transmission, but the real work still lies ahead.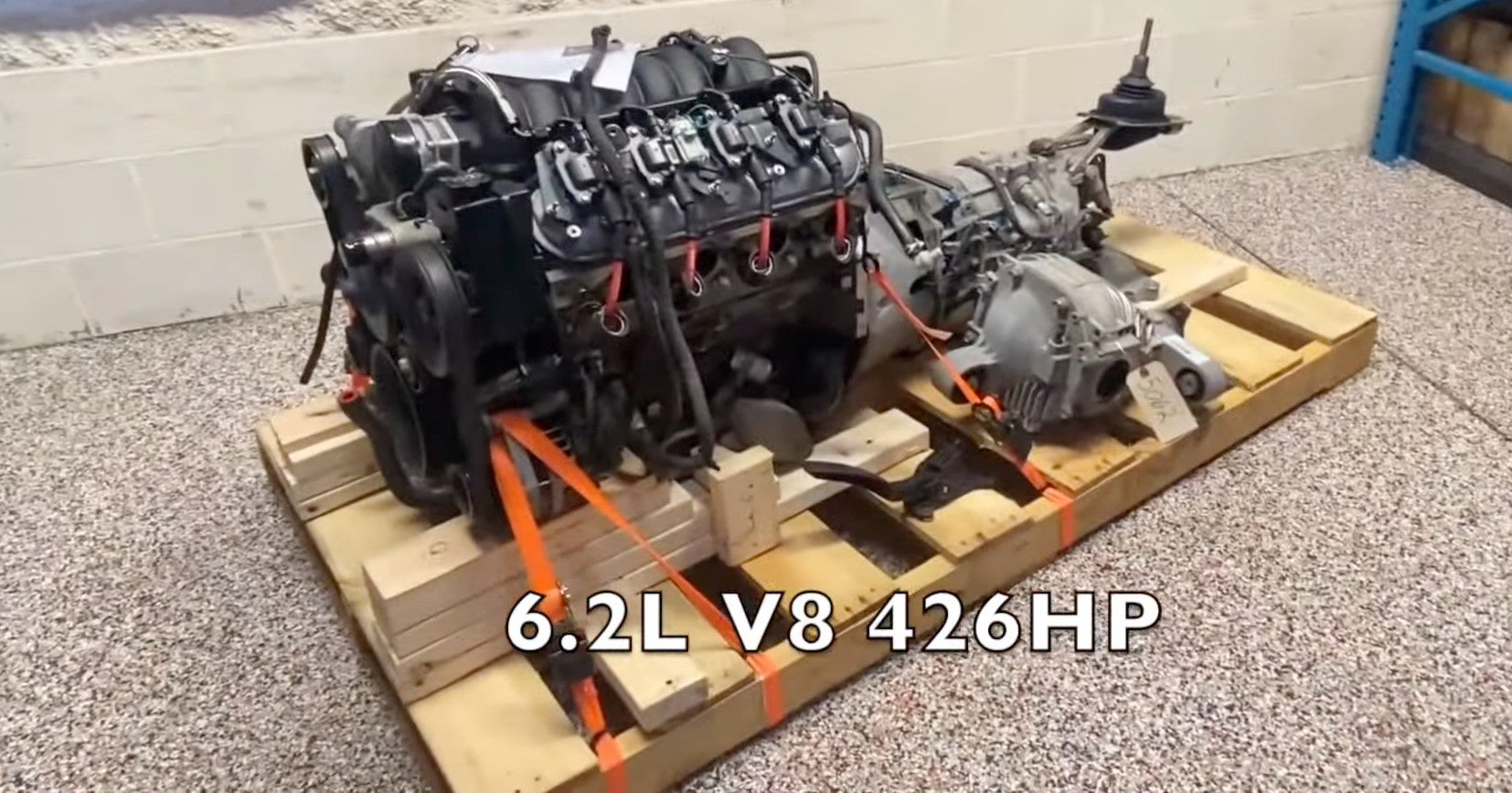 Rich Rebuilds via YouTube
Rich is really a normal car guy—he loves them regardless of if they're powered by batteries, gasoline or diesel. To put this into perspective, he showcases his built C6 Corvette Z06, Audi RS7, and even a Duramax GMC Sierra pickup in some of his videos. It just so happens that he enjoys tinkering with EVs and recognizes that automakers are pushing for electricity to be the future of cars. In the past, Rich has built an electric Mini Cooper, battery-powered rat rod, and even his own EV version of the Dominos DXP pizza delivery car. 
The problem with Teslas is that they've become mundane for Rich, at least from an enthusiast's perspective. And his relationship with Tesla has been fairly stressed in recent years—that goes for the company (which won't sell him, or you, parts to keep old cars on the road) and the community of owners, which he notes is primarily made up of people who simply aren't car enthusiasts, or have downplayed his efforts to improve his EVs.
So sometimes you just need to take on an unorthodox project. And that's exactly what Rich is doing here.
You may have already guessed this, but there's a ton of custom work that'll need to be done if Rich really wants an LS-powered Tesla. Most of it will involve tricky fabrication, which he's done before, but maybe nothing on this level.
For starters, he plans to use not one, but three donor cars to complete the project—and remember that Tesla's skateboard design means a flat floorboard, so a transmission tunnel will need to be built to house the six-speed manual and driveshaft to power the rear wheels. It doesn't stop there as Rich says he'll also need custom axles for the car since this is a swap that nobody has ever (successfully) completed.
Keep in mind that a base Tesla Model S 75 makes around 382 horsepower, so the 426-horsepower 6.2-liter V8 from the Camaro should be an upgrade in itself. Sure, it won't have instant torque like the Model S's original powertrain, but it will be near-infinitely customizable with aftermarket support, unlike the current tuning scene for Tesla's electric drivetrains, which the automaker doesn't want you messing with anyway. Plus, who would expect V8 rumble from a Tesla?
The project itself is obviously in its infancy, but if there's one thing that Rich has shown us in the past, it's that he has the determination to take on tasks that others see as unfathomable.
Got a tip? Send us a note: [email protected]