How much did you pay for your last car? Actually, how much did you pay for your last house, if you've ever bought one? Now that you have those figures in mind, think that someone out there sooner rather than later will spend $20 million on a car's license plate. Yes, a license plate. And no, it's not made out of gold.
Afzhal Khan is the man behind this outlandish online sales ad for his personal vanity plate he currently has affixed to his Bugatti Veyron. The Euro-style license plate only features two characters on its elongated yellow body, which read "F1," as in "Formula 1." Kahn originally bought the plate in 2018 for the eye-watering amount of approximately $619,000 according to Carscoops, but it's not clear if he did it because he's a massive Formula 1 fan, for investment reasons, or simply to be a top-notch show-off.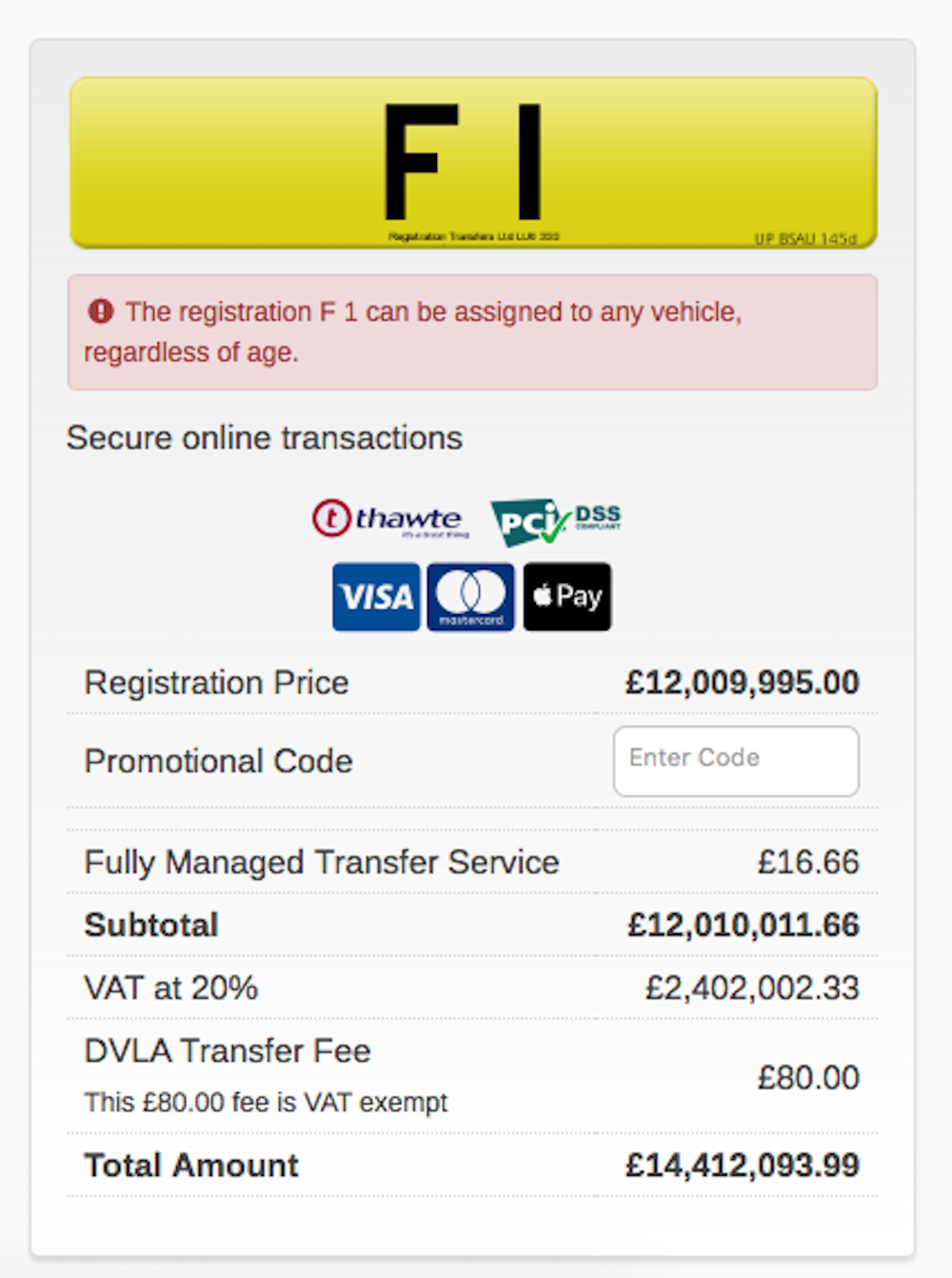 Fancy a $20-million license plate? You can even buy it online., Regtransfers.co.uk
Unlike in the United States, citizens of the United Kingdom own their license plates and their contents, which means that if you're able to secure a saucy message on it, it's yours to keep and resell as long as you pay the one-time and yearly fees. The price of the plate itself is "only" $16,96,918 or so, but after transfer fees and a whopping 20 percent tax-equivalent surcharge, the total price of admission for the plate's future owner blows up to little over $20 million dollars.
When, not if, the "F1" plate sells, it will most likely be the most expensive license plate ever sold in the world. Back in 2008, United Arab Emirates businessman Saeed Abdul Ghafour Khouri paid the then equivalent to $14.3 million for a local license plate that simply had the number "1" on it. The license plate and many of its authorized copies were installed to his fleet supercars which included several Pagani, Bugatti, and Mercedes-Benz vehicles.