Lego's licensed Bugatti Chiron set launches today as a part of the company's line of "Technic" products, which resemble the mechanical function and structures of the machines upon which they're based. 
This set is priced at $350 and sold through Lego's own online and brick-and-mortar retail network. It will arrive at other retailers on Aug. 1.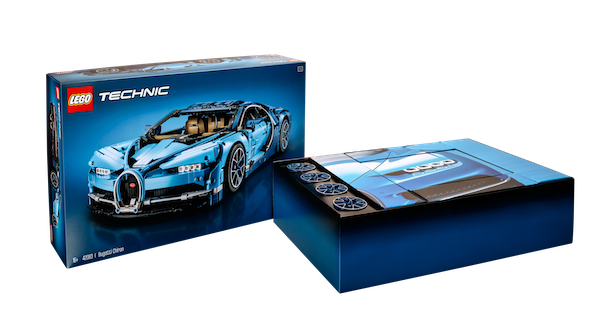 Lego
At 3,599 pieces, it approaches but does not quite take the title of most complex Lego Technic vehicle ever released, as it is more complex than the old Porsche 911 GT3 set, but less so than the company's current "Bucket Wheel Excavator" at 3,929 pieces. The Chiron set, when assembled, comes in at 22 inches long, nine inches wide, and five inches high.
Like the real car, the one-eighth scale Lego Chiron comes with a shiftable eight-speed transmission, functional steering, and the speed key, which toggles the rear wing's position between handling and top-speed modes. All 16 pistons inside the car's W-16 engine move up and down, and inside the car, a branded Bugatti overnight bag can be found, along with a serial number exclusive to each set.
"I am very excited about this new model. Our Lego designers have done an amazing job capturing the details of this iconic Bugatti design," stated Lego CEO Niels B. Christiansen in a company press release. "It truly stands as testament that with Lego bricks you can build anything you can imagine, and an example that with Lego Technic, you can build for real. It's a huge model that I can't wait to start building myself. I've always been passionate about engineering and this model's details and design are truly fascinating."
"Thanks to their proven design and technology expertise, the Lego Group and Bugatti are the epitomes of their brand segments," chimed in Stephan Winkelmann, president of Bugatti. "The Lego Technic model of the Bugatti Chiron is an expression of this perfect relationship. I am impressed at the precision and refinement with which our super sports car has been translated into the Lego world and I am sure that fans of both Lego bricks and Bugatti will love this product."
$350 may seem like a bargain when compared to the real Chiron, which starts at about $3 million, or around 8,570 times the price of the Lego kit. Once constructed, however, the reality hits that one will need to find a place to store the colossal model, which dwarfs some coffee table photo books. The average toy chest won't do, as the model is too big and more complex than a child's plaything—hence the 16-plus age recommendation on its box.
Lego won't discuss the constructed weight of the Chiron set yet but based on our experiences with other Lego sets in the thousands of pieces, its assembled weight could likely come in at around seven pounds, so it is best not left in a precarious place where it can roll away to replicate that famous Veyron insurance fraud video. 
We can also imagine that the set's interactive features will lose their appeal after a few uses, and may be forgotten until you have company over asking why you spent $350 on a Lego set. The retracting rear wing can basically function as a party trick for introverts, after all.