Before I start in on the new 2019 Chevy Silverado pickup truck, a note of positivity: The Silverado will haul or tow anything you want—people, cargo, topsoil, trailers, and, should you find yourself in a Chevy TV ad, horses and heavy equipment. That's to be expected, in a truck that starts from $33,695 for a worker-bee Extended Cab model, and tops out above $69,000 for a High Country model. And apparently, that's more than enough for some truck fans and reviewers to give this Silverado a free pass. 
Well, not me. This isn't some Mitsubishi econobox, where low bars are quickly cleared and low expectations easily met. Apparently some folks have forgotten, but the Silverado is Chevy's (and General Motors') best-selling and most profitable vehicle by far. It is the second-most-popular model in America after Ford's perennially best-selling F-150. The stakes are higher than these truck's cargo beds. As such, pickup truck fans in general and Chevy fans specifically have every right to demand the brand's best effort—especially in light of the stellar 2019 Ram 1500 that has set several class benchmarks, including for its high-class interior and car-like ride and handling.
Instead, Chevy half-assed the new Silverado. GM's franchise pickup truck is the most disappointing "all-new" vehicle I've driven this year. Aside from the utter face-plant of its styling, this Silverado reeks of cost-cutting and profit-padding. After two weeks in the Chevy's embrace, I kept imagining a cigar-clouded boardroom atop GM headquarters in Detroit in which top executives said, The Silverado is good enough. Most of our loyal owners aren't even looking at Ford or Ram. We own these guys. And let's face it, if we were relying on profits from the Bolt, Volt, Dolt, whatever, we'd all be out of work. We're going to mint money with this truck, and nobody's going to know the difference."  
Silverado, in Trail Boss trim, Chevrolet
The problem, of course, is that consumers—Chevy fanatics aside—ultimately will notice. I know I did, including during an 800-mile round trip from Brooklyn to Maine in a $57,000 Silverado RST Crew Cab, which left my backside numb and my heart cold. 
Let's start with the good: The Silverado steers well, feeling direct and confident even at high speeds. But even here, the new Ram handles better and rides much more smoothly. Where the coil-sprung Ram spread butter everywhere it went, including my usual gantlet of cobblestone streets in Brooklyn, the Chevy—with its technically inferior leaf-spring rear—clomped over bumps, jiggled over cracks, and sent harsh booms and vibrations into the cabin over even modest pavement imperfections.
The exterior design, to put it kindly, is in a holding pattern. One regular reader of The Drive rightly called the new face "squinty," and he wasn't referring to Clint Eastwood. The Chevy's blunt front end is a weird concatenation of slats, stacks, abscesses, and angles. There's no place for your eye to rest, so it all looks like a shapeless void. Or, since Chevy is big on Transformers tie-ins, maybe Optimus Prime's ass crack. That grille did look better in bright metal on the LTZ Crew Cab I drove, versus the black plastic version on the RST. But you can look at this Chevy's face a hundred times from a hundred different angles, and you still won't see a handsome pickup. At least there's always the Silverado's close cousin, the GMC Sierra, whose styling I've always preferred to the Chevy's.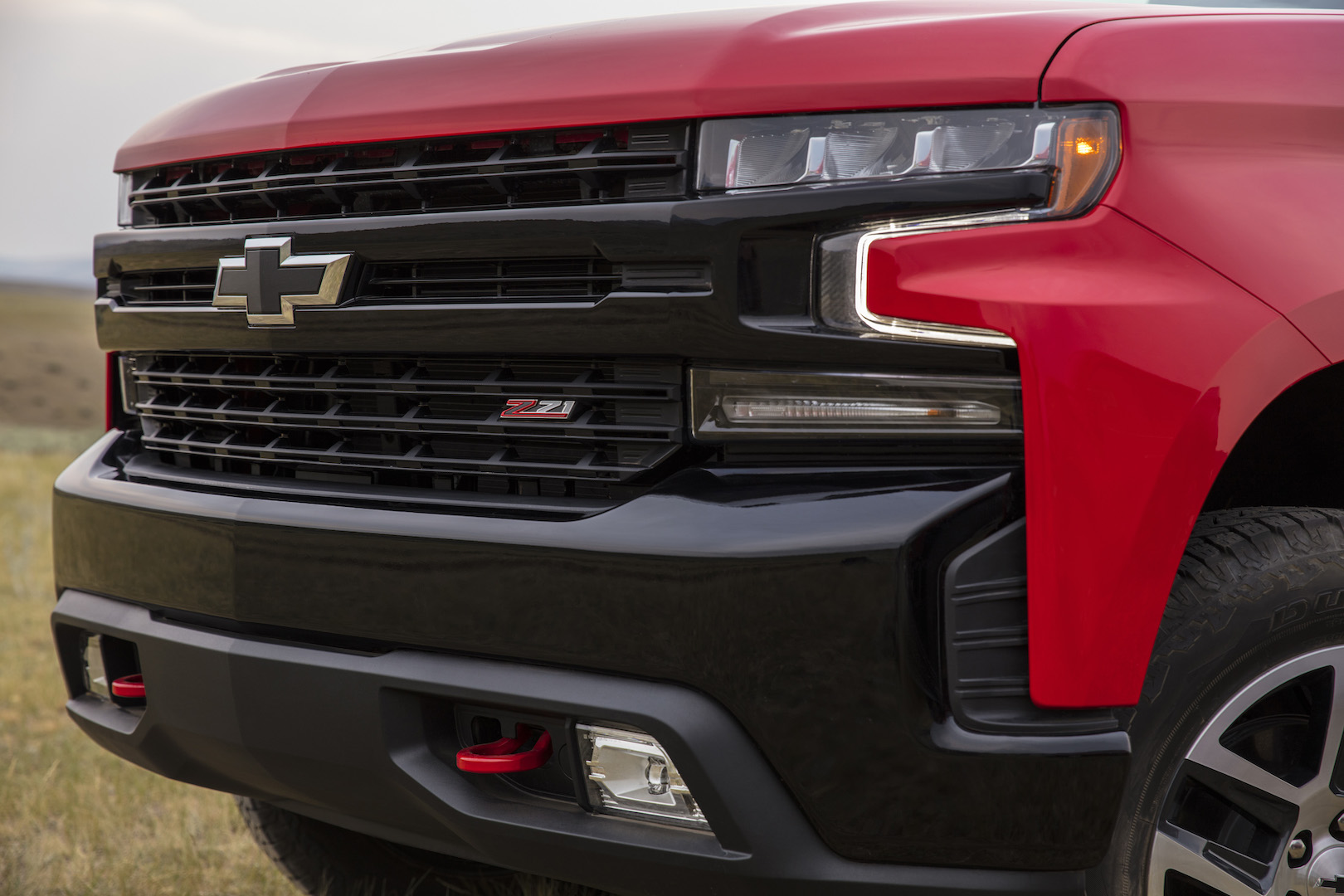 Does this front end look good to you? Me neither., Chevrolet
Coincidentally, I was sitting in that high-zoot Ram when the Silverado LTZ rolled into my parking lot for its test. Hopping straight from Ram into the Chevy was a jarring experience, like a free-fall from a swanky Los Angeles nightclub into GM's parts-bin dumpster in Detroit. That might be fine, if GM's parts bin resembled, say, Audi's. But GM's parts bin is like the toy chest that you haven't peeked in for 20 years: Wow,
I thought Mom threw that crap out years ago.
Design atrocities include ancient turn-signal and transmission stalks, and a scrawny steering wheel that would be right at home in a Chevy Trax or Spark. Dull, cookie-cutter GM instruments are poorly aligned with a driver's field of view. At least Chevy is consistent: Seat leather looks like rubber. Plastic trim looks like rubber. Many switches are, in fact, covered with genuine rubber. The infotainment screen is a stingy, postcard-sized affair with stodgy graphics. The audio system is so tinny and underpowered that it wouldn't pass muster in a child's bedroom. In one of many examples of crushing cabin superiority, the Ram's center console is enormous, many-featured and smartly finished, including multiple USB ports and a tooled-leather top. The Chevy's? It looks like an Igloo cooler.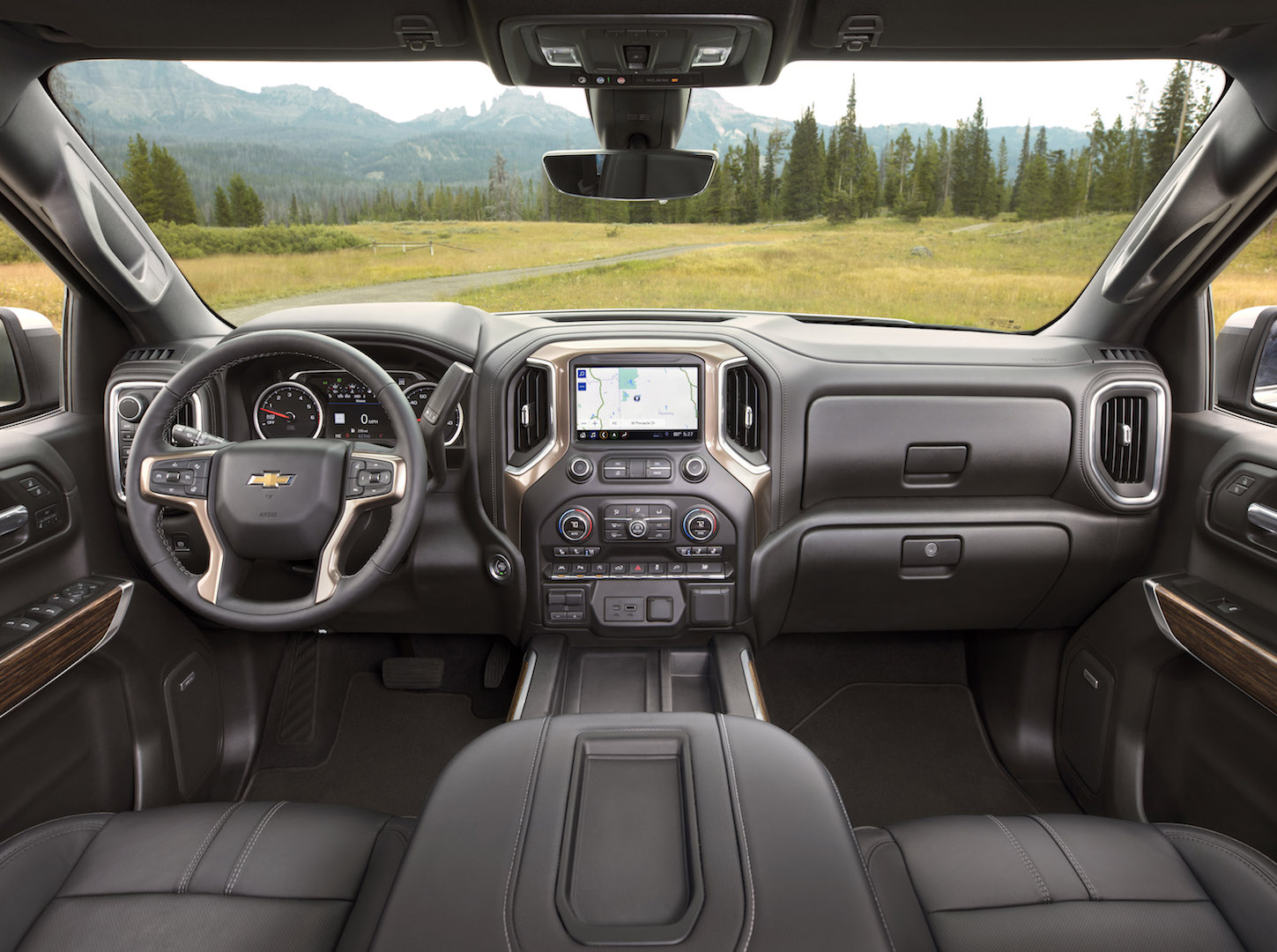 This is what a $65,000 Chevy interior looks like. Yes, this is the best version. , Chevrolet
Apple CarPlay and Android Auto are aboard, thankfully. But neither of my Silverado testers—we're talking modern cars priced above $55,000—bothered to include a navigation system. Instead, most buyers will be stuck with OnStar—the AOL help desk of auto-dom. So if you dial OnStar, a helpful call-center operator will beam crude "turn-by-turn" directional arrows into your driver's display, sans any actual map. That is, unless you're out of cell-phone range, in which case you're SOL. 
As in many new cars, the list of SiriusXM radio channels you're not listening includes a running list of what song or program is currently playing, so you can tune in or skip past according to your tastes. In both my Silverados, the list updated so slowly as to be useless: I'd punch up a displayed song that I wanted to hear, only to find that a new one was already playing. This obnoxious audio bait-and-switch occurred at least 50 times during my weeks with the trucks.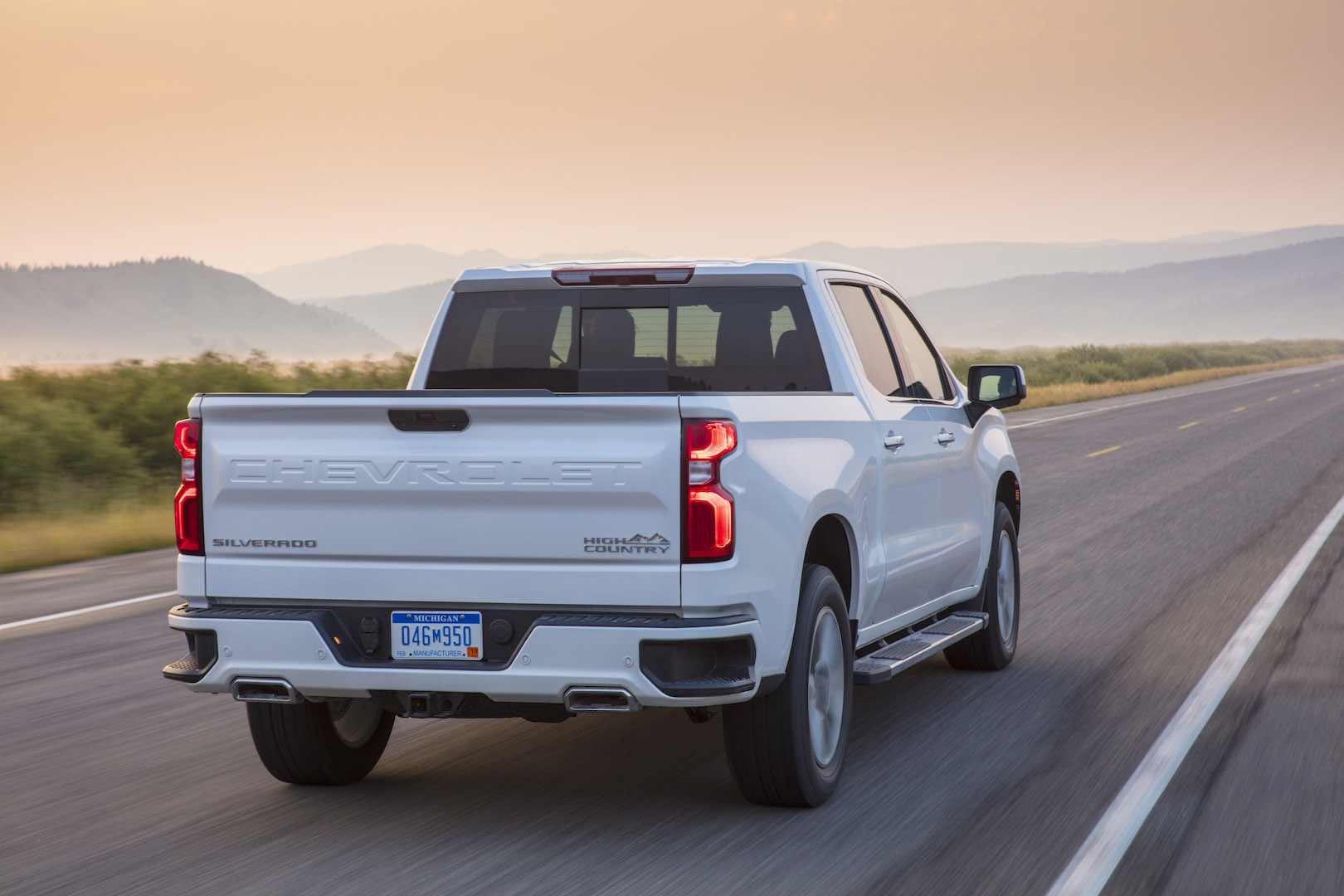 Optional tailgate can power up or down at the touch of a key fob, Chevrolet
The rear seat of crew cab models is indeed roomy—but the Ram's is roomier, and its seats better-sculpted and more comfortable. Ah, but here's where Chevy would fire back about its new storage bins, cleverly concealed behind pivoting rear-seat backrests. Ultimately, even that clever gimmick roused more of my skepticism: I kept picturing how GM tasked engineers with spending thousands of hours, and maybe a few million design dollars, on these hidden cubbies. But apparently, not one executive or engineer raised a hand and said, "Excuse me, but we're spending an awful lot of time designing a space people will rarely see. Maybe we should work on the things customers do see, and take a clean-sheet approach, because what I see looks like crap." The top-dog High Country version might be renamed the High Comedy: A roughly $65,000 truck that can reach nearly $70,000, and it's still got fake wood and budget plastic everywhere you look.
As with any new vehicle, there are pluses to the new Silverado. To wit:
The V8 engines are powerful and pleasingly efficient, whether you choose the 5.3-liter with 355 horsepower and 383 pound-feet or the 6.2-liter with 420 horses and 460 pound-feet. (You can also choose a 2.7-liter turbo four, or an aging 4.3-liter V6). The latest Dynamic Fuel Management system can even seamlessly run these V8s on as few as two cylinders. On the highway, I saw a legit 22 mpg with the 5.3-liter, and 20 mpg with the burly 6.2, both right in line with EPA estimates.
The so-called "Durabed" carves out seven inches more storage width between the wheel wheels, enough to lay the familiar four-by-eight-foot drywall or plywood sheet flat in the bed. That bed now also features a higher, lighter grade of steel, and includes a dozen tie-downs that can each withstand 500 pounds of force.
The lightweight aluminum tailgate swings easy as a breeze, and can be optioned with a powered open-and-close feature, or with gravity-assisted downward-only action.
Chevy's integrated bumper steps—simple cutouts in the bumper's corners that offer a literal leg up to reach the bed—are as clever now as when they were first invented.
The optional 10-speed transmission, co-developed with Ford, was worlds better than the eight-speed in my RST model: Unobtrusive and smartly programmed to find the right gear at the right time.
In bad pre-bankruptcy-GM fashion, Chevy even manages to turn that technological win into a loss: The 10-speed is only available with a single engine—the 6.2-liter V8 that's a $2,495 upcharge—and only on swankier models. For seemingly the umpteenth time in company history, GM has a piece of technology worth talking about and owning—and then promptly withholds it, except for a small percentage of buyers who are willing to shell out the big bucks. The eight-speed automatic in my RST, in contrast, was determined to get the Silverado into fifth or sixth gear at city speeds, and then lugged and resisted downshifting unless I really hammered the gas. It's infuriating that this superior 10-speed won't be enjoyed by every Silverado customer.
(For a truck that struggles to claim class leadership in any meaningful way, a bright spot should come with next year's Duramax diesel option. That compression-ignition inline 6 may return 28 highway mpg while pumping out 282 horses and 450 pound-feet of torque.)
Obviously, people don't buy trucks first-and-foremost for their exterior styling or interior design. But that doesn't mean that buyers don't care—or worse, that a complacent GM should give those areas short shrift. Now, if the Chevy clearly bested its competition in more-workaday matters—ride and handling, payload and towing capacity, four-wheeling hardware—I'd be more inclined to excuse its deficiencies in design, features, materials, or craftsmanship. But the Chevy holds no such advantages, unless you're the type who really believes the flood of marketing bullshit surrounding America's favorite mode of transportation. 
Ford, Chevy and Ram—and the slavish reviewers who tend to serve the truck audience—love to bandy about numbers that end up being theoretical or meaningless in the real world: A 10-horsepower advantage here, a 100-pound edge in max towing capacity there. The fact is, any half-ton truck will carry more payload and tow more cargo than most owners will practically need. If you really need more, you're looking at a heavy-duty truck anyway—and now we can argue about which truck does what on a work site after 200,000 miles of abuse.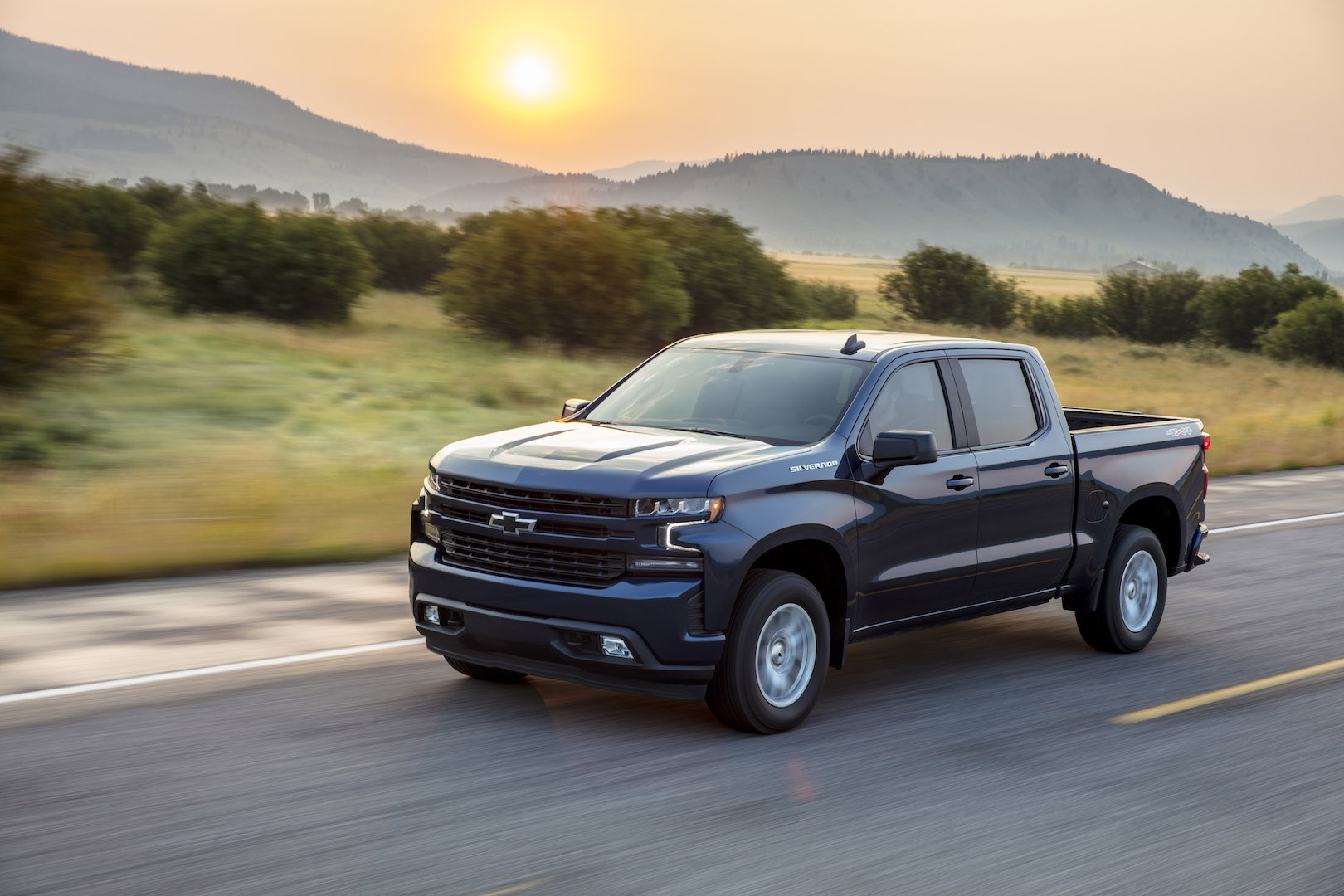 V8 fuel efficiency is a Silverado strong point, Chevrolet
And since pickup manufacturers have spent the past two decades gussying up pickups to replace traditional cars—and convincing Americans of the rightness of that quest—it's only fair to judge them on how well they serve those needs: ride quality, comfort, quiet, luxury, features, fuel economy. That latter metric aside, the Silverado falls short on most competitive fronts. The biggest head-scratcher is how this Silverado comes on the heels of the full-size Traverse, a handsome three-row SUV that I raved about and thoroughly enjoyed. But however it went down, this Chevy deserves a place in auto history, in a Showroom of Shame that includes certain Camrys, Civics, and VW Jettas: Cynical redesigns that their manufacturers clearly hoped would be accepted as all-new, but whose unrelenting cheapness and stinginess quickly got called out. 
If there's any justice, Chevrolet will be forced to bring the Silverado in for an emergency nip-and-tuck, well before its official refresh date. Until then, I wouldn't dream of rewarding GM by overspending on this hunk of mediocrity. Hand Chevy your hard-earned money now, and the company may well be encouraged to jerk you around harder when another new Silverado comes around.
Lawrence Ulrich,The Autance's chief auto critic, is an award-winning auto journalist and former chief auto critic for The New York Times and Detroit Free Press. The Detroit native and Brooklyn gentrifier owns a troubled '93 Mazda RX-7 R1, but may want to give it a good home. Email him at [email protected].