Welcome to Critic's Notebook, a quick and off-the-cuff car review consisting of impressions, jottings, and marginalia regarding whatever The Drive writers happen to be driving. Today's edition: the 2019 Ford Edge ST.
The 2019 Ford Edge ST, By the Numbers:
Base Price (Price as Tested): $43,350 ($49,875)
Powertrain: Turbocharged 2.7-liter V6, 335 horsepower, 380 pound-feet; eight-speed automatic transmission; all-wheel-drive
EPA Fuel Economy: 19 mpg city / 26 mpg highway
Cargo Capacity: 39.2 cubic feet / 73.4 cubic feet with seats down
0-60 MPH: 5.9 seconds (manufacturer figure)
Quick Take: Wash the Fiesta and Focus ST out of your mind, or else you'll be disappointed. Still, the Edge ST is the quickest and best-driving Edge in the 2019 lineup.
First, a word about what the Edge ST is not: A Fiesta ST, Focus RS, F-150 Raptor, or Shelby GT500 Mustang. Those are some of the wowza cars and trucks ably developed by Ford Performance, and they all share a certain rubber-shredding je ne sais quoi that's missing in this Edge. If you were expecting some lower-priced foil to a Porsche Cayenne, Alfa Romeo Stelvio Quadrifoglio, or 707-hp Jeep Grand Cherokee Trackhawk, you will be sorely disappointed.
Temper those expectations, however, and this stylish Edge ST makes a decent case for itself. it has enough power and Ford Performance-spec tuning to set it apart, but without breaking the bank, spoiling the ride, or guzzling too much premium fuel. It's a proudly mainstream SUV that's a bit less mainstream than competitors like the Chevy Equinox, Toyota Highlander, or Hyundai Santa Fe, vehicles that wouldn't dare drop a spicy twin-turbo V6 into their own bland front ends. With Ford looking to recast itself—mistakenly, in my view—as a kind of post-car automaker, abandoning traditional cars like the Focus, Fiesta and Fusion, the Edge ST also gives Ford Performance something to tune besides Mustangs and pickup trucks.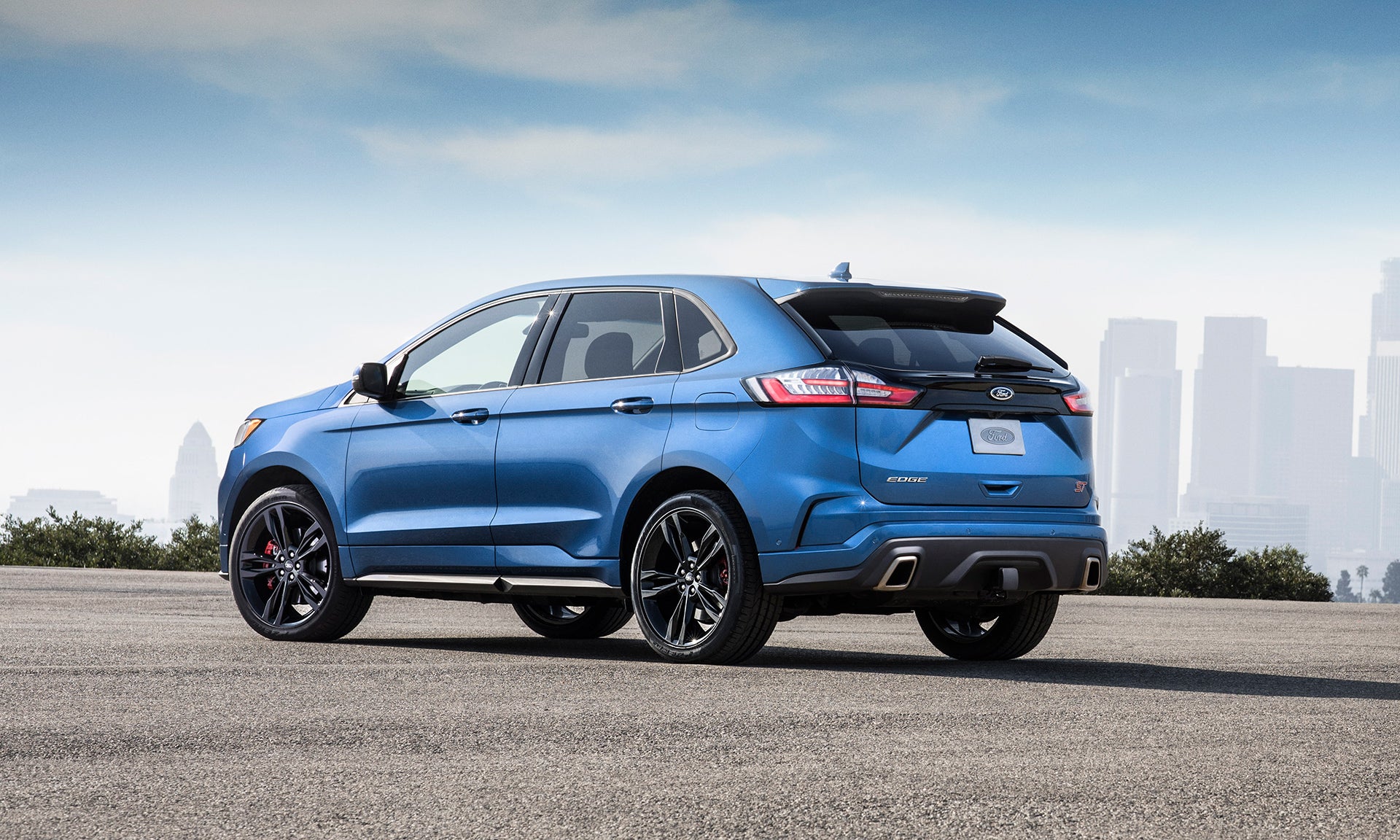 Ford
2019 Ford Edge ST: The Pros
Any defense of this ST begins with its 2.7-liter twin-turbo EcoBoost engine. This compact workhorse sends 335 horses—20 more than last year's Edge Sport, with a torque bump of 30 pound-feet—through four wheels, and sends the Edge from 0 to 60 miles per hour in a brisk 5.7 seconds. An eight-speed paddle-shifted automatic transmission (with two overdrive gears) replaces the former six speed. Like all 2019 Edges, this ST can also switch automatically between front- and all-wheel-drive via a fast-acting, AI-based sensor unit that disconnects the rear axle. It all helps boost EPA fuel economy to 19/26 mpg, a 2-mpg gain in both city and highway versus the Edge Sport. (Aggressive driving, however, left me at 19 mpg overall, a common issue with small turbocharged engines working hard to motivate big vehicles). 
That transmission features an "S" Sport button on its new rotary console knob, which gooses throttle and gear programming, enables rev-matching downshifts, holds gears at high revs, and adds a digital tachometer to the driver's instruments. The li'l EcoBoost isn't an especially enthusiastic V6, with horsepower peaking at 5,500 rpm and shifts taking place around 5,900, but its torque gets the job done, allowing the Edge to keep pace with many pricier cars and SUVs. And it's lubed lightning compared with a turbo four-cylinder Edge, which takes more than eight seconds to reach 60 mph.
Again, this isn't some torque-vectoring genius like a Focus RS, or a face-melting dragon like a Shelby 'Stang. But in family SUV terms, it's better than a warmed-over tuna casserole. Ford Performance boosted spring rates by 10 percent in front, with a larger, solid stabilizer bar replacing a hollow unit. Springs rates jump 20 percent in the rear, with a thicker stab bar, and monotube shocks in place of rear twin-tubes. The AWD system is programmed for extra rearward bias, the electric steering is mildly retuned, and a Sport mode for stability control allows (supposedly) more wheelspin and sideways yaw before it intervenes. Brakes feel trusty, including newly vented rotors in back, while an optional $2,695 package brings striking, 21-inch alloys with Pirelli P Zero tires and uprated brakes and pads. The steering feel was a touch thick for my taste, though effort builds nicely. And the steering wheel itself seems too skinny, better suited to a Focus or other small car. But driving the Edge was never less than pleasant, including during a snowstorm that saw me passing dozens of cars on New York's no-shoulder parkways, impressed with the Ford's sticky grip on Hankook Ventus S1 Noble² all-season performance tires.
Four years into its lifecycle, the Edge is still a handsome SUV, in its own quiet way—better-surfaced and more-substantial than, say, the Equinox, Highlander or Nissan Murano. (Yes, you have to actually look at the Edge to notice). The ST treatment amplifies those qualities, eliminating most exterior brightwork and adding a black, wide-mesh grille and square exhaust tips. Modest changes inside include a revamped instrument cluster, thicker-bolstered seats and ST badging.
Like every Edge, whose lineup is refreshed for '19, the ST gets a truckload of standard safety gear via Ford's Co-Pilot360 package: forward collision warning with automated emergency braking, blind-spot and lane-keeping monitors, pre-collision assist with pedestrian detection, automated high-beams and post-collision braking. The ST adds stop-and-go ability to its adaptive cruise control, and mild self-steering to its lane-keeping function. That adaptive cruise unit, a new evasive-steering assist, and Ford's clever self-parking technology are part of a $5,585 package whose luxury features also included a panoramic sunroof, heated and cooled front seats, a hands-free tailgate, wireless charging pad, remote start, and a touchscreen navigation system.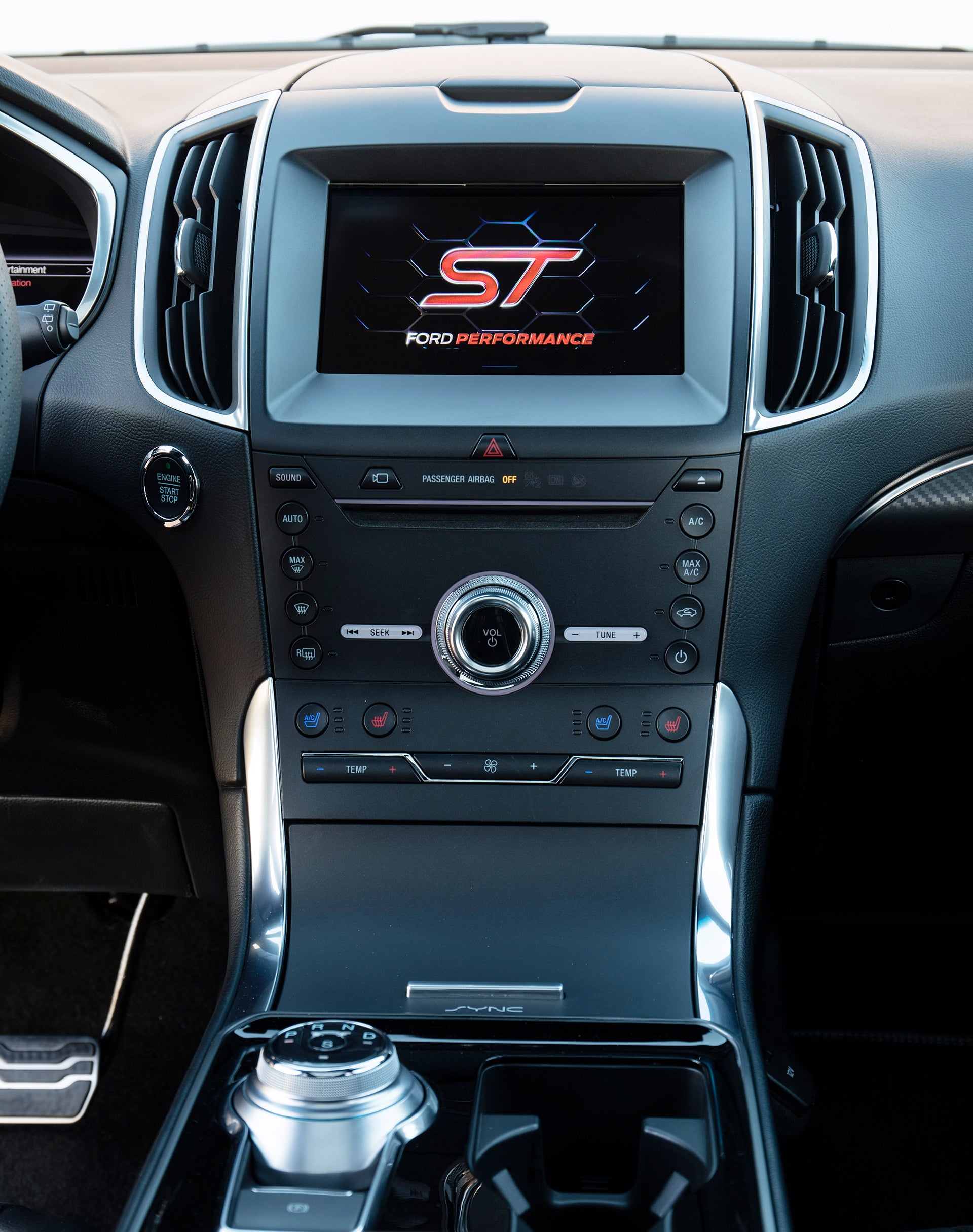 Ford
2019 Ford Edge ST: The Cons
Despite the Edge's freshening, there are some stale bits, as you'd expect in an SUV that's been around since 2015. The cargo area is roomy, with more space than a Jeep Grand Cherokee, but it's bounded by a black sea of hard plastic, which is repeated on the console trim and lower doors. The Sync infotainment system has come a long way, and Wifi is standard for 2019; but the system's Microsoft roots still show in cumbersome menus and poorly organized controls, including a welter of steering-wheel buttons. Case in point: While seat heaters and coolers get hard switches, the heated steering wheel is buried in an onscreen submenu of climate controls. Akin to the growth spurt of modern TVs, the Ford's nav screen is looking scrawny and low-res by 2019 standards.
Left to its own devices, the eight-speed transmission dawdled and served up the occasional rude shift. Sport mode speeds things up, but the Ford's gearbox still became confused or resisted paddled downshifts at times. At no time will you confuse this transmission with, say, the seamless ZF eight-speed in BMWs, Jaguars and other luxury brands, or the dual-clutch units in some high-performance SUVs. 
Selecting that Sport mode calls up EcoBoost's Greatest Hits on the stereo—a soundtrack of selected V6 frequencies that play through the audio system. I didn't notice it when the music was cranking, but when it wasn't, the piped-in frequencies got boring and intrusive.   
The Edge ST feels suitably quick; it's composed at speed, and the ride is never punishing. (I'd like to have sampled those optional, 21-inch wheels with red brake calipers, though.) But there does come a point where the Ford throws up its beefy hands, as if to say, "You know I'm not a Porsche, right?" For me, that point came on the high-velocity sweepers of New York's Route 22, as they skirted and bisected the Kensico Reservoir that supplies fresh water to New York. The Ford dove willingly into these corners, with a well-controlled body and no "Whoa, Nellie" moments. But real speed forced the Edge into persistent understeer, holding tight to the curve but with nothing left to give. The speedometer said we were going fast, but that's not the same as "fun." Dialing back stability control (which can't be fully defeated anyway) does nothing to change that: Unlike the best performance SUVs, the Edge never transcends the boundaries of its size, shape or class.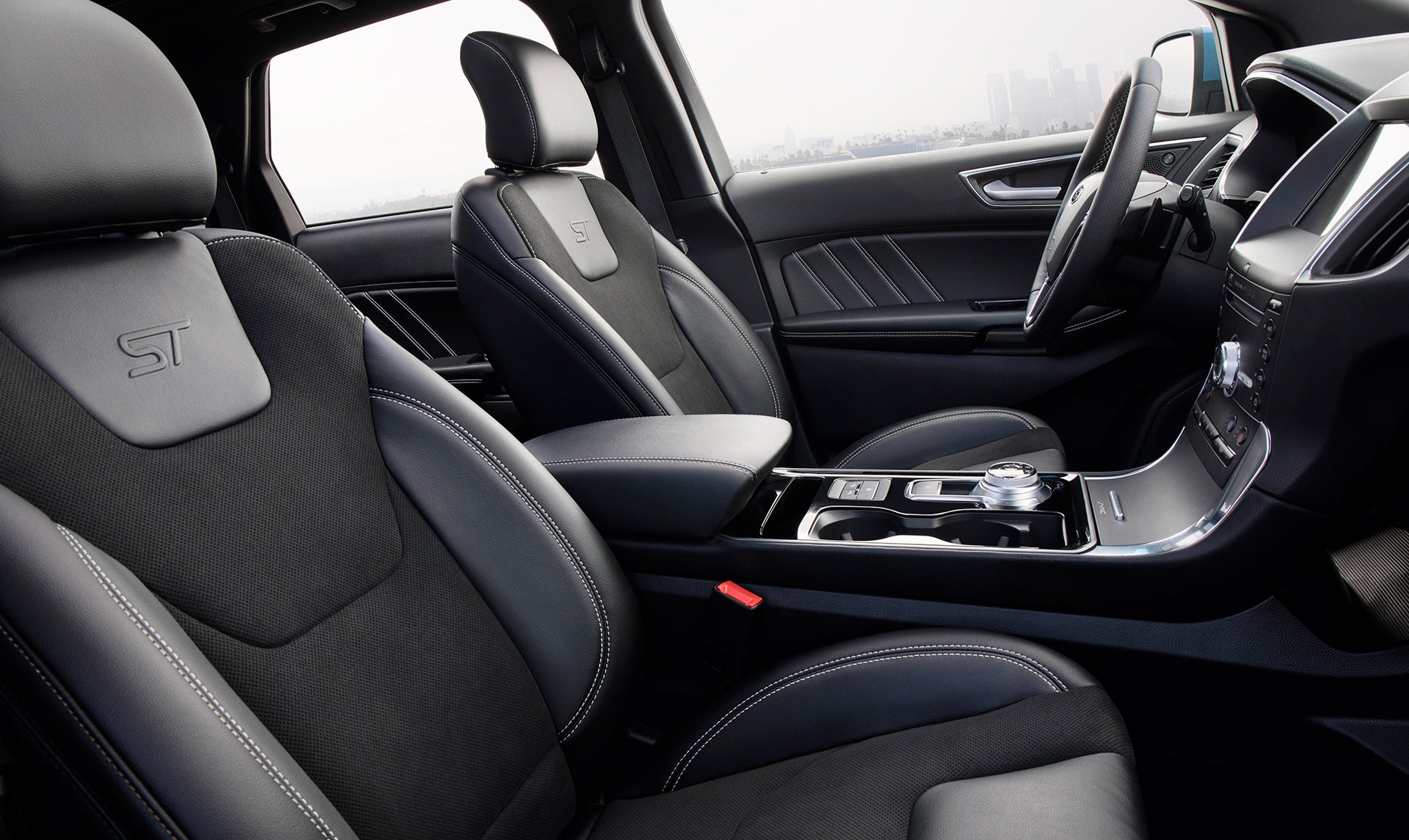 Ford
2019 Ford Edge ST: The Bottom Line
The Edge may not rise to the level of a Porsche Cayenne Turbo—or even a Jeep Grand Cherokee SRT—but neither do the monthly payments. Where the Hemi-powered 475-hp Jeep starts above $69,000, the Edge ST costs $27,000 less, starting at $43,350. Perusing a more like-priced league, the Ford costs roughly $2,000 less than an Acura MDX that makes 290 horses and a relatively puny 267-pound feet from its 3.5-liter V6; the Ford's overachieving EcoBoost whips that by 45 horses and 113 pound-feet.
The ST's somewhat blunted, um, edge may appear relatively sharp in comparison because Ford has dropped the V6 in the rest of the lineup for 2019. If you don't choose the ST, your only choice is a 2.0-liter turbo inline-four with 250 horsepower and 275 pound-feet. Those other Edges do start from just $30,990 in SE trim, and top out at the Edge Titanium for just under 40 large. This stuffed Edge ST rang the register at $49,875, and that's a lot of money for a five-passenger Ford SUV. 
But Jeep aside, no non-luxury brand is dropping a seriously powerful motor into this class of family conveyance, and certainly not for this little money. We'll see how many Ford fans judge the Edge ST as a square deal, and how many dismiss it as an extravagance. Either way, Ford has a mainstream SUV that rushes faster than usual.