The last time a Ford Mustang could be had with the legendary Mach 1 package, The Facebook was the hot new thing on college campuses, George W. Bush cruised to re-election and gamers everywhere spent an inordinate amount of time playing Halo 2. That was 2004. Needless to say, it's been too long. Now it's back as the performance bargain of the Mustang range, the Mach 1 is a combination of that esteemed, 5.0-liter Coyote V8, Shelby parts, and track-tuned suspension that will threaten lap records across the globe.
Built on the basis of the Mustang Bullitt, the Mach 1's 5.0-liter V8 shares the McQueen tribute car's intake and exhaust enhancements, which fatten the Coyote V8 up to 480 horsepower. Also, like the Bullitt, the Mach 1's standard transmission is a six-speed manual, though this one's the Tremec 3160 borrowed from the GT350—not the GT's allegedly fragile Getrag MT-82. That's great news. 
In the Mach 1, it features automated rev-matching, though if even this simplified three-pedal experience is still a hair too intense, the Mach 1 will also be available with a sharp-shifting, 10-speed automatic, if you need that.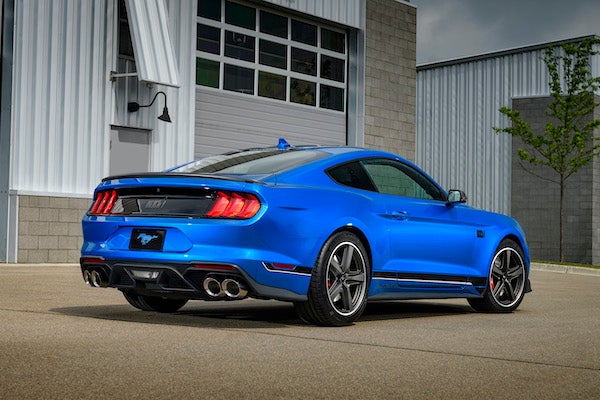 2021 Ford Mustang Mach 1, Ford
The Mach 1 is far from a repackaged Bullitt, though; Ford claims it has been rigorously refined with track use in mind. It borrows multiple heat exchangers from Shelby Mustangs to improve engine, transmission, and rear axle cooling, which you'll need a lot of if you're putting the optional Handling Package through its places. This comprehensive performance pack starts by upgrading the standard, Magnum 500-inspired aluminum alloys (above) to a unique, inch-wider design, whose Michelin Pilot Sport 4S tires (standard on all Mach 1s) are kept in contact with the road by stiffer front springs, thicker sway bars, and retuned MagneRide dampers.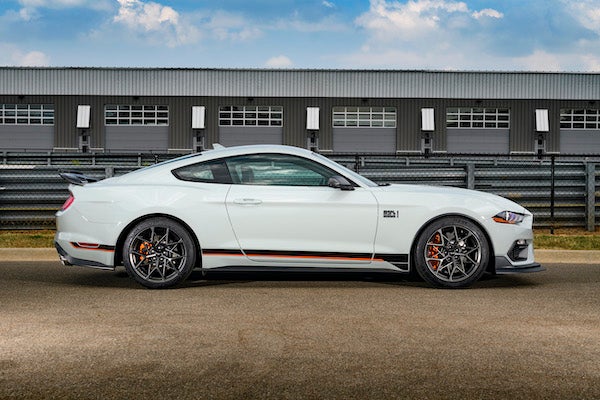 2021 Ford Mustang Mach 1, Ford
Though a brake booster from the Mustang GT Performance Pack 2, a stiffer steering column, and retuned electric power steering sharpen driver input, not all the Mach 1's improvements are mechanical—some are aerodynamic. A high-downforce chin splitter, a lower diffuser on loan from the Shelby GT500, and a Gurney-flapped spoiler elevate downforce by 150 percent over a GT PP1, while the drag they create is cut some by small front fender flares, a streamlined underbody, and rear wheel spats.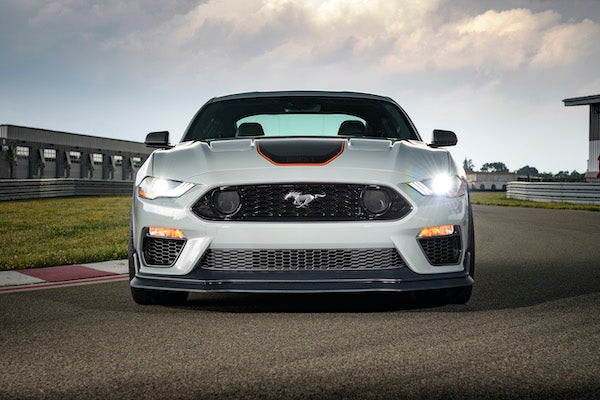 2021 Ford Mustang Mach 1, Ford
While the beloved shaker hood is absent from the 2021 Mach 1, its grille-mounted floodlights are present and accounted for, as are 10 different colors, one of which—Fighter Jet Gray—is an exclusive newcomer. Tick the Appearance Package box, and it'll contrast nicely with striping in matte black and gloss orange, red, or white.
Ford hasn't yet specified weight or pricing information, though I'm inclined to guess that the "relatively low volume" Mach 1 will start somewhere between Bullitt and Shelby GT350 pricing, likely in the low $50,000 range. 
It's due at dealers in the spring of 2021, though whether it'll share showrooms with the Shelby GT350 isn't yet certain. Rumors suggest the Mach 1 will take the GT350's place in the stable, and when we asked Ford whether this was true, it stayed mum on the Voodoo V8-powered Shelby's future. Whether that silence is telling, we can know only with time.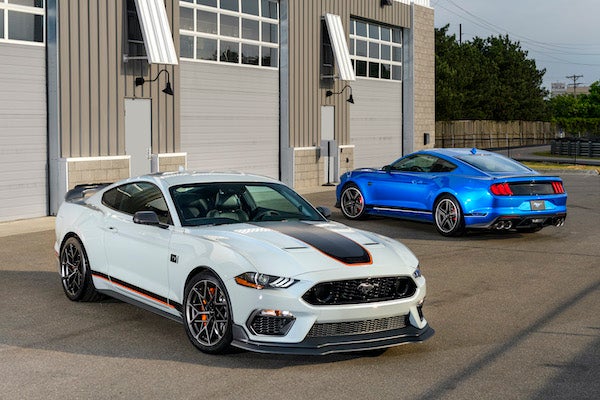 2021 Ford Mustang Mach 1, Ford
Got a tip? Send us a note: [email protected]