The last hurrah of Acura's underrated and misunderstood sports car has finally arrived. The 2022 NSX Type S takes the initially reserved but technologically brilliant second-generation NSX and finally sharpens its proverbial blade into something worthy of the greats.
Welcome to a Review Rundown — where we gather up impressions from as many sources as we can to give you a big range of perspectives on one car in one place.
With initial development goals that were ambitious, Acura built a remarkable car in the NSX. The same story happens with the Type S: a triple-motor hybrid and a twin-turbo V6 engine paired to some of the cleverest hybrid and torque management systems this side of a Porsche 918 Spyder. Except with some important twists: the turbochargers from NSX GT3 Evo have been fitted for increased power, along with larger fuel injectors and intercoolers to support the extra 20 horsepower and 36 pound-feet of torque. A new body kit has been fitted to add aggression to the NSX, as well as a comprehensive iterative treatment to every part so that dozens of small gains add up to a sizable improvement.
All of this results in an attitude change. Gone is the polite NSX that had something of a supercar identity crisis. Now it is no longer in doubt. The NSX Type S is a true supercar without the compromise of the original second-generation car.
This is a shorter, special edition of our review roundup because this wave of journalists drove the car for a short period (three laps around the infield) around the Daytona International Speedway infield road course. Plus, let's be real, you don't need to learn about the ergonomics and grocery-carrying capacity of this car. You want to know what it's like when it's allowed to wail, right? Let's hear from the lucky souls who got to do a lead-follow around the hallowed endurance circuit.
Jerry Perez for The Drive – "​​A mountain lion ready to pounce is the best way to describe the new car's attitude. When set to Track mode, the V6 engine and hybrid system pack a punch that I'd normally associate with either a car equally as powerful but much lighter or just a much more powerful car. It feels angry and it just wants to tackle corners into submission."
Seyth Miersma for Motor1 – "Acura's revised calibrations for steering feel and effort seem to result in a more substantial product, too. Earlier versions of the second-generation NSX were dragged for a lack of feedback, which isn't at all the case as I charge around the speedway. Information about grip levels from the specially engineered Pirelli P-Zero tires (245 sections in front, 305 in the rear) is telegraphed to the wheel, which is handy in a car with this much power."
David Beard for Car and Driver – "Turning into International Horseshoe, the inputs from the steering wheel are instantaneously transmitted to the custom-developed Pirelli P Zero PZ4 tires as they bite into the track surface. A change in offset to the 19-inch front and 20-inch rear wheels increases the front and rear track by 0.4 and 0.8 inch, respectively. The NSX stays flat under lateral loads, and the revised torque-vectoring system provided the front drive motors keeps the Type S on a string through the apex. The recalibrated magnetorheological dampers, even in their firmest setting, shrug off the washboard curbing when exiting corners."
Billy Rehbok for MotorTrend – "These changes mean the 2022 Acura NSX Type S still feels approachable and composed despite being outrageously quick. On Daytona's banked turns, it settled in nicely as we sailed along deep into triple-digit speeds. The car feels totally planted whether it's tucking into a corner or flying down a straightaway, yet the steering remains sharp and precise. The Type S flicks around corners willingly. After just two lead-follow laps, it was evident the car had massive amounts of performance we simply wouldn't be able to access in such a short span."
Victoria Scott for SlashGear – "The car is still remarkably easy to drive at ludicrous speed – certainly vastly easier than anything else I've ever driven over the 500 HP threshold – and it inspires confidence within me I didn't think I had. Cross the start/finish, 135 miles an hour, a slight draft off the lead car in front of me on the least banked of the trioval's massive curves, and despite the motor screaming behind me and the lights turning to an unbroken blur the NSX remains utterly composed; the visceral sights and sounds of speed are all there but the fear is gone."
Mack Hogan for Road & Track – "I'm on throttle sooner and braking later in the stretch to Turn 5, leaning on the solid, predictable, linear action of what I can barely believe is a brake-by-wire system. The steering in Sport+ is quick and precise, offering up more intel on the ground than many a less complicated car, giving me confidence to pile on power early and feel the front tires pawing for grip through the new bespoke Pirellis. No car this complicated and advanced should feel so friendly, should communicate this clearly, but the NSX does. Blowoff noises and a serious top-end windrush add to the theater."
Bradley Brownell for Jalopnik – "There is a point in the Acura NSX Type S accelerator pedal's travel where the computer receives a signal that you just aren't dicking around anymore. There's a step point at about the three-quarter throttle mark where it takes an extra bit of shove to get past in order to open the taps and give it full beans, as they say. On my first lap of the Daytona International Speedway road course, I found that point as we exited the infield and roared up onto the banking headlong toward NASCAR Turn 1. An uttered 'Holy fuck' escaped my lips, followed by an unexpected chortle."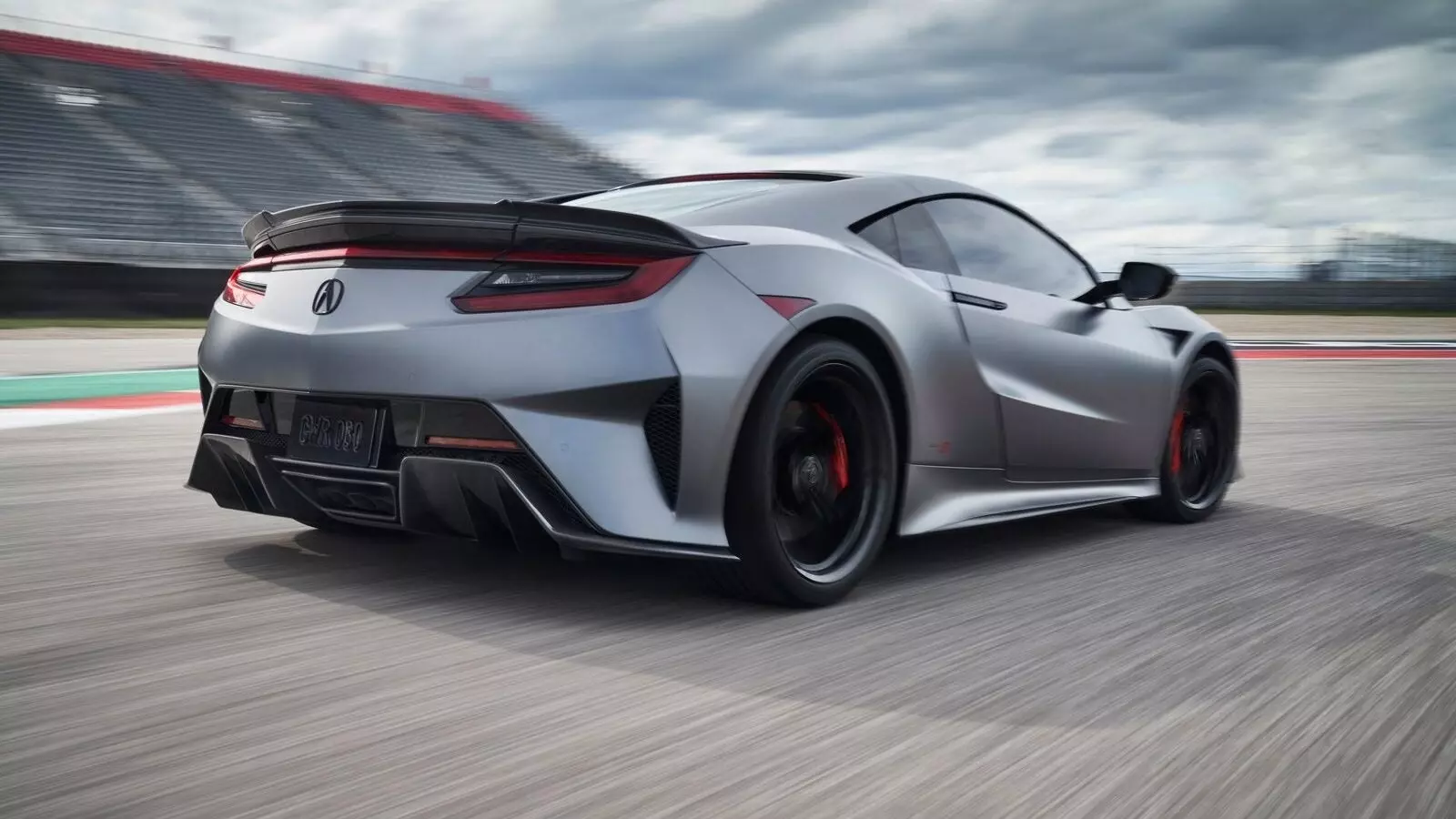 It's a shame we won't often, if ever, see these on the road. Here's hoping some of the 350 people who get to buy an NSX Type S put rack up some real miles.
What to read next: