When Car Autance originally broke the story about California checking for ECU tunes during smog inspections way back in July, we weren't totally sure how the smog inspection process would go for tuned car owners. Would any tune give an instant fail? Will legal, California Air Resources Board (CARB)-certified tunes pass? We now have some insight on this because I had a smog inspection due on my 2010 Volkswagen GTI. The car that I call "Six Iron" is APR Stage 1 tuned and modified with a lot of bolt-on power and reliability mods. My setup includes some semi-permanent mods like an oil cooler that I wasn't sure would pass smog, but the APR tune has a CARB Executive Order (EO) number meaning that it should be legal. Should be.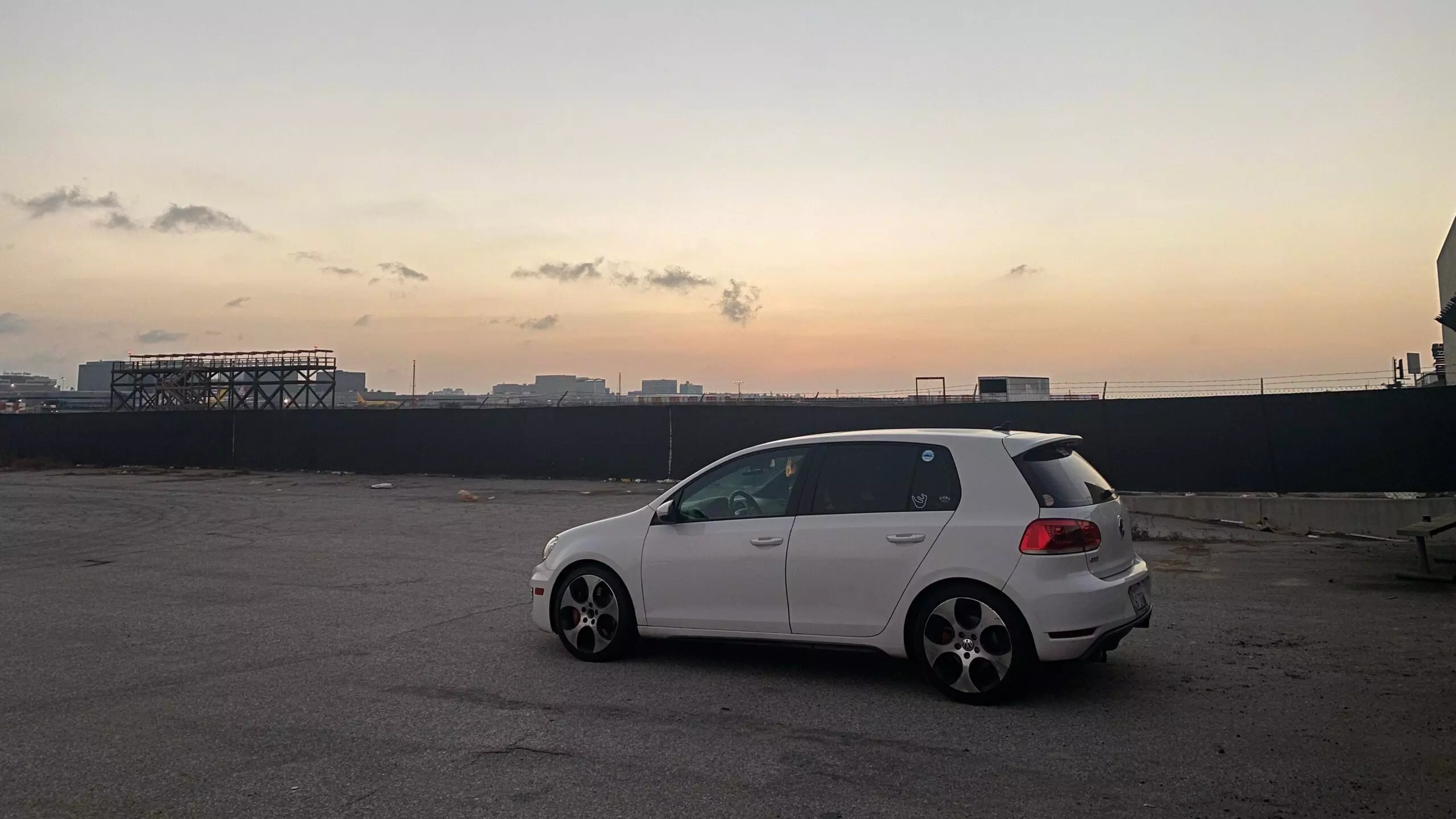 Smog inspections or "smogging" a car in California is fairly simple: you pay someone in some back-alley garage around $75 to plug the state mothership into your OBD2 port and sniff around for emissions-related check engine codes. Meanwhile, the smog inspector completes a visual inspection of the engine bay and exhaust system for emissions system tampering. The entire procedure is administered by the Department of Consumer Affairs' Bureau of Automotive Repair, "BAR" for short.
If you want to operate a gasoline-burning car registered in California, this rigmarole is required every two years for vehicles that are 1976-or-newer model years. But many other states have similar emissions inspections annually.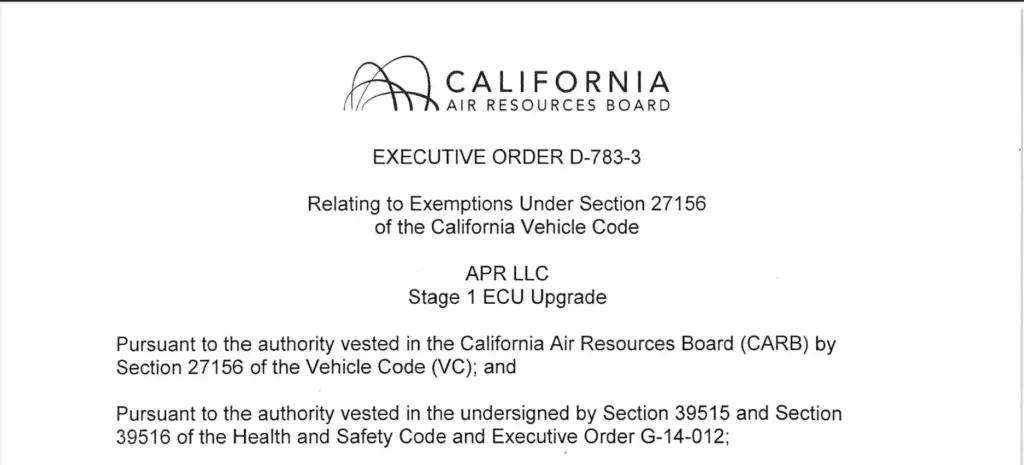 CARB, most commonly through BAR, is the ultimate authority in emissions in the Golden State and it offers recourse for aftermarket companies to sell smog-legal parts in California via the aforementioned EO number. Things like intakes, exhausts, and tunes can have EO numbers that can be taken to a smog inspector with the guarantee that the part will not fail visual inspection. If CARB says it's cool, BAR will accept it. BAR also has the authority to certify engine swaps and do deeper inspections into cars that have been referred to the state by police.
That all sounds pretty intimidating because it is. California takes emissions deadly seriously and has many streets and avenues that lead to the enforcement of emissions laws. So I did some homework and made sure my GTI was as stock as possible before subjecting it to inspection.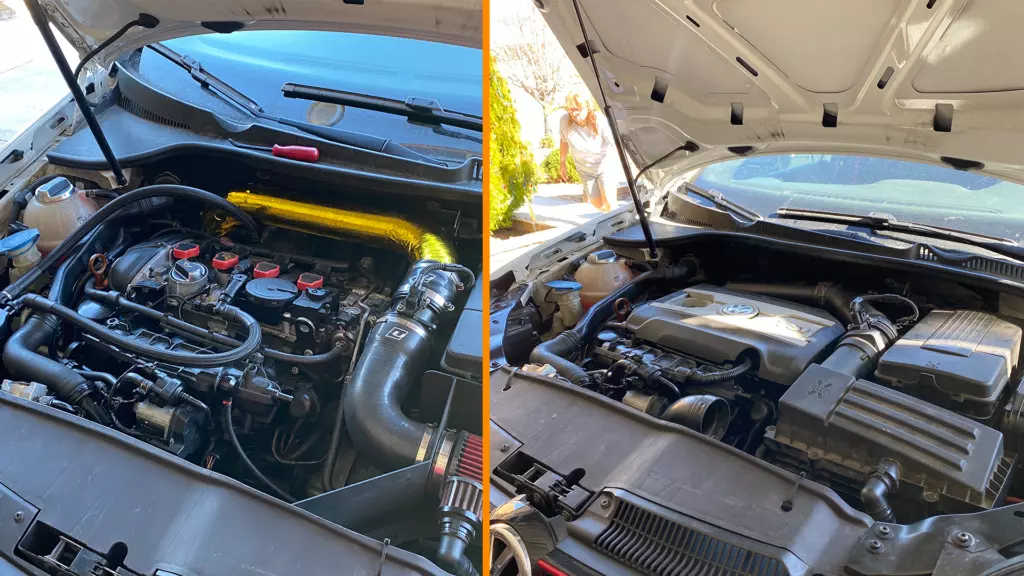 I removed my aftermarket intake and catch can, unplugged and removed my boost gauge, and installed my undertray to give the inspector less chance of catching something randomly out of compliance. I decided to leave my aftermarket black charge pipes on out of laziness and hoped nobody would notice them. I also had no choice but to leave my engine oil cooler installed as well as my Fluidampr crank damper, though they shouldn't have any effect on emissions.
Frankly, the state takes exception to any form of modification, so I was taking a risk. But I was also willing to fail the test just to know what I could or couldn't pass. Most importantly, I wanted to see how the tune would interact with the smog computers. The last thing I did was hop on APR's website and printed this document outlining the EO number. I circled my tune's part number with a pen just to be sure my compliance with the rules was obvious.
With the car being as stock as I wanted to make it and paperwork in hand, I trundled off to the smog station with serious doubts about the tune passing smog. The inspection method for the tune is through a checksum called a Calibration Verification Number. Basically, it's a number that is added up from parameters in the ECU that determine programming. A modified CVN can trigger an instant fail and I worried how that would affect the smog process, even with my silly paper printout.
When I arrived at the smog station, I immediately handed the APR documents to the inspector and explained that the car was tuned, to which he responded with a quizzical look.
"What do you mean tuned? Like an ECU programmer?"
"Yeah, something like that" I responded.
I let him get on with the inspection, which mostly went off without a hitch. They spent a little extra time staring at my charge pipes but seemed to decide that the wrinkle black coat was acceptable and they didn't care about the oil cooler. Near the end, I couldn't take it anymore and started hovering. The techs talked to me a little bit.
It was explained to me that the car would have certainly failed had I not brought the CARB APR paperwork. The tune did not automatically report itself and its EO number to the smog computer, in fact, the inspector had to manually enter the EO number and tune part number into BAR-OIS (the program inspectors use) to get a smog certification for my car.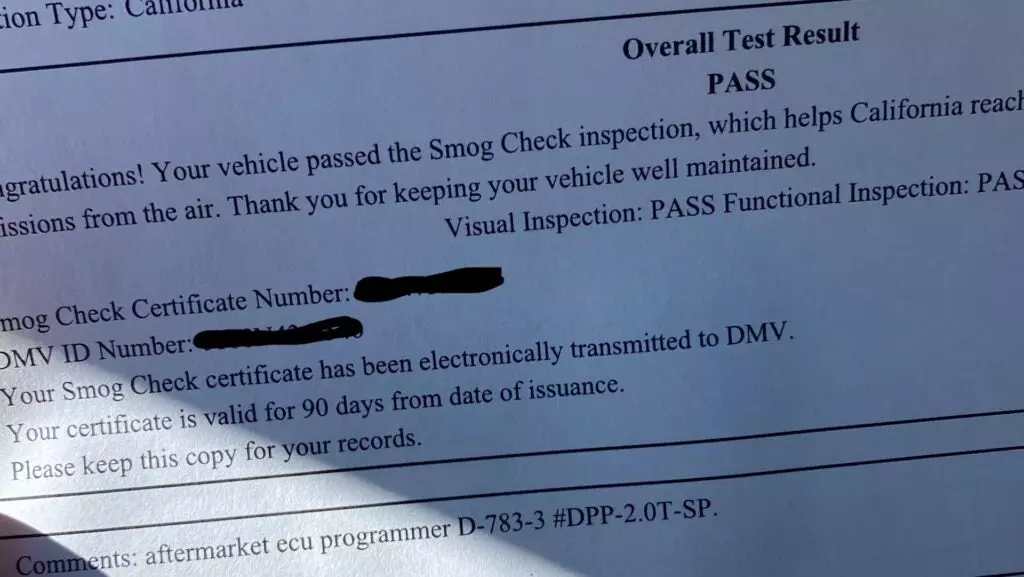 There were a few minutes of mild tension after the inspector told me "we're just waiting to get certification back from the state." After some more typing, the computer spat out a document bearing a proud "PASS" at the top. There was also an entry in the comments section with details about my tune.
So the positive takeaway is: Passing the fearsome smog test with a tune was as simple as being prepared with the right paperwork. It's also indeed confirmed that ECU tuning is being checked because my car rang alarm bells. Otherwise, the process was as normal and generally painless as a regular smog check.
If you don't have an EO number for your tune, definitely get it flashed back to stock. Otherwise, the car will fail. If you have a Cobb Accessport, this can be done easily and in a matter of seconds. For folks like me with a flash tune, that means a trip back to your tuner for a stock tune. Gone are the days of sneaking the easy stuff past your local smog guy. Now, California is dead serious about cleaning everything up. Even us, the enthusiasts.
Don't delete catalytic converters and definitely don't do burble tunes. It's a reality we have to accept and it can be painless with just a touch of cooperation. Don't mind me, though. I'm putting my intake and catch can back on while I still can.
What to read next: