I have electric SUV fatigue. Even my phone has electric SUV fatigue. After a day at the International Mobility Show Germany, it had collected all the photos I'd taken of shiny new crossovers, put them in an album, and then asked if this was my new car. Honey, no. By the following day, I was so sick of electric SUVs you could've run me over with one and I would've been delighted, so long as I didn't have to look at it. But then, then the 2022 BMW iX came along.
I don't like fancy cars. Admittedly, I'm a weird-car person, not a fancy-car person. I've even played a game with other people where we imagined which single car we'd spend $150,000 on. I couldn't come up with anything. Now that's changed with this new BMW. Let me explain. 
Full disclosure: I didn't actually drive the iX because I have a brain injury with exquisite comic timing that decided to give me a seizure the morning of our test drives. This seriously upset me because, by that point, I really would've loved to drive the iX. Thankfully, BMW was really accommodating so I spent plenty of time in the car anyway, which is why this is called "first ride," not first drive.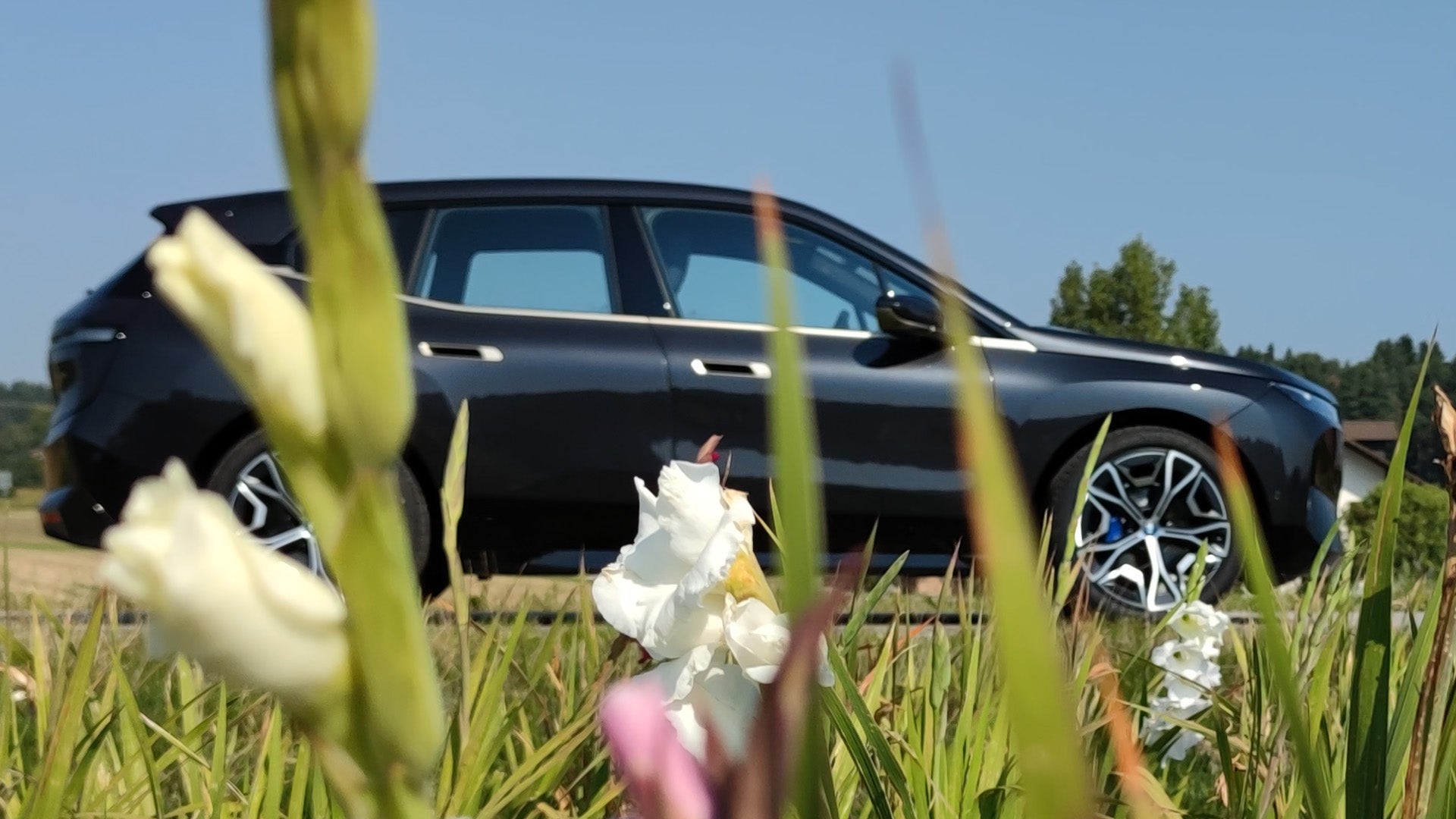 The iX: it's prettier than you think, Hazel Southwell
2022 BMW iX xDrive50: By the Numbers
Base price: $83,200
Powertrain: 106.3-kWh battery | 200-kW front motor | 250-kW rear motor | 1-speed transmission | all-wheel drive
Horsepower: 516
Torque: 564 lb-ft
0-60: 4.6 seconds
Top speed: 124 mph (though we went faster than this)
Range: 300 miles (estimated)
Curb weight: 5,659 pounds
Seating capacity: 5
Quick take: A race car that's unashamedly feminine and out to cause trouble.
126 mph in the Right Lane
Driving down the Autobahn outside Munich, after leaving the Dingolfing plant where the iX is built, I glanced over at the dash. The car felt like it was cruising, definitely nowhere near struggling and it barely registered that we'd accelerated, except that I could see we were gaining on an Opel Corsa ahead that was clinging to the fast lane with unbridled optimism. 
We were going 203 kph (126 mph) and it felt like it had more to give, at least until the optimistic Corsa forced us to stand on the brakes to bring us down to a more civilized 124 kph (77 mph). The iX didn't grouse about it, losing speed as effortlessly as it seemed to have found it. Once lower-horsepower obstacles moved out of the way and it could properly fly again, it felt like every passenger ride I've ever had on a race track. And wanted to just go, and go fast.
Front and rear motors give the iX almost more power than it feels like it should have, even though it's not ridiculous with the kilowattage. The 516 horsepower is nothing to be sniffed at, but in such a big and heavy car it's also hardly axle-breaking. In competition terms, the Audi RS E-Tron GT has 637 horsepower and the Taycan Turbo S Cross Turismo puts out 750, so the iX isn't really packing that much, even if it smokes the Model Y's 384 ponies. 
The iX doesn't use its performance to offer you towing capacity (although it surely could) and it's not another SUV to tug your boat around. The iX is all about luxury; starting at $84,195, and an awful lot in the car I rode in was optional equipment, from the microfiber interior that made it feel lush and soft inside rather than the stern feel of leather, to the suspension. But compared to, say, a sports car, then even if you hype the price up with lots of goodies and get closer to $100,000, that's still acceptable for a luxury, cutting-edge BMW EV.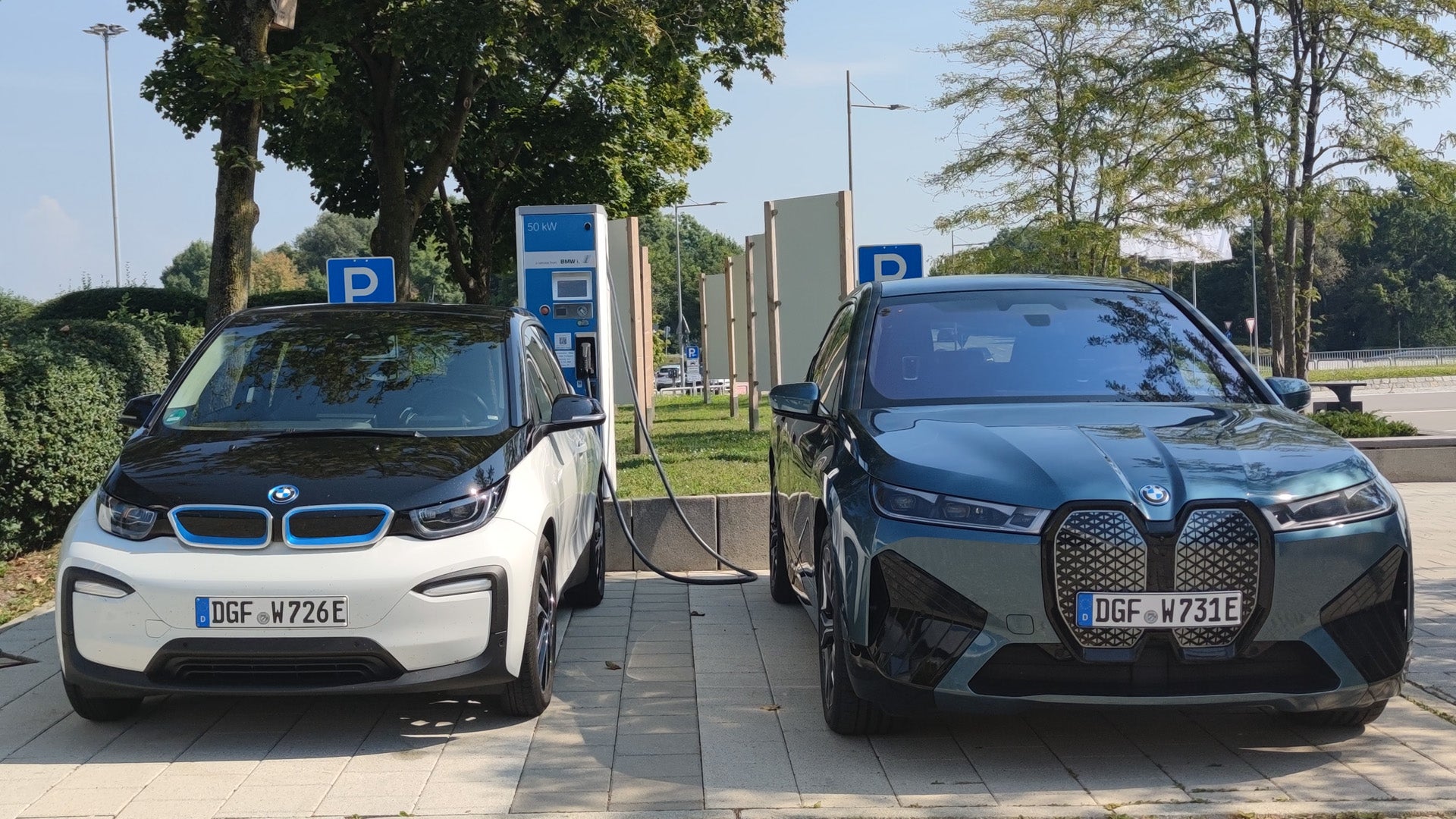 The BMW i3 and iX side-by-side, Hazel Southwell
Gigantism (Affectionate)
Built on BMW's CLAR platform, the iX is the successor to the i3. It's much bigger, much more expensive, and on paper a lot less pure fun than BMW's first shot at an electric city car. The i3 makes you smile when you drive it because it's a little bit cheeky, something rudely bullish about the way you know you could drag race anything away from the lights in it and I was surprised to find the iX carried that on, just on a grander scale and with a bigger scope.
One of the properly weird facts about the iX is that it has a drag coefficient of 0.25. That's sedan territory, on a car that's mid-sized for the U.S. but looks pretty hulking in Munich traffic. For comparison, the i3, which looks miniature next to the iX, has a Cd of 0.3.
Why am I starting with that? Well, it kind of explains a lot of the car's most surprising attributes. It's a big, heavy SUV—by default of being electric and containing over 100-kWh worth of battery capacity—and it should, probably, feel kind of tanky.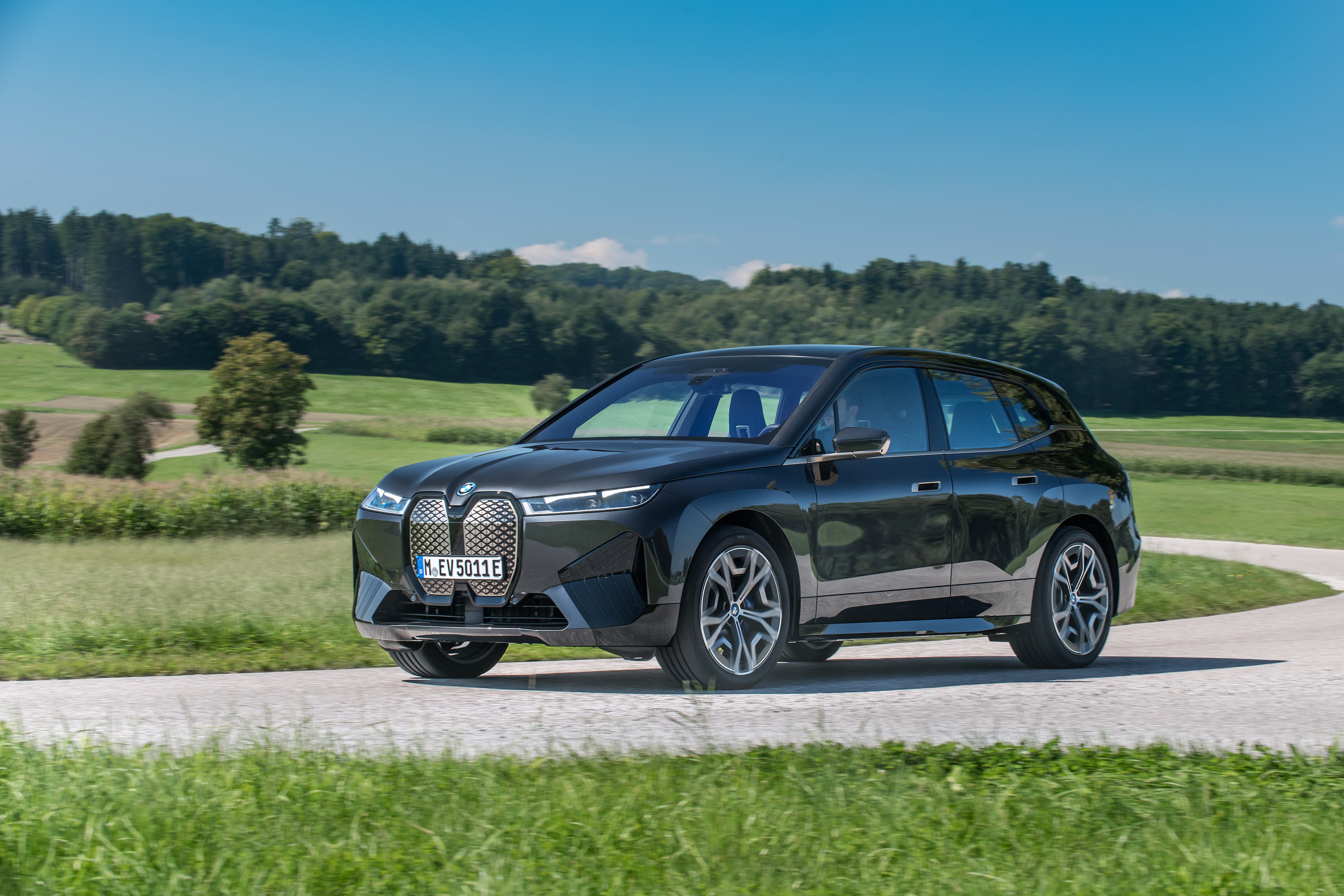 It's sizeable., BMW
But it doesn't. At all. It feels like a nippy little car that's able to cause trouble. It's got the feeling of an overpowered hot hatch, not really like a powerful, sensible BMW with all that German expertise. More like an unruly Renault Clio that wants to start a fight in a car park with something four times its size and probably has bodywork that looks like the surface of the moon from previous encounters.
The all-wheel-drive maneuverability meant even driving through twisty, Alpine roads where the car should have felt oversized (they're not really designed for modern cars, let alone big-ish ones for Europe) but instead felt like it was made to do it. It's a road trip car; panoramic views out the windshield not interrupted by a fussy cabin array or four foot of touchscreen, and everything about it feels completely in touch with the road and the world around you.
Then you get out and it's this big ol' SUV. This real chunky thing. It's like dissonance, like "where did all this car come from?" I can't've just got out of that? It's not possible that it was carving through traffic like a particularly hustling sports car that wanted everyone around to know: whatever they're driving isn't as good.
Girls Just Wanna Have Fun
One of the things about this whole review is: I was really, really miserable when I got into this car. I'd screwed up my first press trip with my occasional epilepsy's vicious sense of timing and I couldn't blame anyone but my own stupid, years-old concussion. And then I had to get in a frickin' SUV. Man, I hate SUVs, I think they're the dumbest cars on the road. Every time I see someone with one I judge them, heavily, in the way car people judge other people for their cars. This was like my personal mental-spiral-inducing hell and yet the whole time I was in the iX I was just grinning. It felt like a night out with your worst-behaved friend, in the best possible way.
When we had to hand the iX back I had this wild moment where I just... didn't want to. What if we just, y'know, didn't? What if we took it for another 200-kph spin on the Autobahn? What if we drove across Europe's atmospheric nightscape and let the car do what it wants, which is fucking hoon it.
The big grille is something I've always been willing to defend, for looking cartoonish and kinda different but once you get the measure of the car it's also just obnoxious, in the best possible way. And that's the iX. It's gaudy, it's brash. It's a cackle over particularly well-made martinis of a car; an invitation to somewhere you kind of know you shouldn't be and are gonna have a great time at. 
When we'd been at the BMW technology plant a few days prior to the drive, an employee who probably should've known better told me the iX was a woman's car, which I instantly balked at. What, we all have to drive tedious, heavy SUVs with the kids in? No child of mine's getting spoiled in the backseat of something you have to step up into. Anyone of any gender driver can have fun in this, obviously but it is unabashedly feminine. The cloth interiors felt luxurious: like visiting a friend who really has their life sorted (aesthetically at least). And words can't describe how much I love the crystal detailing, which captured me in a way I'd kinda assumed no interior door controls of a car ever would.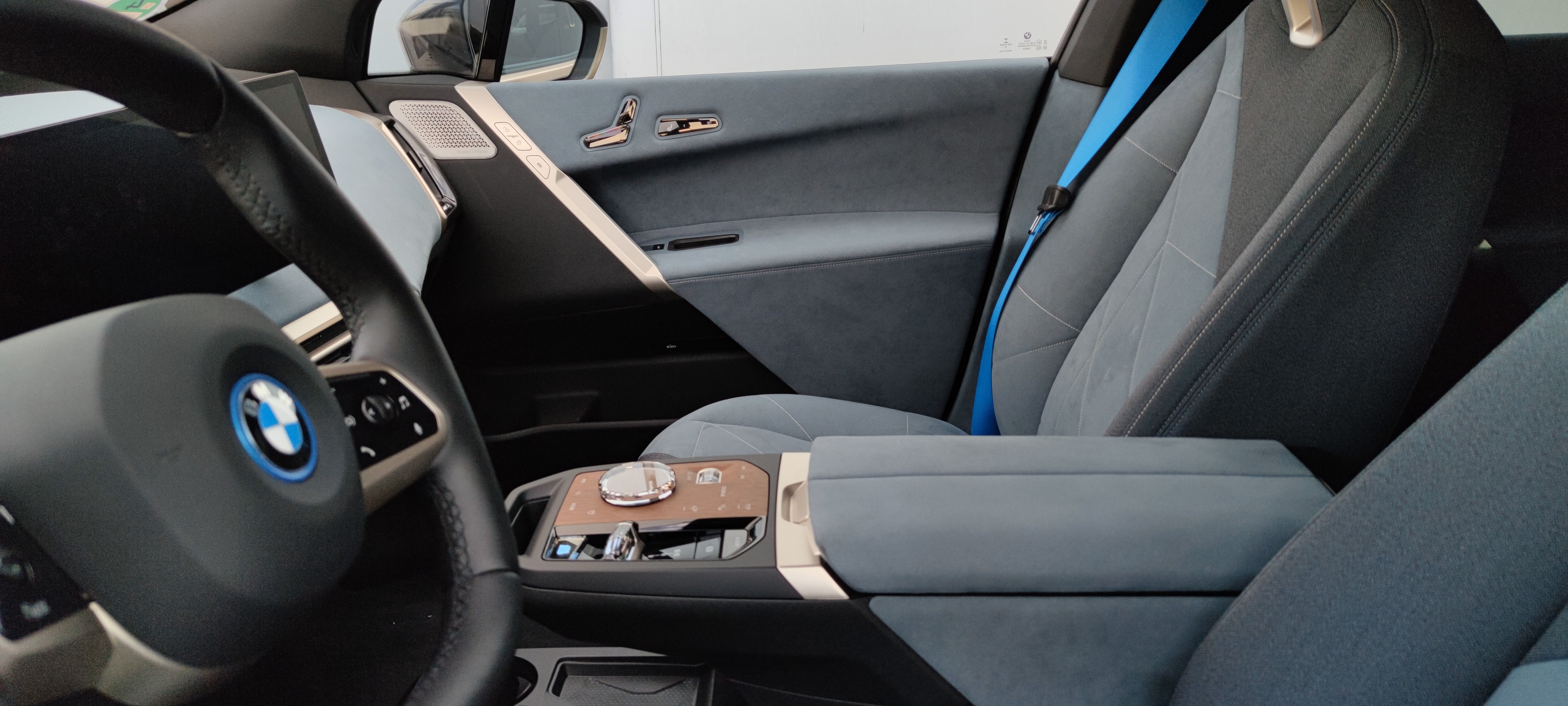 The interior, with microfiber upholstery and crystal control options, Hazel Southwell
Really though, this is a BMW. It's stuffed full of BMW performance; the acceleration doesn't hold back and with up to 80 percent regenerative braking, recovering via both MGUs, it brakes literally like a race car. As in, like a Formula One or Formula E car—the iX has mechanical braking, so you don't need to worry about losing the ability to stop if an MGU overheats but for a heavy vehicle, its responsiveness is so incredible because of that potential to get that 80 percent of braking power from recovery. Which is also great for range.
Obviously, the iX is a road car so it's not going to literally throw you into a corner like a racing driver but you can work up that slightly threatening hot tire smell with a couple of smart stamps. You could have such a goddamned blast at a race track with this car.
Touchy-Feely
From the driving seat, the line of sight you get justifies the height of the car. Better yet, visibility is totally uninterrupted by the touchscreen and the wizardry of the in-windshield heads-up display—which is really unobtrusive but instantly, obviously helpful—that undeniably scrambled my little Luddite mind. To be able to look at a map and get information about the car without your eyes leaving the road really helps if you're, say, going at over 125 miles per hour.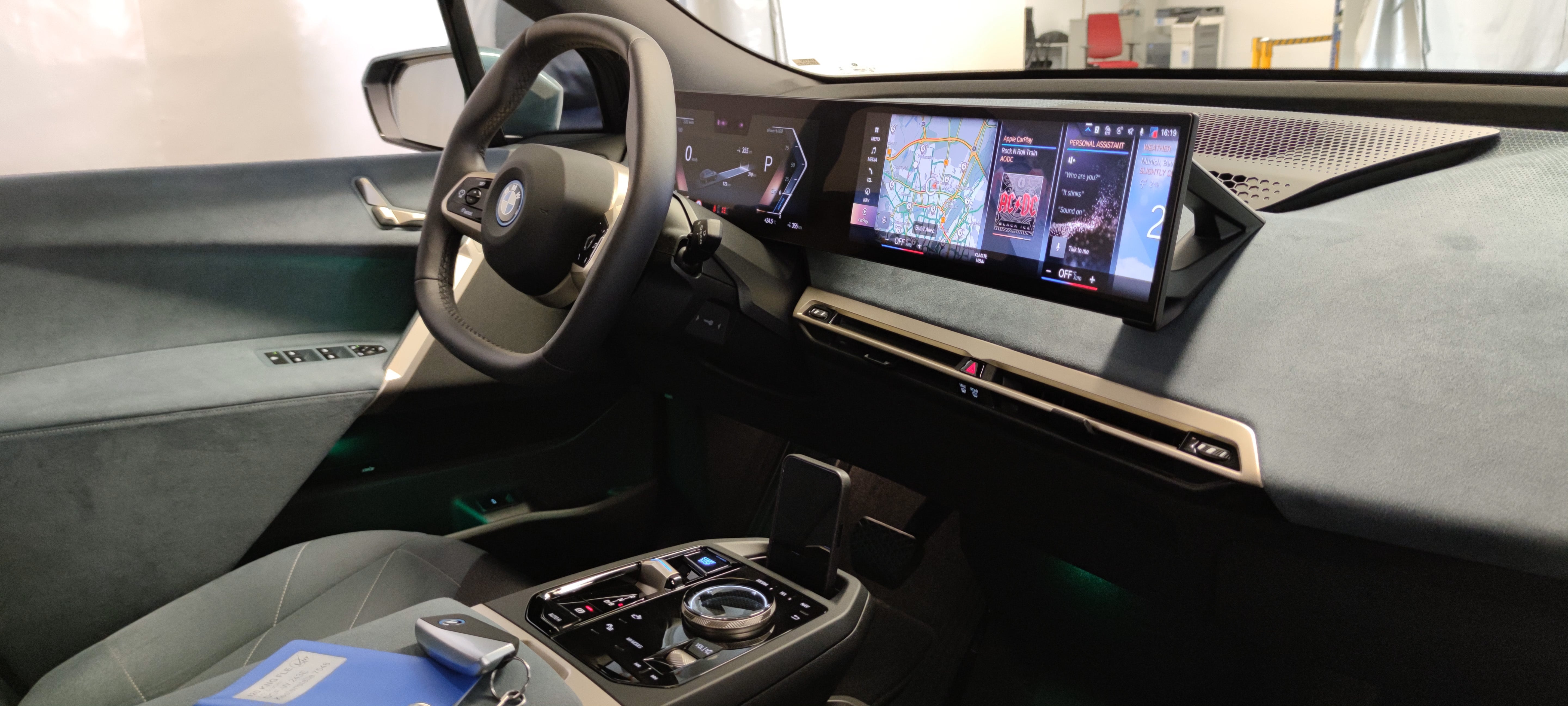 The infotainment screen is blissfully non-invasive in your field of vision, Hazel Southwell
And then there's the touchscreen itself—nearly 15 inches, combined with a 12.3-inch driver display in one discreetly curved package flung across the dash. As well as being able to smear your sweaty fingers all over a screen if you really can't help yourself, there's voice control. Saying "Hey, BMW" will wake it up to do your bidding, but what I really liked was the center console. 
With touchscreens, you lose the reassuring physicality of a button, which is fine on a phone screen because you're looking at the phone. When you're driving, you shouldn't be distracted. So the incongruity of a ban on texting while you're on the road, only to install, basically, giant phones in every new car is something I am really not keen on. BMW, as it has for years, packages a nice rotary controller with haptic feedback in the center console. In the iX I rode in, the console's finish was veneer—an optional extra that goes with the crystal door controls and a wheel with crystal edging (you should get this, it'd insult the car otherwise). I was able to easily feel which button I was pressing with my fingertips; switching between performance modes and able to access cute little aesthetic features like making the roof less opaque. It felt natural to be able to change things with my stick hand and not at all like I'd have to look down or fiddle with it.
The car has three separate modes: "efficient" which turns it down a little and saves on the battery; a customizable "personal" mode that pretty much defaults to "normal" but with some changeable settings like cabin lighting; and "sport," which is the only mode you need. Lowering the suspension very slightly (0.4 inches) and softening it, to put the "sports" back in sports
utility vehicle and, yeah, it absolutely works. 
Let me talk about the suspension, actually. One of the things I hate about SUVs is you're so far off the ground it feels like you've lost all proprioceptive perception of the road. Even dangling my sneakers in the footwell of the passenger side like collecting my recalcitrant teenager, I could feel what the car was doing and the surface it was on. 
German roads are properly maintained (as you'd expect), but every time we switched between types of tarmac there was reassuring feedback through the floor, a real sense of connection to the road. Sure, you could smooth out the ride if you really wanted to—the air suspension balances every wheel, even with an uneven load—but for me, that was working.
Cinematic Tendencies
The Hans Zimmer noises. I probably spend more time than anyone else that writes for this site listening to what electric motors are doing. Both trackside and via onboards in Formula E, you can hear so much of what's going on in the car by the tone of the MGU and I genuinely like the banshee-scream of an angry motor. I know what regen sounds like and the way the tone changes between acceleration and lift and coast and it was gonna have to try really hard to impress me, here.
Well, it did. The sounds don't override what the motor's doing but blend with it to amplify it inside the cabin and so they give genuine feedback about what's happening. I thought it'd be a bit Lip Sync Battle but it added to the excitement of the car. (Alright, yeah, I do want it to sound like the Millennium Falcon easing out of a docking bay door when you hit the throttle.) And the sounds gave intuitive information about what the car was doing. Again, another thing that improved the feeling of being connected.
I was the person that wrote the iX up, when it was announced and I remember rolling my eyes halfway out of my head about it. Good god, not another one of these things, when's someone gonna make an EV I can actually get hype about? Well, I'm eating every one of those words because, yeah, it's this car. I truly love a luxury SUV, the antithesis of everything I like about cars.
I can't really tell you that you should steal cars, for obvious reasons. But if you happened to find an iX with the keys in, it's what the car would want you to do. 
Got a spy escapade to plan with Rihanna? Let me recommend an iX package for that: [email protected]