The anticipation for Gran Turismo 7's March 4, 2022 release date is starting to build at a fever pitch for me. A steady stream of sneak peeks, gameplay, and deep analysis blogs from yours truly have mostly covered what to expect from the seventh iteration of this gaming legend. Now, we have the largest presentation yet in the official State of Play, hosted by CEO of Polyphony Digital and Producer of Gran Turismo Kaz Yamauchi himself.
The presentation itself spanned over 30 minutes of raw details about the new GT. Everything from how the car dealerships will be structured, the new home menu that we discussed in previous stories, the new car modification menu, the vastly updated Scapes mode, diving physics and weather, as well as brand new features like GT Cafe. All come with interesting minutiae that is supposed to elevate the experience of the entire game.
It's refreshing to see a gram-over-pound strategy taken by Kaz's team at Polyphony. Instead of totally re-doing what was an excellent (if barren) formula in GT Sport, GT7 builds and builds more on the bones of it with what could be described as fanatical detail, though that would still be a severe understatement. 
My consistently favorite features of GT have always been the detail placed into the non-car details of the game. The weather, the environments, the dedication to chronicling the history and significance of the cars and marques within the game, and cute things like GT Auto's animations for oil changes and car washes. All of the small things add up to a vivacious life within the game. It helps players connect and relate to the game.
For this new entry, Polyphony went a few steps further than ever before, especially with weather. Now, clouds are actively simulated based on the real-life conditions of the actual place. As Kaz says in the presentation "skies in Japan while change as they do in Japan, and skies in California will change as they do in California."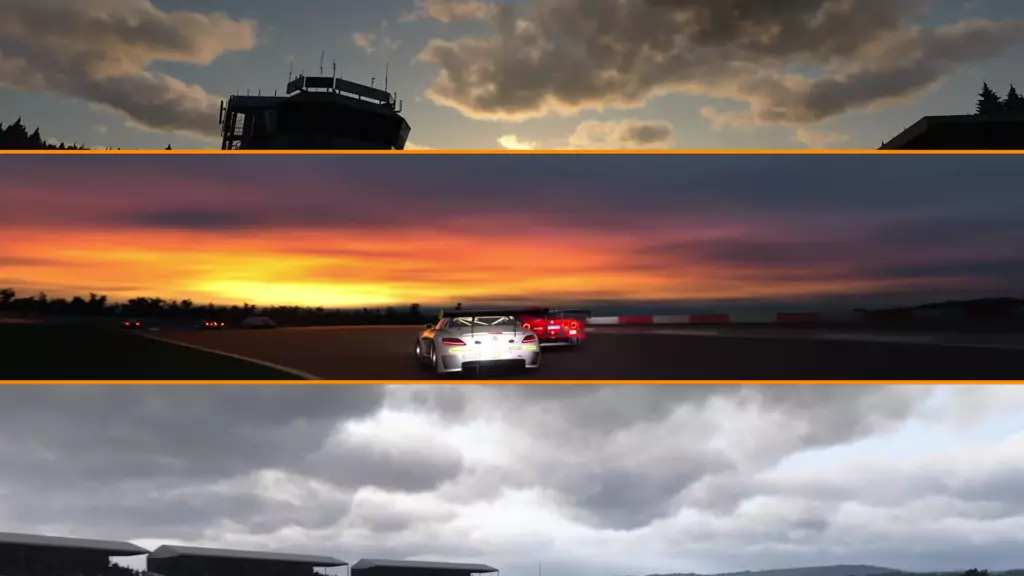 For this undertaking, they gathered meteorological data, as well as astronomical data, to form a picture with the position of the sun, the barometric pressure, humidity, and air temperature of a given region to simulate how clouds are formed. It doesn't end there, either. This in-game simulation is then used to calculate how engine power is affected by air density, how powerful the slipstream effect is, as well as track surface temperature and wetness.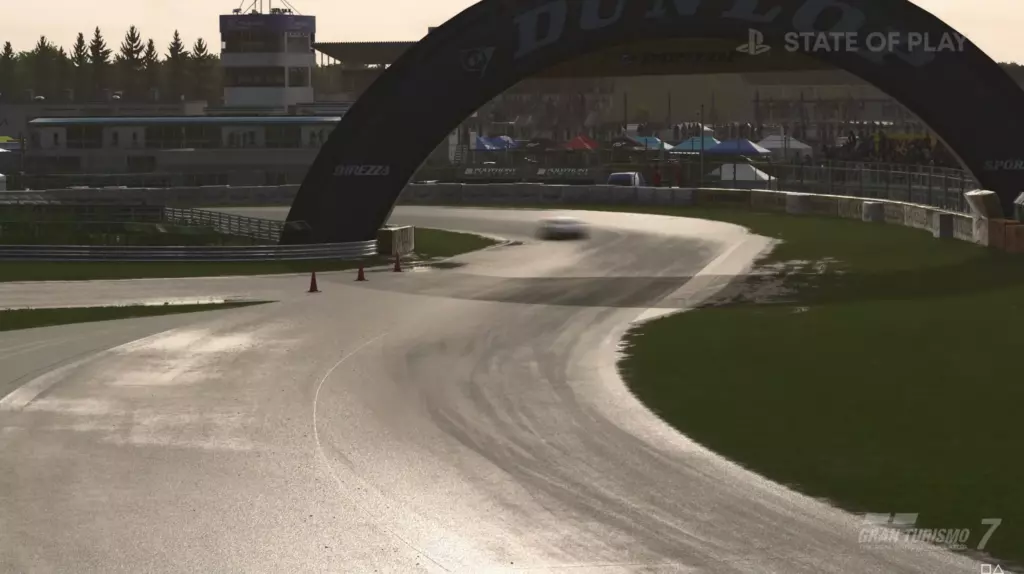 Over time, the track surface will evolve. When the rain stops, a dry line forms. The technology is not unheard of but it is beautifully rendered in this demo. Knowing GT, it should be just as gorgeous and immersive in-game.
Another highlight from the demo was the all-new GT Cafe and re-done used car dealership. First, the dealership. There are now three: one new car store for everything newer than 2001, a used car store for cars older than 2001, and a collector car market for the rarest and most valuable machines.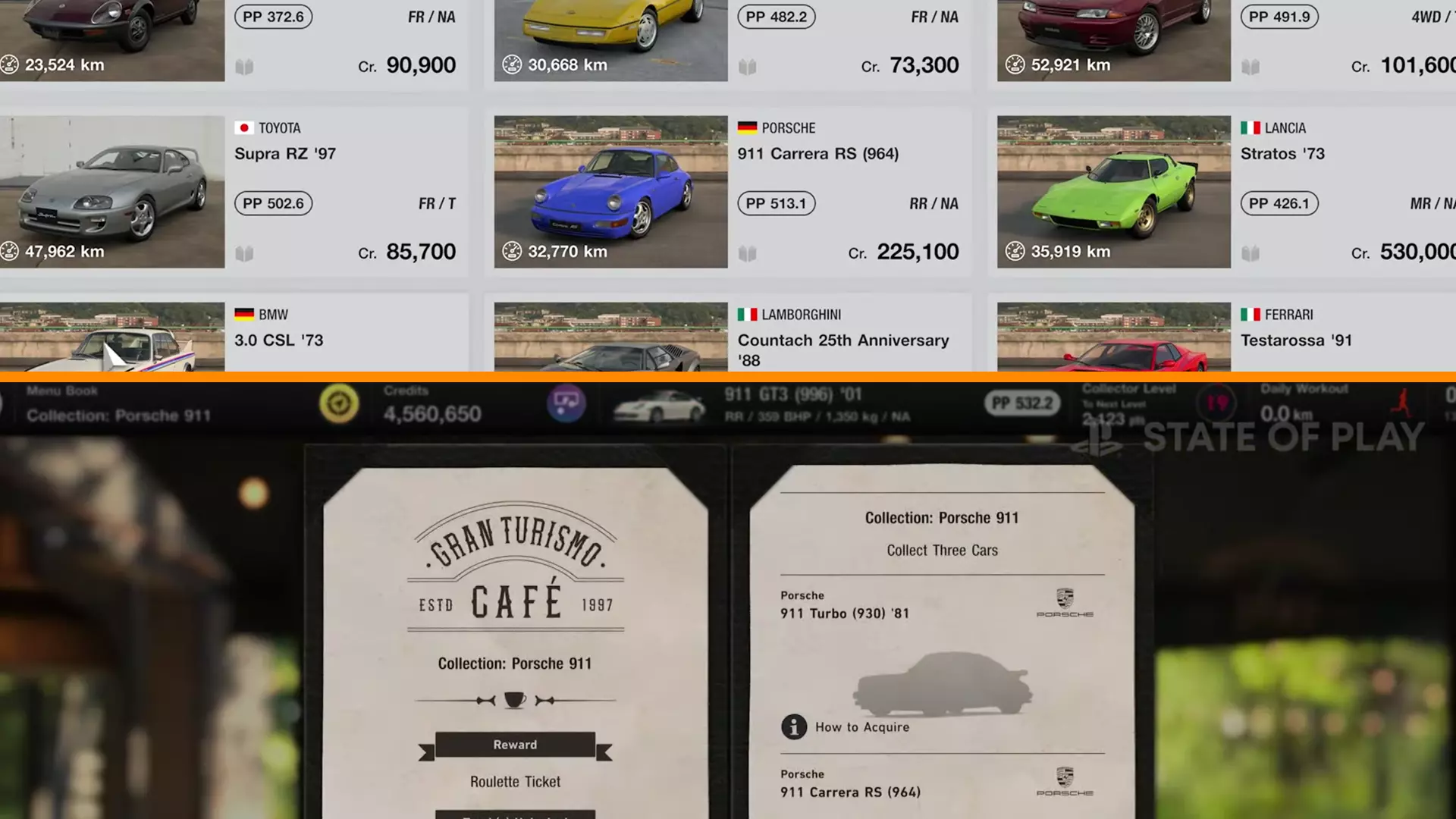 The used car dealerships are cute and have a feel like a real classifieds page. Prices are reflective of how the real-life market is fluctuating, so desirable cars are actually more expensive than they were new. An interesting choice, but they made it. Collector cars are sold through an exclusive-feeling dealership for things like Porsche 917s, with a high-end auction house vibe.
Then there is GT Café, which takes players on journeys with a specific café menu of cars. Once those menus are completed, players are treated to commentary from notable figures in the industry, or even the designers of the cars on the menu. In the demo, Tom Matano, legendary father of the Mazda Miata, and design legend Freeman Thomas do commentary over their most famous designs.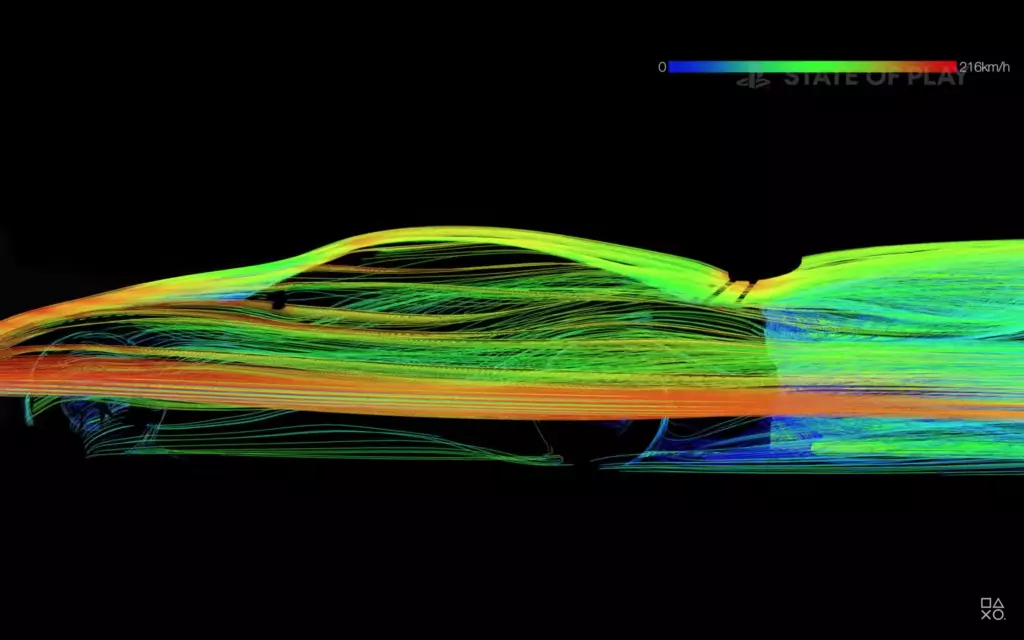 Finally, the part of the demo that did genuinely make me geek out was the physics talk. GT claims that GT7 uses an aerodynamics simulation based in computational fluid dynamics, known as CFD. A stunning image of a GT3 car draped in folds of high and low pressure zones activated a full foaming-at-the-mouth moment for me.
I cannot state enough how excited I am to play the new Gran Turismo. It is truly the discerning enthusiast's racing game. It isn't all about physics or racing, but its about the totality of the car experience. I could cover more in this post, but I'm going to reserve all of the good stuff until I finally play the game.
Until then, I'm going to drive the canyons with the GT Sport official soundtrack and dream about aerodynamics simulations. As one does.
What to read next: