Pro racer and Nitro Circus star Travis Pastrana had big shoes to fill when he took over the Gymkhana series from Ken Block for its eleventh installment. So, Pastrana started his chapter in the series in the place he knows best—his hometown of Annapolis, Md.—where he put his own personal touch on the precision drifts, donuts, jumps and stunts we know and love. 
Gymkhana 2020: Travis Pastrana Takeover; Ultimate Hometown Shred put Pastrana behind the wheel of the most incredible 862-horsepower Subaru WRX STI that Subaru's longtime rally partner Vermont Sportscar could cook up. The car is so incredible that its livery continues on the bottom so you can notice it from above. 
The car was built around what Pastrana wanted to do with it, which naturally, was "send it." There's even a button labeled "Send It" on the steering wheel that opens a flap on the rear wing to adjust the car's angle mid-air. 
This could be the wildest Gymkhana yet, as it includes a 120-foot jump across Annapolis' Ego Alley waterway, a waterfront donut where the car hangs further out over the water than Block's did in Gymkhana Nine, a 360-degree spin-jump-combo under a Red Bull Air Race plane, and of course, a 150-mph jump on a country road outside Pastrana's childhood home. 
It's everything Pastrana has ever wanted to do on his home turf, and the sense of joy is contagious through the screen. Clearly, I need to go jump some cars again and rediscover inner hoon peace.
The whole idea for this Pastrana-khana evolved from the Block vs. Pastrana Stay-at-Home Gymkhana Grid video earlier this year. Block and Pastrana have been longtime rivals behind the wheel of rally and rallycross cars.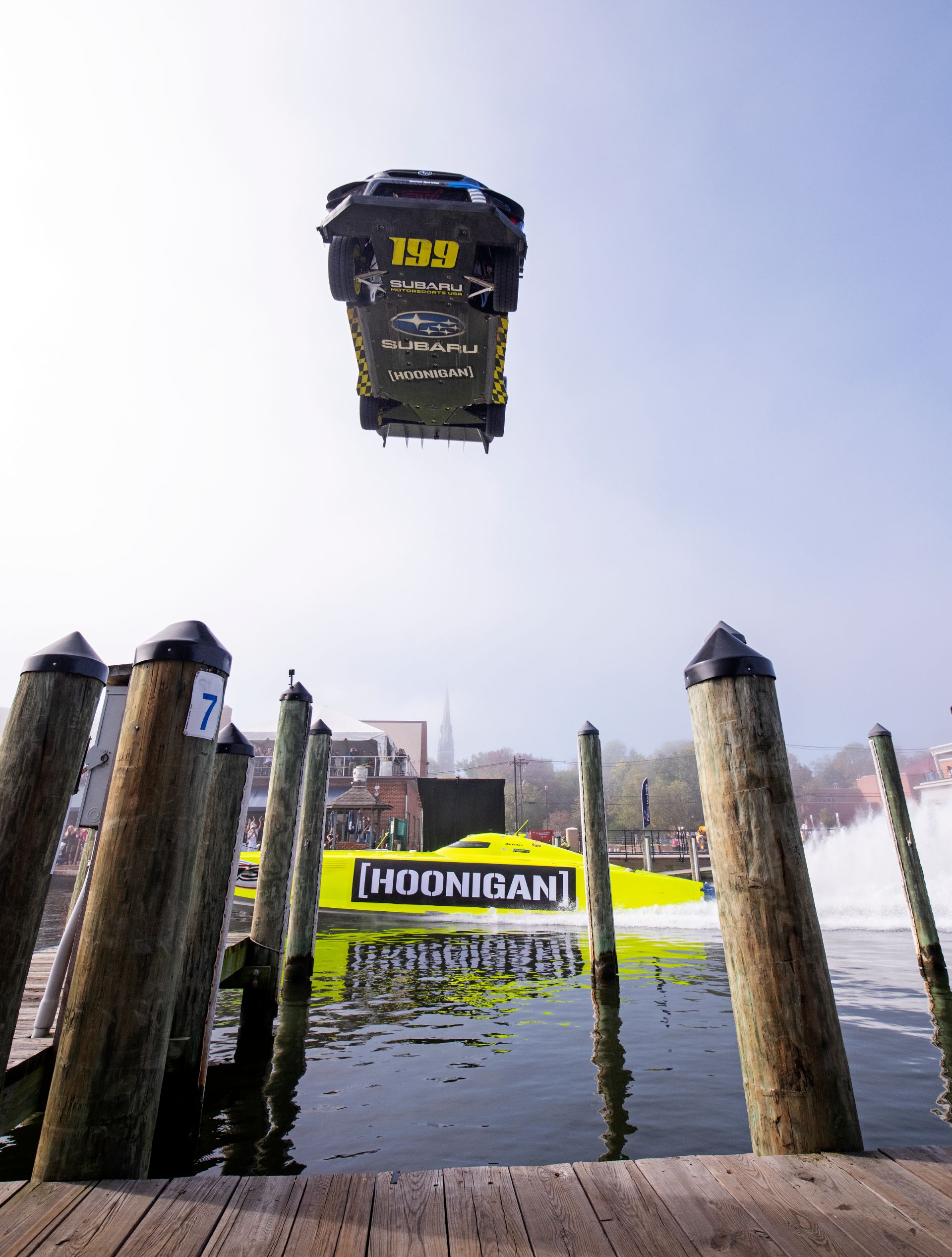 Hoonigan
"It was simple and fun, but that prompted a much bigger, and long-time-coming challenge: Could Travis beat me at my own game?" Block explained. "His locations, his tricks, and a chance to show off what he can do behind the wheel! Of course there's no lack of big jumps in the video. That's his thing! But did he make a better video than any of my 10? Guess we'll let the audience decide!"
One thing is for sure: It's fun seeing exactly how a new face made Gymkhana video their own. 
"Travis is Ken's polar opposite. His driving style and penchant for danger brought a very different flavor to the series," Gymkhana director Brian Scotto explained. 
Scotto believes that this could be the start of a back-and-forth challenge between Block and Pastrana. First off, that's his job as a director to pull off, but secondly, if it took a new star driver to shake things up a bit, I'm here for more of it. I'd love to see what other stunt nuts would do with an entire Gymkhana film as well. Send it! All of it. Isn't that the real meaning of Gymkhana anyway?
Got a tip? Send us a note: [email protected]