Harley-Davidson's dalliance with electric motorcycles will graduate to a full-blown production run by 2021 at the latest, the iconic motorcycle manufacturer says.
The news comes from Harley-Davidson senior vice president of global demand Sean Cummings, who told the Milwaukee Business Journal that the bikemaker would launch a production battery-powered motorcycle within the next five years, after a multi-year deliberation process.
While the idea of a Harley that hums along on electric power instead of spitting auditory fire and brimstone from its exhaust may seem counterintuitive, the Wisconsin-based motorcycle manufacturer has been working on electric bikes for a while now. Back in 2014, the company revealed the LiveWire, a concept electrically-powered motorcycle that made around 74 horsepower and 56 lb.–ft. Harley claimed the bike had a range of around 50 miles, and could zip from 0 to 60 mph in around four seconds. (The bikemaker didn't claim the LiveWire looked bitchin', but as you can see above, that was because it was glaringly obvious.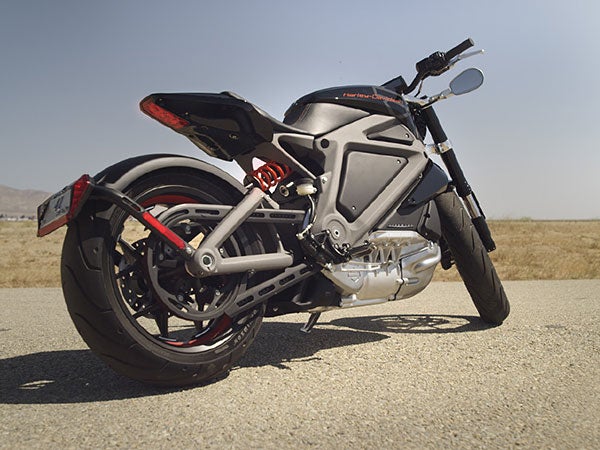 Harley-Davidson
Since the LiveWire's debut, the bike has been touring the globe in a public relations campaign to determine how the world would feel about an electric Harley-Davidson. The bike, CEO Keith Wandell said, was Harley's way looking to expand to new demographics and stretch its creative legs with an eye towards the future.
"[It's about] the willingness to step outside of all of the things that we've continued to do over the years," he said in 2014. "And to make a bold statement that says: We're really focused on the future – that we respect everything that has made our company great over the last 111 years, but our job is to make sure that our company is going to continue to be great for the next 111 years."
Whether the finished production winds up being called the LiveWire or not, the timing works out all but perfectly. With everyone from Porsche to Tesla to Mercedes expected to launch a bevy of fast, fun electric vehicles in the next few years, the world of 2021 should be more than ready for an electric Harley-Davidson.