Of all the automakers rumored to take aim at Ford's full-size Raptor, Ram looks to be the closest with its upcoming Hellcat-powered TRX pickup. We've seen the truck in a flurry of spy shots, usually wearing heavy camouflage but sporting just enough detail to prove it's something out-of-the-norm. More leaked images have popped up over on TFL Truck and, in proper fashion, the high-performance Ram makes direction mention of the Raptor by way of a cheeky easter egg.
Fiat-Chrysler is no stranger to sneaking hidden details into its vehicles, but the message behind this one is pretty blatant. In what looks to be a tiny storage compartment, there's a plastic liner with an image of an almighty T-Rex—y'know, like a TRX—hunting down a velociraptor at the front of the pack. The depictions are apparently to-scale, with the T-Rex dwarfing the velociraptor. That's more metaphorical than anything, but still, the idea is clear.
Here's a quick screengrab from TFL Offroad's video of the truck: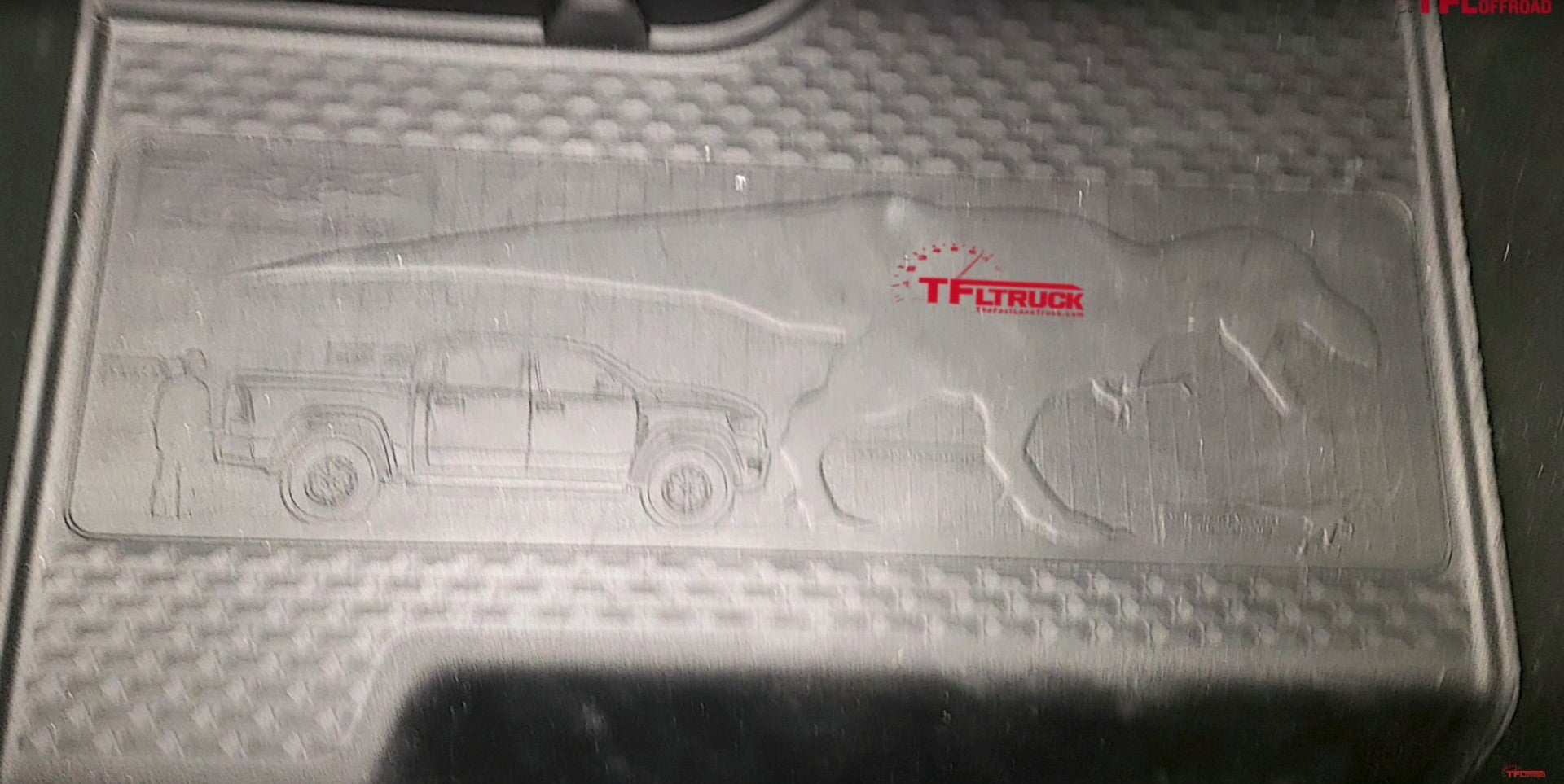 TFL Offroad via YouTube
If the Ram TRX does, in fact, pack a Hellcat engine under its hood as suspected, it'll likely outmuscle the Ford by a healthy margin. For reference, the Raptor touts a 3.5-liter EcoBoost V6, utilizing twin turbos to produce 450 horsepower and 510 pound-feet of torque. That's respectable for a half-ton truck, no doubt, though every application of FCA's Hellcat engine makes at least 707 hp. It's possible that it could be de-tuned for more practical off-road use in the TRX, but expect both torque and horsepower to be far above that of the Blue Oval's V6.
Other details regarding Ram's TRX are few and far between, though it'll take more than monstrous power to match the Raptor. Suspension is even more important than grunt when it comes to off-roading, and Ford's Baja-slayer rocks Fox shocks all the way around. It's possible that Ram could also turn to Fox for suspension components, though the Rebel TRX Concept from 2016 wore King bypass shocks front and rear.
Hearsay claims that the TRX could use a full-time four-wheel-drive system with hi- and low-range, which would give it a slightly different ethos than its rivals. While Ford harps on high-speed dune running, the hefty Ram could find itself more at home on rocky terrain. This would put it in-line with its 2500-based Power Wagon brethren, albeit lighter and with far more power.
For more rolling views of the TRX, check out the minute-long clip below:
Got a tip? Send us a note: [email protected]