My auto show tradition, and probably everyone else's with similar interests in all things fun and fast, is to get a solid feel for whatever intriguing and fresh enthusiast chassis is on display. This year, one of the top offerings I couldn't wait to have a seat in was the new, 2022 Hyundai Elantra N. "Let's go check out Hyundai, have a seat in a Veloster N and Elantra N" I said to my colleague Chris Rosales as we schlepped our way through the 2021 LA Auto Show's second media day. "Actually they're out in the hall" he replied, which I thought was odd — why split them up? But it seems the reason was a good one: the brand is very proud of its enthusiast offerings and racing efforts, and giving hot cars their own area to let them enjoy special attention.
I'm glad Hyundai decided to flaunt all of this for the world to enjoy. This kind of display supports motorsports enthusiasm, as well as breeds new enthusiasts amongst America's youth.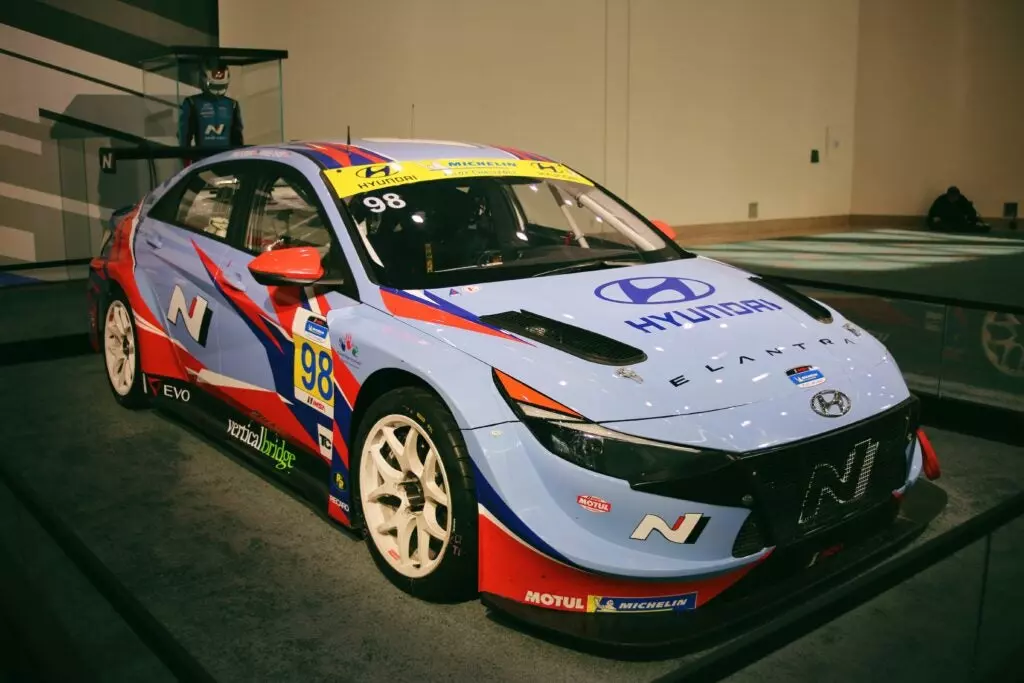 Hyundai's N division seems like it's one of the few enthusiast sub-brands that's been growing over the past couple of years. In the USA, it started with the beloved-by-pretty-much-all Veloster N, then a wild mid-engine Veloster concept that they seem to enjoy playing with here and there for development purposes. There's also the N-lite brand, N Line, which is sort of like Honda's Si: currently, the Sonata and Elantra are graced with this badge. But as far as fully fledged N cars, there are now a total of three production considerations for people who love driving: the 2022 Elantra N, Veloster N, and Kona N.
Hyundai lined each N car up in the hallway outside of the South hall at the Los Angeles Convention Center, along with one of their entries into IMSA Michelin Pilot Challenge TCR racing, the #98 Elantra N TCR. 2021 happens to be the first year they campaigned the Elantra as a race car in North American touring car racing, and it did pretty darn well flying under the Hyundai factory-backed Bryan Herta Autosport banner.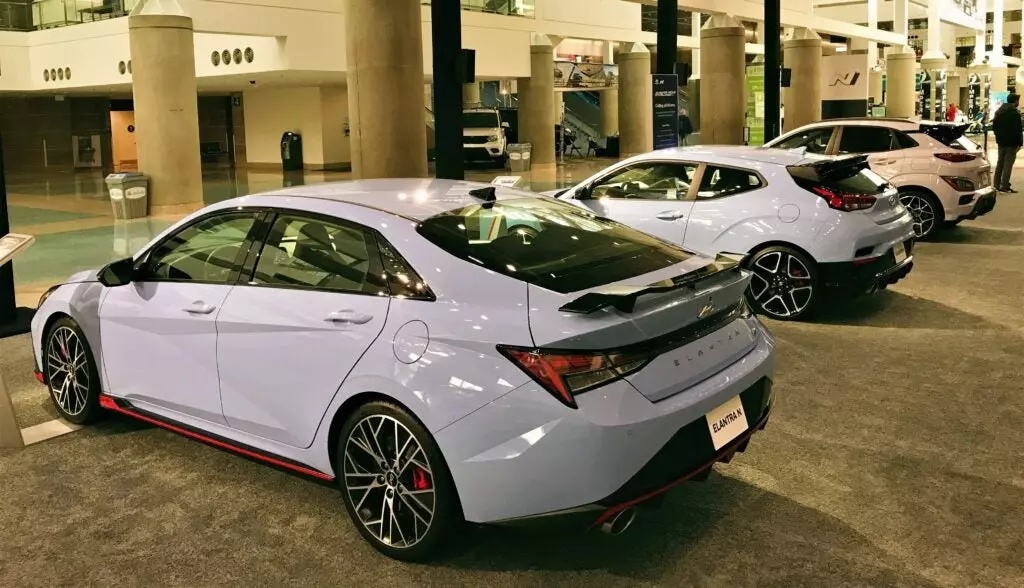 Additionally, they had a handful of racing simulators lined up for folks to interactively rip a TCR car around Laguna Seca. Finally, next to the Elantra N TCR, two cases containing their various trophies, as well as a helmet and racing suit. The latter two outfitted Michael Lewis, a Bryan Herta Autosport driver who recently drove the #77 alongside Taylor Hagler to victory in the 2021 IMSA MPC TCR championship. This is so cool -what better way to get the youths stoked on motorsports, particularly touring car racing? I think it's also safe to say that when brands proudly put stuff like this on display, it does wonders for their recognition. "Hyundai is the brand that's heavily into motorsports, they must know how to engineer a car to be fun to drive."
As far as Hyundai's street cars are concerned, I have a lot of seat time in the Veloster N, as I've reviewed its various versions for various online publications. By various versions, I mean its pre-2021 refresh, 2021 refresh, and a 2021 dual-clutch gearbox-equipped model.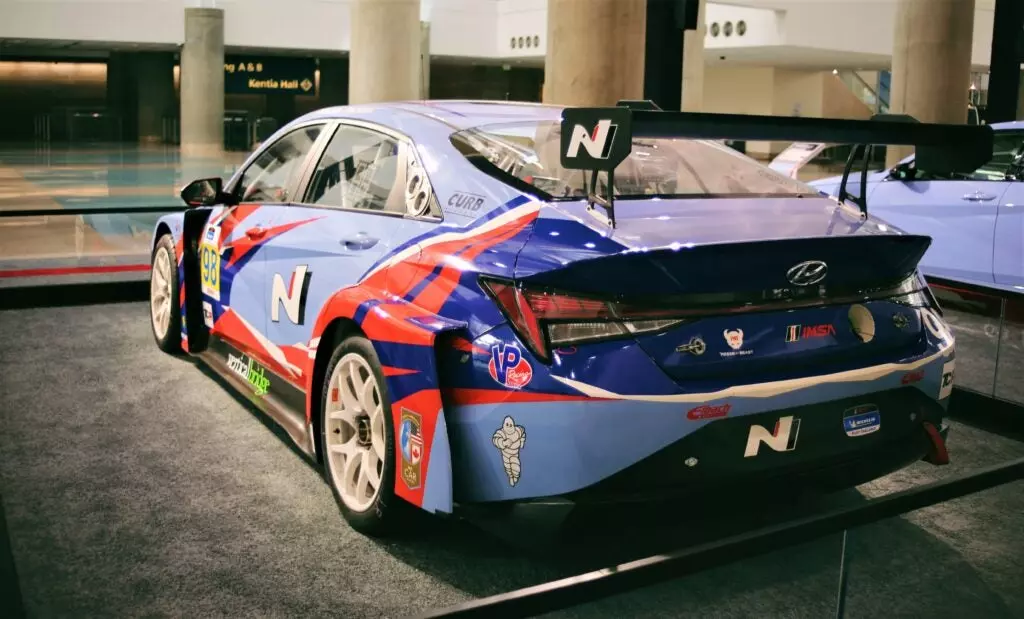 I'm even excited for the Kona N. In the past, I wasn't crazy about hot crossovers, but I recently discovered that they make a lot of sense. They can be nearly as capable as their smaller hatchback cousins, and are sort of like giant rally cars due to having a little more clearance under the wheel arches and sidewall to their tires. I learned this behind the wheel of the 2021 Mercedes AMG GLA 45 -the Kona N will cost substantially less than this luxurious-yet-ferocious little (well, big) beast. Again, if it can accelerate, brake, and corner reasonably close to the Veloster N, it'll be a ton of fun.
All this to say, kudos to Hyundai for coming through and heavily repping performance driving enthusiasm at the 2021 Los Angeles Auto Show. It seems like the only other brand to do so was Porsche (unfortunately BMW and Mercedes were not in attendance). Acura and its parent company Honda weren't there, either. That's a real shame, as they've had a lot of success in professional motorsports over the past two years, and are currently in the midst of building up their performance-oriented Type S trim across several vehicles, such as the RDX, NSX, and TLX.
More great stories on Car Autance