It seems the universe is at least somewhat aware of my penchant for researching off-the-wall cars because my social media direct messages (DMs) are full of weird stuff you'd think I'd like. Y'all are usually right, too, so you can probably imagine my delight when a friend slid in my Facebook messages with a listing for a truly bizarre vehicle not too far from Chicago: a freakin' Fuqi.
My friend, and the listing, called it a Toyota FJ Clone, and that wasn't a bad guess. Judging its front fascia, this thing could be misconstrued as an old FJ designed via wiretapped telegram message, but it's no Toyota. It's a Beijing Jeep (BJ).
In short, this is a civilian version of the military vehicle used by the Chinese Army. These "BJs" occupied the same space that an American Willys Jeep did for the U.S. military.
These BJs (completely unrelated to the Chinese-made Jeep Cherokee XJs of the 1980s and 1990s) were in fact still serving in the Chinese military until somewhat recently. They were phased out and replaced by a clean-sheet design with a similar name starting in the early '10s. This Fuqi is the civilian version, as evidenced by its alloy wheels and nonstandard paint color.
The origin stories of the BJ are somewhat inconsistent, but at its core, it's a Russian UAZ-439 Soviet military truck with some changes. The tiny door portals and short wheelbase are dead giveaways that this truck started life as that UAZ. Whether or not the BJ was developed in conjunction with the UAZ-439, or adapted afterward, is unclear.
A spontaneous trip to Chicago wasn't completely random, either. I've been courting the idea of leaving my Columbus, Ohio, home and moving to a larger, more cosmopolitan city. Atlanta, New York, Portland, and San Francisco seem like big jumps. Chicago, however, feels more natural, like a bigger extension of the things I like about Columbus. I figured, "Screw it, let's go out to Chicago, see some friends, figure out if I want to live there, and maybe on the way, I can see this weird Chinese military truck."
Currently, the Fuqi is sitting at a dealership attached to a scrapyard, listed for about $10,000. The seller has a whole spiel about how it's a cloned FJ cruiser, and he's really doing his best to try and sell the vehicle's very unique status in the United States. Ignoring the editorialized advertisement, I sent an email and phone call to the car lot, in hopes of getting a closer look, maybe even a gag test drive out of the thing.
Eventually, I got an email with a phone number to the owner and president of the Auto Parts City salvage yard, Larry Brosten. Mr. Brosten, by his own admission, is an avid car collector. I would only find out later the real gravity and depth of his car collection. We chatted for a bit and agreed to meet so he could show me the Fuqi and other gems in his car collection.
Located in Park City, Ill., about 45 minutes north of Chicago, I drove my little Abarth up 94 until I stumbled upon a small car lot with an oddly colored, creme-de-menthe Studebaker Hawk out front.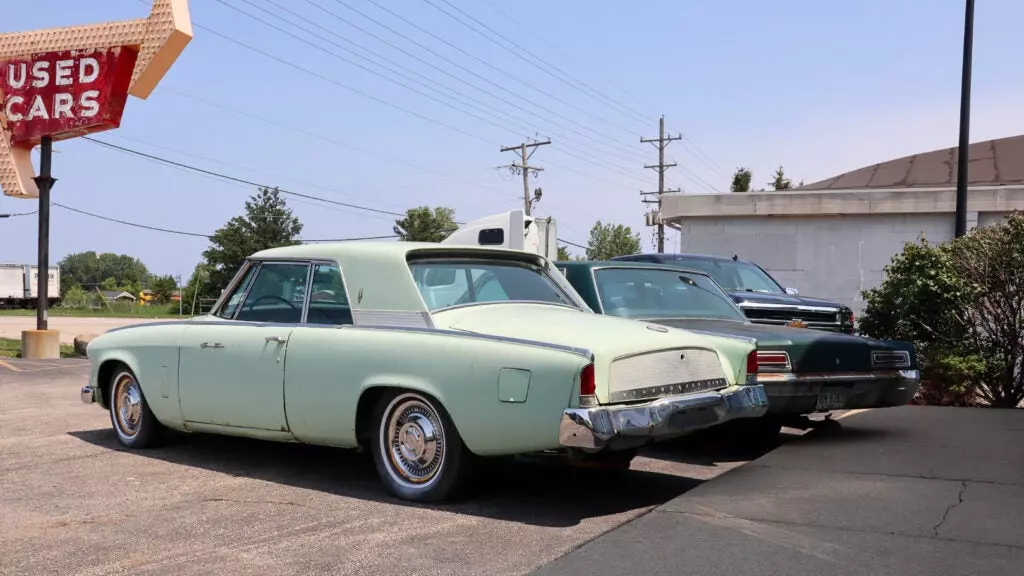 "What an uncommon but pleasing color," I thought to myself.

In the back lot, I spied the Fuqi. It had a flat tire, likely from sitting, but the truck was complete.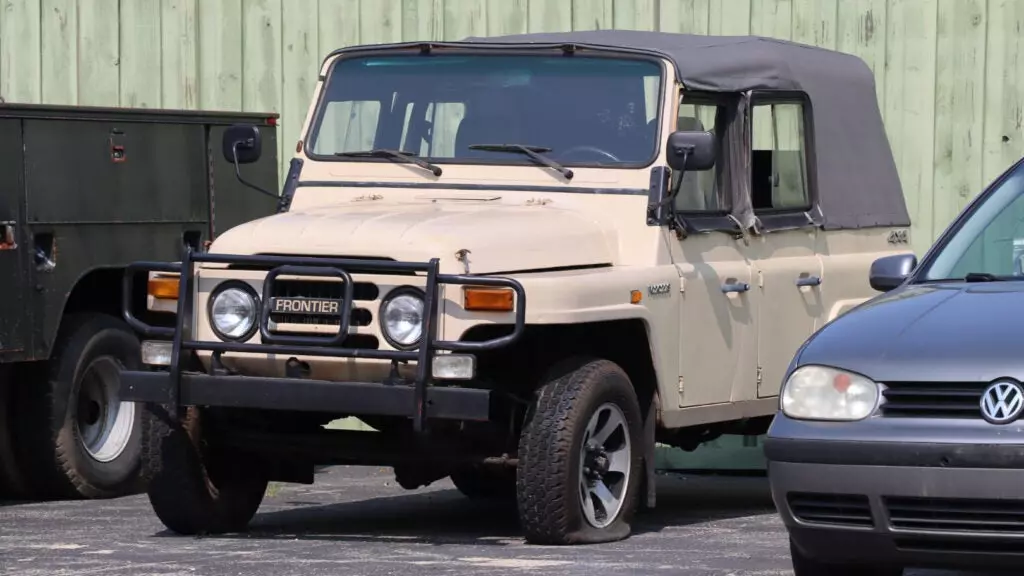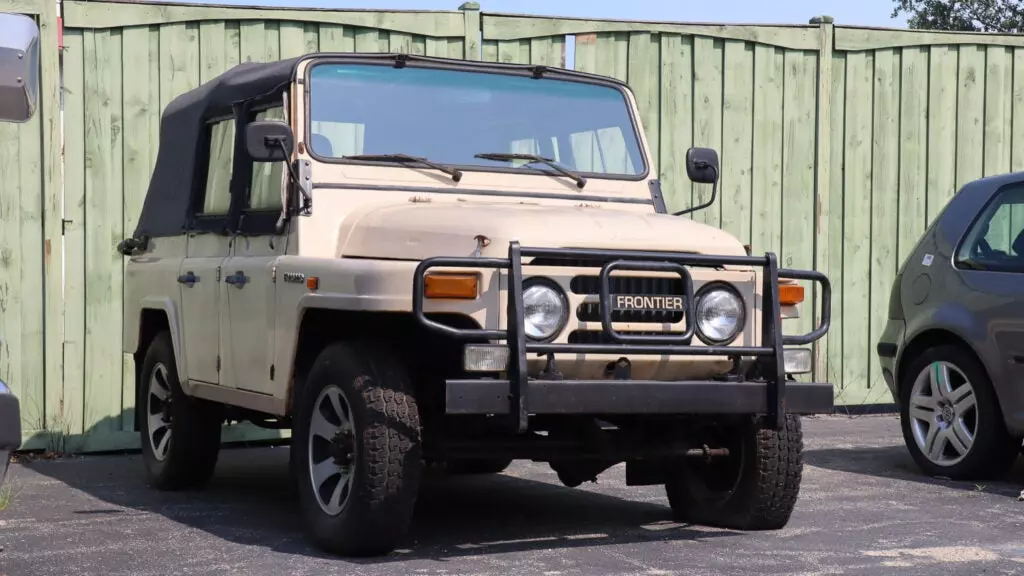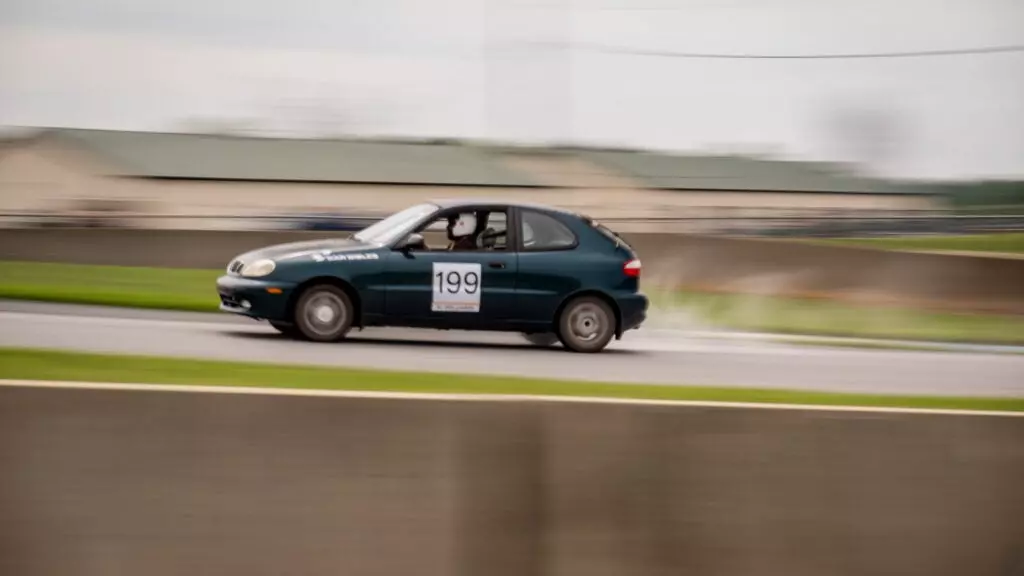 The car is downright crude, but I'm not sure that's an insult. By comparison, a Jeep Wrangler or Ford Bronco would be prissy on-road affairs compared to the Fuqi. There's no infotainment whatsoever, just the basics: a shifter, some gauges to tell speed and fuel, and that's about it. There's a heater, but it looks pretty ad-hoc, likely completely omitted on military BJs.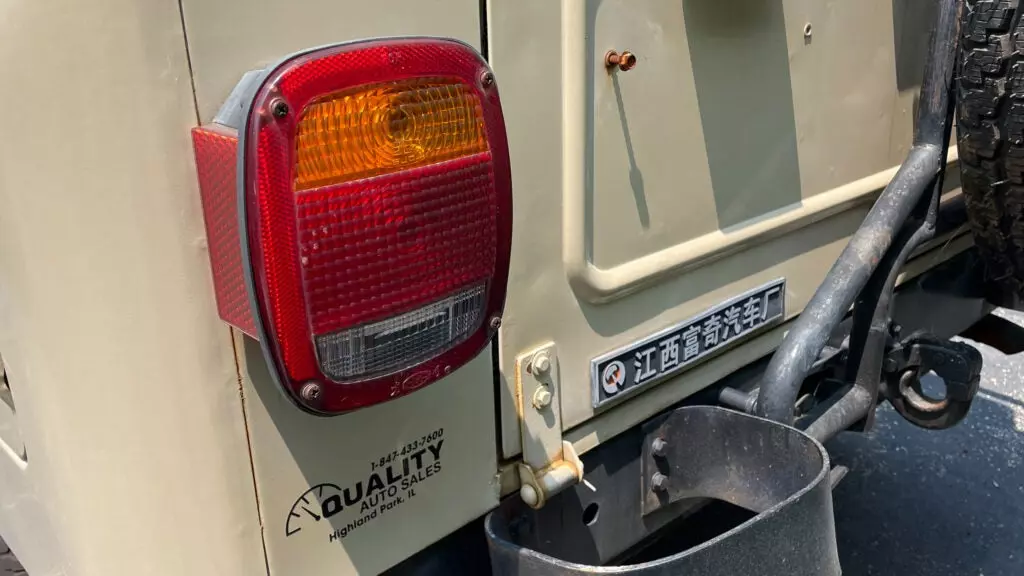 Underneath, the car's guts look hardy and robust. Leaf springs hold up solid axles on the front and rear, but this car uses wire-wrapping for fuses instead of modern fusible links.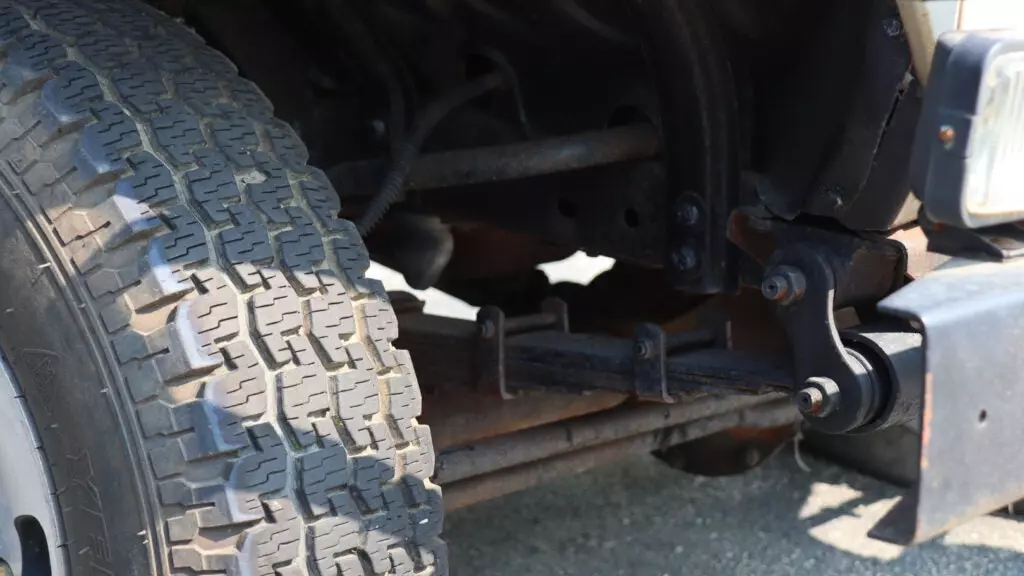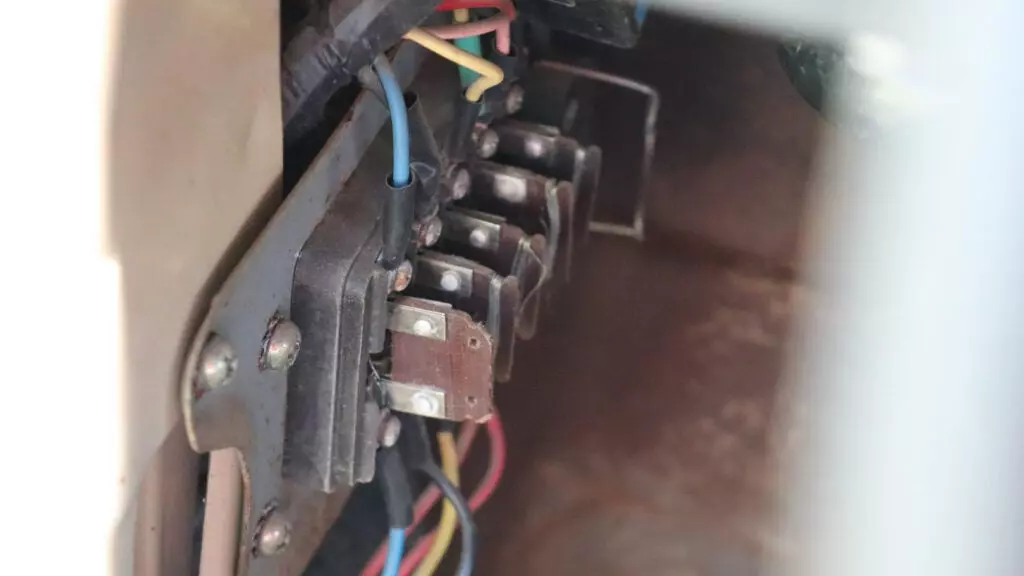 I wasn't able to get a picture under the hood, but this Fuqi is powered by a cloned Toyota 4Y engine. Power is sent through a (likely) unsynchronized four-speed manual to all four wheels.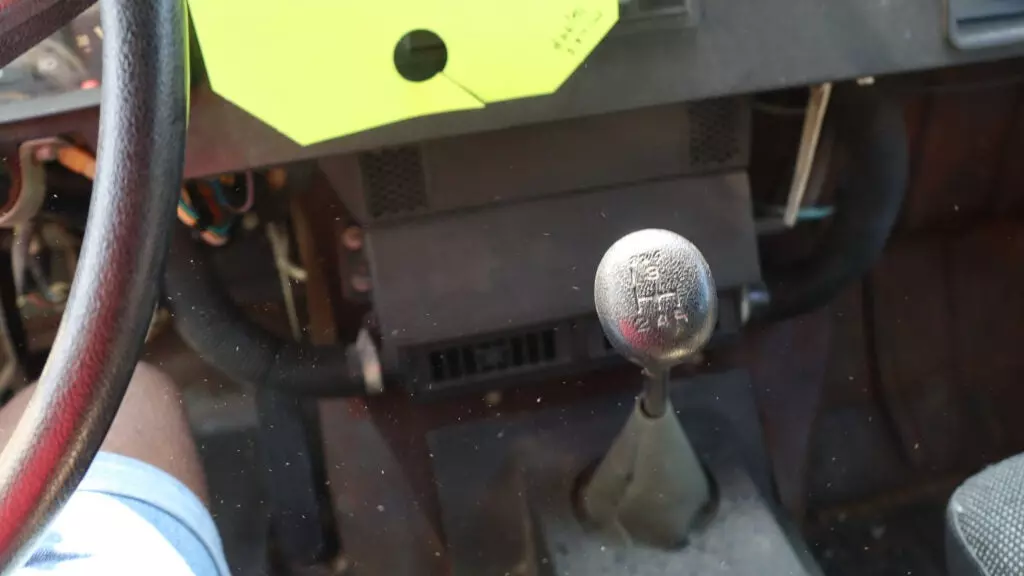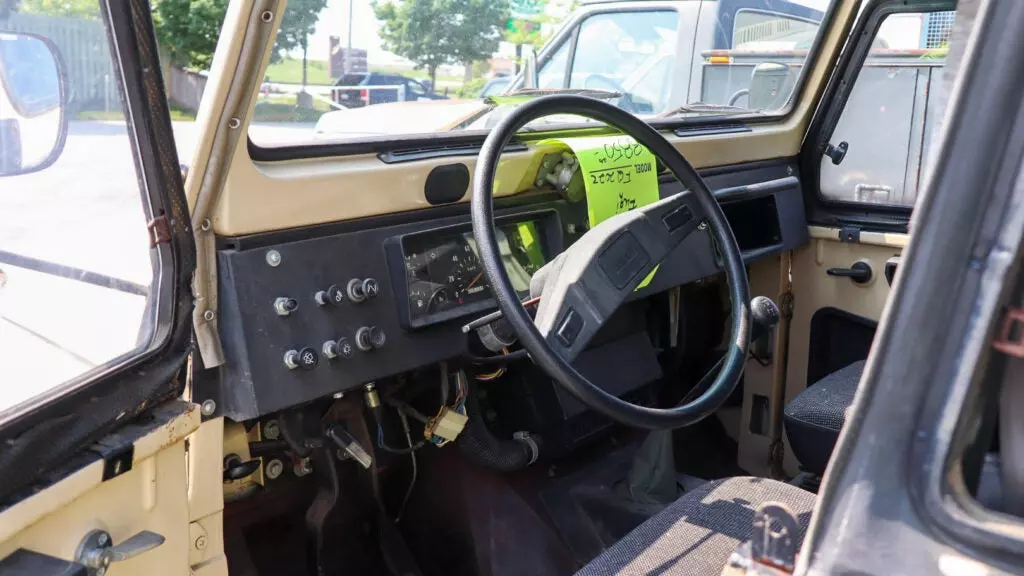 This car isn't refined at all, but it's clearly designed to be easily and simply fixed. This Fuqi looks like it really, truly, could be kept running with garden tools and luck.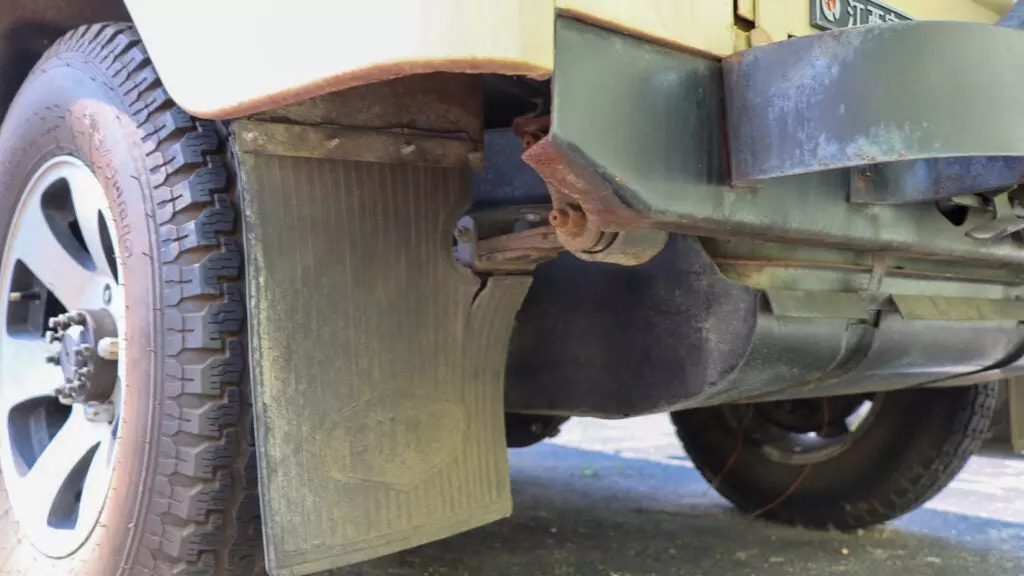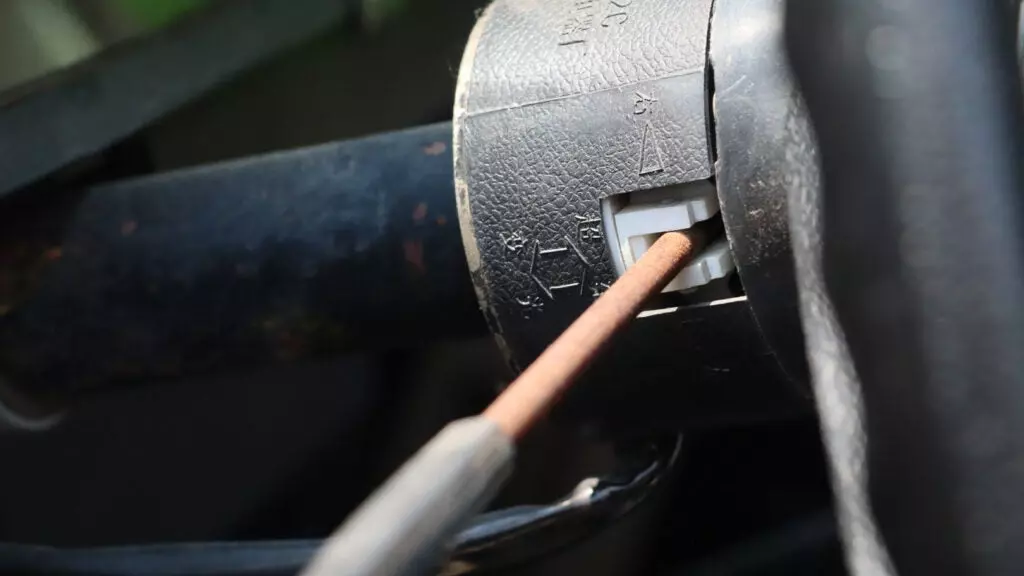 But how the hell did this thing get here? It's listed as a 2001 model year, which is too new for the 25-year import rule. Also, it's a damn civilian version of a Sino-Russian military vehicle. I'm not sure that there's a huge untapped market for these here in the United States.
"Yeah, this car was in a Cubesmart [storage unit], just kind of sitting there for who knows how long," Brosten said. "No one knew anything about this car, how it got here, or who owned it. It only has maybe 1,600 kilometers."
It is theorized that the Fuqi was somehow imported in the '90s or maybe earlier, then stored, with an owner optimistic that the car could be registered eventually. The whereabouts of the Fuqi's original importer are unknown and likely impossible to track down. The Fuqi had no title and no documentation. It's just a random foreign truck in a storage locker that was abandoned due to nonpayment. The original importer could be dead, or in jail, or maybe skipped the country entirely. Eventually, Auto Parts City acquired the Fuqi in 2019 and was eventually able to get the state of Illinois to generate a title for it.

As it sits right now, it's listed for $11,000 with around 1,200 miles. It's a strange vehicle, unlike anything else on this side of the international dateline. Is it worth $11,000? I don't know, maybe, but it's pretty cool.