The "Malabar 2017" international naval exercise off of India concludes today, and this year's iteration was like no other in the quarter century history of the multinational drills. At the center of the large force training event were no less than three aircraft carriers from three navies—USS Nimitz from the US, INS Vikramaditya from India, and the JS Izumo from Japan.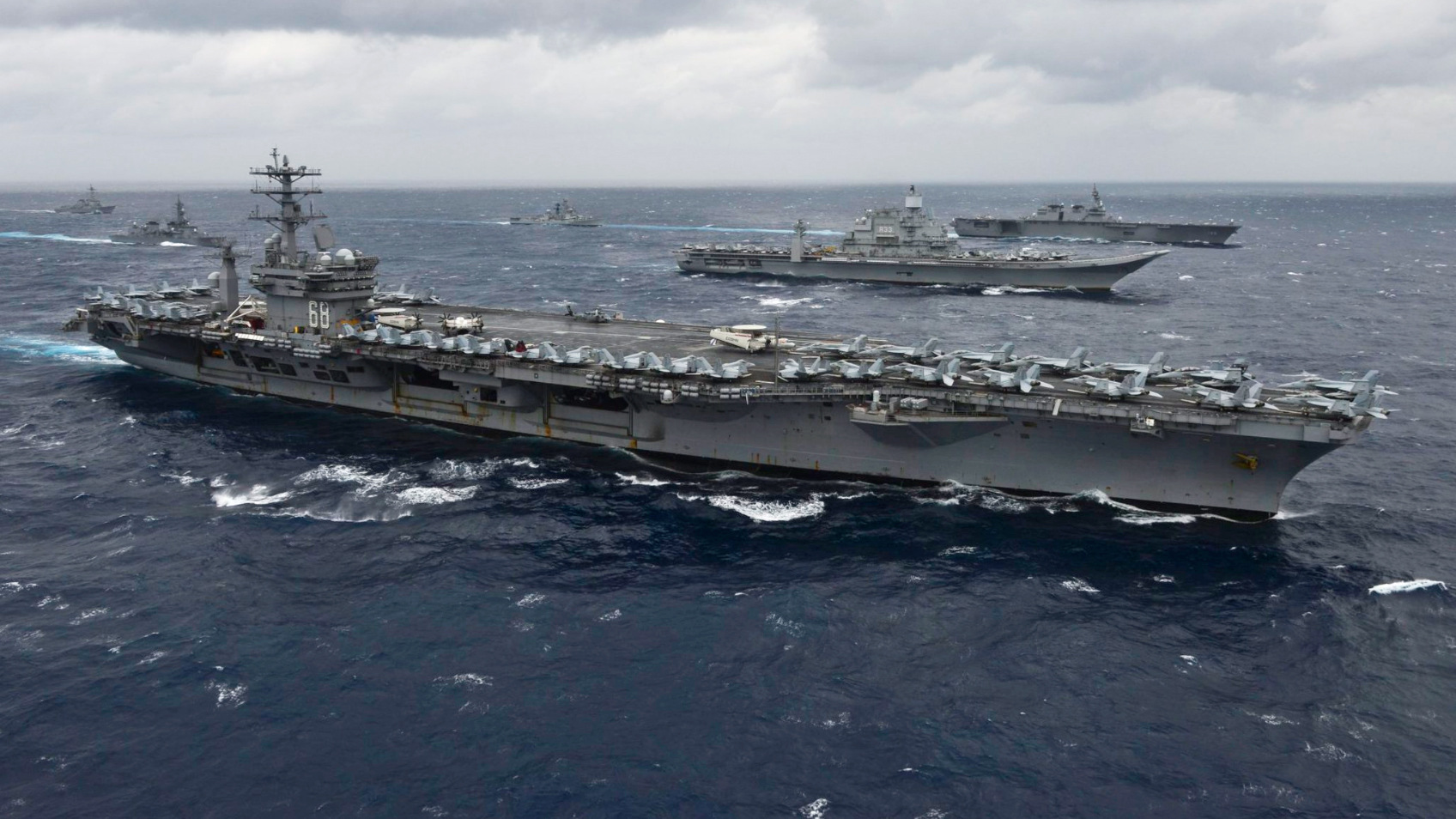 The three carriers in formation that acted as the centerpiece of Malabar 2017., USN
In total, 17 ships from the three countries took part in the exercise, which began ten days ago and runs through today. The Bay of Bengal is where most the activity took place. According to a US Navy press release, areas of training included: 
Other cross-training events also occurred ashore: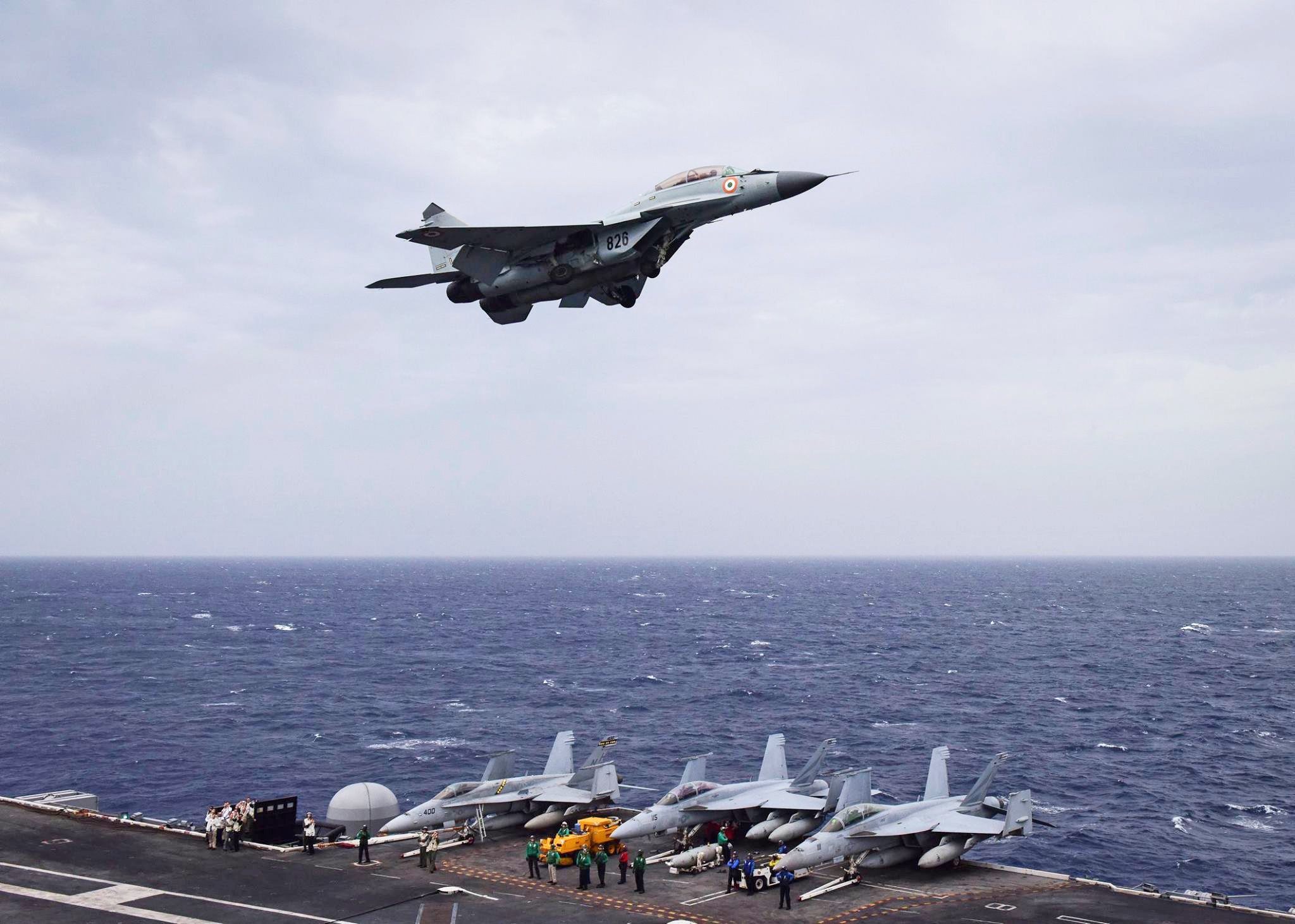 USN
During naval maneuvers, India's still relatively new MiG-29Ks made low approaches to the USS Nimitz—likely a first for the type. These aircraft cannot takeoff from the Nimitz because they cannot use the Nimitz's catapults. Instead they require a ski-jump and specialized holdback blocks to get airborne. So cross-decking was not an option. 
India's MiG-29K force (read all about the type's decades long development here) remains controversial as the aircraft is reported to be ill suited for persistent use under harsh carrier conditions, with ongoing major engine, flight controls, and airframe issues. The type has a miserable availability rate, with India Today reporting:
India ordered 45 sea-going Fulcrums from Russia back in the 2000s, with the type slated to serve aboard not just the INS Vikramaditya—a Kiev class "aviation cruiser" converted by Russia into its current Kuznetsov class like configuration—an endeavor that was a boondoggle in itself—but also the country's first indigenously built carrier that is slated to come online in the early 2020s. 
Because of the ski-jump configuration of both ships, India has very limited options as to which aircraft it could procure for these vessels. Su-33 or MiG-29 derivatives from Russia were really the only feasible options at the time, and still are to some degree without incurring major development costs. 
Russia has had its own issues operating both types from its sole carrier just last winter, dumping multiple aircraft—including Russia's version of the MiG-29K—into the sea before returning home. 
USN
So basically, the Indian Navy is stuck with the MiG-29K, for better or for worse. Although, with the US and India becoming closer and facing a common threat from Beijing, it is interesting to think how the F-35B could make use of a ship like the Vikramaditya. But India is still not cleared to purchase the 5th generation fighter, although under President Trump, that could possibly change. 
Training with the Indian Navy allows US Navy aircrews deployed aboard the Nimitz to get a first hand account of what Russia's latest multi-role naval fighter is capable of—and an opportunity to record its electronic signatures. Likewise, the Indian Navy got to see how America puts its advanced carrier air wing to use, and the advantages of catapults up close.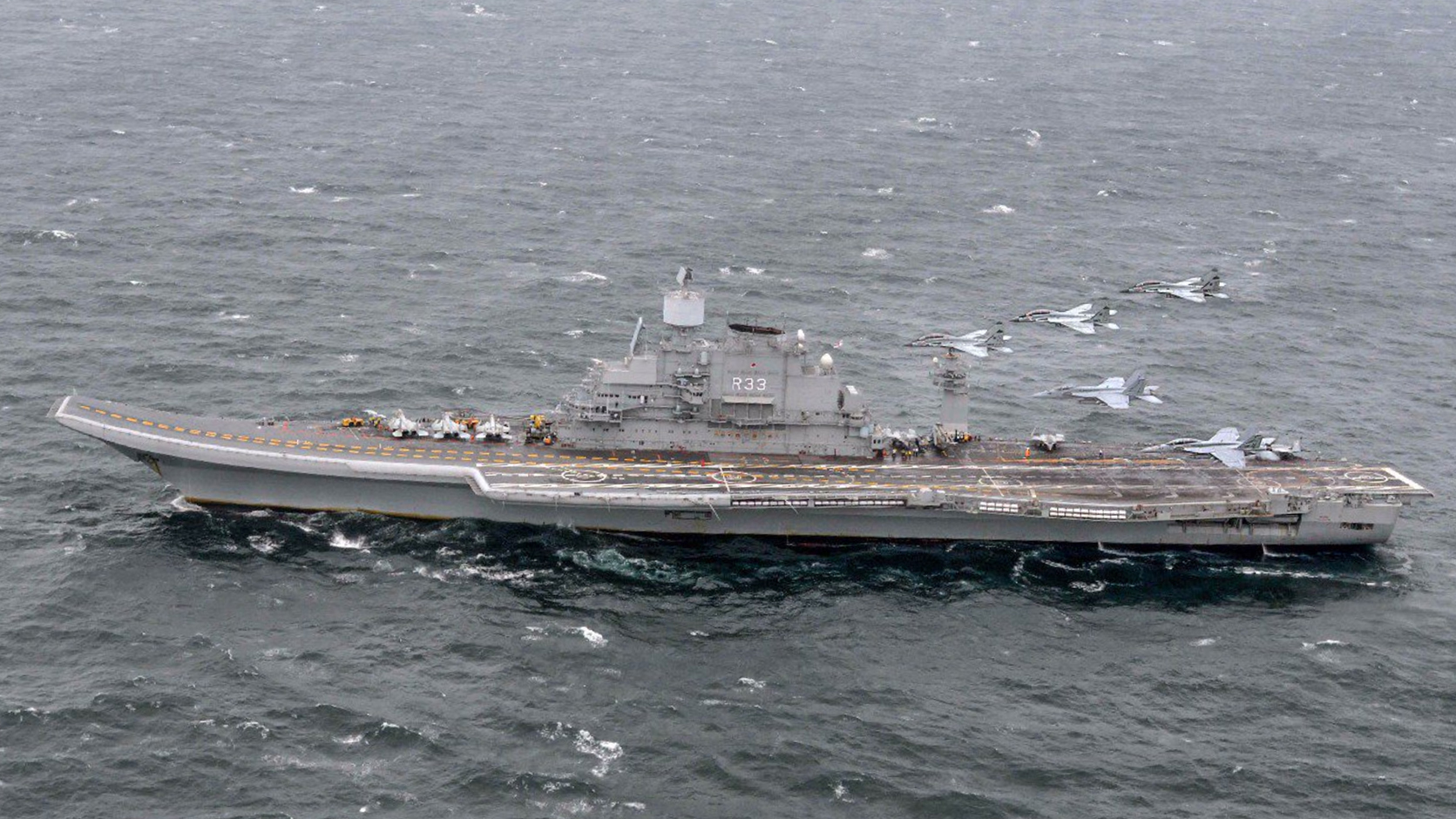 Indian Navy and US Navy fighters fly over the INS Vikramaditya., USN
The Indian Navy will build their third carrier in Catapult Assisted Take-Off Barrier Arrested Recovery (CATOBAR) configuration, and is working with the US Navy to field the electromagnetic launch system (EMALS) on this future design. A new type of fighter will be needed for these ships, which could see a US designed aircraft, like the Super Hornet or even the F-35C, flying from their decks in the later part of the next decade.
Japan's Izumo does not operate fixed-wing aircraft, it is a helicopter carrier. But that doesn't mean it isn't highly relevant to coalition operations in the region. The ship is loaded with SH-60J/K anti-submarine warfare helicopters. So its primary mission is anti-submarine warfare and to provide screening against sub-surface threats for a coalition battle group. It does this using its own assets and by coordinating an anti-submarine warfare "game plan" with other assets in the flotilla and ashore.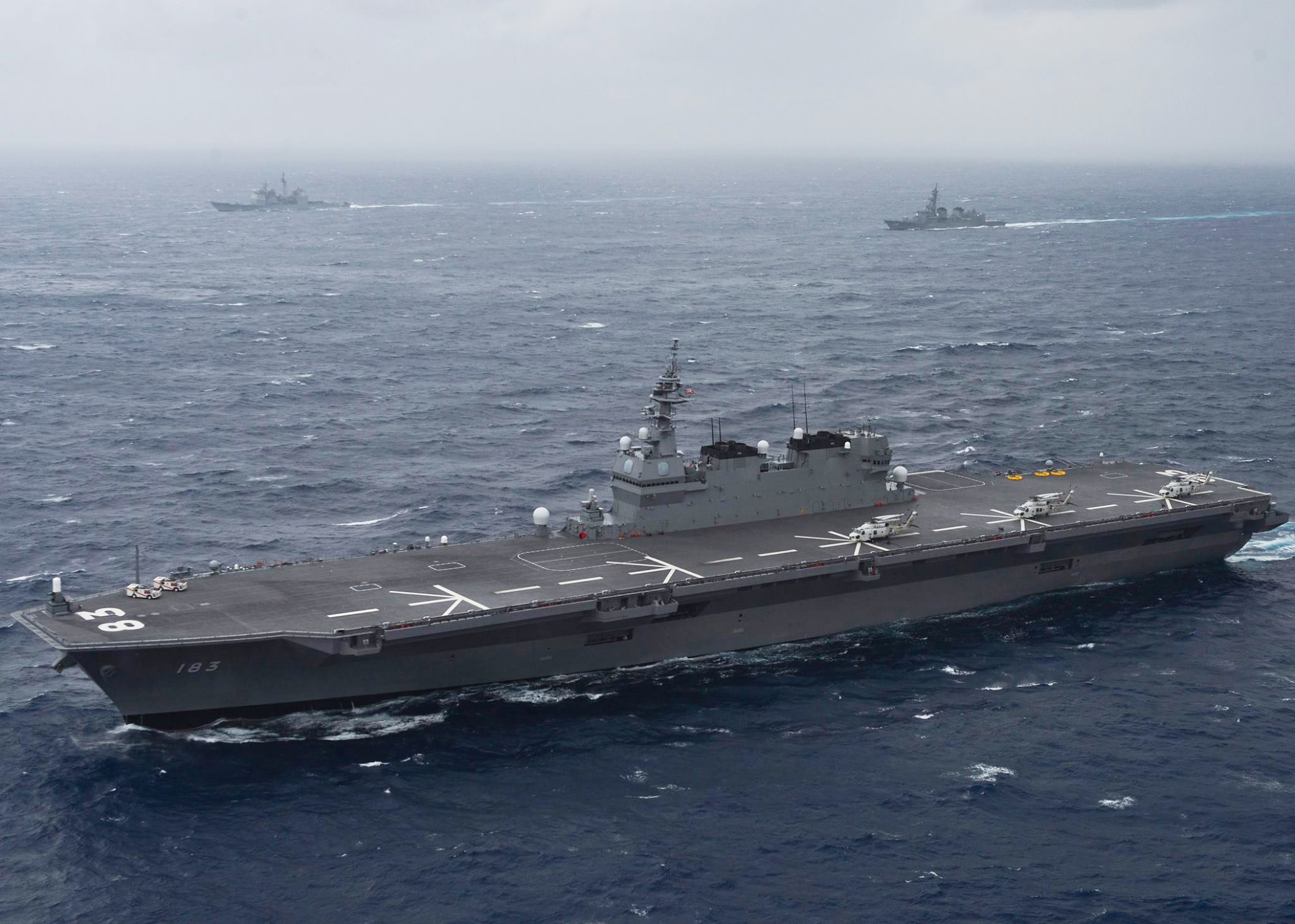 Izumo with SH-60s embarked., USN
The anti-submarine threat is among the most concerning factors when it comes to operating large naval forces in Asian seas, especially if those forces were to stand off against China's own increasingly capable naval armada. 
Beyond the tactical highlights from the exercise, the strategic subtext to Malabar 2017 was the growing naval threat posed by China and how coalitions will be needed to deter, or even face that threat in the future. Both India and Japan have severe territorial disputes with China, and the US has its own issues with Beijing's extra-territorial ambitions. 
Relations between China and India in particular have taken an especially nasty turn as of late. There is an escalating standoff between New Delhi and Beijing over the mountainous Sikkim region, one that could boil over and lead to a wider conflict. Meanwhile, the Japan-China schism has only grown in recent days over territorial claims in the East China Sea, as China sent ships from its ever more ominous "coast guard" into Japanese waters in multiple locations, some for the first time.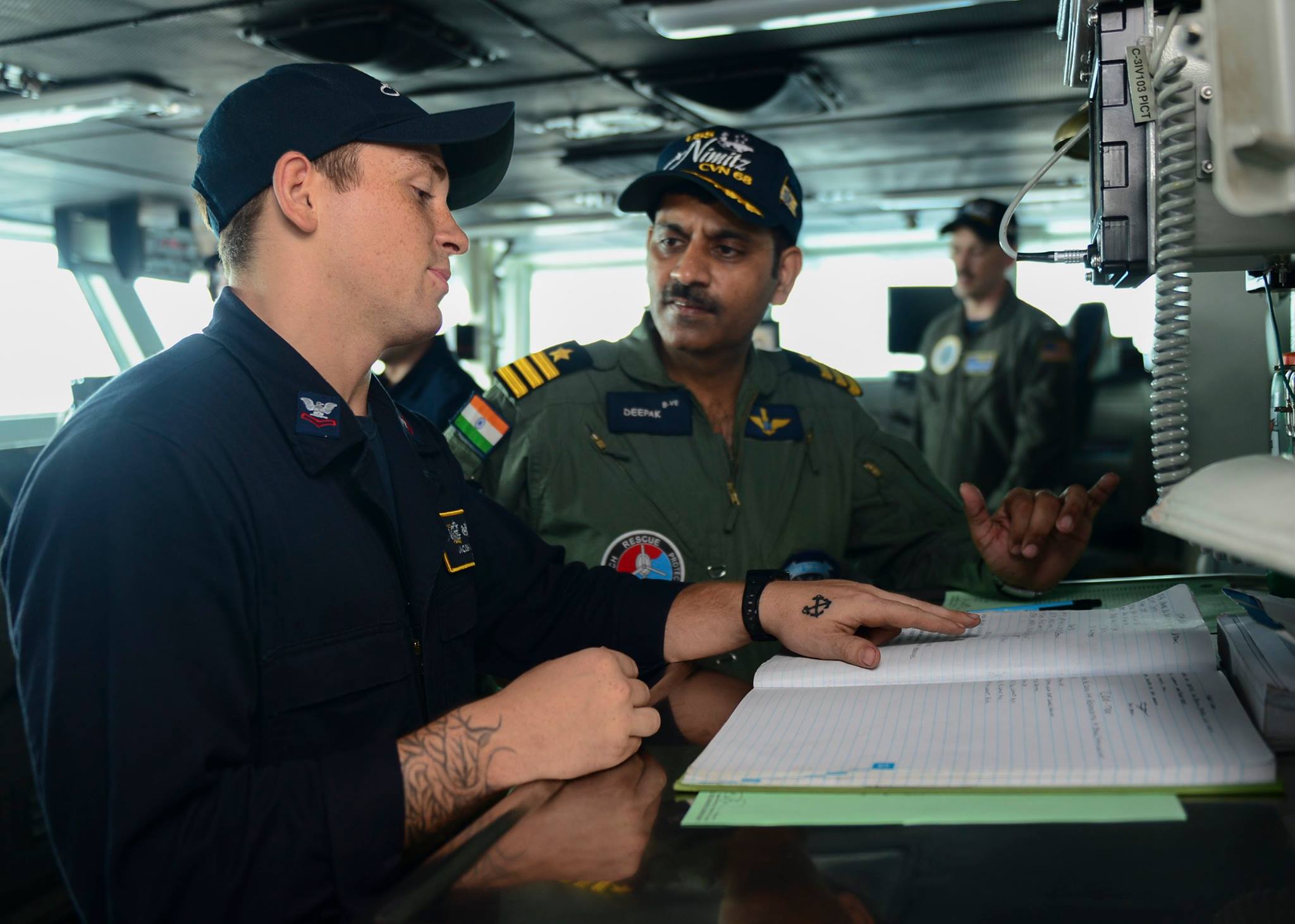 Malabar focuses not only on working to operate with allied navies, but also to build interpersonal bonds between military personnel., USN
China clearly had a close eye on Malabar 2017, and it is very likely real Chinese submarines were prowling the area, collecting intelligence and testing the players' capabilities, while also possibly giving Malabar participants something to hunt and track. The increasingly close military cooperation between India, Japan and the US is highly troubling to Beijing, and it is very likely that Australia will be added to Malabar exercises next year. 
In fact, a request from Canberra to join in the war games has been pending for three years now. Under past leadership, India had been hesitant to expand the Malabar invite list, but under the current circumstances this looks like it could change.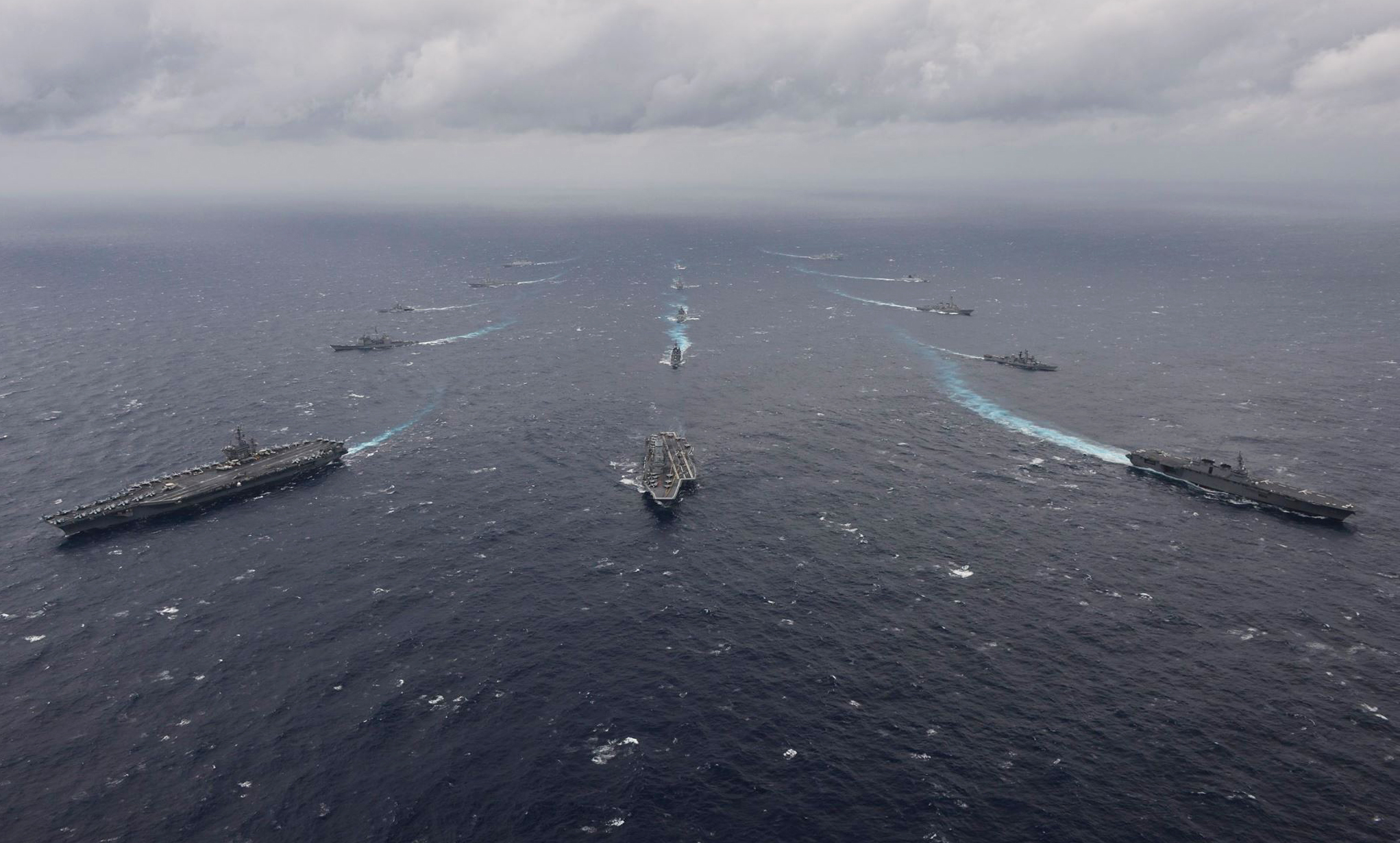 The Malabar 2017 surface fleet seen during PHOTOEX. , USN
Seeing how China is also steadily expanding its reach west, with its new naval master base in Djibouti being a huge part of its naval strategy, the Indian Ocean will become a far more active area for PLAN vessels in the future. This is a reality India will have to adapt to whether it likes it or not. 
With all this in mind, Malabar 2018 is likely to set the bar even higher when it comes to its size, scope and the number of countries represented. 
Contact the author: [email protected]