Gas prices are high, and there's a renewed push to get employees back to the office, with no concessions for the demure commute costs we've had throughout the pandemic by avoiding driving back and forth. Expensive gas is more than a meme we complain about on Twitter. It's having real repercussions for a lot of people, especially those who don't have much of a transportation budget to begin with.
Still, that doesn't stop our capitalist hellscape from engineering a new predatory solution to "help" down-and-out drivers. Klarna recently promoted that you can pay for gas using a six-week payment plan at Texaco and Chevron stations (the link has since been removed).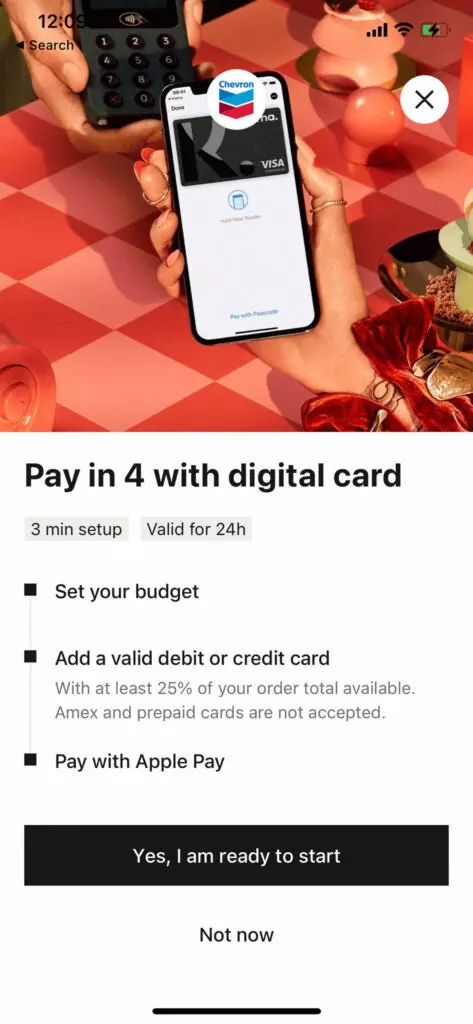 For the uninitiated, Klarna is a buy now, pay later service that requires no credit card and only soft credit checks. The significance of a "soft" check is a big one: It does not affect your credit score, unlike a "hard" check which could. As for Klarna specifically: You pay a small portion (or sometimes nothing, depending on the retailer) of the initial purchase cost, then pay the remaining balance over a series of payments every two weeks. Technically, there's no consumer-facing interest or fees, and Klarna requires no credit card. Klarna charges the retailer a fee, and the retailer pays said fee, on the promises of significantly more business.
Arguably, Klarna is marketed aggressively toward younger millennials and gen-Zers. The Klarna app is sleekly integrated into fast fashion, including on-trend stores like ASOS, H&M, or Shein. Sure, this all sounds great, but the app has been criticized for being a gateway to more endless consumer debt.
Klarna's lack of hard credit inquiry and spread-out payment plans certainly are attractive, but critics have openly said Klarna (and other buy now, pay later services like Afterpay) encourages overspending. Unlike a credit card, which reports both on-time and late payments, Klarna doesn't report on-time payments. It does report late payments, add late fees, and will not hesitate to send delinquent accounts to collections agencies. So, it's like the negatives of a credit card, without the positives.
Eventually, this all adds up. TikTok has plenty of half-serious memes of prolific users of Afterpay, Klarna, or any other buy now, pay later services, all saddled with serious debt because of the sheer number of small purchases and payments that they are now completely underwater on.
I'll break this down into a real-life situation. For me, a full tank of gas lasts roughly a week's worth of driving. If I paid with Klarna, it would take me only a few weeks before I had a series of multiple delayed payments on tanks of gas that I have already burned through. For someone with little financial literacy or income, those cyclical mini-payments could be incredibly devastating, almost a death-by-a-thousand-cuts-type deal.
Oddly, the article that generated so much media and TikToker attention has now been removed from the website. I reached out to Klarna to learn more.
"[Klarna] has been parntered with Texaco and Chevron since 2021, so this is not a new partnership and has no connection to the recent increase in gas prices," a representative told me via email.
Still, whatever the rationale, buying gas with Klarna or any other buy now, pay later services isn't the wisest idea. Imagine missing a payment only for the account to become delinquent. The late payment would be reported, and the debt could go to collections. It could deter the person from getting real credit later on, all over a tank of gas.
Using Afterpay or Klarna for a cute outfit that you buy on impulse is a lot different that essentially putting a utility on layaway. A piece of clothing is a one-time cost, at least in theory, whereas gas is a constant need. You are playing with fire if you do this.
Please, whatever you do, try not to buy gas with Afterpay or Klarna.
What to read next: