I'm an avowed EV pragmatist. On a related note, I have an innate need for authority figures to show their work before I take what they say at face value. So I wanted to know: Could I take an impromptu road trip in an electric car in a very Midwest setting? This is Ohio; I'm not doing a picturesque drive up Highway 1 from Santa Barbara to Pismo Beach. We're gonna do some hard, ugly, uninteresting miles, through some of the chapfallen parts of America. I did it in three different EVs: the Polestar 2 shuttled me to a fun weekend in Toledo, Ohio (145 miles one way), the Mustang Mach-E took me to visit family in Cleveland (138 miles one way), and the VW ID.4 took me to a friend's birthday party in Pittsburgh (about 190 miles one way). Can an electric car do an impromptu road trip? Short answer, yes. I ain't going to lie to you though, it certainly wasn't easy.
I Never Realized How Easy It Is To Find A Place To Gas Up
I don't obsess with my fuel gauge or range when I'm driving, and I'd wager most other Americans don't either. We don't have to obsess — it's an assured fact that refueling stations will be on our route. Even if the route changes, we can easily add a stop, or change the destination entirely, it's no biggie — we can get fuel and go wherever we want. There's no worry.
It's kind of all worry with an electric car. There just aren't that many charging stations.
The Polestar 2 had more than enough range to make the 140-mile journey from Columbus to Toledo, even in near-freezing temps, with the heat on, at speeds of more than 70 mph. The plan was to leave Columbus with a full charge, drive a little north of Toledo to Sylvania, Ohio, where PlugShare and ChargePoint informed me there was a DC fast charger. There weren't many Level 2 options with all-night parking and charging, so I'd need to DC fast charge, We'd leave the car there, get lunch, then retrieve it after lunch, drive back to the Airbnb, and stash it there for the rest of the trip while we painted the town red that evening.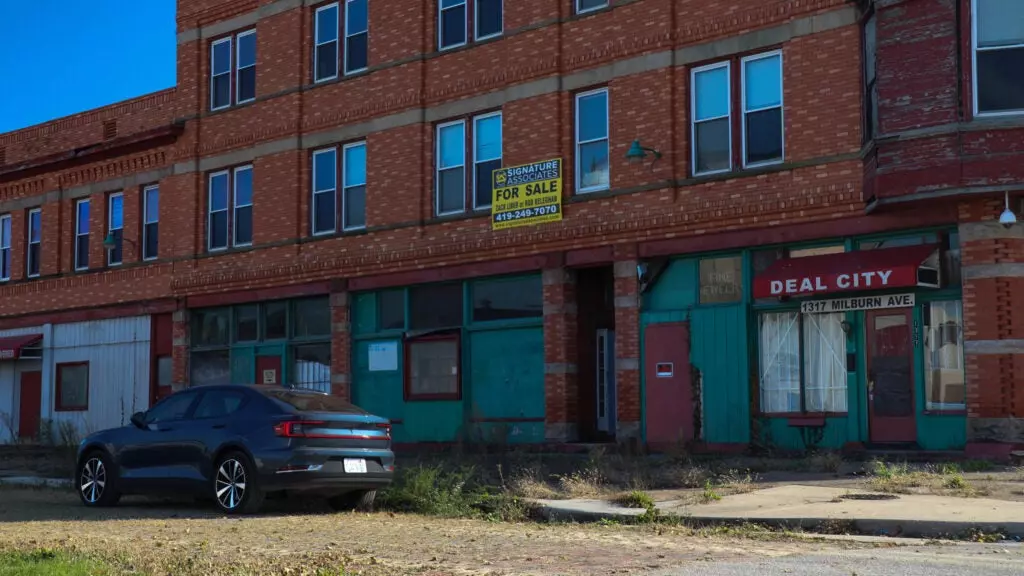 About 40 miles away from our destination, the other car in our convoy needed to stop for a potty break. I figured that it was high-time to double-check my charging plans; I had already been burned the week before in the Hyundai Kona EV, when the internal GPS took me to completely inaccessible charging stations. I didn't want a repeat of that. Thus, I opted to explicitly rely on the ChargePoint app, rather than any internal GPS or Google services apps. Using the app, ChargePoint-branded stations can tell you if they're active or not, and you're even able to reserve them in advance. Sylvania, Ohio's DC fast charger was listed in the ChargePoint app, but I made the mistake of not fully reading the charger's listing. The listing had a note that it was not part of the ChargePoint network, and thus its status was unknown. Flabbergasted, I looked at the listing again, reading a lot closer this time, and realized the DC fast charger, was at a Chevrolet dealership. Shit. Would they let me plug a non-Chevy vehicle use their charger? I had less than 30% battery life left, rather than chance that, and risk not having enough range to make it to the next station, my quick-witted and shady front seat passenger, Howard, called the dealership for me. The receptionist kindly informed me that the DC fast charger is only available during business hours, and it's only for Chevy branded vehicles only. Well, damn. That was my only plan.
The next nearest fast charger was 30 miles in the opposite direction, also not part of the ChargePoint network, so it was unclear if it was occupied, or working, or even available to the public. I had no plans on driving that evening anyway, so my new plan was to find a level two charger, and leave the Polestar there for the evening.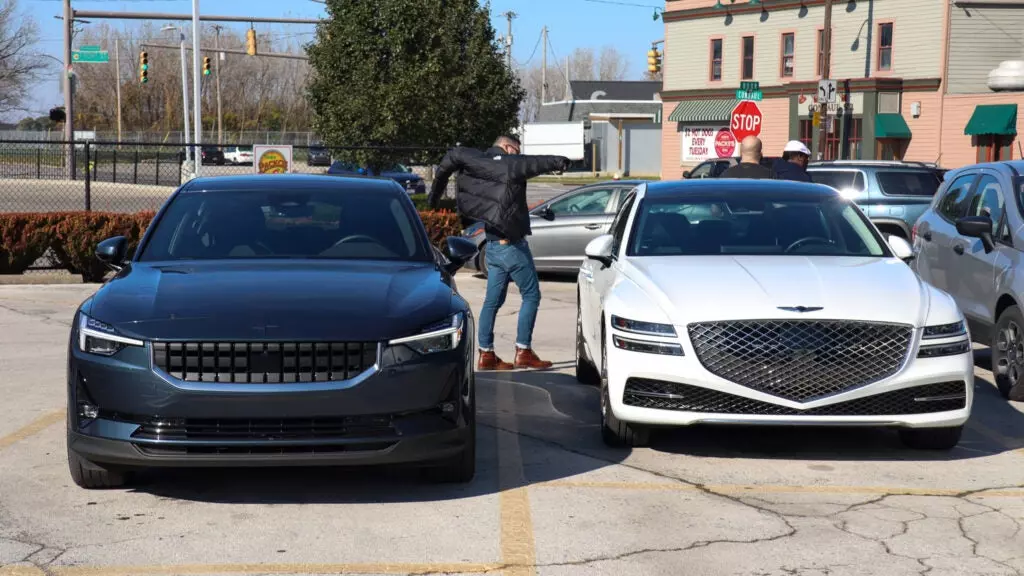 Howard and I drove from charger to charger, to find one that was both working and not occupied. My 20% range upon arrival to Toledo, dropped to an increasingly woeful 13%. Luckily, there was one more Level 2 charging station I could try in downtown Toledo – the Hospital's employee parking deck. ChargePoint didn't list any public option, but Plugshare did, sort of. I had no other option, all of the other charging options in the city were either broken or occupied. Luckily, the electric vehicle gods took pity on me, and that worked.
It took me more than an hour to find a working charger.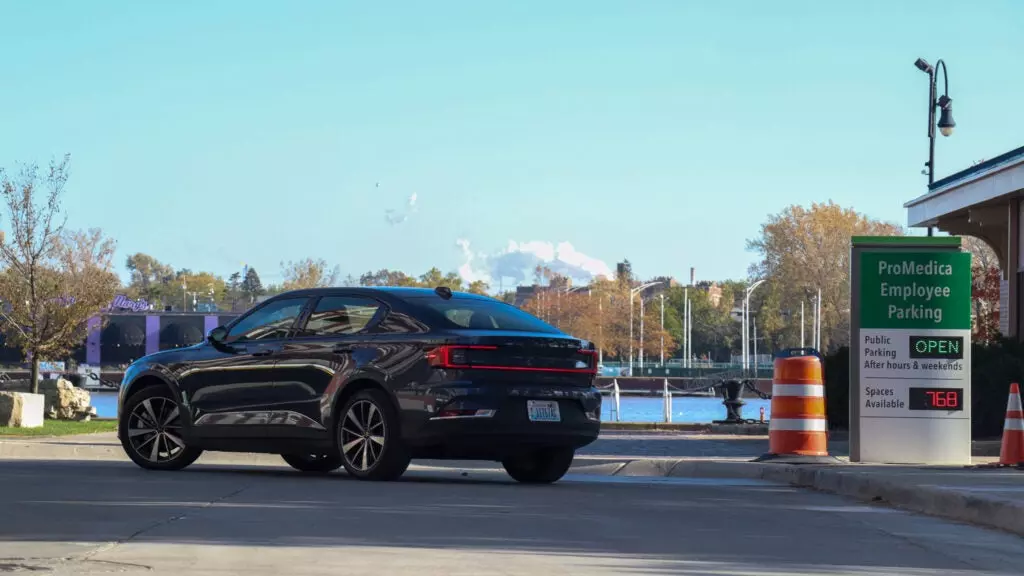 Your Range May Vary, But That's Just The Nature Of The Beast
Unless you live in a place like Portland, Oregon with its notoriously polite and slow drivers, or LA, where driving more than 10 miles in one sitting is an hours-long chore, you will probably never get your vehicle's rated range. I drove these electric cars like any normal person would drive any other car. I did freeway speeds of 70 to 75 mph. I used the heater, I bumped the radio, I ran the lights. In the mostly cold temperatures, I got maybe 60 to 75% of the advertised range.

Everything you do in an electric car affects range. In a gas car, heat is a negligible factor on efficiency. In fact, it's often a byproduct of a gas engine that's already generating heat. Gas cars tend to favor constant speeds, and transmissions with multiple gears ensure that an engine doesn't use much power keeping the vehicle moving at freeway speeds. Gas cars excel at freeway driving. Electric cars don't. The Volkswagen ID.4 reminded me of that, when I nearly ran out of charge.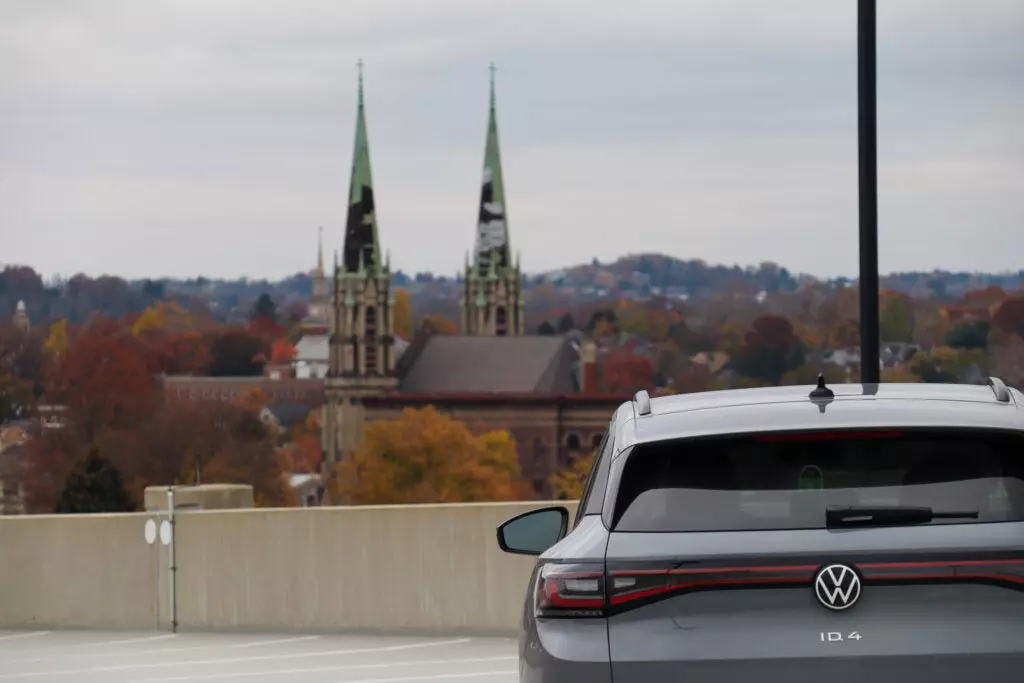 I had a similarly bad time finding a place to stash the VW ID.4 to charge for the evening, as I did with the Polestar. Pittsburgh is a bigger, more expensive city, but my cheapie hotel was in the suburbs, where all public charging options were relegated to dealerships, unclear if they were actually public or just a courtesy for EV owners of that brand. Similar to the Polestar 2, It took me nearly an hour to find a working, unoccupied Level 2 charger where I felt safe enough to leave the vehicle for an extended amount of time. 
Now, I couldn't just leave Pittsburgh straight away. The pictures you see in my articles don't come from nowhere, and I was hungry. In all, I spent about 45 miles driving around Pittsburgh, partially exploring, partially scouting for picturesque locations to photograph the Shamu-like bloated body of the Volkswagen ID.4. I made a quick stop to get a gorgeous liege waffle, and enjoyed some tasty Chinese braised beef noodle soup. I had so much fun, that I realized the ID.4 would have trouble making the between Pittsburgh, and Cambridge, Ohio. For 120 miles, there is no DC fast charger, and I wasn't getting anywhere near the projected range on the screen. The weather was cold, and the drive through West Virginia is very hilly, which would sap battery life. The ID4 showed about 135 miles of range, too tight for me.
About 25 miles south of Pittsburgh (and somewhat on the way home), sat a small Electrify America station. An hour of not-so-fast DC charging brought the ID4's battery from 60% to 100%. The range estimator said 190 miles. I typed my home address into google maps – 191 miles away. I was tired of charging, and figured, if I take it a bit easier on the car, maybe I can eke out just enough range to get home without having to stop again.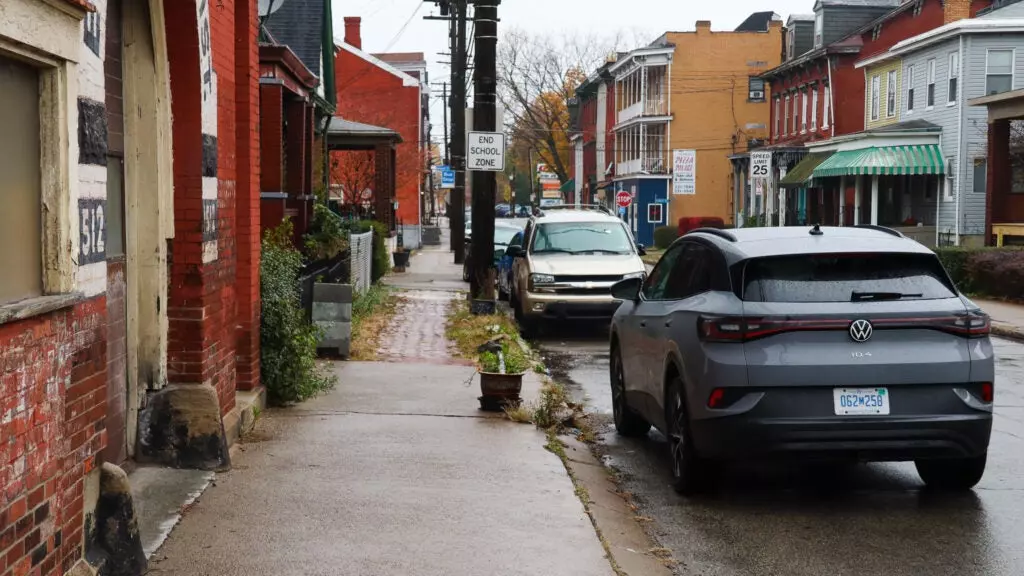 I took it easy, and the VW ID.4 sailed past Cambridge, Ohio. I had a little under 70 miles left on my trip, but despite my relatively docile driving, the car's range estimator showed a precariously tight 74 miles. There really wasn't any place else to stop, in where I knew I had a surefire place to recharge. Confident, I pressed on. I wondered "should I have stopped in Cambridge and charged some?" I said "nah. We got this
I was doing great, until about 15 miles outside of town. The ID4's gauge cluster said "press brake now!" in the characteristic weirdly complete sentence-y way that Volkswagen notifies its users of serious issues. Propulsion power was limited, and I turned off the heat to get enough juice to make it to the next station. "I hope my mouth didn't write a check that my ass can't cash," I said out loud, as I shivered behind the wheel of a Volkswagen ID4. The heat was off, and the car slowed down a maximum of 52 mph. It would accelerate no faster. I was on a cold, snowy, dark I-70, driving almost 20 mph under the speed limit. I realized what kind of danger I thoughtlessly put myself in. The heated steering wheel wasn't doing a very good job keeping me warm, but I held on to it for dear life, as much faster semi-trucks blew past me. I pictured myself stranded on a dark highway, cold, in a bad way, with other drivers unable to see me. Suddenly, the trope of folks abandoning their cars on the freeway during minor snowstorms didn't seem so silly. Sleeping in a car with no heat, no lights, in freezing temperatures is a recipe for serious injuries, if not death. It was scary.

I pressed on a place where I know I could get a spot; the DC fast charger downtown. I didn't have enough range to make it home, but it looks like I did have enough range to make it there. The car waddled into the fast-charging station with 4% battery, I had traveled 187 miles, 174 of them at normal freeway speeds before the VW decided to give up. I charged for a few minutes, just to get enough range to make it home with the heat on, at normal speeds like a real person.
All Gas Stations Are The Same
I can't blame Hyundai, Ford, Polestar, Volkswagen, or even Tesla; these cars are doing what they're supposed to. Right now, there's just not enough infrastructure for road trippers in cities that aren't large cosmopolitan places. Drivers traveling from these places don't have the ability to make flexible choices on where they can go, and where they can stop to charge. In a gas car, if you miss the exit for a gas station, there will be another one not that far away. In an electric car, if you miss the exit for an EV charging station, if it's even working, you're probably screwed.
While driving the Polestar 2 through Toledo, my front seat passenger and I mused. "Right now, Electric cars, are kind of trinkets for the rich." If I had chosen to go to higher-dollar locations that cater to people who have the income to buy electric cars if my trips would have been easier. Me, headed to non-rich folk destinations, entailed finding rich folk places to recharge the cars. The ID.4 was left at an upscale outdoor mall. The Polestar was left at a hospital employee parking lot, no doubt the chargers are there to cater to the high-earning medical professionals. Toledo, like other rust-belt cities, suffered devastating losses in the industry, as factories closed, jobs left, and people fell into despair. Toledo's median household income is a scant $37,000, compared to Columbus's $53,000. Here I was, in a nearly $65,000 luxury car, asking why a city with not many folks who can afford an expensive electric car, wasn't making the effort to accommodate me, a visitor with time to kill, on a weekend getaway. I couldn't help but wonder, are electric vehicles the new interstate, whereas gas cars are route 66, meaning, we don't bother to establish EV infrastructure in poorer locales because well-to-do EV drivers have no interest in visiting these places? Will we completely forget about these communities because a lack of charging infrastructure would make them too hard to visit?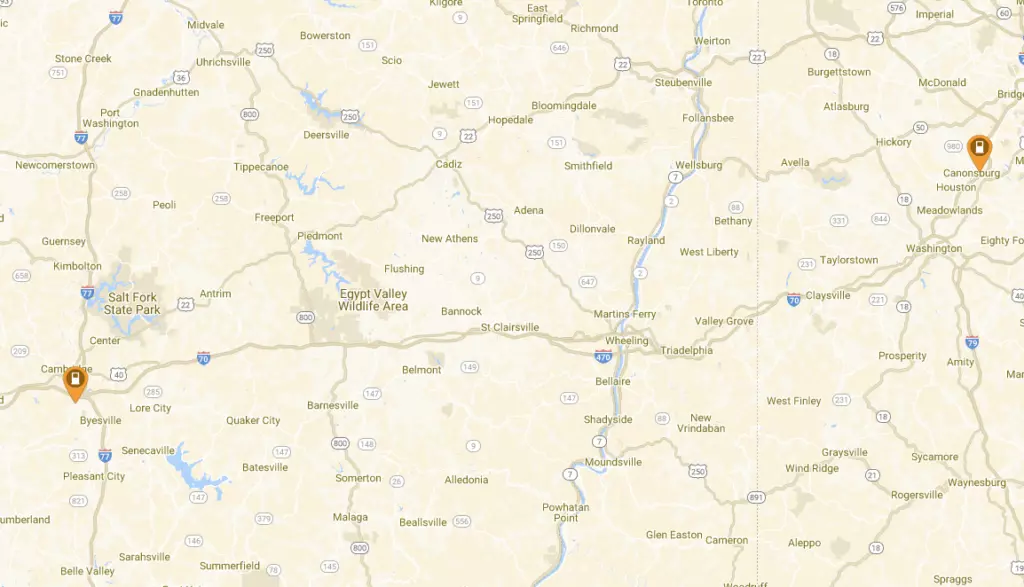 I hope I am wrong; I hope we'll start seeing increased accessibility for electric cars in the near future. But, I live in the midwest, an area of the country that's has been promised a lot, but hurt by politicians and big corporations that fail to deliver. We're more than what you flippantly call "flyover yokels"; we're families, communities, all with hopes, dreams, and goals. We deserve the same dignity afforded drivers on the coast, to move and recharge with freedom.
I don't wish to slam other EV advocates or the thousands of people own and drive their electric cars on long trips. Clearly, mini-road tripping in an electric car is viable for a growing number of drivers. But there are a lot of gaps to fill so all EV drivers in every part of the country can move about with the same thoughtless ease of a gas-powered car. 
What to read next: