Consumer choice is one of the cornerstones of our nation's economy. Don't like a certain operation's business practices or pricing? Take your business elsewhere. This is particularly important when it comes to the automotive repair industry. It gives consumers the ability to avoid paying high dealership pricing and allows them to visit an independent shop that might be closer or more convenient to their homes. In turn, it creates competition among businesses, bolsters small business, and helps strengthen America's GDP. All of this and more is called out and outlined in the Right to Equitable and Professional Auto Industry Repair (REPAIR) Act, which was recently introduced by U.S. Representative Bobby L. Rush of Chicago, Illinois.
This proposal is an answer to ever-tightening restrictions put in place by automakers to discourage DIY home repairs and independent shop maintenance. The OEMs' reasons range from protecting user data and their own data, to software rights, to increased costs, to ensuring the quality of work is good, and then some. Sure, some tasks might be best left to a dealer service department, but what's crucial is consumers have the right to choose. Generally speaking, monopolies are un-American.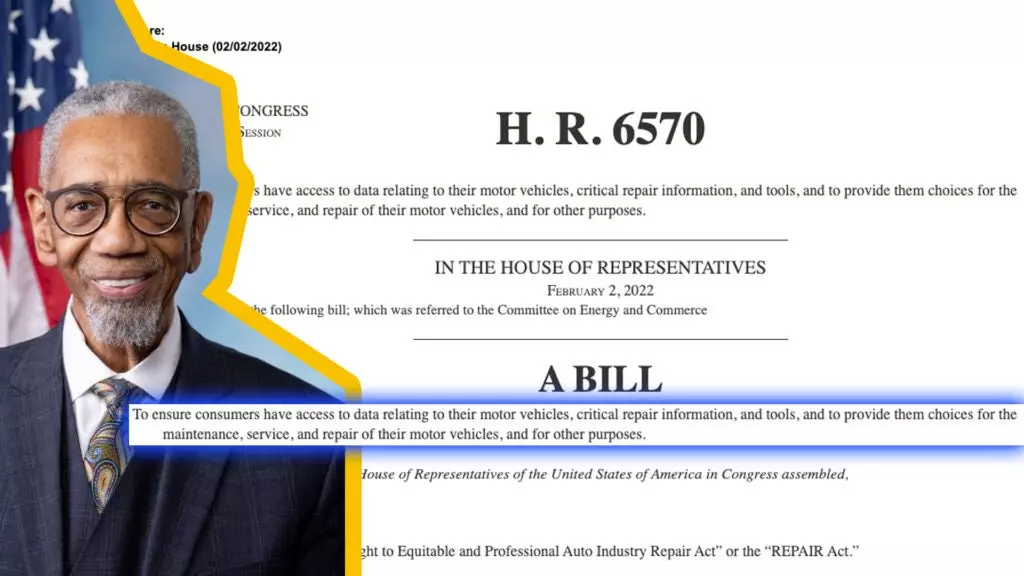 The full document is 24 pages long, but Rush and his team broke down the key positions of why the bill has been introduced into bullet points:
"Preserve consumer access to high quality and affordable vehicle repair by ensuring that vehicle owners and their repairers of choice have access to necessary repair and maintenance tools and data as vehicles continue to become more advanced."
"Ensure access to critical repair tools and information. All tools and equipment, wireless transmission of repair and diagnostic data, and access to on-board diagnostic and telematic systems needed to repair a vehicle must be made available to the independent repair industry."
"Ensure cybersecurity by allowing vehicle manufacturers to secure vehicle-generated data and requiring the National Highway Traffic Safety Administration (NHTSA) to develop standards for how vehicle generated data necessary for repair can be accessed securely."
"Provide transparency for consumers by requiring vehicle owners to be informed that they can choose where and how to get their vehicle repaired."
"Create a stakeholder advisory committee and provide them with the statutory authority to provide recommendations to the Federal Trade Commission (FTC) on how to address emerging barriers to vehicle repair and maintenance."
"Provide ongoing enforcement by establishing a process for consumers and independent repair facilities to file complaints with the FTC regarding alleged violations of the requirements in the bill and a requirement that the FTC act within five months of a claim."
Interest and trade groups are all cheering from the bleachers, including the Specialty Equipment Market Association (SEMA) and the Automotive Body Parts Association (ABPA). Having SEMA on board is a good sign, as it represents 7,300-plus small automotive businesses across the USA, many of which cater to us enthusiasts.
I should also point out that similar progress is underway in the agricultural industry, which has had a contentious history of being chock-full of bespoke, dealer-hands-only technology.
This all seems like a no-brainer and so incredibly bipartisan, which, depressingly, is a bit of a rarity in this day and age. Any chance for people of any political affiliation to come together is a very good thing. It seems as though any politician who rallies against the REPAIR Act could easily be outed as being pro-monopoly/anti-consumer. Which, again, is thoroughly un-American.
Another solid benefit is that this legislation also looks out for underserved communities. As the Federal Trade Commission (FTC) outlined in a report regarding manufacturers' efforts to block consumers' right to repair, it was, "concerned that this burden is borne more heavily by underserved communities, including communities of color and lower-income Americans," according to the Rush's press release. The small, honest shop around the corner is a crucial element to communities like these, and they need to be outfitted with the proper knowledge and resources to continue serving their neighbors as automotive technology changes.
No matter where you stand with your views, we can all agree that legislation like this is good for everyone, and ensures that we as consumers have the right to give our business to whoever we'd like to.
To read the whole official government document and all it entails, Rush's congressional office has published it in PDF form here.
What to read next: