Nothing says night to remember quite like renting a 710-horsepower Ferrari F8 Tributo and tearing around the streets of Las Vegas. Nothing says night to forget like it ending in a collision with the curb, sidelining the supercar. Or rather, as the owners of said Ferrari discovered, completely wrecking it in a crash so severe that it cracked the car's frame.
This incident, brought to our attention by Motor1, was the subject of a YouTube video uploaded by Las Vegas-based exotic car rental agency Royalty Exotic Cars—you may know it for selling off what was said to be the world's highest-mileage Lamborghini Huracan. Royalty recently rented out a newly delivered, fully optioned Ferrari F8 Tributo to an unidentified client, who apparently called the agency shortly thereafter to report a crash.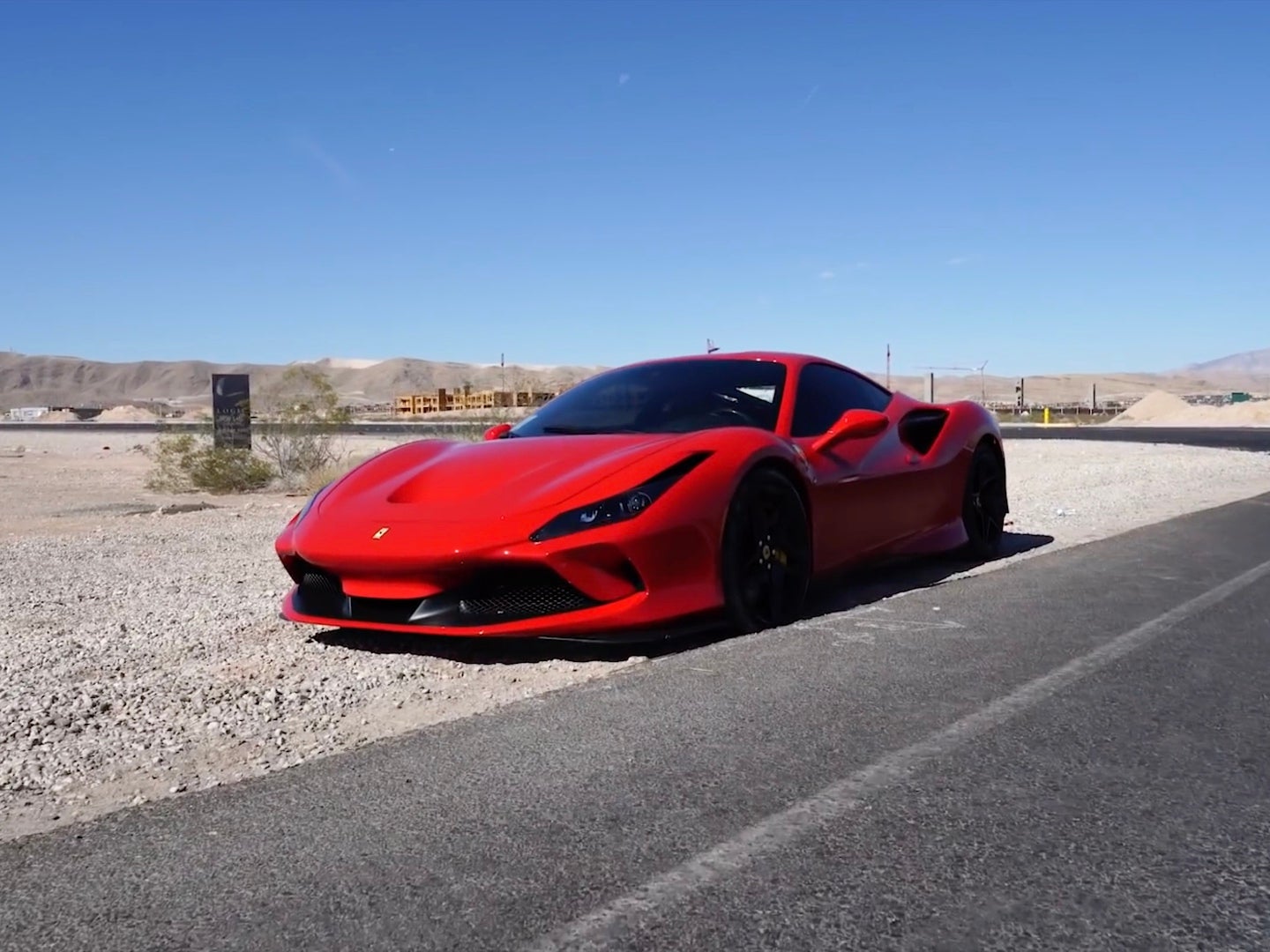 Wrecked Ferrari F8 Tributo rental supercar, YouTube | Royalty Exotic Cars
The way the client tells it in Royalty's recovery vlog, they were driving under 45 mph around 9:30 p.m. when they spotted a rock in the road. They couldn't avoid hitting it and rode up on the median, sustaining significant damage and forcing them to park the car off a side road.
When Royalty's crew arrived at the car, however, they began to doubt the client's story. They immediately spotted damage to the front splitter, the driver-side door airbag was deployed, and both the wheels on the left side were broken. Investigating the area turned up long scuffs on the median of the nearby road, where the tires and wheels rubbed on the concrete hundreds of feet apart. Worryingly, there was also a large piece of fender liner at the first scruff, suggesting a serious impact.
Once the Ferrari was back in the shop, a Royalty technician put the mid-engined car on a lift (properly) and discovered scraping on the underbody and significant damage inside the wheel well. Not only was the fender liner mostly gone, but there was evidence of the tire rubbing directly on the frame, as the suspension had been broken in the impact. Worst of all, the suspension's mounting point had cracked off, leading the tech to declare the car totaled on the spot.
Agencies such as Royalty have insurance that covers incidents like these, but they're still headaches that mean lost revenue from future bookings. As inconvenient as this debacle will be for the rental agency, though, its client will have a far more unpleasant conversation with their own insurance company.
Update: June 15, 5:20 p.m. ET: This article has been corrected to remove a reference to a carbon monocoque, which the F8 Tributo does not have; it is based on an aluminum spaceframe. We apologize for the error.
Got a tip or question for the author? You can reach them here: [email protected]