This FD RX-7 hilariously lived up to the rotary tropes and created a bunch of smoke when it fired up.
Car: FD Mazda RX-7
Location: Sevenstock 2018, Auto Club Speedway, Fontana, CA
Photog: Peter Nelson (IG + Twitter: @16vPete)
Camera: Canon EOS 1N, EF 50mm 1.8 AF, Kodak Portra 400
The thing about rotaries is that they will be awfully hard to justify in the future with ever-tightening emission standards. If Mazda (because who else would dare?) has any inclination to run them in a production vehicle again, the engineering to get the stamp of approval from the EPA will be quite, quite extensive. This is one of the reasons why they killed the RX-8, one of the greatest sports cars ever made. The reason for this is that they're just too efficient.
That's right! The rotary engine sucks in, compresses, and burns so much air and fuel for its size, that it unfortunately pushes out a ton of emissions in the process, especially considering part of its function is to burn oil as well. That's just the way it has to be to ensure its apex, corner and side seals stay adequately lubricated. That's what's happening in this photo. I assume it's two-stroke oil that's being burned, which is intended to be burned, but still, it'll create a lot of smoke if there's no catalytic converter in place.
Alright, I might be a little optimistic in saying they're too efficient. The RX-8 makes around 220 horsepower from its naturally aspirated 1.3-liter engine, but it averages no more than 22-or-so miles per gallon on the highway. I guess it depends on your own interpretation of efficient.
Here's another angle on this glorious body-kitted beast. By the way, Sevenstock was cancelled for 2021, which is a total bummer.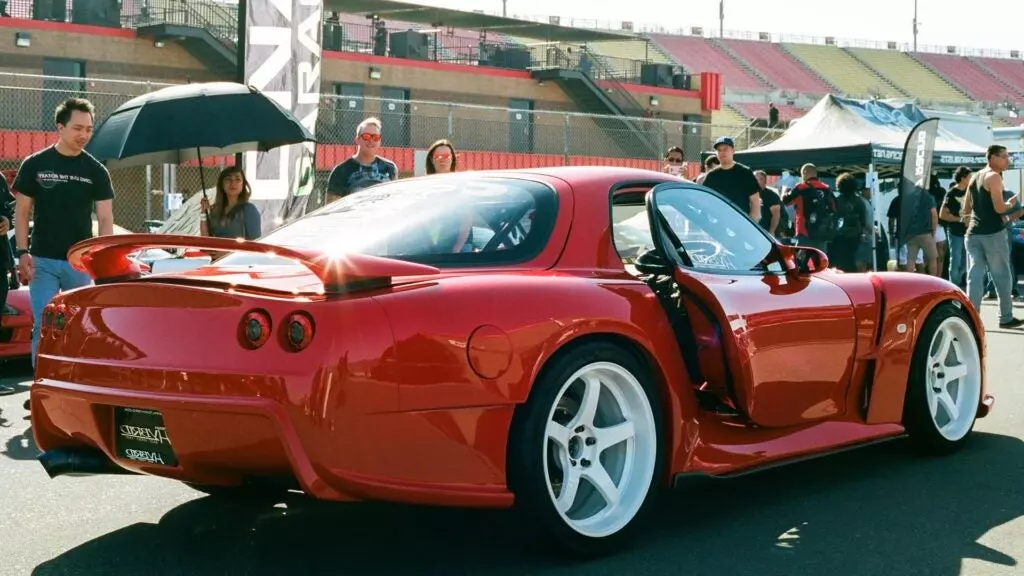 More great stories on Car Autance