Off-road truck technology has progressed quite a bit throughout the past 24 years. Certain features are essentially the same as they've always been, but they now feature the integration of modern traction control, electronic transfer cases, and four-wheel independent suspension. Nowhere is this more apparent than examining how Land Rover's lineup has changed during this timespan, which marks the age difference between my 1997 Land Rover Discovery and the new 2021 Land Rover Defender 90. I'm comparing the two because they're both fun off-roaders, and the 90 is for all intents and purposes the next generation of my Discovery's platform-mate in the U.S., the NAS Defender. After all, a Discovery 1 is essentially a re-bodied, slightly more comfy NAS Defender 90 with two more doors. They share the same engine, drivetrain, suspension, steering, etc.
For this comparison, I'm referencing the Defender First Edition with the Coventry brand's P400 powertrain, a powerful, supercharged and turbocharged 3.0-liter inline-six. This powerplant is by far one of the biggest upgrades between the two. Elsewhere, night-and-day differences continue on throughout the new Defender 90's suspension, off-road traction control tech, design, comfort, and amenities.
Despite the differences, some things weirdly feel the same as they are in my old body-on-frame Disco. When it comes to size, curb weight, driving position, and more, there's actually some familiarity. I recently had a week with the 2021 Defender 90, including a fun day of off-roading at my new home-away-from-home, Hungry Valley OHV Park. Here's why I genuinely enjoyed my time with the new 90, and why I'm not crazy when I say I found some similarities between it and my own Disco.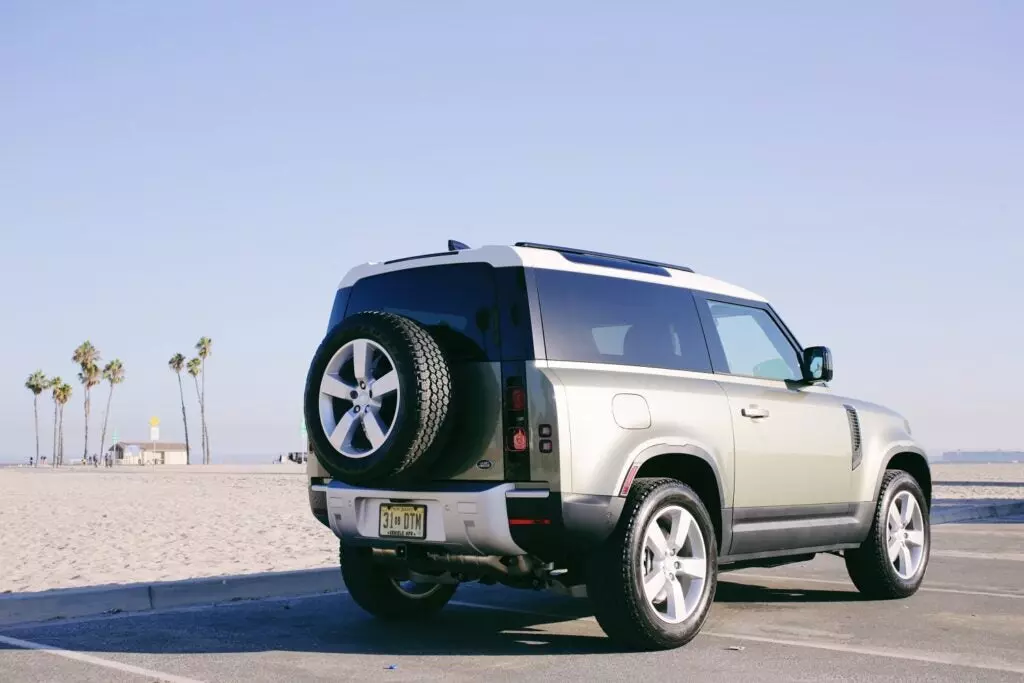 They Both Excel as City Street Runabouts
One of the things that made me instantly fall in love with my Discovery 1 is that it makes for an excellent city street runabout. It's narrow, has a very short 100-mm wheelbase, excellent visibility, an upright driving position with a commanding view of the road, and it gets up to city pace in a reasonable amount of time. Though, getting to any speed past 40 mph is painful.
The new Defender 90 is very similar, except with a few noticeable upgrades. Although it's a bit bulkier and wider than my old Disco, it mirrors its ancestor with basically everything else. But the 90's turbo-and-supercharged inline-six absolutely rips, as opposed to the 184-horsepower output of my Disco's agricultural-feeling naturally aspirated 4.0-liter V8. Especially after 189,000 miles. The 90 might weigh in at around 4,800 pounds (nearly 400 more than the Disco), but 395 horsepower and 406 pound-feet of torque more than make up for this.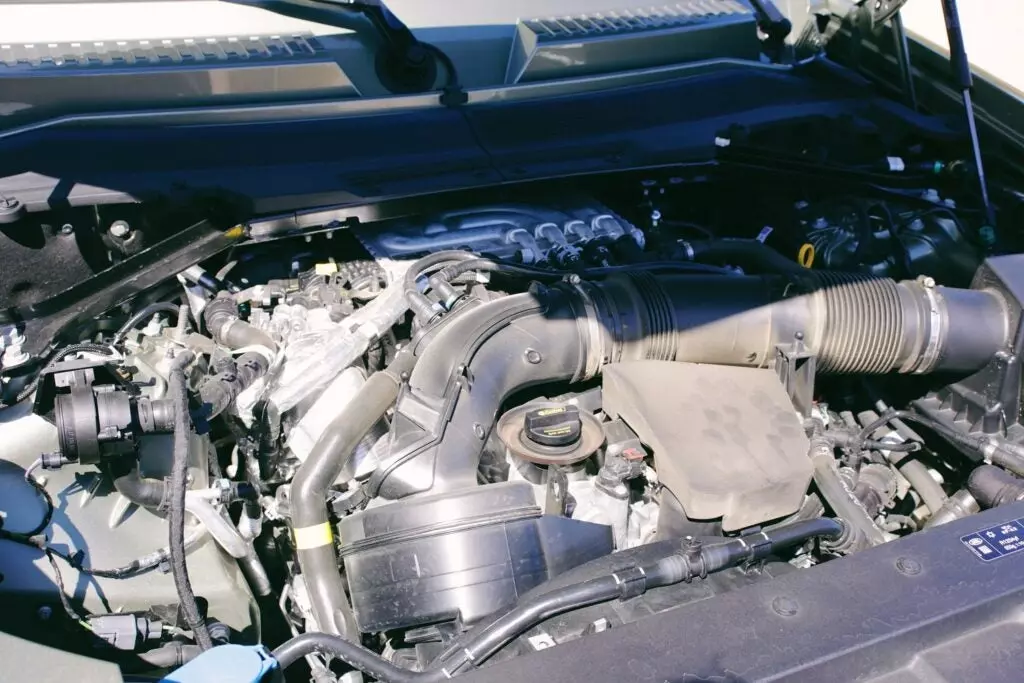 The Defender 90's turning radius is also an immense improvement over my old Disco's. There's some obvious engineering progression under the 90's hood, such as electric power steering that's mounted up to a modern independent suspension design that allows for lots of steering angle. The Disco, on the other hand, has a hydraulic system that hasn't changed much at all since its forefathers of the '70s. It's hooked up to a tractor-looking front suspension and steering and utilizes a straight axle, radius arms, and steering rods. The only real modern part is its coil spring design. At least there's some similarity in their respective drivetrains: both the 90 and the Disco have full-time four-wheel drive.
The Defender 90's turning radius measures in at 18.5 feet. Its 101.9-inch wheelbase (the numbers no longer match like they used to) is short for a truck by modern standards and gets the job done well. The Discovery 1's turning radius isn't too atrocious at 19.7 feet, and it actually has a shorter wheelbase at just 100 inches. But the difference feels immense behind the wheel.
Stacking these specs up against other automakers' modern 2-door fare, the 2-door Jeep Wrangler sports as little as a 17.25-foot turning radius, and the 2-door Bronco Outer Banks hits its mark at 17.8 feet. These are a bit shorter, but still, the 90 is downright excellent at U-turns and slicing through tight parking lots. This doubles as an off-road convenience, too, as three-point turns and maneuvering in tight quarters are done with ease.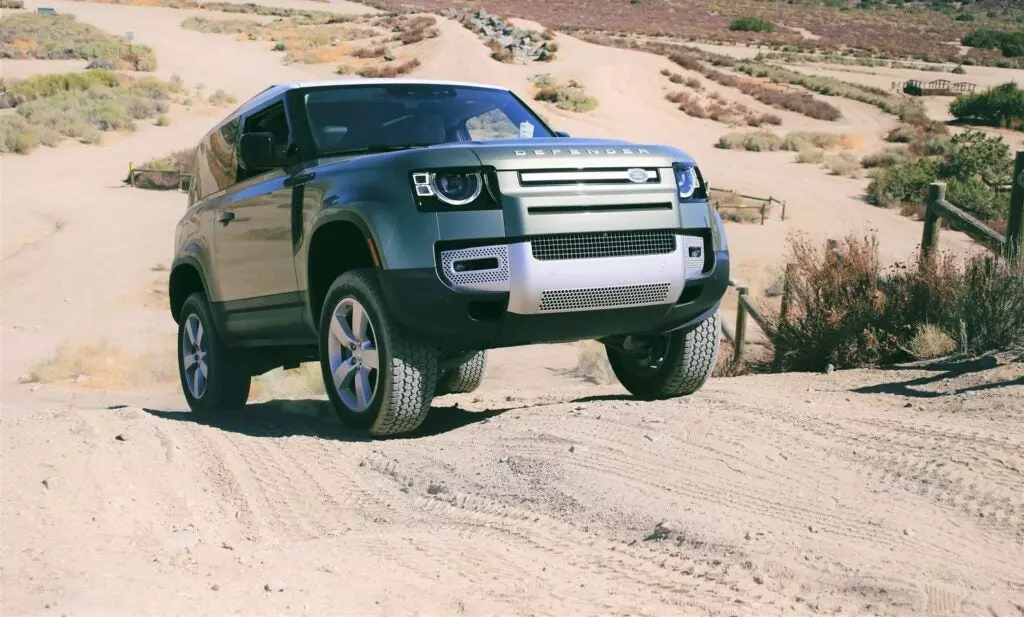 Off the Beaten Path
Both the new Defender 90 and my old Discovery 1 are brilliant on off-road trails, just in their own particular ways. As old-school analogue as the Discovery is in its off-road prowess, the Defender is equally new-school. This is sort of an instance of different strokes for different folks, but I think anyone who enjoys off-roading can equally appreciate both.
Instead of relying heavily on transmission gearing to ascend and descend steep grades like the Discovery does, the Defender 90 relies on Land Rover's Terrain Response 2 traction control system to alter throttle, the anti-lock braking system (ABS), and its differentials to remove any guesswork. Like my experience behind the wheel of a new Range Rover, I put the Defender in the Grass/Gravel/Snow setting and easily drove along through varying degrees of deep sand and gravel without issue. Then for climbs, my settings were four-wheel low with a locked rear differential all the way up. The 90 exhibited no drama whatsoever, and any potential slippage was immediately remedied by Terrain Response 2. Steep climbs with some gnarly ruts were total cakewalks and made for boring photos.
Descending was also quite easy with the 90's Hill Descent Control enabled, which is essentially hill descent cruise control. Again, no drama, just the ECU figuring everything out, deciding which brake to grasp harder and when, which wheel to reduce sending power to, and so on.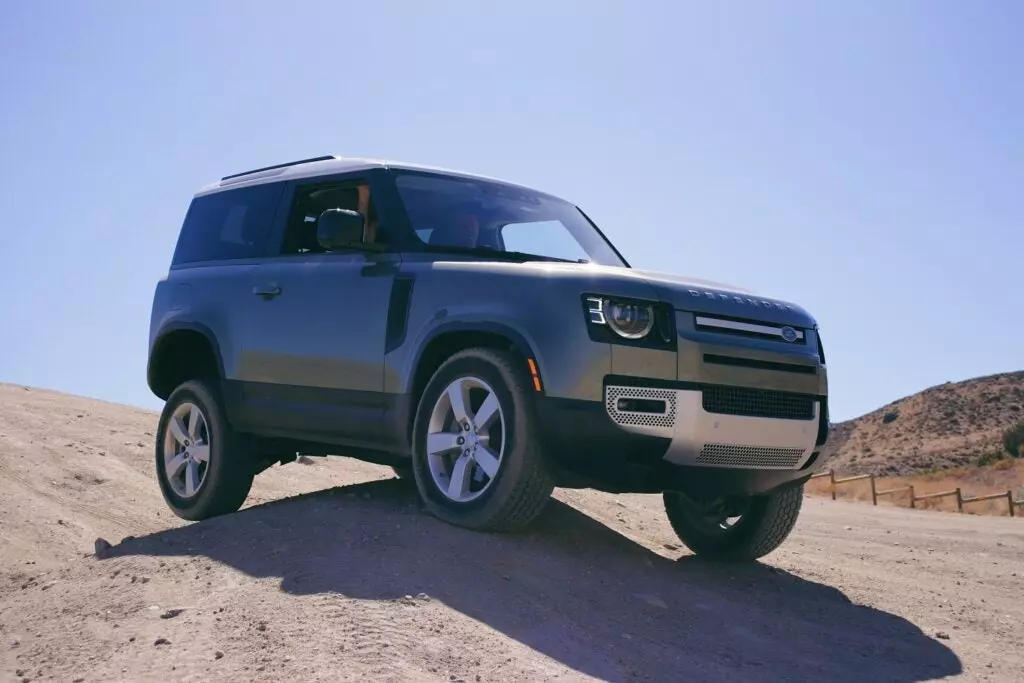 On the other hand, the Discovery has no traction control system to speak of, just honest-to-goodness low gearing and a center-locking differential. Steady throttle and a sharp eye make climbing generally pretty easy, though you have to be prepared to give it the beans for any impending bumps.
On the way back down, the Disco traversed steep hills with great ease. Shifting down to first gear while still in four-wheel low, keeping your foot off the gas, and letting the transmission's resistance control your speed is very confidence-inspiring and easy. Depending on changes in pitch, some light feathering of the brakes might be required, and especially steep stuff on loose surfaces requires a bit of finesse with the left pedal, but again, nothing tricky.
As far as clearance goes, the Defender 90 is light years ahead of the Disco due to having four-wheel independent suspension bolted up to a nice and tidy unibody with air suspension, whereas the Disco has twin live axles and coil spring suspension. When fully aired up, the Defender's angles are impressive: 11.5 inches of ground clearance, a 38-degree approach angle, 40-degree departure angle, and 31 degrees of breakover. By comparison, the Discovery's angles are 31 degrees, 25 degrees, and 27 degrees, respectively, with 11 inches of maximum ground clearance below the driver's seat.
The Disco excels in this department for its era, but the Defender is clearly better. Regardless, while wheeling it a few weeks back, I was amazed at how comfortable my old, coil-sprung Disco was over washboard surfaces, as well as at impacting various bumps and small holes. It soaked up everything quite well, to the point that one friend remarked that he could see someone confusing it for having air suspension. Kind of like the new Defender 90's.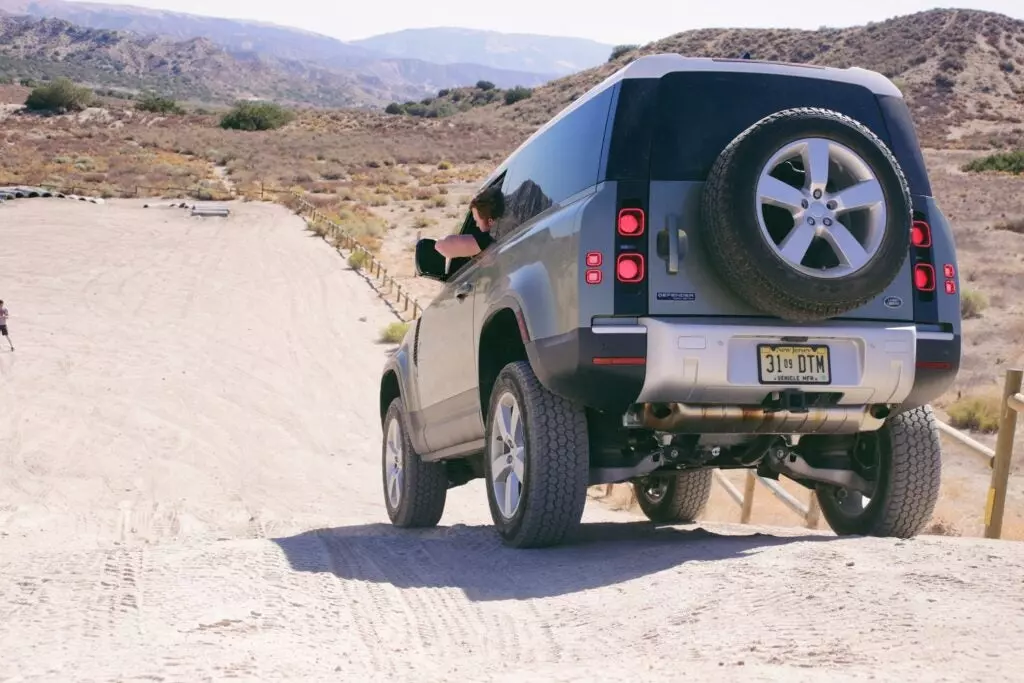 Back to Paved Surfaces
The Defender 90 is more comfortable over all surfaces thanks to its air suspension, both on- and off-road. It also possesses a very stiff aluminum unibody that Land Rover says is three-times stiffer than a traditional body-on-frame design, which helps cut down body roll and makes it feel well-connected to the road. Weirdly, when fully aired-up, the ride sort of mimics that of a body-on-frame setup with a certain jiggliness that can't be fully ironed out, and I dig this. It reminds you that no matter how smooth and quiet the ride is, the Defender 90 is still engineered to take on the rough stuff.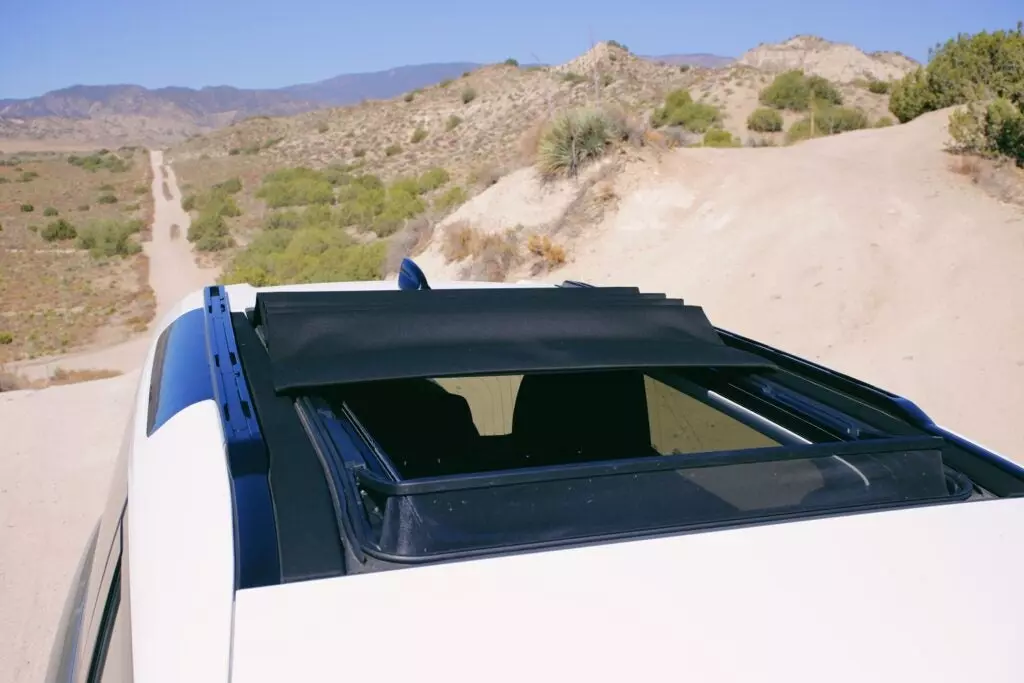 Behind the wheel, both truck interiors are excellent for their respective periods. The Discovery has some wind noise at speed, but it's otherwise quite roomy, doesn't really have any road noise, and rides well over bumps and undulations. Its steering is quite vague, but it has some nice weight and resistance ever since I recently replaced its damper. Before, it was much more tractor-like.
On the other hand, the Defender 90 is next-level serene inside. Its interior is also very airy and spacious and exhibits barely any road or wind noise at all. My tester had a retractable canvas top, but it still kept noise at bay. Material quality is top notch, and most surfaces inside have a certain sturdiness and tough feel to them. I can't exactly say the same about the Disco. A slight downside to the 90 was its massive doors which were occasionally tough to open in tight quarters. Though, their heft almost certainly contributed to the truck feeling sturdy and well-insulated overall.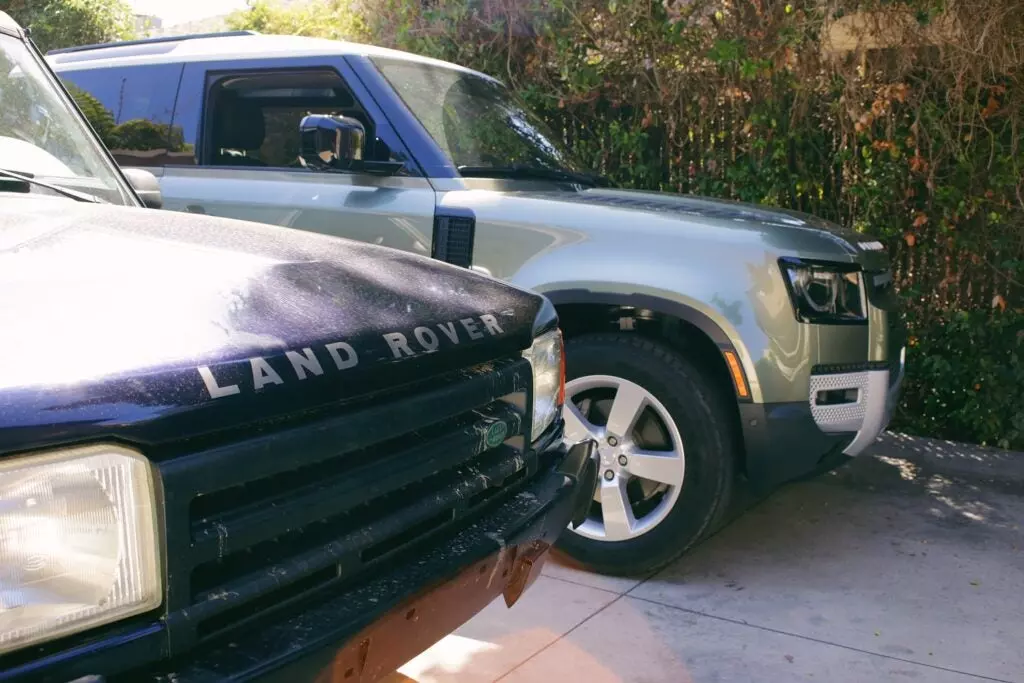 A Fun Comparison
It was quite an experience rolling around in the 2021 Land Rover Defender 90, comparing and contrasting it with my 24-year-old Land Rover Discovery 1. The center of the Venn Diagram between the two was larger than I thought it'd be. Adding Terrain Response 2 into a tried-and-true suite of analogue off-road technology gave the modern, unibody truck a very relaxing, no-nonsense off-roading experience. Though, there are certainly some areas where the Defender would be lacking, such as high-articulation-type scenarios that the Discovery would easily excel at with just a mild lift. But then, finding as much grip as possible while climbing up steep grades is a walk in the park for the Defender, which takes a bit more skill in the Discovery.
Despite being years of substantial technology apart, and possessing wildly different chassis, the progression of tech is quite clear and a testament to the brand continuing to offer trucks that surprise and impress in most areas. Now, if only they could shake the negative connotations that some consumers have about reliability.
More great stories on Car Autance