There's a great schism within the Car Autance writer's room, dear reader. On one side, my colleague Chris Rosales and I are quite keen on the new Ford Bronco Sport. On the other, my colleague Kevin Williams finds it to be very meh. Our fearless leader Andrew Collins is off to the side, most likely rolling his eyes at the length of our heated discussions about it. Honestly, after a little wheeling in the thing on some SoCal off-road trails, I think it's a damn decent little SUV.
The reason for Kevin's opinion: the Bronco Sport is built on the Ford C2 platform, which it shares with such Ford fare as the Escape. Since it shares its chassis with a generally meh-looking crossover, how great and fun could it actually be? Fair play, but the Bronco Sport's hype seems legit!
The new 2021 Ford Bronco Sport, a.k.a. the diet Bronco, features fun styling and very on-the-nose marketing towards adventure-inclined consumers. Especially those of the Millennial and Gen-Z variety. It can be equipped with a lot of cool outdoorsy options and trim packages from the factory, as well as some engineering that points to solid off-road potential. Especially underneath the Ford Bronco Sport Badlands.
Recently, I had a 2021 Rapid Red Metallic Ford Bronco Sport Badlands loaner car for an entire week. I wanted to know what it was like in general, but most importantly I wanted to find out how capable it really was off-road. One morning that weekend I picked up my colleague Chris Rosales, and we set out to see what it was like sans tarmac. Not to necessarily disprove Kevin, but more to see if it indeed had the substantial chops we hoped it did. We weren't disappointed.
The Beauty of Southern California, and What Makes the Bronco Sport Special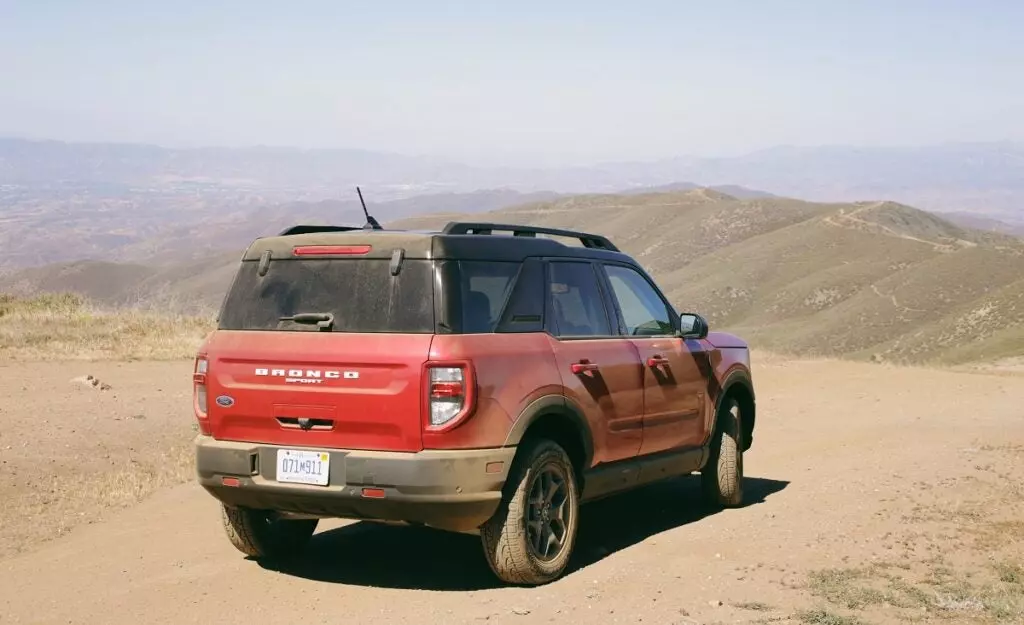 Chris lives in the desert, essentially down the road from some of SoCal's best off-roading trails: Rowher Flats OHV Area. Rowher is within the jurisdiction of Angeles National Forest and offers miles and miles of fun trails. Chill, winding gravel roads, to brutally technical and steep, rocky climbs; Rowher has it all. We decided to hit a little bit of both, but nothing too extreme. Sure enough though, we nearly bit off more than the Bronco Sport could chew.
We kept to the backside of Rowher that faced East, as it's usually less inhabited by other off-roaders, and offered a good variety of unibody-rig-approved paths. The dirt fire road we drove up was a nice, easy-going intro; we switched the Bronco Sport's Terrain Management System "G.O.A.T. Mode" to Sand, and the Bronco drove up without any issue. No fuss from the traction control, plenty of power from its torquey 2.0-liter EcoBoost engine, the tires rode well, and there was never any risk of the body making contact with any rocks, ledges, break-over, and more.
Ford's aforementioned system (I'm not typing all that out again) is sort of like Land Rover's Terrain Response II system that I tested a few weeks prior in the 2021 Land Rover Range Rover HSE P400 Westminster Edition (Jesus that's a long name too). It adjusts traction control, throttle input, and the differential to create an ideal mode for however the deck is laid out ahead. It also has Terrain in its name! Most crucially though, G.O.A.T. stands for Goes Over Any Type Of Terrain… wait, wouldn't that be G.O.A.T.O.T.? And, damn, this Ford tricked me into typing that out after all. Regardless, there are a whopping seven modes: Sand, Slippery, Sport, Eco, Normal, Mud/Ruts, and Rock Crawl.
Between Sand and Mud/Ruts, we were well-covered for the majority of what we were rolling over heading up the mountain. But it was time to up the ante.
Turning the G.O.A.T. Dial to Eleven (Well, Actually Seven)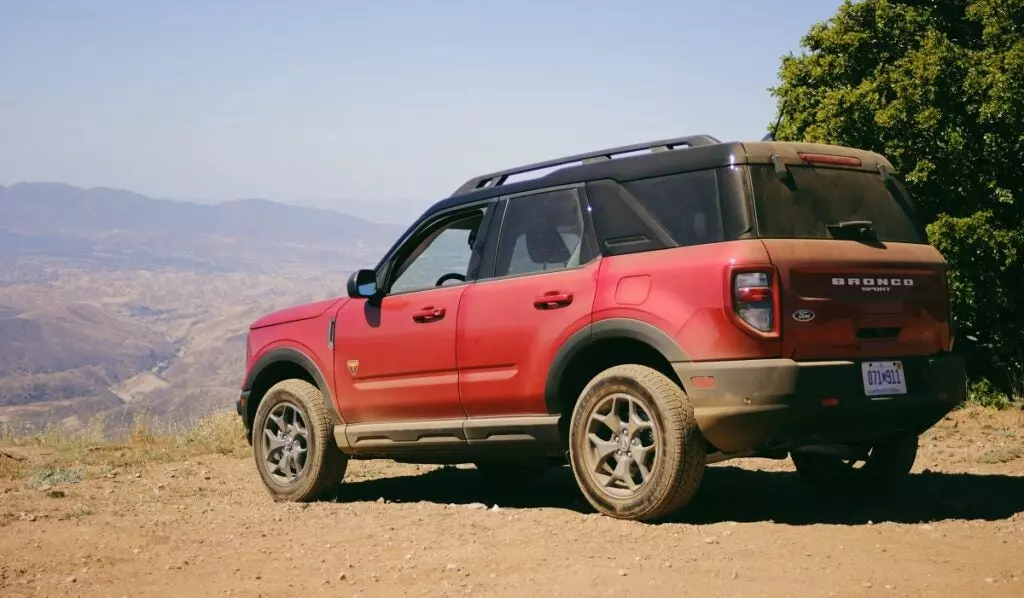 Chris noted that we could continue on the easy, gravel path to the top of the mountain, or go up the middle section where shit got more real. The middle section was at least a double black diamond, but not tremendously gnarly. I'd seen footage of the Badlands on much more menacing trails, and we had a Rock Crawl G.O.A.T. mode at our disposal; how hard could it be?
Well, we didn't necessarily bite off more than we could chew, but it got a tad hairy at moments. Though in Rock Crawl mode and little more courage in my right-foot inputs, it climbed up some scary little grades quite easily. This is due to locking the rear differential, and using intuitive traction control on the front to scramble as effectively as possible.
We didn't high-side or scrape anything. The little steed's approach, breakover, and departure angles, as well as ground clearance, were are 33 degrees, 30.4 degrees, 20.5 and 8.8 inches, respectively. Any quick little dip didn't bash the lower part of the front bumper, and we didn't rip any drivetrain components off. Did I mention that we were impressed?
The EcoBoost's 277 pound-feet of torque gave the drivetrain plenty of shove to power over everything we threw at it, never did it feel like it was bogged down, ready to throw in the towel, and make for an awkward and sketchy reverse.
We eventually reached the peak on the backside of Rowher Flats, ready to give the little Bronco a sturdy pat on the roof and let it cool down. Much to the potential chagrin of more serious, kitted-out rigs who'd climbed up the crest shortly before us, this was a unibody, Escape-chassis'd compact SUV. Not a lifted 4Runner that had every bit of the 4WheelParts.com catalog strapped to its roof rack. I can only imagine they were impressed that we made it.
Nice Design Elsewhere Adds to Its Sturdy Appeal
Throughout the entire Bronco Sport Badlands were some intuitive features. The most noticeable and appreciated was its thick, rubbery interior surface underneath the floor mats. This would make cleaning it out after some substantial, lengthy trail work a breeze, as it wouldn't require time-consuming carpet scrubbing; it could literally get wiped down with a damp rag and be good as new. This might not be to the degree of that old Land Rover adage of being able to hose it out, but it's pretty darn close.
The back hatch had lots of cargo room, 32.5 cubic feet to be exact. Easy-to-drop rear seats expanded it even further, to the tune of a substantial 65 cubic feet. Hauling gear of all sorts would be no issue at all. Further back in the cargo area, LED lights were situated on the back hatch for added illumination while setting up camp, and various cubbies would make sorting different kinds of gear and tools quite easy.
A Solid Little Unibody 'Truck'
Overall, I really enjoyed my time with the 2021 Ford Bronco Sport Badlands. It was powerful, quite capable, comfortable, and a good-looking rig to boot. It walked the walk and talked the talk. I haven't had a go in the full-size, even-more-off-road-focused Bronco, but man, if it's as good as reviewers are saying, I'm absolutely fiending to get behind the wheel. Especially in a stick-shift example!