As I spiral deeper and deeper into the dark abyss of old-school Land Rover enthusiasm, I can't help but continually comb YouTube and the Greater Internet for content to keep this enthusiasm satisfied. I've had a lot of fun and success with my very own 1997 Discovery, so my inclination for all-things four-wheel drive and sporting an ancient, Buick-sourced V8 is at an all-time high.
Recently, I posted about how I came across some late '90s Landy gold covering La Ruta Maya. More recently, I found this gem: The Great Divide Expedition: A Range Rover Odyssey Through Colorado. This video was posted by a YouTube channel simply called "Land Rover" though it does not appear to be an official platform of the Coventry brand.
Taking place in 1990, it was an expedition of over 1,000 miles, set up by Range Rover to promote its iconic truck, and was attended by a gaggle of automotive journalists spread out across eight or so vehicles. There's some significance to the cast our characters, more on that later.
Back then Range Rover was simply Range Rover here, as the NAS Defender didn't appear until 1993. The first-gen, Range Rover Classic was the only model available to us.
Range Rover/Land Rover has a history of making some really cool promotional content in-house, such as this lengthy Camel Trophy review, and the aforementioned La Ruta Maya Disco 1 saga. All of which actually do a really good job explaining why their cars lived up to the adventurousness promised in advertisements.
The Range Rover Classic Was a Beast in Stock Form
The film is a testament to how capable this old, slightly-upgraded tractor was back in the day. And it still is, in fact, I've written about its offspring being insanely capable, too. Just look at them lumbering along; it looks like they're sporting upgraded tires, and have roof racks for extra cargo room. But besides that, they look to be totally stock.
The route follows part of the United States' Continental Divide, sticks to designated, vehicle-ready trails and routes, and works out to 1,128 miles. Yikes. All this over the course of 12 days, too. Stronger Yikes. It stretches across the entire state of Colorado, cutting it hamburger-style, and 75% of it is on unpaved roads.
The part of the film when they're descending a pretty harrowing grade is quite a spectacle, as well as when they're crawling up a rocky ascent. This gave me a slight cold sweat as I thought of my own experience in a rock garden behind the wheel of a new Range Rover.
I thought it was also a little ironic/funny that they all have "Tread Lightly" integrated into their cool-as-heck liveries — these things come out to something like 4,400 pounds from the factory! I know, I know, it's an ad campaign that the US Forest Service has been doing for ages, and means stick to designated trails and roads. Amen.
Some Big Names in Automotive Journalism Took Part
There are some big names in automotive journalism present, as one commenter on the YouTube video shares. They're certainly right: one name that sticks out, as well as has some screen time is the legendary David E. Davis Jr. (RIP).
Davis' career spanned over 50 years, including as Editor-In-Chief of Car and Driver, starting Automobile (RIP), as well as my starting my alma mater, Winding Road. I think it's him narrating this film? Between himself and several others, there are more Michigander accents present than you can shake a bottle of Vernors Ginger Ale at.
There aren't just Yanks present, either — a good amount of attendees are British and Australian. One British journalist commented that it was such a gorgeous part of the United States, and it's unfortunate that most international visitors will probably never see it. He's right, and I agree. Also, when COVID clears up, go visit Colorado to relieve some of the congestion on SoCal freeways.
Reading through the names has certainly inspired me to brush up a bit on my '80s and 90s automotive journalism in the name of professional development.
But anyway, it's a great little film! Stunning footage, cool mining history, some stories about boom-bust ghost towns, and old Range Rovers crawling over absolutely everything in front of them. Expeditions like this are the stuff of daydreams, and also inspiration for me to wheel my Land Rover Discovery I as soon as possible.
The Trip's Still Celebrated
Land Rover revisited this adventure in 2014, running a similar route in then-new Range Rovers with a Classic in the mix as a mascot. Car and Driver, along with some other publications, once again punted a fleet of Rovers across some amazing pieces of the American west. The 2014 crew was probably a lot more comfortable than their predecessors, though.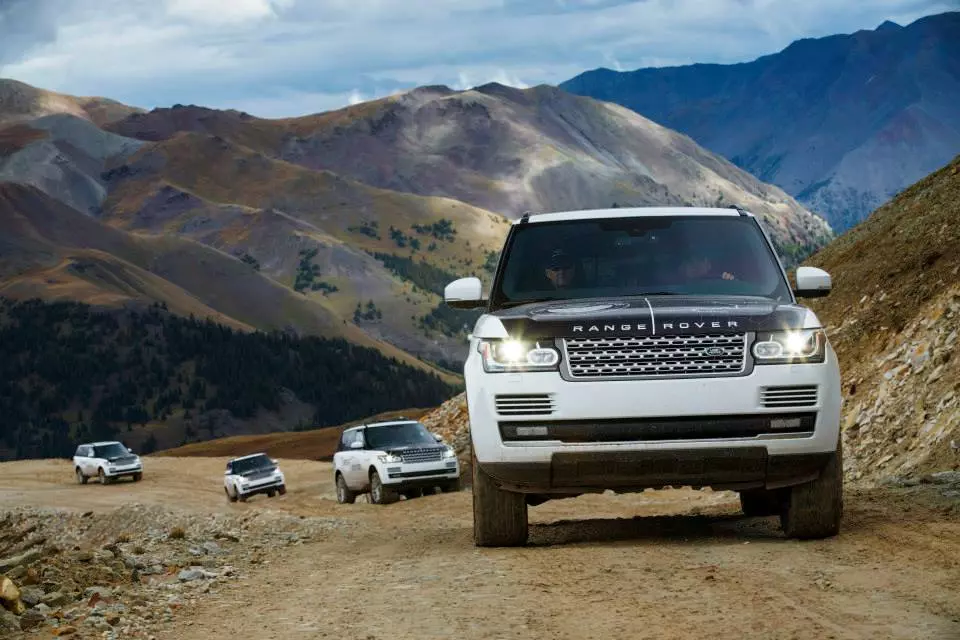 As before, the vehicles were pretty much stock. In fact, Land Rover bumped this adventure on its media site again this week as the company's auctioning off an old Rangie done up in Great Divide livery as a replica tribute. Looks amazing!