Confirming what we suspected, Volkswagen introduced a pickup truck concept based on the Atlas SUV at the New York International Auto Show on Wednesday.
The Atlas Tanoak is named for a tree native to the west coast of the U.S. and reflects the all-American market and manufacturing for this truck. It shares VW's MQB platform with the Atlas and numerous other models, as well as its 276-horsepower V6 engine, eight-speed automatic transmission, and 4Motion all-wheel drive.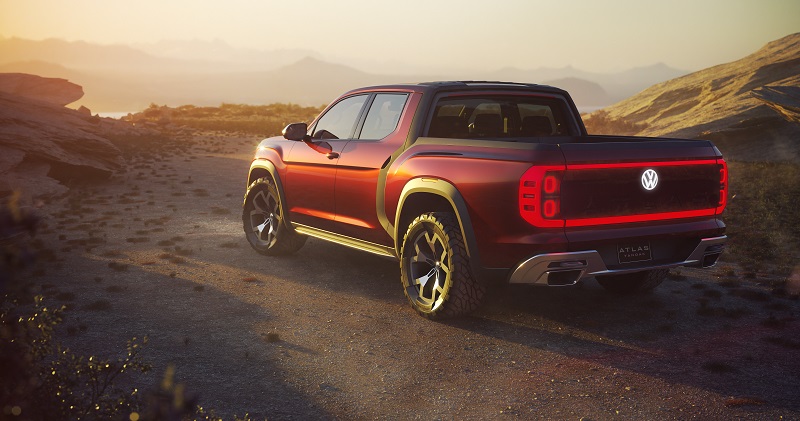 Volkswagen
The front half of the exterior resembles the Atlas in many ways, but from the B-pillar back they are very different vehicles. The Tanoak may look like an extended-cab pickup, but it's really a quad cab, with the back door handles hidden away. It's 11 inches longer than the seven-passenger Atlas SUV and rides two inches higher off the ground. Behind the spacious five-passenger interior, the bed is 64 inches long and 57 inches wide. The bed also features a unique rail that can slide anywhere along the top of the bed, helping to transport long items like ladders and kayaks.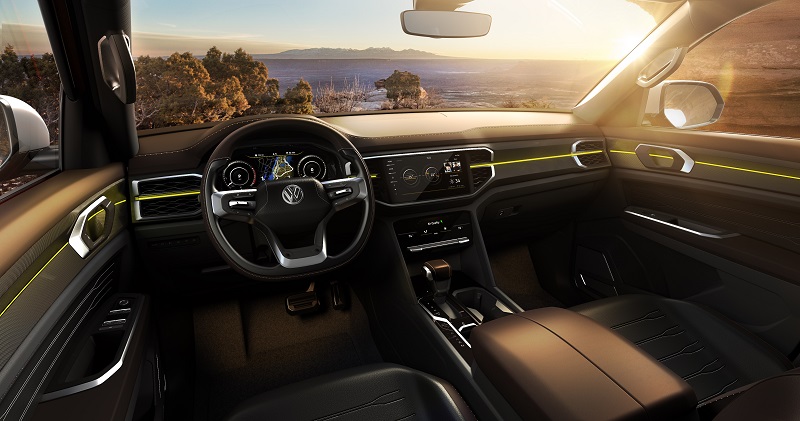 Volkswagen
The interior is also based on the Atlas but highly digitized in this concept truck. The gauge cluster and climate controls are digital screens rather than analog controls. This is somewhat in contrast to the gearshift controls, which VW says were designed to be operated while wearing work gloves. Being a concept, it's unlikely that all of these features would make it into a production version.
Speaking of a production version, don't get your hopes up. VW has made it clear that there are no productions plans for the Tanoak. Instead, it was designed to gauge the reaction of Americans to a VW pickup truck. Being a unibody truck like the Honda Ridgeline, it may be subject to the same criticisms of not being a "real" truck, lacking body-on-frame construction and true four-wheel drive with low range for serious off-road use. 
But the Tanoak seems designed to match how owners actually use their trucks in the real world, which does not include these perceived needs. Indeed, my Jetta Smyth Performance Ute conversion meets all of our household pickup truck needs just fine while still providing all of the comfort and performance of a car. Since today's new car market prefers SUVs, it makes perfect sense for VW to base such a vehicle on the Atlas to satisfy our uniquely American wants and needs, rather than convert its Amarok pickup currently available elsewhere in the world.