Do you ever look back on the cars you've owned and thought something along the lines of, "I should've taken better care of that one." Or, maybe it was a fixer-upper, so you reflect, "I should've put more time and money into making it what I wanted it to be." I imagine a lot of enthusiasts have at least one car from the past that fits into one or both of these categories.
My offering comes from summer 2009 until summer 2014, when I was the owner of a clean silver 2003 Mazda Protege ES with low mileage. For those who aren't well-versed in Zoom Zoom engineering of the early-to-mid-aughts, the Protege was Mazda's proud Honda Civic-fighting compact. It came in a myriad of trims, some of which were ultra-base, even for the era. I'm talkin' a slow-as-hell 1.6-liter four-cylinder, a manual transmission, power nothing, steel wheels, and not much else. 
My ES, on the other hand, was one trim level below the iconic Mazdaspeed Protege. It shared the same mildly enthusiastic chassis tweaks as the Protege5, known as the Pro-5 among connoisseurs, which was the wagon variant.
Mine came with the thick-block (seriously, the engine looked dimensionally massive for its displacement) 2.0-liter inline-four that produced 130 horsepower and 135 pound-feet of torque. Regrettably, the way it sent this lukewarm amount of power to the front wheels was via a conventional 4-speed automatic transmission.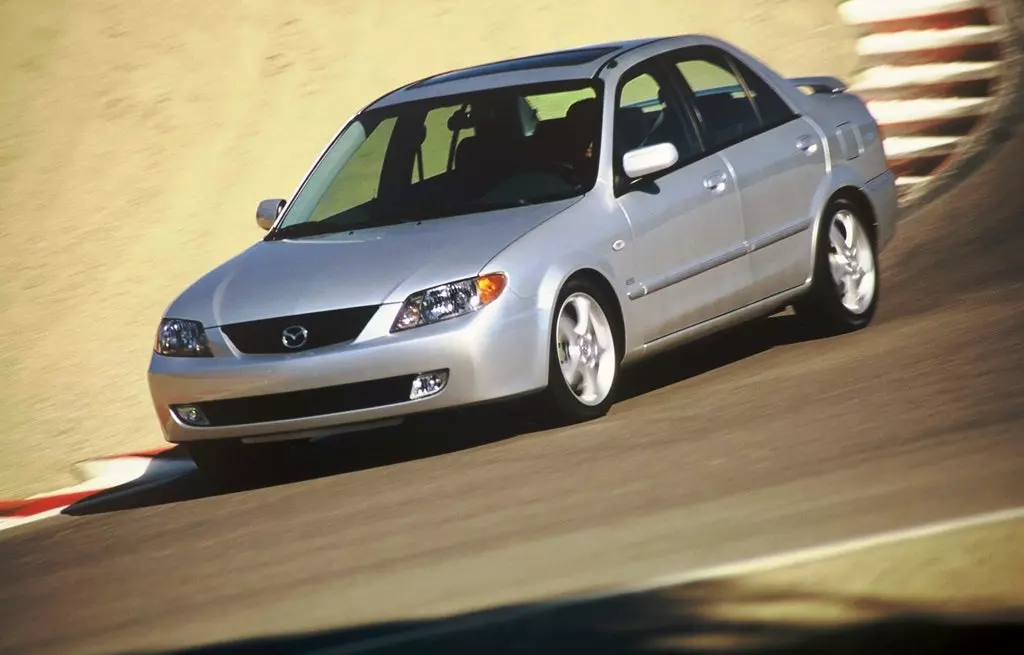 This was when conventional automatics were the opposite of good, unlike many today. And let me tell you, it put a massive damper on enjoying the rest of the car. I had bought the 'Ge in a pinch, as my 1990 VW Jetta had died and I needed something decently fun and cheap, pronto. Looking back, I wish I'd invested more in it, because it really had a lot of potential.
Namely, I should've sourced all the bits necessary to give it three pedals and a 5-speed transmission. Everything about the car was very good, with the sole exception being its transmission. Well, its performance all-season tires, too, but those were an easy swap.
I took the Protege to an autocross exactly once, and while body roll was better contained than I thought it'd be, the laggy, weirdly geared automatic left a bad taste in my mouth. I can put up with laggy shifts, but weird gearing is intolerable.
At that time in my life, I kind of put car enthusiasm on pause. I was shoulders-deep in bicycle racing, so that took up all my time, effort, and extra money. I considered swapping to Tein springs and Koni Yellow dampers at one point. But between budgeting my very modest income toward bike stuff, and the fact that the Protege would still have that dreaded automatic, I passed.
Looking back, if I had that exact same car now, you better believe things would be far different. First, I'd DIY swap the transmission. Then, I'd throw in some modest power and suspension upgrades, paint the OEM wheels back, throw better tires on, give it a track alignment, and more. That generation of the Protege had a respectable amount of potential engineered into its chassis, as the careful prep of Tri-Point Motorsports proved in World Challenge racing at the time. If I could travel back in time with the income I've got now, I'd do a lot of right by that ol' underappreciated Protege. 
Do you have a similar car in your history? Was there a vehicle you wish you were able to do more with, or you should've given more attention? Let us know in the comments below.
What to read next: