The mid-2000s was one of the best eras in modern automotive history, especially for mid-size sports sedans. Traction control wasn't too intrusive yet, curb weights were still reasonable, and engines weren't all tiny four-cylinders that are reliant on tiny turbochargers. This segment's offerings were dimensionally smaller, too, and didn't appear as bloated as they are today. I know, pedestrian and rollover safety standards have gone up quite a bit since then, but it was nice to walk into a dealership and see mid-size sedans that weren't the size of Ford Crown Victorias like they are today.
You can still find many of the best-selling options from the era, though it takes a bit of time to dig up cleaner, well-taken-care-of examples. Three cars in particular scored good marks among reviewers, as they're regarded as fun to drive, cheap to maintain, and durable. Well, at least two of the three.
Today I'm highlighting the CL9 Acura TSX, JCE10 Lexus IS300, and E46 BMW 330i. If you can find one of these diamonds in the rough for a decent price with a manual transmission and in good condition, it could be the ticket for fun and reliable daily motoring. The fact that they're practical sedans with some of the best designs since 2000 are bonuses.
The CL9 Acura TSX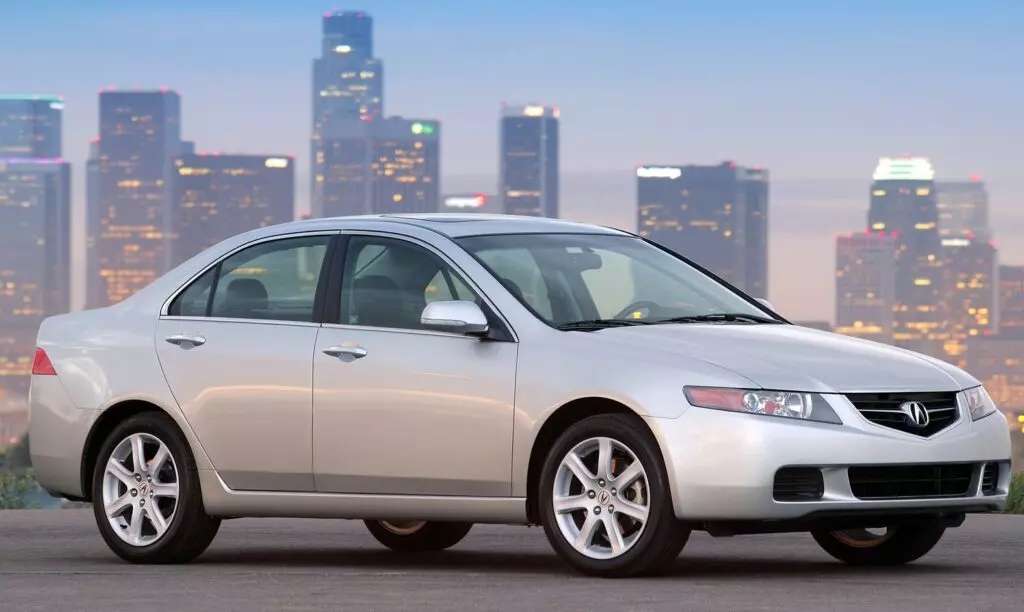 I'll never forget when I got the chance to rip an early CL9 TSX in high school. My buddy Kevin's mid-level-management dad had recently bought it, and I conveniently had just earned my driver's license. Kevin and I went driving around the western suburbs of Chicagoland one day in the low-mileage TSX, and at one point he threw me the keys and let me drive it around. I promptly floored it down a street where I most likely shouldn't have. I recall being fascinated with how high the engine smoothly revved, especially in the upper half of the tachometer.
It seems like my rudimentary, fledgling motorist impressions weren't far off from what the journalists of the time thought about the TSX. Csaba Csere summed it up for Car and Driver:
"The big, high-revving four-banger in the TSX creates a more overtly energetic ambience than the slick V-6 does in the Accord—even though the V-6 is quicker!" he said. "The TSX's chassis delivers a more athletic flavor, with greater grip than an Accord coupled to a sharper bite when you turn its steering wheel. It may share an Accord platform, but the buff and nimble TSX is very much its own car."
Growing up in a massive grid system, I never ripped that roughly 3,300-pound TSX on a twisty road, but reviews suggest it was more than fit for the occasion.
"The TSX's four-wheel independent suspension employs unequal-length control arms aided by a 25.4-mm (one inch) hollow anti-roll bar and strut-tower brace up front and a five-link independent setup with a 15-mm bar in back," Ron Kiino said in the same Car and Driver review. "Compared with the four-cylinder mass-market U.S. Accord, which has no strut-tower brace and a smaller (14.0 mm) rear bar, the TSX is tuned stiffer and exhibits less body roll."
The TSX is also well-regarded among enthusiasts. It raced in various forms of touring car racing around the world back in the day and is still a solid option for anyone looking for great track dynamics. Sure, people seeking a fun-enough daily driver might not be too concerned with this, but it helps support the TSX's inherent handling qualities. Plus, because it's a Honda product, more hardcore parts with OEM numbers can be swapped in to liven the experience, though I assume those become harder and harder to find as time moves forth. Plus, its revvy 200-horsepower 2.4-liter K24 inline-4 had a decent 166 pound-feet of torque and is known to be mod-friendly and robust.
The JCE10 Lexus IS300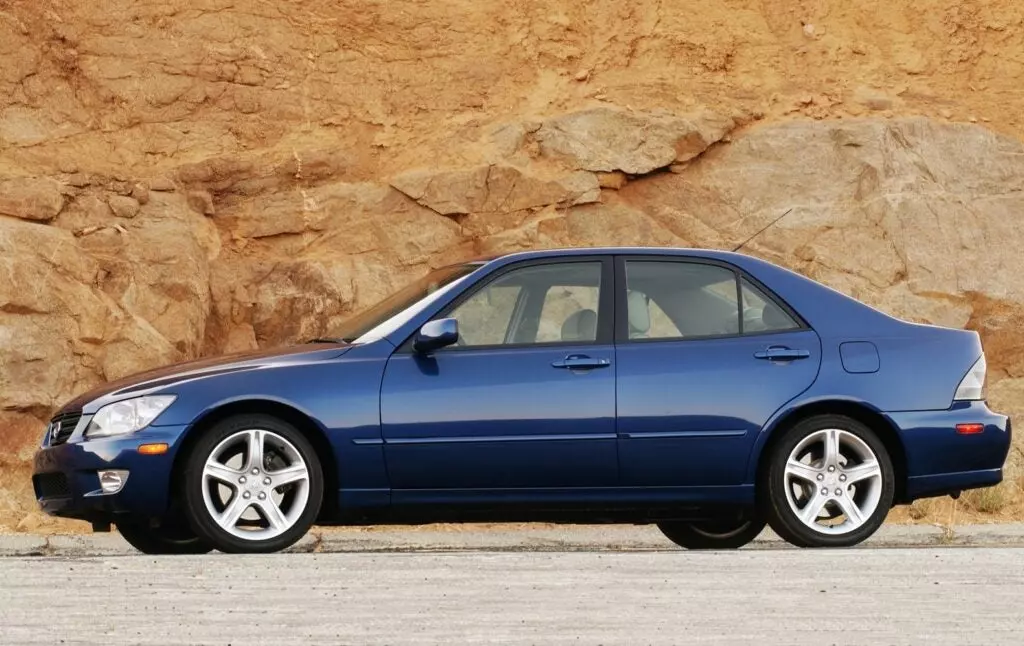 I absolutely love the look of this era's Lexus IS. The styling is from a truly bygone era, back when tight and sharp lines, short overhang, and small dimensions were the desired features in sports sedan design.
Like the TSX, the IS had, and has, some motorsports chops, so it's a no-brainer that they offer above-decent handling in stock form. I'm not alone in my love for this chassis, either, as my colleague Chris Rosales discusses it at length in our JCE10 Car Autance.
"The 2001-2005 Lexus IS300 is the first sporty, small Lexus sold globally" he said. "It's ubiquitous among young (and broke) car buyers looking for something classically styled, reliable, unbelievably well-built, and fun. Made somewhat famous by its use of the legendary non-turbo 2JZ-GE straight-six, the IS still had a soft cinnamon bun sort of character.
"Featuring one of the most solid interiors ever made (with a cool chronograph gauge cluster backlit in amber) the IS300 is still a serenading Lexus at heart. The 2JZ still revs out nicely, makes every bit of the 225 HP it's rated for, with somewhat slow hydraulic steering that feels more natural than walking.
"Backed up by a soft ride but great sporting characteristics and natural weight transfer behavior, it isn't hard to make the link between this car and chief test engineer and test driver Hiromu Naruse, known as the father of the LFA program. The chief engineer, Nobuaki Katayama, led the Corolla AE86 project. This car has serious engineering credentials, and is a great little luxury sport platform."
According to Car and Driver, the mid-aughts IS300 could do a 0-60-mph run in 7.3 seconds when equipped with the 3.0-liter 2JZ-GE. OK, that's not exactly impressive and is downright slow by today's standards. But it'll beat out any modern econobox, and combined with rear-wheel drive and an available manual transmission (which is a depressingly rare option that pulls a premium), it's generally regarded as a fun little sedan. This IS is also quintessential Lexus of the period, meaning it's one of the most robust and well-built cars ever: It most likely won't develop as many squeaks and rattles as its Acura competition as the mileage piles on. Heck, I bet it'd even stay better-screwed-together than any of its European competition.
The E46 BMW 330i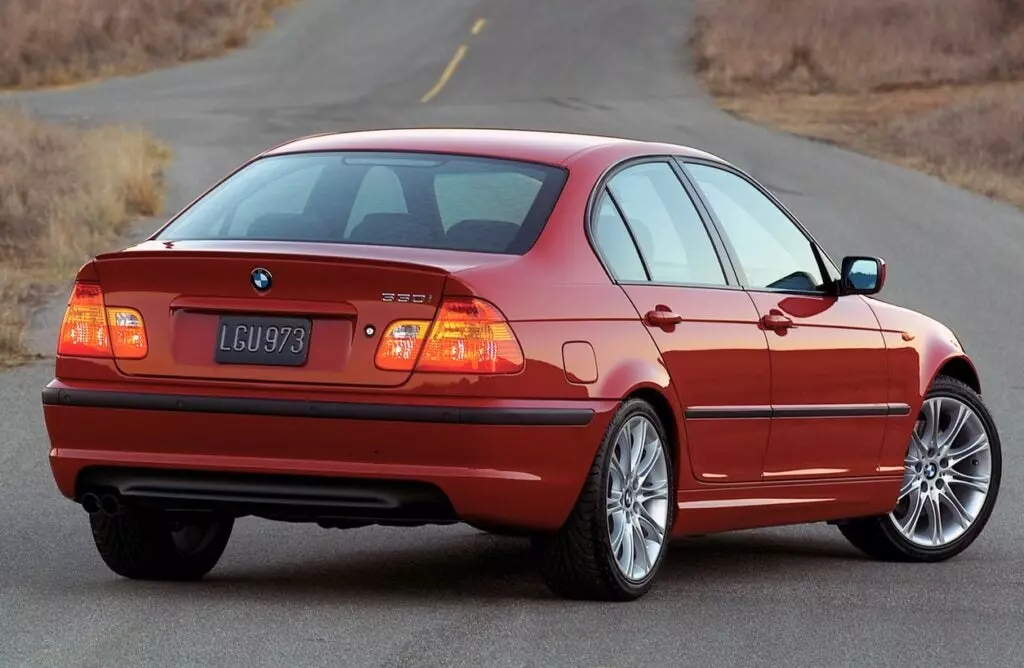 Speaking of European competition, I would be doing you a disservice if I didn't mention at least one German sedan. The BMW 3 Series is the gold standard of this segment's sporty offerings, as it's always been the king that other brands have sought to dethrone. Some brands have certainly come close, or at least taken a healthy chunk of its market share, but its reputation is well-established.
The 330i is packed full of great design, good dimensions, quality materials, and a great driving position, in addition to having a honey of an engine and an available 6-speed manual gearbox. It might have lesser MacPherson-type strut suspension up front, but it still has independent suspension out back, plus rear-wheel drive, one of few in its segment at the time. My colleague Chris spoke on this in our E46 Car Autance when discussing all trims of the non-M3 E46.
"This car represents a return to form that was lost on the E36 3 Series," he said. "Refinement, luxury, driving dynamics, and fabulous design were poured into the formula for the new 3 Series, and BMW hit a historic home run. The E46 is quoted to this day as a high-water mark for the brand and enjoyed a decently long, highly successful run in production. Even if it isn't the head honcho M3, the E46 has plenty of surprises and great trim levels for the enthusiast on something of a budget, while having the fundamentals of an excellent driving experience: optional manual gearbox and an inline-six engine on all trim levels for North America."
The 330i was a four-door variant, so lugging cargo and other humans around was a snap, just like the above-mentioned TSX and IS. Though, Bimmers have always historically been better tall-folk options, and reviewers of the time did mention that the IS felt comparatively cramped, so that ought to be a consideration for some buyers.
What's more, it seems like finding a 6-speed manual variant is much easier with the 3er than the TSX or IS. One common trait amongst all of them is that manual gearbox-equipped models pull huge premiums over their automatic counterparts. Blame the new car market for coming up short in three-pedal options, as well as the "I know what I've got" crowd juicing the stats and stickers way beyond reason.
Sure, the more coveted 330i ZHP might have hotter cams and some semblance to the much hotter M3, but it's really just a slightly better-equipped 330i, or slightly lesser 328i. Still, Dan Barnes of Super Street had very nice things to say back when they were fresh off the production line:
"On the track, with Dynamic Stability Control disabled, the BMW's handling was awesome, just like a great big Miata," Barnes wrote. "It could be throttle steered at will, and its responses were perfectly linear. Unfortunately, all the writers who have pointed out that the E46's steering has been slowed down to the detriment are correct. Also, because the 330i is intended to be the ultimate daily driving machine, it does not perform at 100 percent of its capabilities indefinitely. Three or four hard laps of Buttonwillow's full circuit would reliably cause the tires and brakes to fade, requiring the pace to be cut back considerably. I don't consider that to be a major flaw, however, as if one had bought one's BMW for track driving, one would have bought an M3."
Again, commendable track-centric traits are a good litmus test, even if it's not specced to M3 levels. If someone wants a sedan with a bit more spring in its step, then a reasonably priced, well-maintained E46 330i would be hard to beat. However, keep in mind that all BMWs, regardless of vintage, suffer a BMW/European car tax on parts and labor rate, so the more willing you are to do DIY upkeep the better.
You Can't Go Wrong With Any of These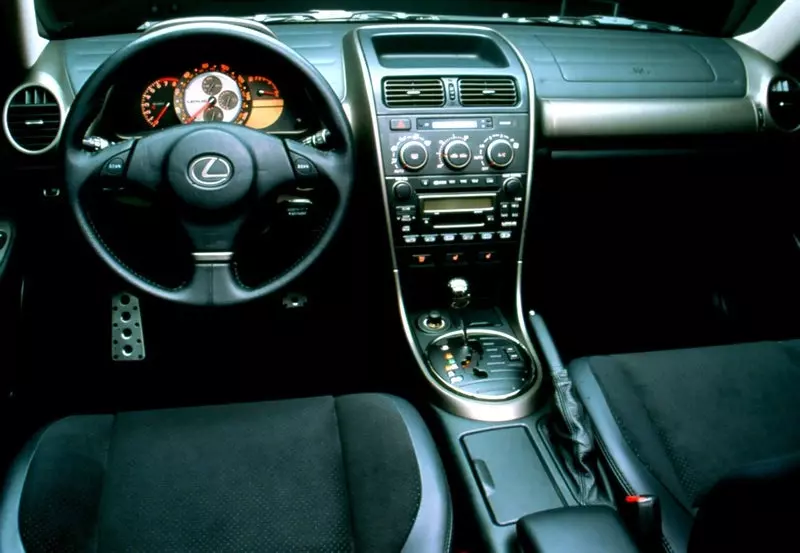 Regardless of which of these mid-aughts sports sedans you find on Facebook Marketplace or Craigslist, you really can't go wrong. All of them have enthusiast followings that help cement their futures as easy to maintain and easy to modify, all were made in massive numbers, and they're all peak examples of what automakers had to offer at the time.
It's kind of wild that both the E46 3 Series, Lexus IS300, and Acura TSX all look downright small by today's standards. Especially in the eyes of yours truly who was legally allowed to operate a vehicle on public roads starting way back in 2003.
All three cars were marketed toward middle-to-upper-middle-class consumers who, as my editor Andrew Collins put it, "had a good office job but also had a family to pay for." Nowadays, save for some examples fetching lofty prices for their lower mileage and manual gearboxes, they fetch far lower figures than their original MSRPs. They ought to be considered for anyone who is avoiding the crossover craze and wants good four-door space, good luxury, and fun driving dynamics for the price.
What to read next:
Car Autance launched a new series, Car Confessions and Hard Lessons. In the second installment, Matt Farah explains why ignoring his own advice on a vintage Ferrari cost him $10,000.
Kevin Williams explains why his Mazda 3's sticky melted dashboard left him infuriated with technical service bulletins.
VinFast is looking to enter the U.S. market, and the upstart Vietnamese automaker might be using an old Ford playbook to grab your attention.
This $1,902,000 Porsche is now the most expensive car ever sold on Bring-a-Trailer. Can you guess what it was?
Toyota got the Initial D creator to illustrate a GR86 commercial, and it's pretty incredible as far as advertisements go.