The world is full of frustrated racers, myself included. Racing is an expensive sport, and until tires, fuel, and handmade chassis cost as much as a basketball or a golf club, motorsports will be for the wealthy and a lucky few.
The barriers to getting into racing are significant as most aspiring racing drivers have to self-fund their careers with the hopes of making it big someday. Unfortunately for most, that day never comes, which means that lots of folks are left with empty pockets, empty promises, and broken dreams. However, some less than talented drivers with bags full of cash are often given opportunities that many talented but under-funded drivers never get because, at the end of the day, engineers, mechanics, and other personnel cost money—which means that teams have to come up with cash one way or another.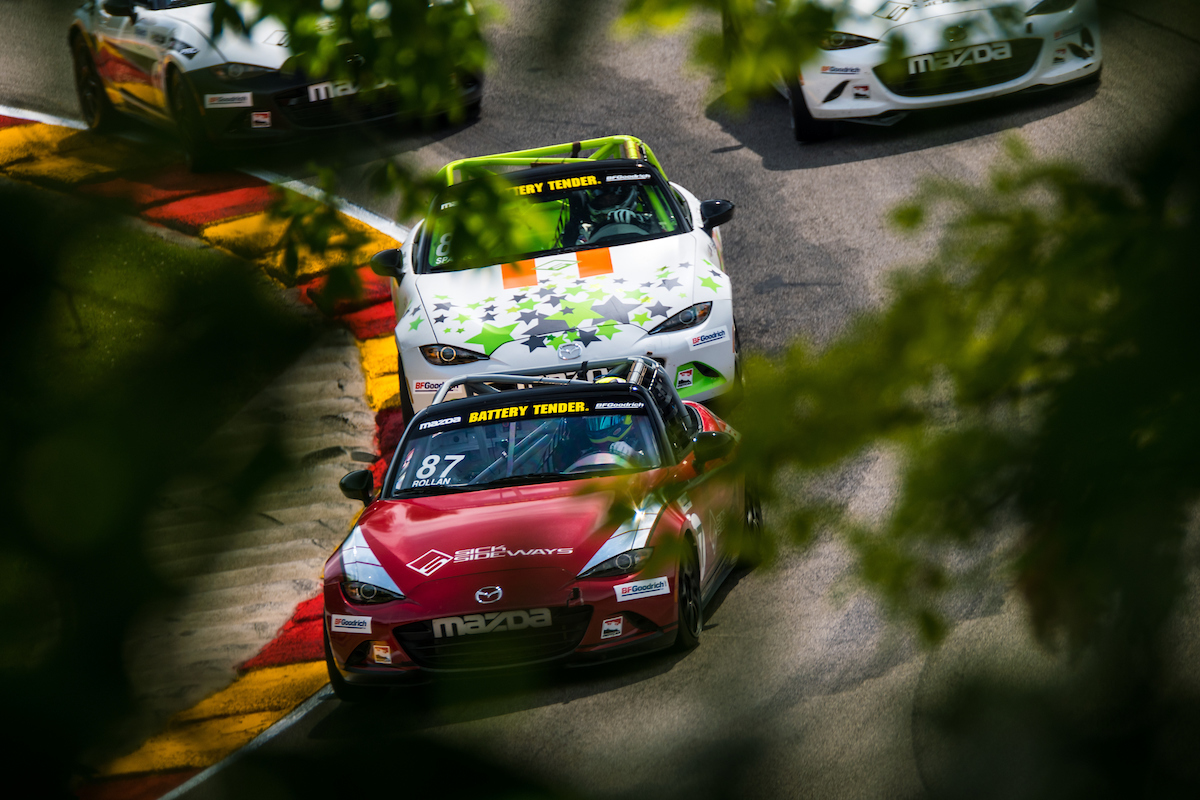 Ignite Media- Halston Pitman
Behold the Battery Tender Global Mazda MX-5 Cup, a racing series that promotes talent and rewards effort rather than checkbooks. No, it's not perfect—you certainly still need a considerable amount of cash to get behind the wheel of an MX-5 Cup car, but Mazda Motorsports aims to lower the sky-high barriers that aspiring young racers face. How? By leveling the playing field.
The MX-5 Cup is what's referred to as a "spec series," meaning that all cars are mechanically equal. Every car that takes the field during the twelve-race-long racing season is identical in every single way as the engine, ECU, transmission, and differentials are sealed. This not only guarantees fair racing, but it means that what Mazda develops as a manufacturer can be applied to the field for real-world testing without interference from a third party which, in this case, would be a team's engineer or mechanic.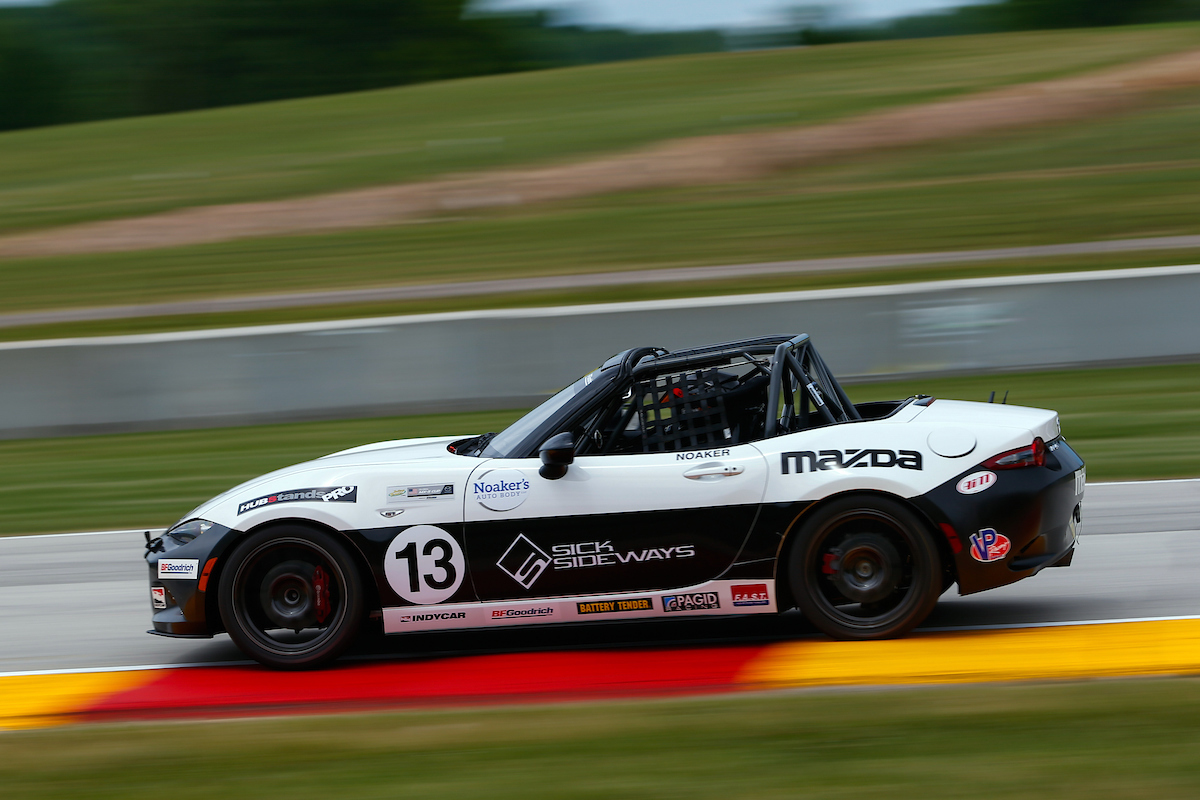 Ignite Media- Halston Pitman
What It Takes
I had the opportunity to sit down with the man who orchestrates all of Mazda's North American racing efforts, John Doonan, while at the third event of the Global Mazda MX-5 Cup at Road America in Elkhart Lake, Wisconsin. 
There, I was able to pick his brain on what it takes for the average person to join one of the most affordable and exciting racing series in existence. Additionally, I learned some important facts about Mazda's scholarship-based "Road to 24" program which provides aspiring racers a ladder system to follow as they go from one Mazda-powered series to another on their way to bigger championships. More importantly, I got the financial details that are required to make the magic happen—in other words—how much scratch would an average Joe need to go racin'?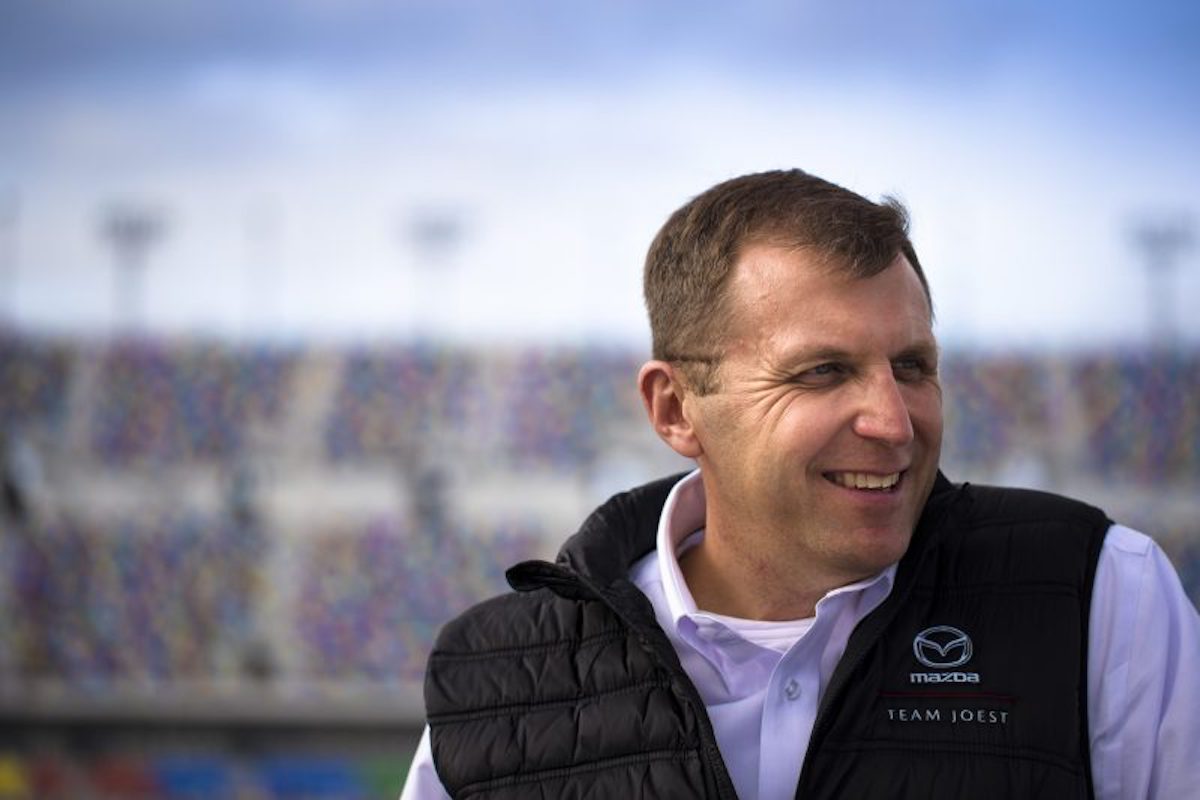 John Doonan, Mazda
What skillset or credentials do I need?
"Anyone can jump into the MX-5 Cup, however, my suggestion is that drivers with zero experience begin through [SCCA] Solo, which teaches about absolute momentum, turn-in, apex, etc.," Doonan told The Drive. "All of this can be done with an MX-5 or an older Miata for that matter, but the overall goal is to master car control and quick-hands before jumping into faster series."
"All too often people spend a lot of money real quick only to realize that they either don't have the talent or that when you bend things up [crash] it's quite expensive to fix things," Doonan explained. "I want to sell another Cup car tomorrow, but I don't want to sell it to someone who will simply go out there and have a bad experience and run out of money. I want everyone to be happy with their decisions."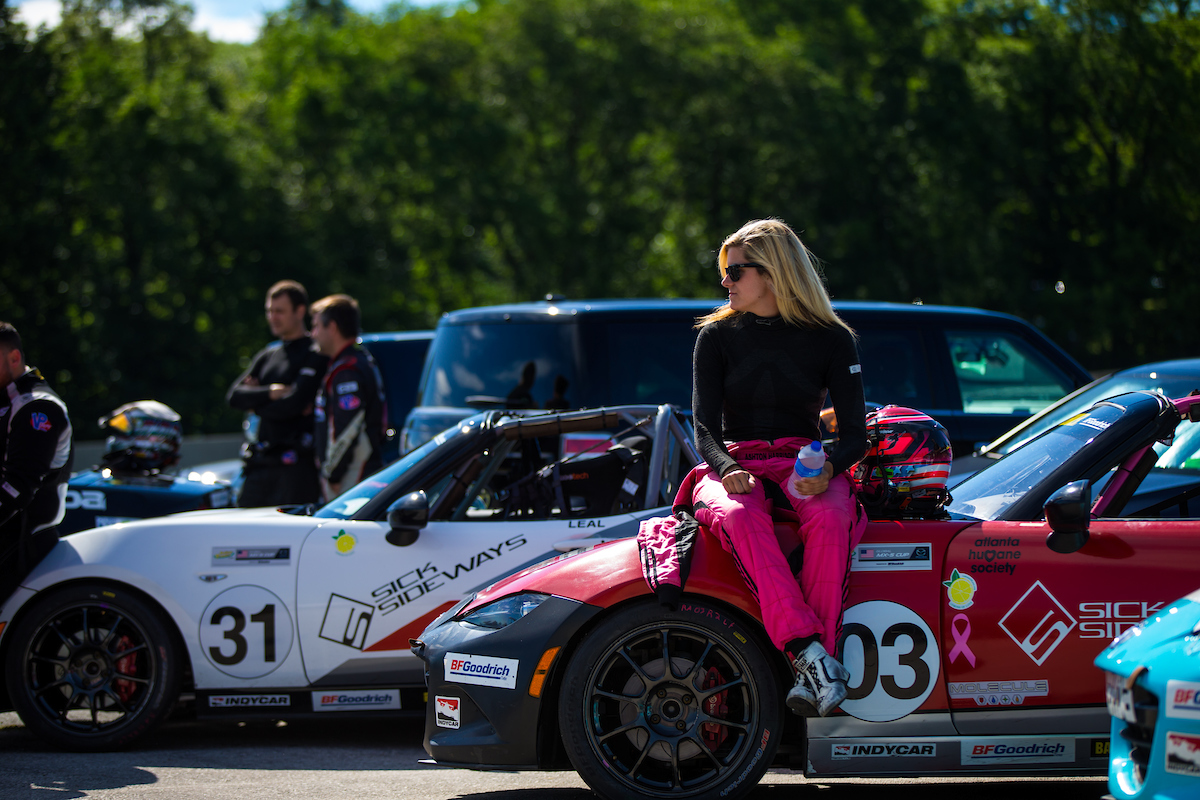 Ashton Harrison, the only female driver of the MX-5 Cup., Ignite Media- Halston Pitman
Because the Mazda MX-5 Cup is sanctioned by IndyCar, racers wanting to join must first meet several experience requirements and even submit a racing resume to IndyCar officials.
"After becoming a member of SCCA and completing a drivers' school you'll get a competition license, and because we're sanctioned by IndyCar folks must submit their racing resumes. Saying, 'I raced to the grocery store and back' won't get you in. It's about proper training, and several locations around the country, such as the Monticello Motor Club in New York, have bought MX-5 Cup cars for aspiring customers to get the proper racing experience with authorized driving instructors who many times are former Mazda champions."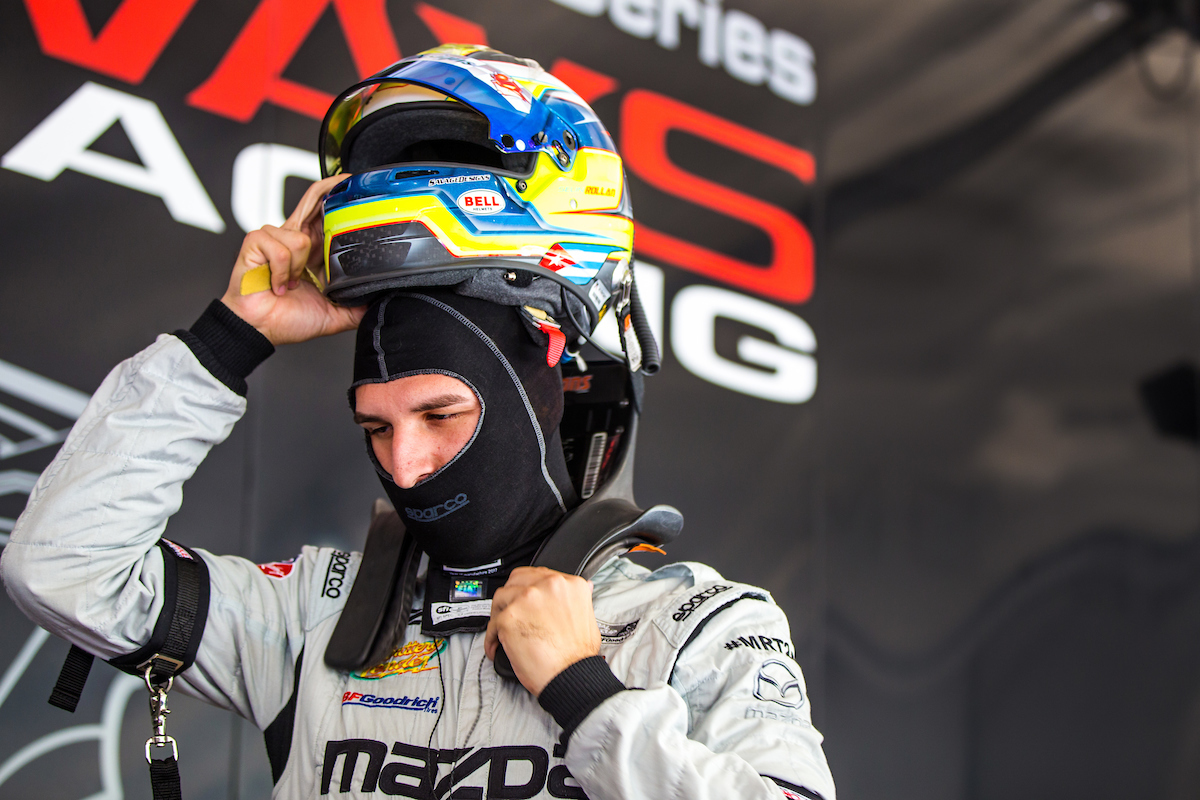 Selin Rollan of Sick Sideways Racing., Ignite Media- Halston Pitman
Team or Solo?
Racers can choose to run as a solo entry or join existing teams such as Sick Sideways Racing or Slipstream Performance. Team racers are typically more successful as teams usually share racing data and other insights among teammates, which gives them an edge over individuals.
"There are one-car efforts that have done okay in the past, but it's tough," said Doonan. "That's why when you see a team like McCumbee McAleer Racing that's running eight cars this weekend and do it properly and run up front you realize what it takes to win. With the cars being equal, the performance gains are minimal, which means a lot of data reviews, etc."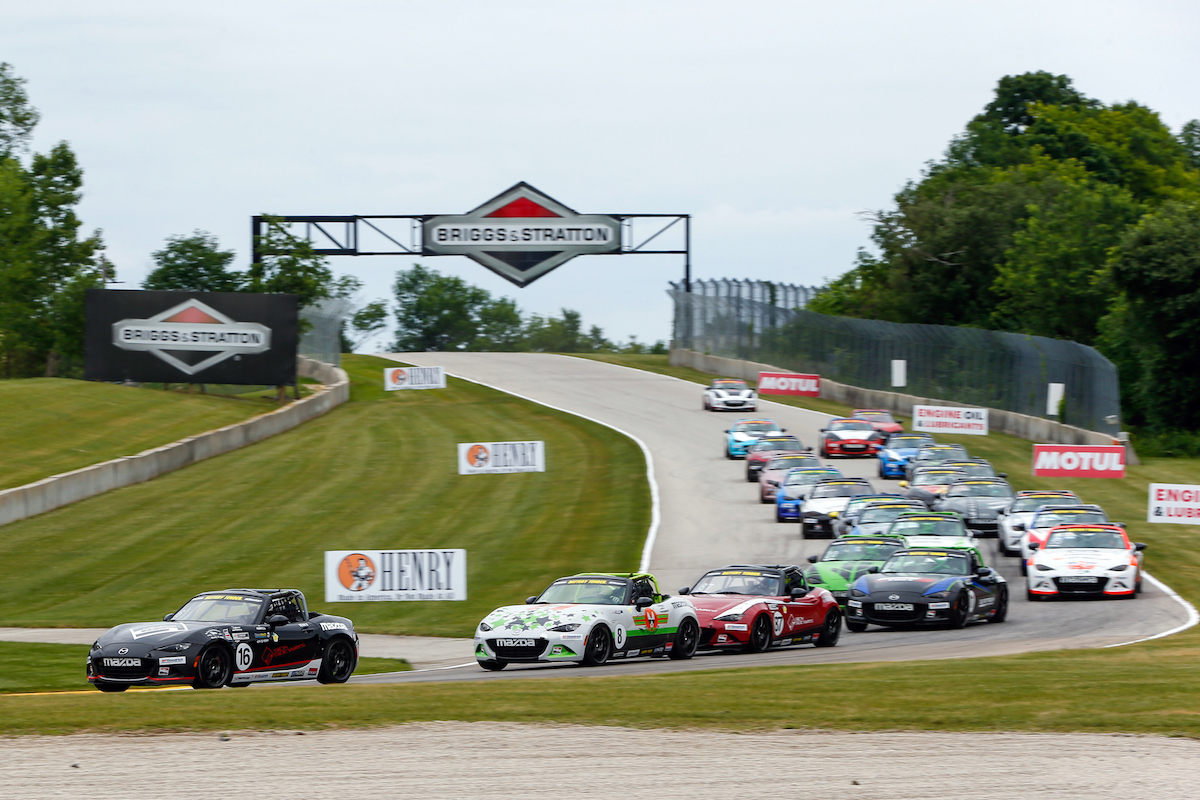 Ignite Media- Halston Pitman
On a different conversation I had with MX-5 Cup racer and owner of Sick Sideways Racing John Dean II, I learned that he offers his teammates/customers the option to receive trackside support only with the car owners doing the hauling and storing, or to take care of the whole operation—for a cost, obviously. How much? Approximately $85,000 per season, although the costs may vary depending on specific needs.
The Money
I hate to break it to you, but even though the MX-5 Cup is considerably "cheaper" than most racing series out there, it still takes quite a bit of cash to break in. However, there are many ways to partake in the series, with some requiring less cash than others. For example, new customers coming into the sport can choose to lease a car from an existing team or buy one outright, and some may even qualify for scholarships based on their performance on lesser series.
"To have a championship-winning, front-running program it takes about $125,000 to $150,000 if you want extra test days and training. The base price would be $125,000 and then you can add up from there," added Doonan. "This figure includes entry fees, tires, fuel, etc. but doesn't include travel and other consumables."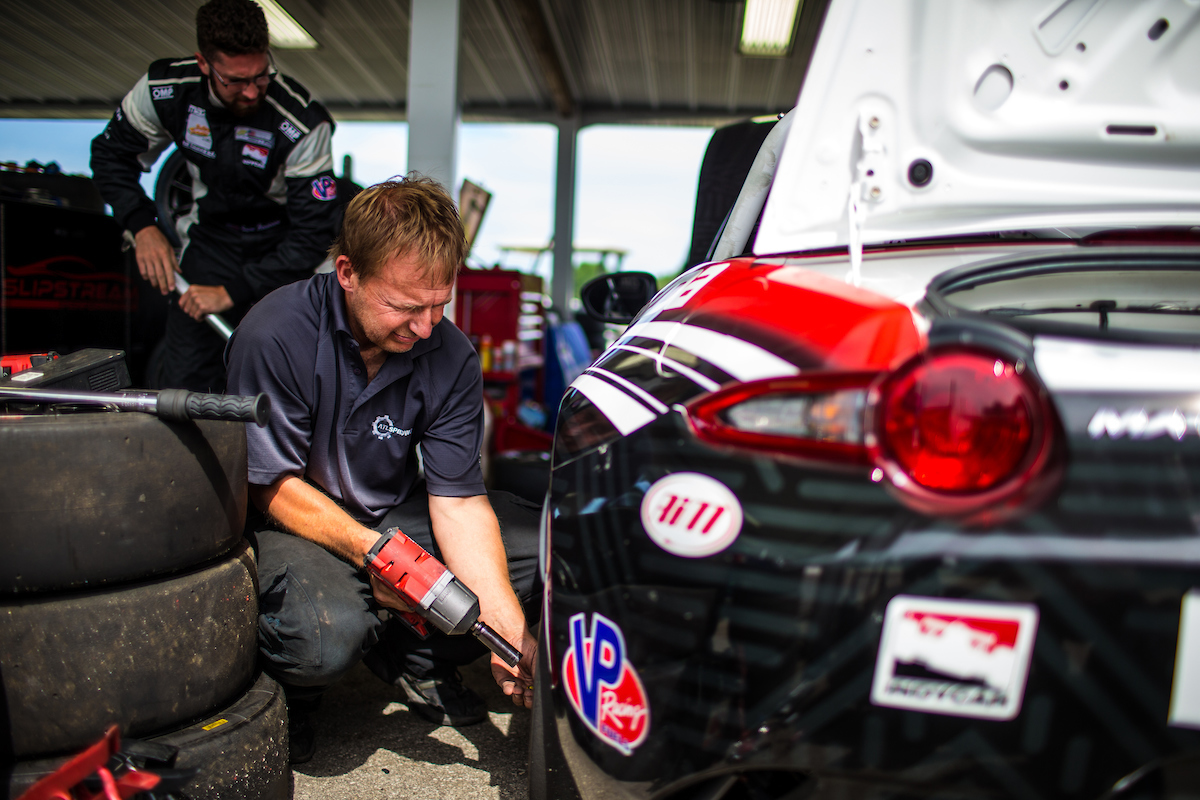 Ignite Media- Halston Pitman
"The car costs $58,000 to buy, so if someone buys a car outright the running costs decrease a bit compared to leasing, but then in other areas, they go up. Owning a car means you must own a truck to transport it, a pit space, tools, hire a guy or a crew to help you, etc."
Doonan didn't specify what these start-up costs could add up to, but my own research shows that these could easily surpass $100,000-$150,000. Of course, these could vary wildly depending on individual taste.
Don't have the cash? Don't worry...sorta. Mazda hosts the Road to 24 Shootout every year, where 19 racers are eligible for based on their success in SCCA, NASA, the Teen Mazda Challenge, and even iRacing. The winner of the shootout earns a $100,000 scholarship towards their first season in the MX-5 Cup. 
Ignite Media- Halston Pitman
If a driver wins the MX-5 Cup championship, they earn a $200,000 scholarship towards another MX-5 Cup season or another series within the Mazda family. In addition, first-year rookies are eligible to win a Rookie of the Year scholarship worth $75,000. While none of these (with the exception of the championship money) could cover an entire season's expenses, they provide some much-needed funding to aspiring racers.
Verdict
Is it easy to win and break into the major leagues? No, of course not. If it were, everyone would be doing it. Is Mazda offering the best program out there to promote racers who don't have massive trust funds or connections to big-dollar sponsors? Absolutely.