The Acura Integra Prototype rolled out to some nostalgia-tinted disappointment, as some folks apparently expected a two-door sport compact that would let them relive their childhood. Those people were never going to be happy, but others (especially those who saw it in person) seem on board or at least optimistic about the new car. Let's try to avoid pining for the past and take a considered, analytical look at the new Integra Prototype for what it is today.
At its core, the old Integra was always higher-dollar Civic; the cars have historically shared similar chassis designs, but styling, physical size, powertrain, and interior quality, elevated the Acura. In a way, the new Integra follows that same tradition. The car is clearly Civic based, with some sleeker styling to set it above its Honda counterpart. And yet, for some reason, it just isn't working for me, and a lot of other folks.
The Civic went through a lot of changes between the 10th and current 11th generation, but what stands out to me in particular (visually) is the A-pillar. The longer, almost cab-rearward nose, is paired with a thin, very upright A-pillar. The A-pillar and front fender come together in a way that's similar to the larger Accord, suggesting that maybe the Civic's chassis might be a cut-down accord, but that's mostly speculation on my part.
To me, the 10th generation's sleeker windshield rake allowed for a longer-looking, lower-slung design; the old Civic might've had strange detailing, surfacing, and styling language, but I've felt that it was a generally well-proportioned sedan, sort of. The hatch was weird-looking, but I warmed up to it. The 11th gen car has a very upright windshield, and it looks like the Integra will share that too.
Now, Acura's stylized concept sketch was accurate, to a point. The sketch belied a lower roofline, with wider haunches, more tumblehome, with wide hips. I wasn't at the prototype debut, unlike my colleagues Peter and Chris, but I did see the rolling mule around Ohio. In person, the car's Civic roots are glaringly obvious, with its tall greenhouse and high roofline, that descends into a rear fascia that might look a little bit too low to the average eye. It's giving very much "reskinned Honda Civic" vibes because, well, it is.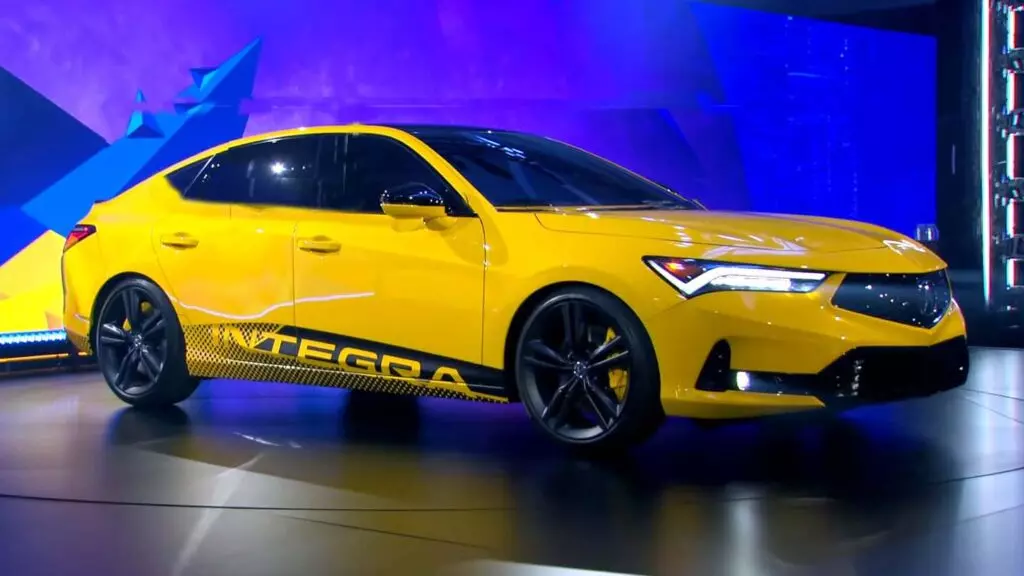 It's not all bad. The side rear three-quarter views show off the smooth transition from the rear lights to the profile character lines. Arguably, I'd like the car more if the roofline were lower, and the glass area was smaller, and if the windshield was a little less raked. Still, I think the official production model with its likely silvery brightwork trim will help the car look a little less like a background car from a kid's cartoon and more like a swanky sedan. The nostalgic old Type R-esque paint color and childish side graphics aren't doing the car any favors, either. The "Integra" stamped into the rear bumper cover feels like an inauthentic grab at the nostalgia bucks, rather than an actual memorable design element.
In all, It's a bit of meh. I can understand why some are very excited to get the car, but I can also understand why they may be disappointed, too. It's okay, feel what you feel about the car, it's just a car, you're allowed to have your feelings. Styling is just one aspect of a car. If the Integra is just as good to drive as a Civic Si, it still is a compelling choice for someone looking for a sporty compact car with a nice interior, and one where you can change your own gears.

Let's wait until the thing is rolling around the streets, OK?
More great stories on Car Autance